Preserving Childhood Memories: Every Parent Stop and Do This Today!
If you're a parent of a child who seems to be growing up too fast, this is something you should stop and do today! Here's an easy way to preserve childhood memories that you'll love and cherish forever!
I wrote this post originally on Instagram, but I felt like these sentiments belong in a more permanent place too. So pardon the duplicate if you follow both places. But it's just something I feel every parent should stop and do.
I promise it's worth the read and maybe something you'll want to pin for later so you can preserve childhood memories!
Document to Create Childhood Memories
A few weeks ago this kid was the "Star of the Week" at preschool. That essentially means it was his week for a spotlight. They love to let each kid have the spotlight for a week to share why they are special. The parent ask was to make a poster board with pictures of him and some of his favorite things.
I realized what good is your blogger mom who takes photos every day if she can't give you a photo shoot of you with your favorite things? In his eyes, I've been practicing professionally just for this motherhood moment.
So we grabbed his two favorite toys. I let him wear his favorite shirt he asks to wear every day. And I set up a mini photo shoot just to get a few pictures to print for the big Star of the Week debut, I thought nothing of it.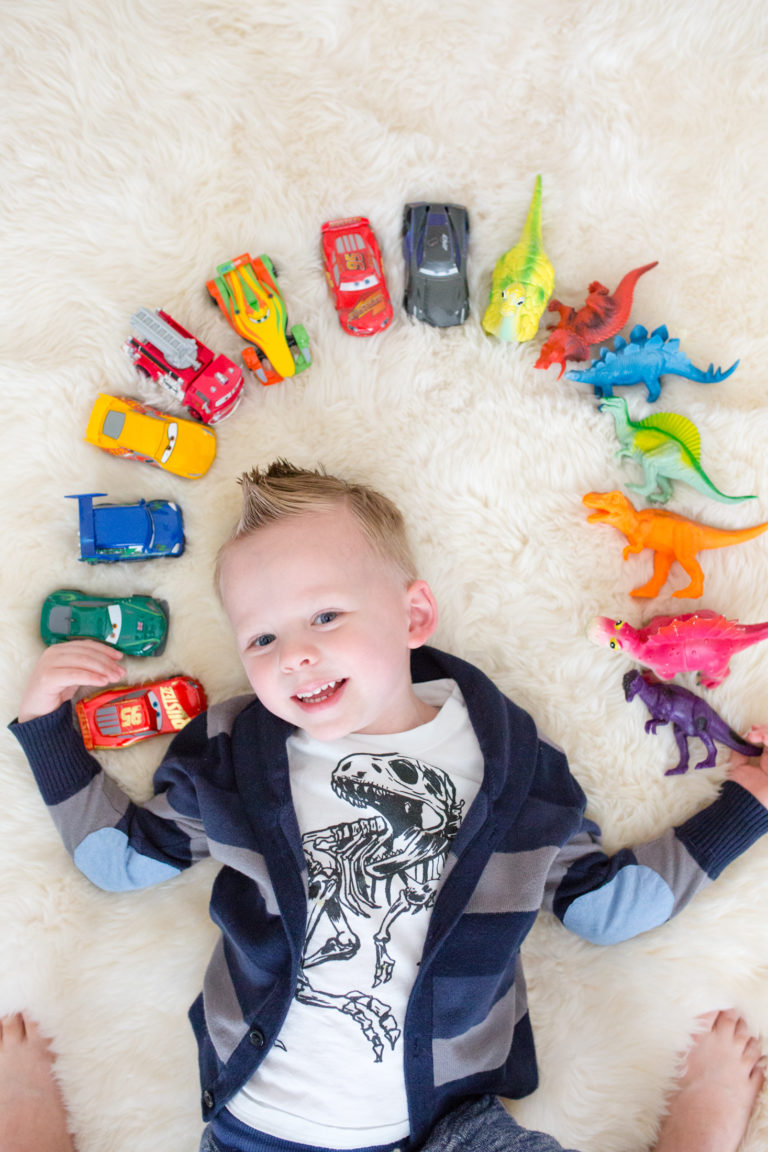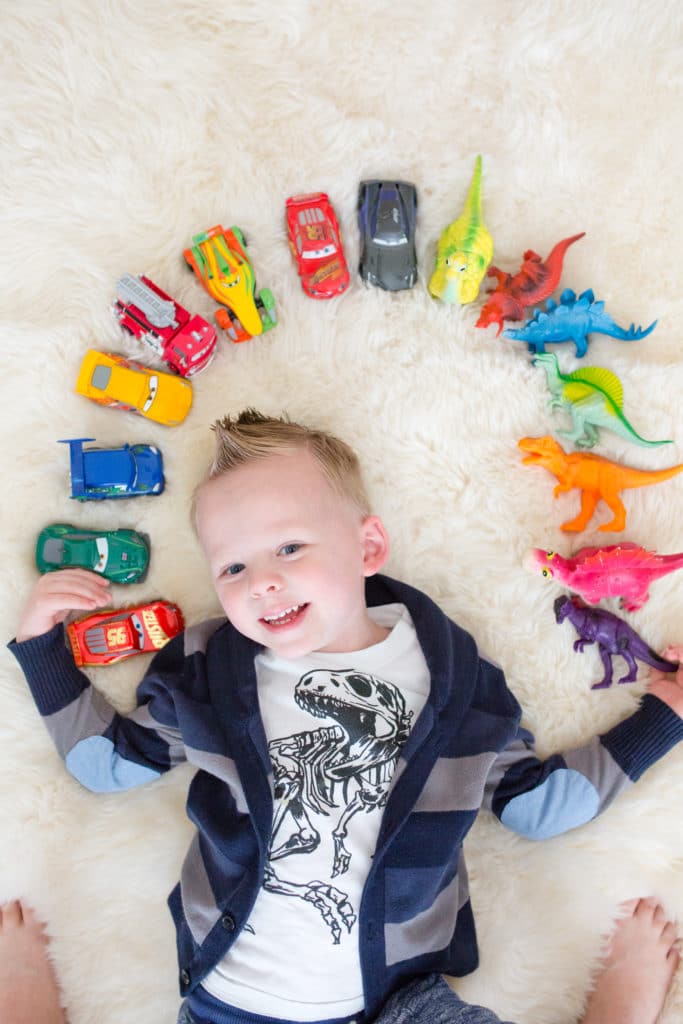 Just Stay Little: Sentimentality of Your Baby Growing Up
But just this week I"m feeling completely different about these pictures! It's only a few weeks later. But just today my
Lightning McQueen
obsessed son ask about The Avengers instead of talking about race cars. And it hit me like a load of bricks. It's not today, but the day will come that he outgrows carrying his favorite Pixar characters around.
There's been a car in his chubby little hands since he was one year old. We're talking two and a half years of daily "Ka-chow"'s and Mater catchphrases. We've had to hide and burn Lightening McQueen shirts we bought for Disneyland because it's all he'll wear. He even threw the biggest fit of his life for one babysitter who dared change him into pajamas. She requested we please don't dress him in that thing on nights she's coming again. I laugh now, but the struggle of the love of that ratty shirt was so real!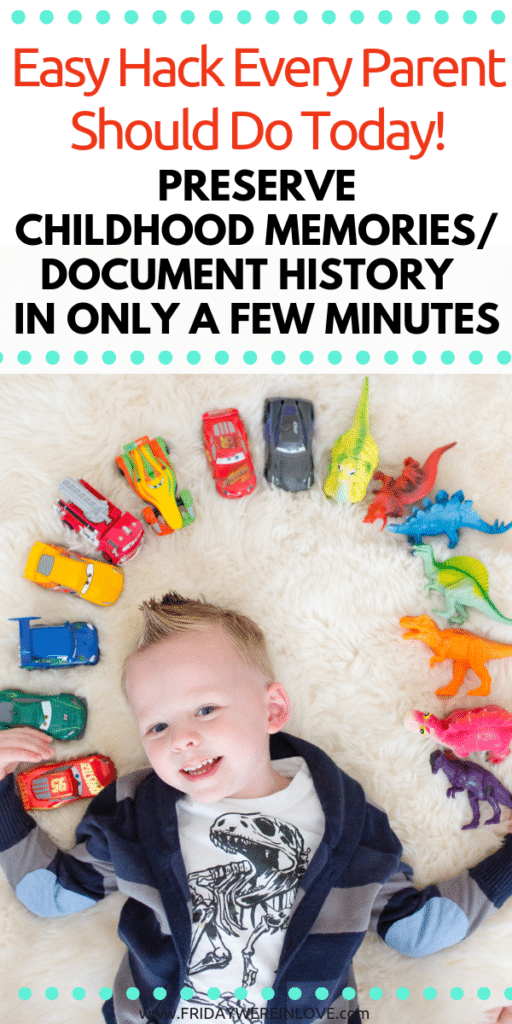 Capturing Childhood Memories and Details of Your Children Right Now
His hands are looking less chubby these days. And I've been weepy for days realizing I can't freeze my kid. He's moved on from Cars shirts (our babysitter is so thrilled!) and always wants a dinosaur shirt and Cars in hand. He's going to grow up, and this phase I've loved and hoped I'd get to experience for years of infertility is going to flee. My toddler is going to grow up, and I'm already floored how quickly three and a half years have flown by.
But I'll always have these pictures to freeze him in that shirt he pulls out of the dirty clothes pile almost daily. I have all his favorite things right this moment lined up with the last of those toddler's cheeks with just a little chub smiling at them. I have his hair that he requests to "make me look like a stegosaurus" perfectly documented.
I know I can't bottle this age up forever, but a picture I never would have thought to take without a preschool assignment is now one of my favorite things and most priceless images capturing age three. And friends who are parents, I want you to have your own version of these pictures perfectly preserving childhood memories in photograph form the way they are right now.
Take a Minute to Do This Today!
So please take a moment today, let your child of any age wear their favorite thing. Let them grab their favorite toys or favorite item. And go get a picture of them just the way they are with their most favorite items.
Because chubby hands don't last. And one day, they all put down Lightning McQueen and decide to grow up on us.
Like this parenting hack? You may like these posts too:
Get 365 Date Ideas!
We want to help you have the best date nights ever! Grab this FREE printable with 365 date ideas, a date for every day of the year so you never run out of ideas!