Watercolor Painting for Kids
Try this easy, cheap activity for kids: watercolor painting for kids! From learning techniques to just starting out, here's how to get kids of all ages painting with easy watercolor ideas!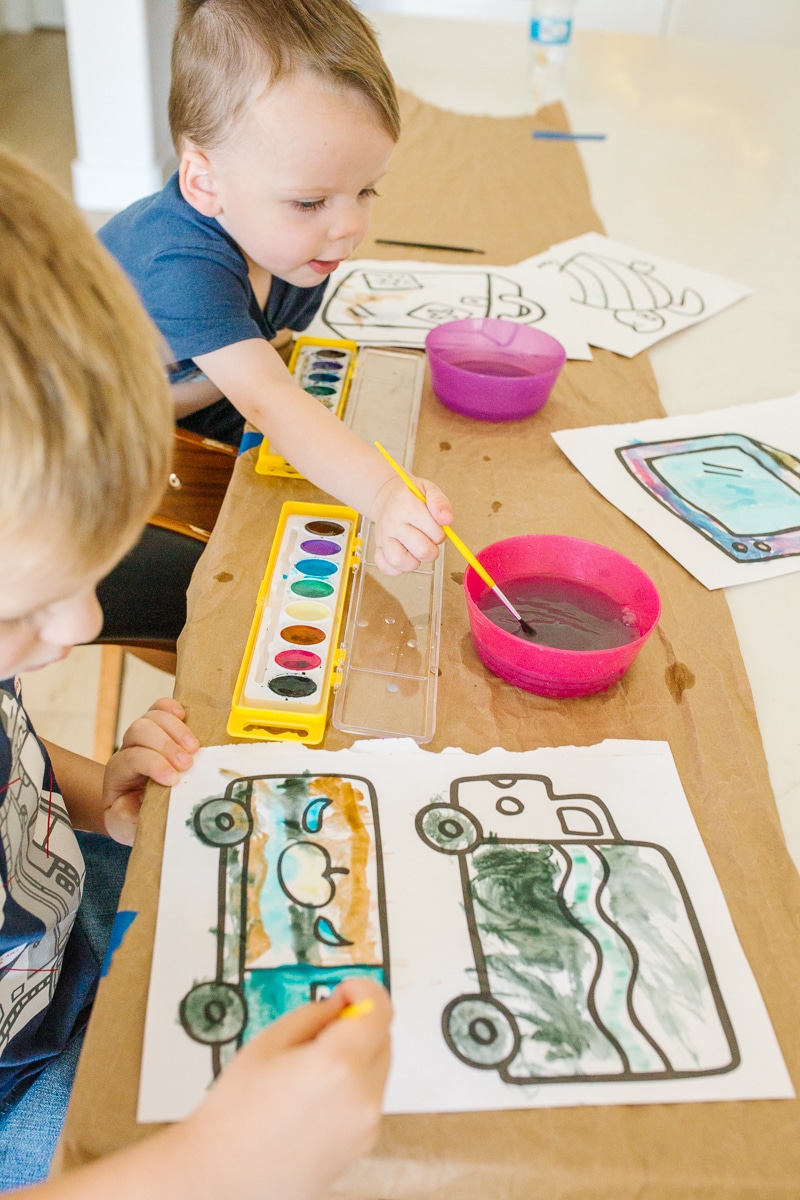 Our extra time at home together has lead to a lot of creativity in keeping kids entertained and learning! Both my children love coloring and art projects. I think most kids do! But while living in Utah for part of this summer and enjoying time with my brother's family, my kids were able to learn some new fun creative skills! My favorite (and now my oldest son's) was learning to love watercolor painting, thanks to his cousin who paints truly amazing paintings every day!
I keep hearing over and over from other parents that they feel desperate for non-screen time activities their kids can do from home. Since we've found one that works so well for kids of all ages, I knew it was time to share how we've made a watercolor painting for kids an almost daily occurrence in our house.
Beginner Watercolor Ideas (for Kids or Adults!)
My niece was four, almost five when she shared her watercolor hobby, and I have to say as I Van Gogh fan, I was impressed with her pointillism skills! She's learned a few techniques that have really made her skills shine and watercolor painting even more fun!
The beginner ideas are easy to follow with a class. And I'm so excited to share this class that makes about the best birthday or holiday present! It's something you can gift your kids that will teach them a skill they can enjoy the rest of their life!
We found a really great watercolor class for kids that's super affordable, and teaches painting skills kids can easily pick up and use. It's $29 for the full course and you can get 15% off with promo code: Camille15. It's a great deal for under $30; there are eight lessons, which walk kids through supplies, paintings, and watercolor techniques for kids.
There's also a Simplified Watercolor Class for Adults that I think would make a really great date night! Older teens would likely enjoy and a learn a lot from this class too.
It's all about understanding techniques and utilizing your supplies.
Speaking of supplies, it doesn't take much to get kids started!
Paint Supplies Needed:
We love the Crayola washable because even our toddler can use it and I worry a lot less. But if you want to get started for only $1, this set is a great option!
But this Prang set is a more professional watercolor paint set that works well for older children or kids with a lot of self-control and/or coordination. My four-year-old does just fine with this set, and the color is a super high quality!
You'll want to go beyond the kit brush that comes in a set. We purchased this brush set, and it's been fantastic for learning more skills. It's also on the cheaper side without sacrificing quality. Those were both important things for me as a mom investing in a few supplies for my younger children.
Printer pages don't cut it with this art medium, so you'll want to invest in a watercolor book with pages made for paints and water.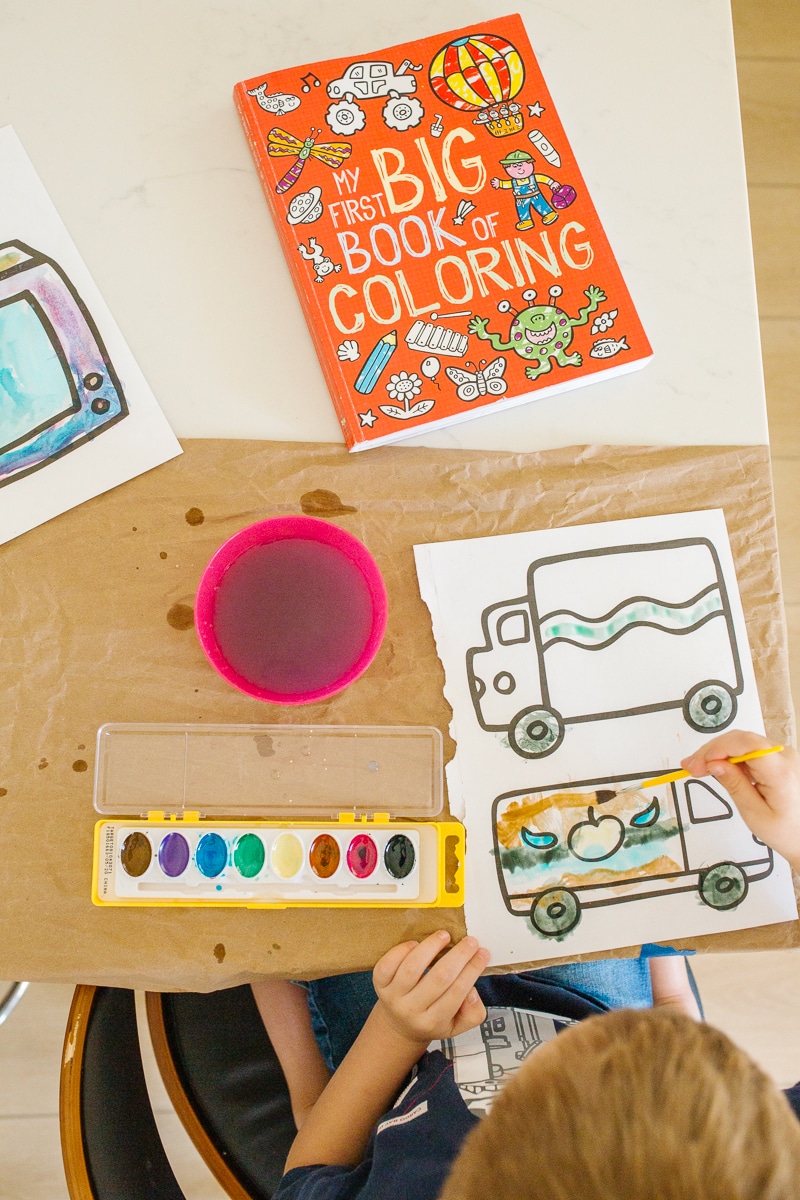 Coloring Book with Watercolor Friendly Paper
I've shared this book before, and I'll continue to share it over and over again! It's the best coloring book out there that has helped us stop printing approximately two million coloring pages a day. My Amazon order history just informed me I've purchased it four times, so we're clearly fans! But over 2,000 5-star ratings are hard to ignore!
There's a lot of variety and the pictures are perfect for toddlers and preschoolers. We also found (thanks to my niece who grabbed the book and used it) that it works amazingly well with paints too!
For the record, we do rip the pages out and only paint on one side. That prevents water issues and keeps the book intact.
The pages are thicker, they are a true bright white with deep dark black lines for printing. That contrast makes coloring easy, but it makes painting with watercolors possible!

Great Coloring Book Options
We love the First Big Book of Things to Color. But the same company makes a Dinosaur Coloring Book we've used and adored, a Space Themed Coloring Book, a Fairy Tale Coloring Book, a Princess Coloring Book, and also a Unicorn Coloring Book. They've also released a Bilingual Coloring Book for kids learning Spanish/English.
Beginner Watercolor Painting for Kids (That Even Toddlers Can Do!)
For my two-year-old (who started at age one) we let him use a washable set of paints and a few coloring pages. That's all he needs to try to copy everyone else and really enjoy himself!
If you'd like to train your toddler to paint, these Melissa and Doug first paint books are a great way to do that!
If they can hold a brush and won't eat the materials, your little artist is probably ready to get a seat at the table and create!
It really is that simple! Set them up, help them learn the basics, and watch them learn and create for hours! What starts as an often sloppy start usually ends with a skill kids will love throughout their life!
Like these activities for kids? You may like these posts too:
Activities for Kids at Home: Quiet Time Activities They Can Do Independently
School Supply List: The Supplies You Should Stock Up On!
Giant Dinosaur Coloring Pages You Can Print From Home!
Get 365 Date Ideas!
We want to help you have the best date nights ever! Grab this FREE printable with 365 date ideas, a date for every day of the year so you never run out of ideas!