Painting Date Night at Home
The easiest way to pull off a painting date night at home! All the info for a DIY painting class you can do at home as a fun date night in!
Painting Date Night AT Home
Date Info:
Paint your own masterpiece class at home
Price: $27-$45 per person (depending on what you choose)
We may have a new favorite date night you can do from home!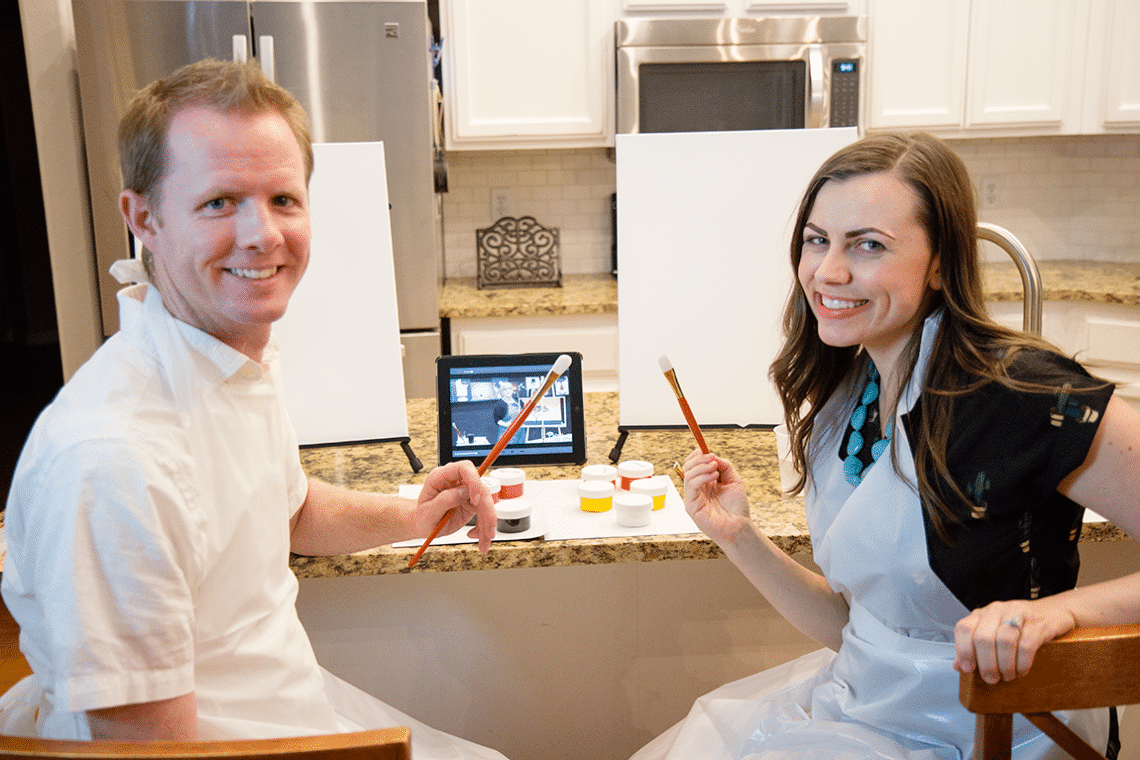 One of the downsides to being new parents is the amount of time we're able to leave the house when we do get a sitter. Unfortunately, some of our favorite dates like art classes have been something we've had to put on hold. We've definitely found a need to find a date night in where we can put the baby to bed and can do something in.
I know we're not alone- this is our #1 most requested type of date from readers. Apparently lots of you either have children at home! Or maybe you need to cut babysitting costs or have a baby hard to leave. I know many live in a more remote area with fewer venue options for dates. I'm glad we've found some great things we can do at home, and I can't wait to share more with you!
Date Night Painting At Home
Today's is all about a review from a company seeking to bring date night home, and not just any date night- one of our all-time favorites!
Painting to Gogh reached out and asked if we'd like to try their service for an honest review, and I was like, hello, date night in that isn't just Netflix, AND one of our favorite concepts- yes we can do that! And do that we did!
Here's how it works, They ship you a box with all you need if you choose a starter kit. This includes easels, paintbrushes, the canvas, an apron, and paint. You can also choose an essentials kit that just includes the paint, canvas, and an apron if you're already hooked up with brushes and an easel at home.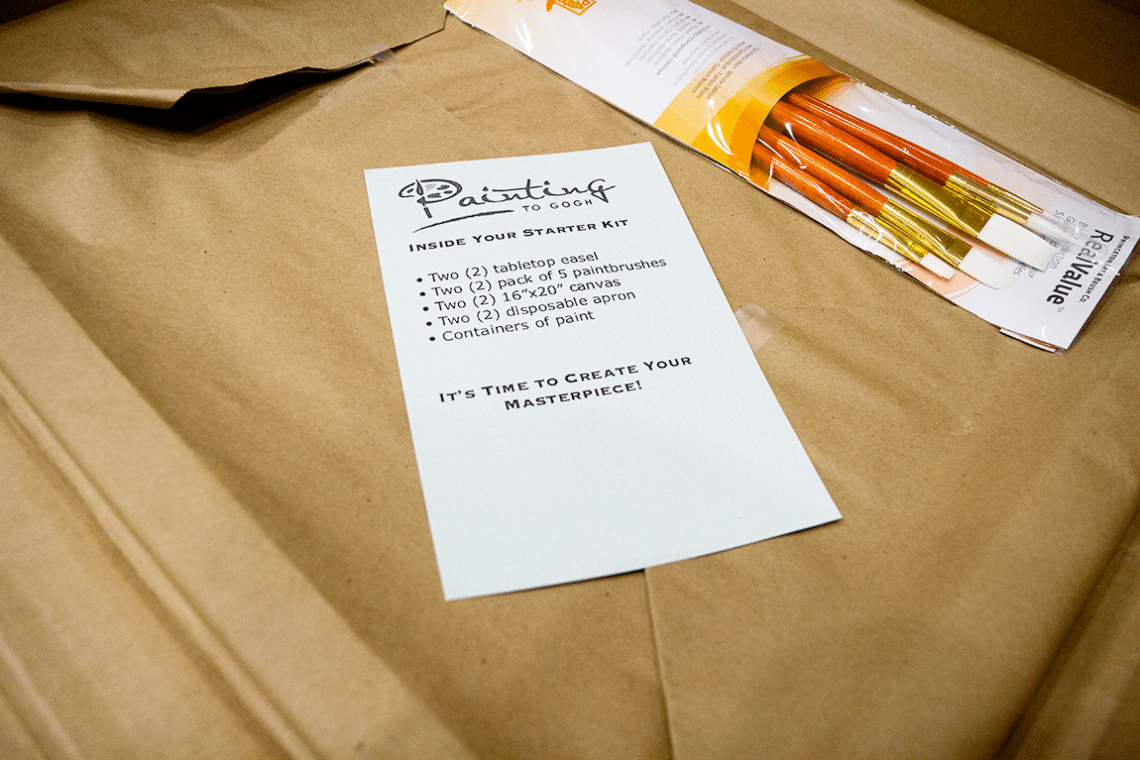 A link to a video class is sent. From there you get to watch an instructor walk you through each step of the painting. We're talking paint blending and which paint to use, to step-by-step instruction where to paint and how. Even amateurs like us can easily follow along! It's also great that you can pause or re-watch any piece of the instruction. That way there's less pressure than a traditional class and you can be OCD and get every piece in your own time if you so desire.
We thought it would be fun to turn our canvases vertical. That way we could do a painting together in tandem instead of each doing our own. It was a great test of our collaboration skills, and it was really fun to do it in tandem!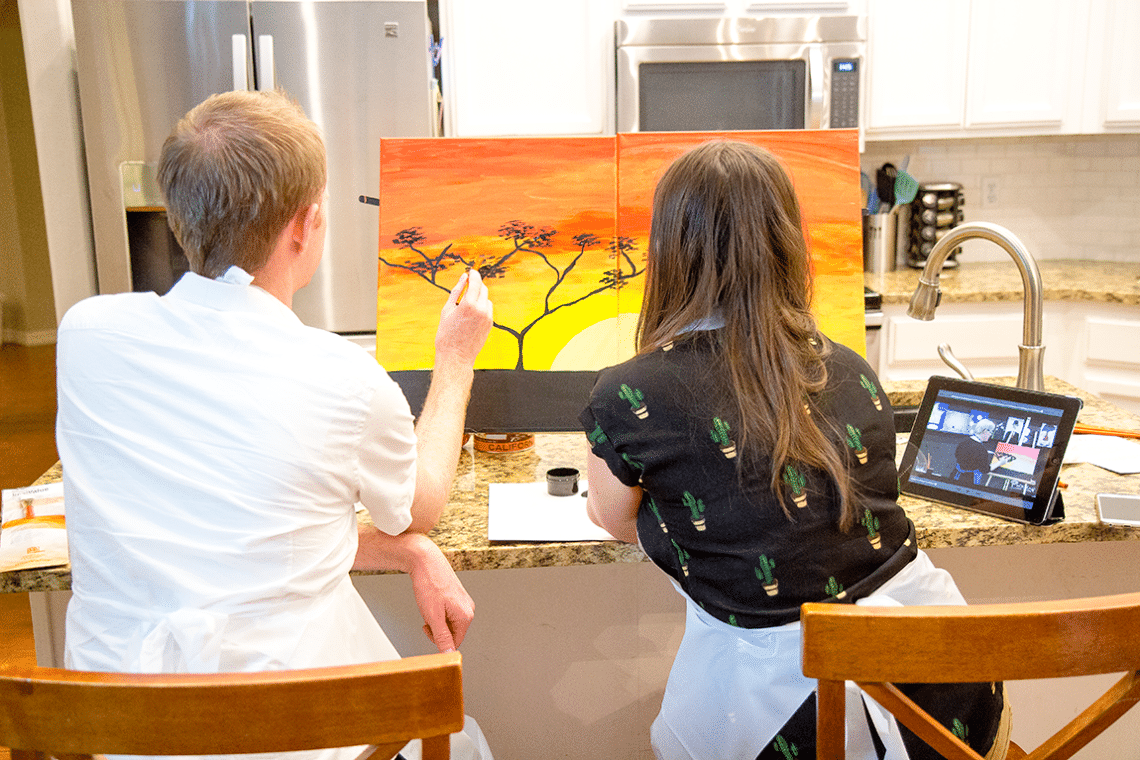 Good news, we passed the test and still like each other!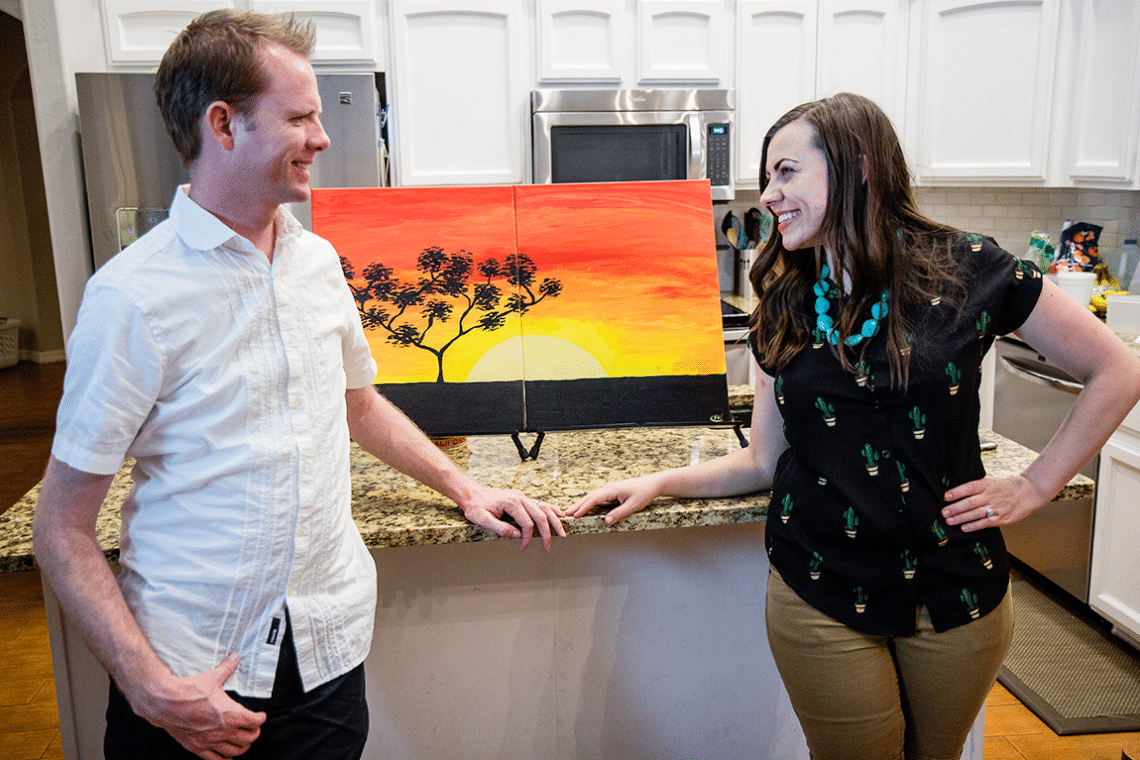 Other great news, we were able to create our own masterpiece because the instructor is really great! And did I mention no babysitting cost? Seriously, such a fun date! I'm thinking this would be a perfect one to give as a Christmas present if you love to give experiences as we do!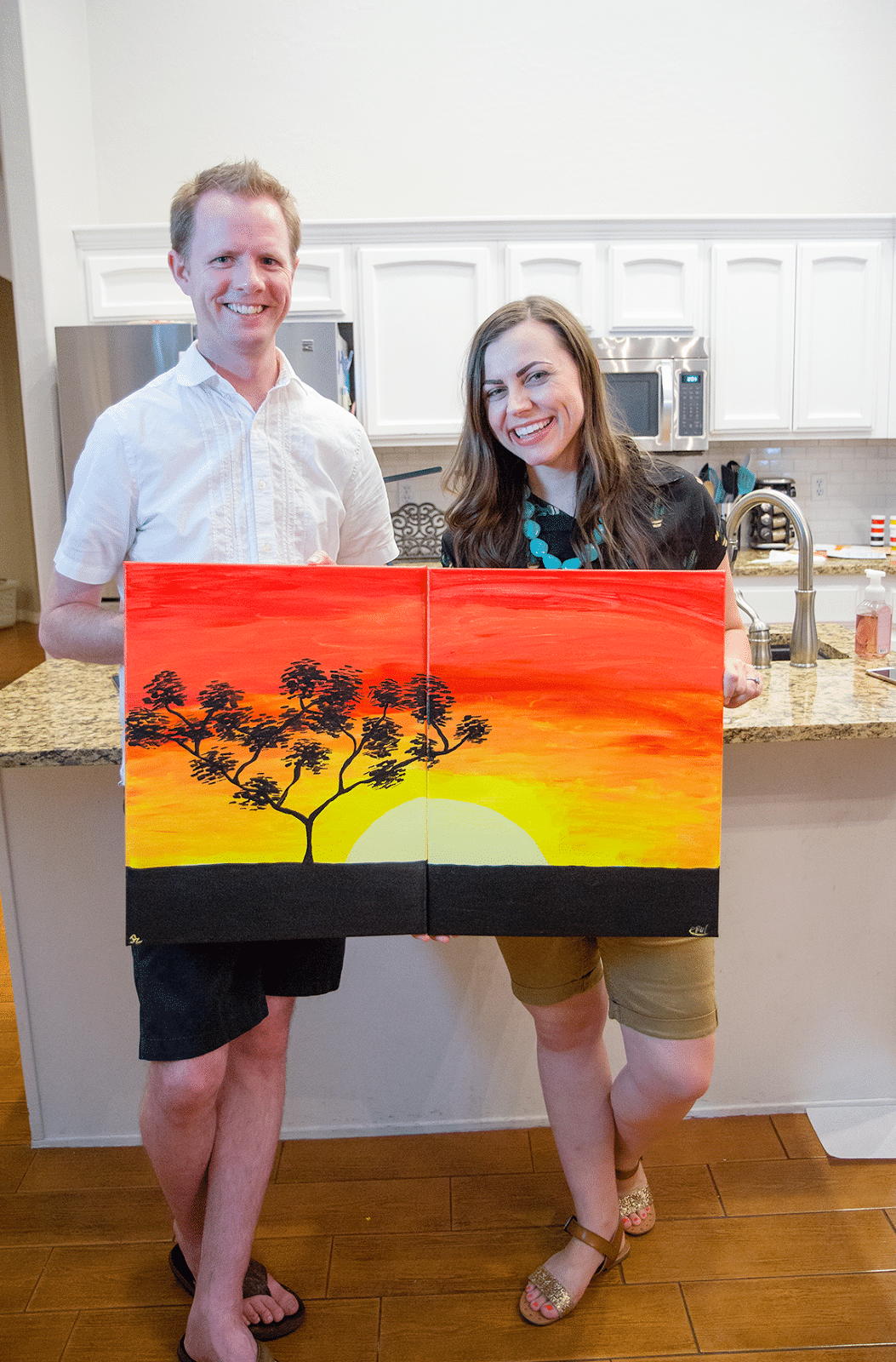 Here's the best part- they are offering a Painting to Gogh discount code to Friday We're in Love readers! Enter GOGHFRIDAY at checkout and a 10% discount will be applied, it's valid today through September 26th.
Happy painting friends, and happy date night in!
*We received the product in exchange for our honest review- all opinions are our own!
Like this painting date night at home? You may like these posts too:
The Adventure Challenge Review: A Fun New Way to Find Your Next Date Night
52 Completely Free Date Ideas to Do this Year
Date Night Subscription Boxes Roundup + Review
Get 365 Date Ideas!
We want to help you have the best date nights ever! Grab this FREE printable with 365 date ideas, a date for every day of the year so you never run out of ideas!