1 Year Anniversary Ideas: Ultimate Ways to Celebrate Your 1st Anniversary
! year anniversary ideas: Your ultimate guide to your 1st anniversary including anniversary date ideas, special things to do, and 1st-anniversary gift ideas.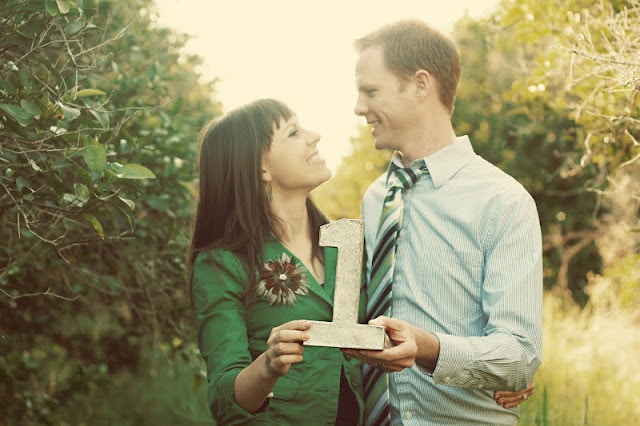 Do you know what's really fun? We have readers at every stage of long-term relationships. From excited just dating couples looking for some more fun in their relationship to seasoned readers who have been through decades together. It's a really beautiful thing that keeping love alive brings us all together!
1 Year Anniversary Ideas
I have a post on perfect anniversary date ideas, but I'm always amazed by how many people come searching for ways to celebrate your 1st anniversary. It's a big one, and a really fun milestone to know you've shared the first year together. It's the year you can really reminisce about your wedding day, and it's the year of the paper anniversary too!
For anyone looking for date ideas that fit that first anniversary, or special ways to celebrate your first milestone as a newlywed, we have you covered so you can have the ultimate 1 year anniversary together!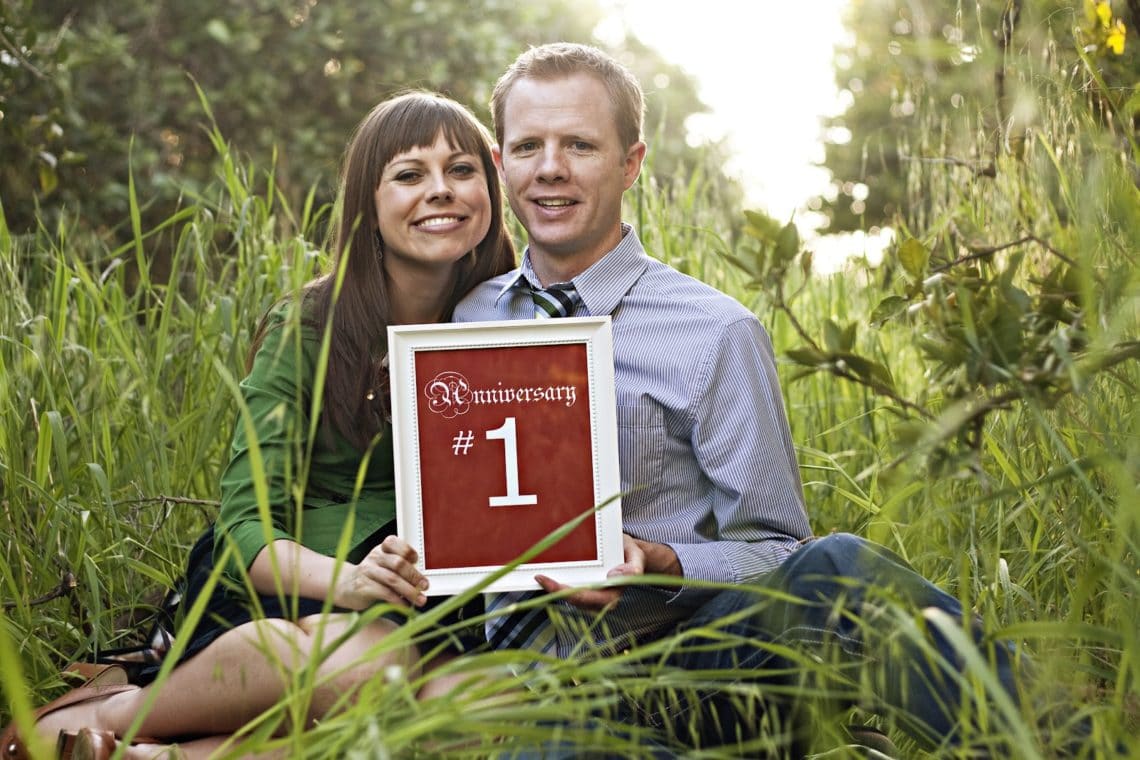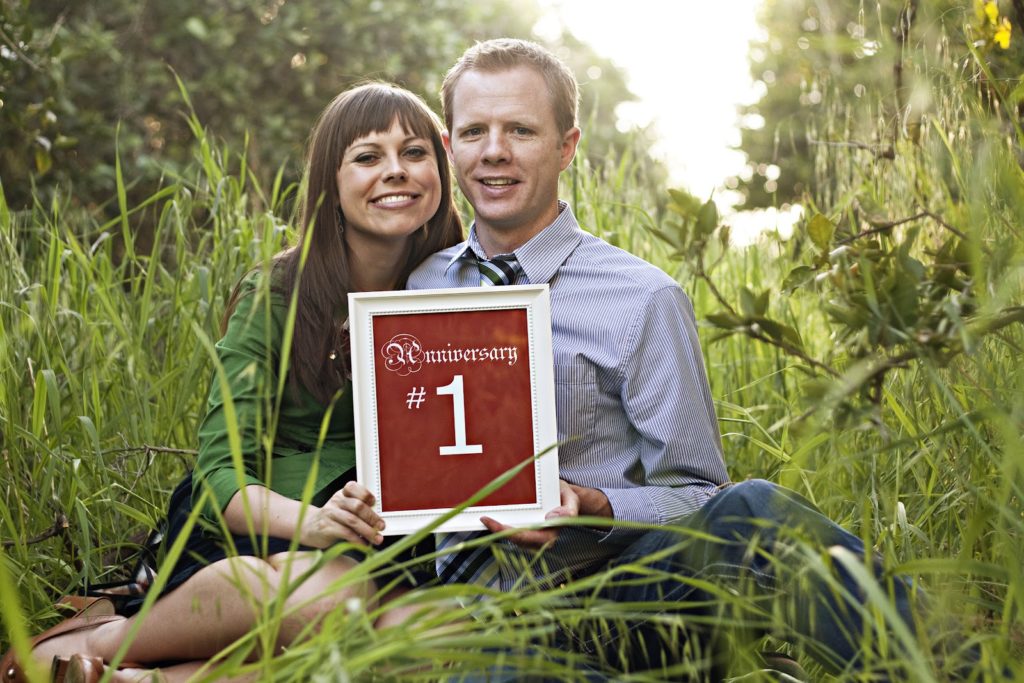 Ultimate Ways to Celebrate Your 1 Year Anniversary
Congrats on making it to the one-year marriage mark! We hope you had a wonderful year full of many great dates and experiences that helped you and your spouse deepen your love for each other.
Now that you're approaching another big milestone, we wanted to help you get ideas to make your 1st-anniversary celebrations extra special and make them memorable. Below we share our ultimate date ideas to help you celebrate your first anniversary.
First Anniversary Date Ideas
1. Eat Your Wedding Cake… Or Go Get a Cupcake of the Same Flavor.
It's a real gamble whether that old wedding cake in your freezer you've held on to for tradition's sake a year later will still taste good or not. When I asked others about their cake's flavor, it was pretty split even. But there's no denying that it will not taste as fresh as it was on your big day.
So, you have one option to risk freezer burn, or you can try to recreate the cake slicing moment a year later another way. We love to go back to our old cake shop and get a cupcake in our wedding flavor, that way we get to relive just how good it tasted the night of our wedding when we fed it to each other. If you can easily access it, we highly recommend picking up few (or maybe a dozen!) cupcakes for you and your honey to enjoy.
2. Get Decked Out and Splurge on a Night Out.
After all the major wedding celebrations are over, and the first year of marriage has flown by, it's oh so easy to get super casual with each other. We really miss having as many reasons to dress up, pull out our fancier clothes, take some pictures, and feel a little luxurious for an evening like we did during engagement pictures and wedding events, so an anniversary is a perfect time to revisit it.
If you're needing an event to dress up for, here are a few to consider: attending a live production at the major theatre in town, eating at a higher-end restaurant, attending a symphony concert (there are options like a cinema soundtrack evening that are more fun if a classical show isn't usually your style), a new museum exhibit, or a night at the opera or ballet. Do a little homework on the events showing in your neighborhood, and I'm sure you'll find something that will fit the ticket!
3. Have an Anniversary Photo Shoot
Still, have your bridals for your Instagram profile picture? Yeah, it's hard to beat the day you looked your best, we get it, but an anniversary photo shoot to take anniversary pictures is the perfect ticket to update it with something good!
If you've been long-time readers, you know we celebrate every anniversary with a shoot so we can see how our family has changed and grown over the years. We highly recommend it as these shoots have ended up producing a few of our favorite pictures of our family through the years.
How should I celebrate my 1 year anniversary?
4. Plan a Second Honeymoon
Make your first anniversary memorable by booking a big adventure. The best part about going on a honeymoon this time around is that you don't have to plan your wedding at the same time. So much less stressful.
Also, it's a great time to plan all the romantic cliche honeymoon things you may not have got to! Go horseback riding, have a romantic picnic to watch the sunset or sunrise, splurge on a hot air balloon ride, etc. Book those romantic things many do on their honeymoon to enjoy on your second honeymoon.
Whether you want to make your honeymoon round two abroad or stateside, there are so many places to explore that can fit your budget and your available time off from work.
5. Book a Staycation
Alternatively, if a second honeymoon seems like too much, but you still want a getaway – a staycation works wonderfully too. We are firm believers of acting like tourists in your own city. You'll be surprised by all the amazing places you'll discover when you do that!
When you go to book your staycation, you can add something fun and quirky to the mix by looking for special anniversary suites or a themed hotel. We tried it for one year and it became a "to repeat" affair.
Many couples love touring a vineyard and using it as an excuse to taste wine. Even if you don't drink, it's a romantic thing to do and a cool staycation location to visit!
Where you choose to stay – whether it's a hotel, motel, or something else – is always a relaxing break where you don't have to do the house chores. It also tends to facilitate some great pillow talk and feel like you got a vacation even if only for a night. You get bonus points if your staycation is the same place you stayed your wedding night!
6. Revisit Your Wedding Day
Look at your wedding photo albums, watch your wedding video (if you have one), or take it up another notch: walk and revisit all the sites from your wedding day.
Check out where you got ready for the wedding, where you ate for your luncheon, where you had your reception, and where you stayed your wedding night. It's surprising how many details resurface that I thought I would never forget! If you can't physically do this, piece together your date with your wedding movie. And make sure there's at least dancing to your first dance song just like you did on your big day.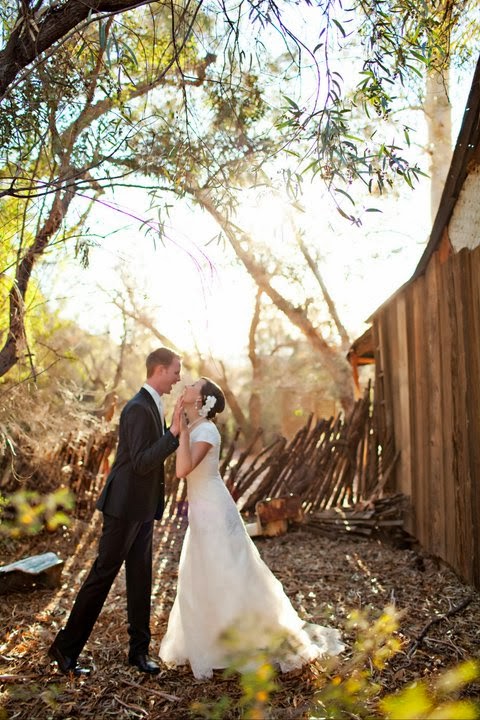 7. Celebrate with a Resort Day
Did you know you can book day experiences with a resort pass? Take a short road trip to a local resort and enjoy a day relaxing by the pool. You can also do a spa day filled withsome pampering and relaxation.
I'd highly recommend booking a couple's massage for a romantic experience! Sometimes the nostalgia of your wedding day can bring back some wedding stress on your 1 year wedding anniversary, so a massage is an extra great choice!
Book a nice dinner at the resort to cap the day off. It's a great place to reread your vows, eat some of your favorite foods, and just enjoy a nice evening together. You could also grab our Would You Rather Questions for Couples printable to laugh through the night!
What do you get on your 1 year anniversary?
Did you know each anniversary has a traditional theme or symbol that goes with it?
The first anniversary is the paper year.
Dating back hundreds of years, the paper represents the beginning start of a marriage and writing your story together. That's why we're including several 1 year anniversary ideas surrounding paper.
How to Make the "Paper" First Year Anniversary Special
If you and your spouse are committed to celebrating this theme, then grab some paper and make a date night out of it!
Whether you pick one or pick all of these, here are some mix-and-match, not too cheesy ideas to celebrate your "paper" anniversary date:
1 Year Anniversary Date Night Ideas
Print and Fill Out Our First-Year Anniversary Questionnaire and Share With Each Other. There you'll find great questions to ask on your 1st wedding anniversary!
Work on a Promptly Journal Couple's Journal. Promptly Journals Love Story helps connects you together by remembering and recording the past. And at one year of marriage, it's a great time to record what you remember! Trust me, as the years pass, a lot of the details fade.
Buy coloring books and color. Adult coloring books have become insanely popular in the last few years, with good reason! They're supposed to really help with anxiety and stress. Relax and enjoy.
Pull Up Online Tutorials and Fold Origami. Or go ahead and get an Origami kit with everything you need. Bonus: Skip the expensive flower gift and make a bouquet out of paper.
Have a Paper Airplane Contest. Make paper planes and see how far they go
Write Each Other Love Letters. You can either put them in a capsule to open on your 5th, 10th…etc. anniversary. Or go ahead and Hide Them In Your House. You can find them at a random time if you want to add a little romance.
Play Card Games. A deck of cards (made out of paper) makes a cheap and fun date.
Plan dates for the future. Get a Jar and strips of paper. Come up with a bunch of date ideas you'd love to do. Fill up your jar with fun things you'll enjoy until your next anniversary.
Create a One-Year Memory Book. List the highlights of your first year together and your feelings for each other now.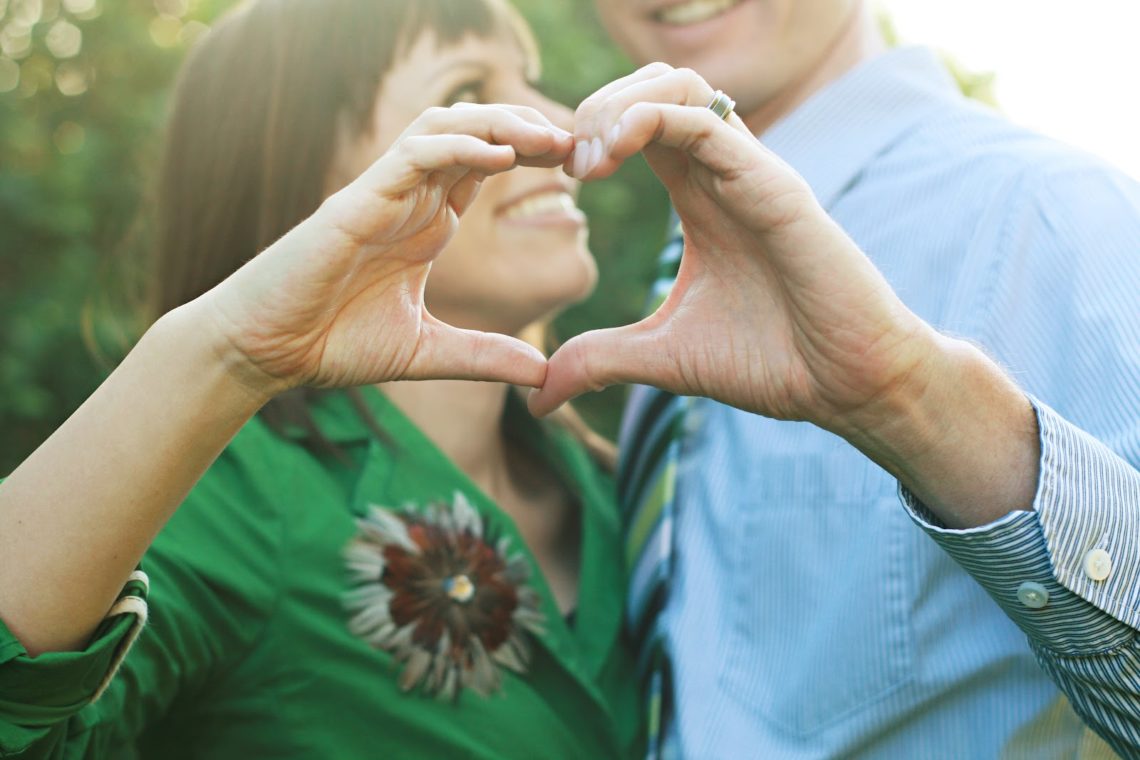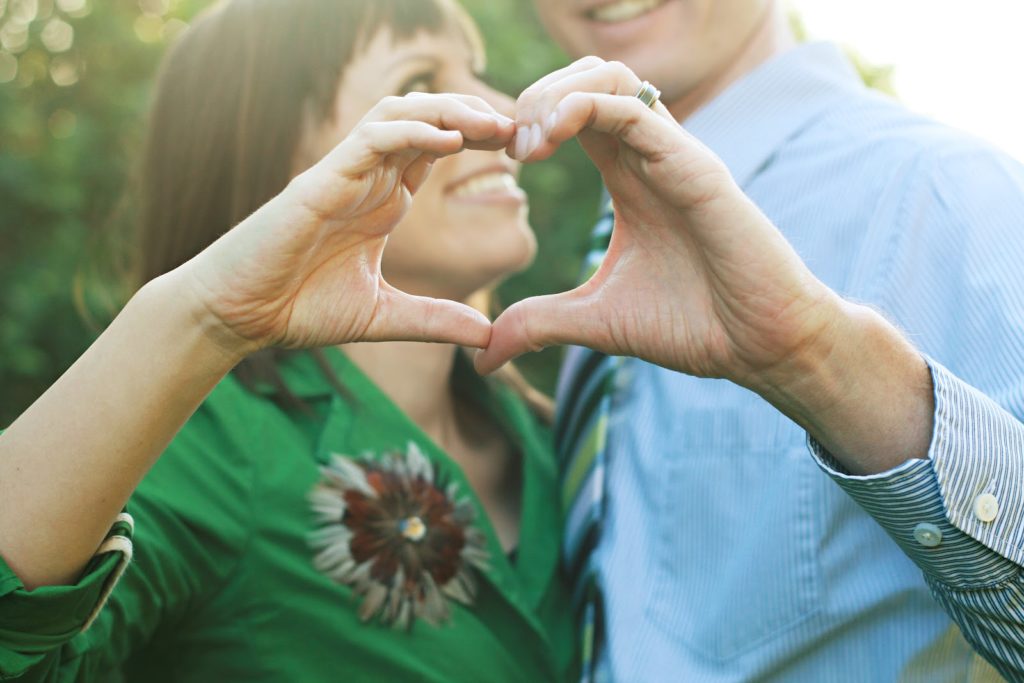 1 Year Anniversary Gift Ideas
Going along with the paper theme, here are several perfect paper gifts.
Give printed "paper" tickets to your spouse's favorite event – sports, concert, whatever!
Grab a Promptly Journal Couple's Journal. Promptly Journals Love Story is a great option for a couple's journal because it connects you together by remembering and recording the past.
Print your favorite wedding pictures into a photo book. Make the perfect coffee table book you can enjoy and remember all year.
Have the song you danced to at your wedding hand-lettered and framed. If you need a designer, here's my favorite affordable one.
Plan a year of dates and present them in our favorite year of dates binder.
How Can I Make my Anniversary really special?
The best advice is to lean into the details and specific things that helped shape you as a couple. Go to the places that are significant to you. Visit places like the movie theater you first held hands at. Visit where you had your first date. Get the same meal you enjoyed the first time you said you love each other.
Come up with some of the small details to show you remember and care. And lean into those for meaningful date ideas and experiences you can celebrate together.
Planning Your First Anniversary
Our first anniversary was one of the sweetest, most romantic memories for us. We hope you and your significant other feel the same way too.
Let us know in the comments below what ways you'll make your first-year anniversary special. Or how you've made your first year wedding anniversary awesome!
Like these 1st Anniversary ideas? Be sure to check out these posts too:
Love Playlist: Perfect Valentine's Day Songs
Get 365 Date Ideas!
We want to help you have the best date nights ever! Grab this FREE printable with 365 date ideas, a date for every day of the year so you never run out of ideas!