Outdoor Concert Date Night
The perfect summer date night may just be an outdoor concert date night. Here's why you should make an outside concert date happen!
I remember attending my first outdoor concert when I was in high school. I went with friends and thought it would be such an amazing date night to do with someone I love someday. There are so many reasons it's the perfect summer date night that we think you should definitely add to your date night bucket list. Here's a few!
Why An Outdoor Concert Makes A Great Date Night
It's Surprisingly Social!
You typically need to get seats early, and you'll see an opening act before almost any headliner. There's a lot of time to be social and talk. It's a great blend of entertainment and downtime.
It's a Full Night of Entertainment
We have posts like the one-hour date night because sometimes you need something short and sweet. But an outdoor concert is the opposite; it's a full night of fun! They typically start at 7:00 and go until late. It's a lot of bang for your buck!

Relaxing and Fun at the Same Time
If you know the artist, it's a blast to sing along or dance along to your favorite songs. If you don't know the artist well, its fun to get the exposure and watch other passionate fans enjoy the moment. It feels like a party, and also a relaxing serenade you can sit back and enjoy.
Cuddle Time
So many outdoor concerts are out on blankets on the lawn. But even those in seats bring you in close proximity together. As the sun sets the night gets cooler, it's a great time to cuddle up and end enjoy a romantic setting.
A Night Under the Stars
I am a sucker for great weather nights outside under the stars. This is one of those dates with a romantic ambiance everywhere. And I think nature usually does it best.
Leanne Rimes Concert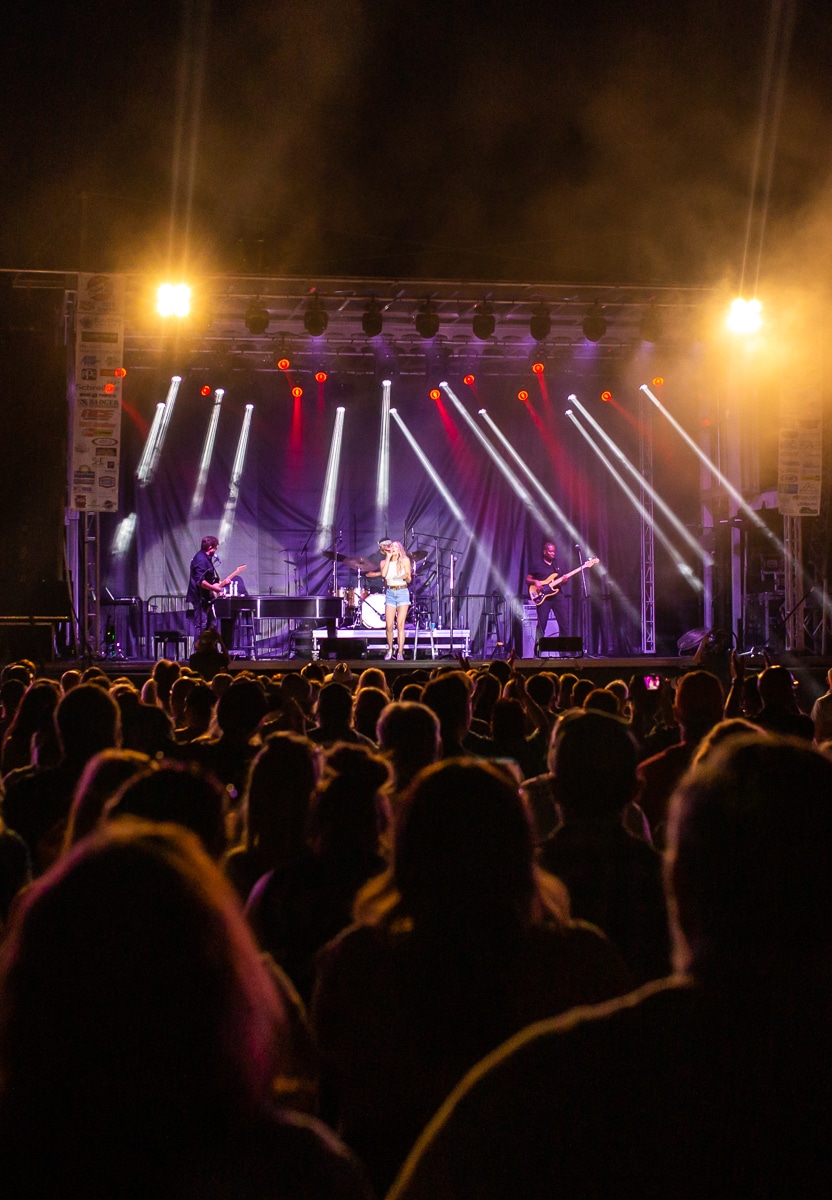 Outdoor concerts are typically only something we get to do in the fall in Arizona, and it felt like a treat to be living in Utah for part of the summer with cooler nights. Some of our favorite friends live in Northern Utah where we were staying, and reached out and invited us to an outdoor Leanne Rimes concert. We haven't been on a double date in so long, and my lifelong dream of an outside concert date with my husband in the middle of summer could happen! Plus, I loved her growing up, she was a child prodigy! It's so fun to see Leanne Rimes touring again.
And for the record, she's still a prodigy and really fun to see live!
There's something about live music that's good for the soul! Whether you see a local band or a big headliner, it's a fantastic date night!
Like this Outdoor Concert date idea? You may like these posts too:
The Best 101 Outdoor Date Ideas
Adventure Challenge Couple's Edition
Get 365 Date Ideas!
We want to help you have the best date nights ever! Grab this FREE printable with 365 date ideas, a date for every day of the year so you never run out of ideas!