First Day of Kindergarten Sign
Grab your FREE first day of kindergarten sign to document that first-day picture and your big kindergartner's big moment!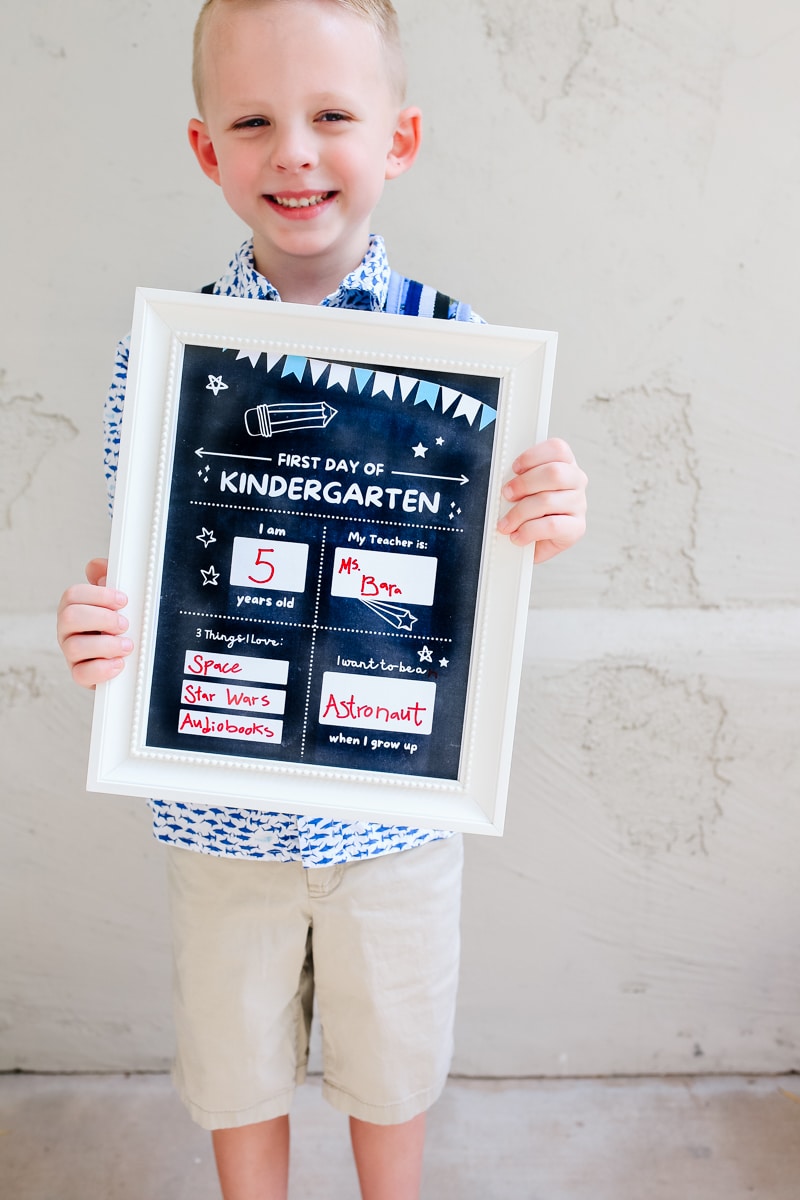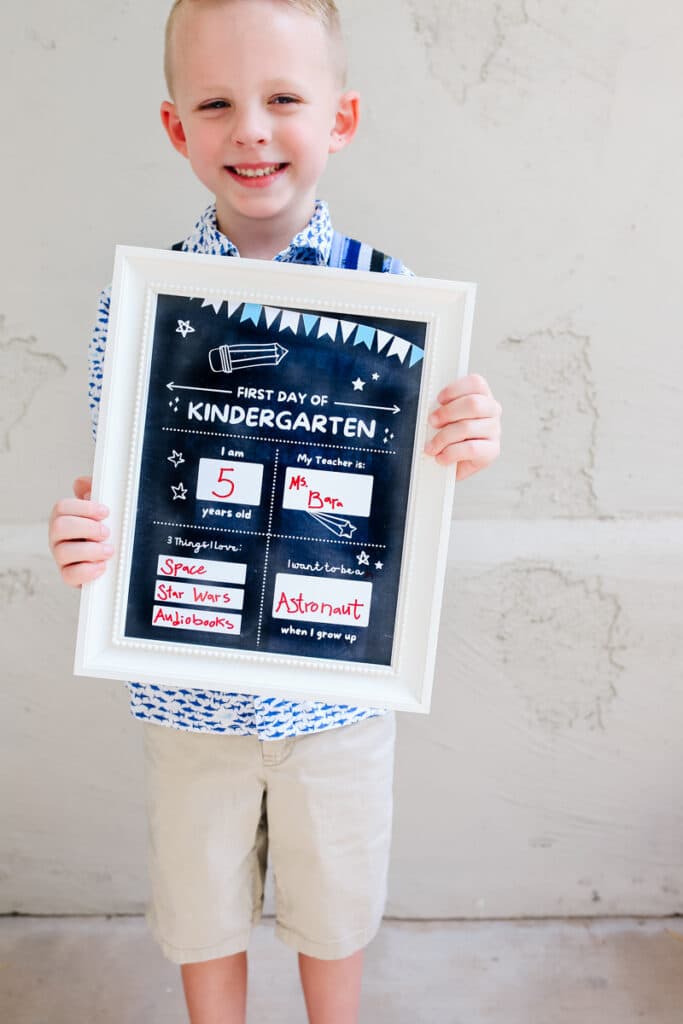 I can hardly believe the big week is here, our household will officially have a kindergartner! And I'm betting if you're reading this, your household will too!
It's such a big milestone and we're going all out this week preparing, celebrating, and maybe some mom crying too. But I'm trying to make it fun and plan to spend this week sharing some kindergarten prep ideas.
First Day of School Pictures
One thing I know most moms love doing is documenting the first day of school with pictures. I've done this through preschool and love capturing how they look all excited at the beginning of the year. It's equally fun to do a last day of school picture and compare the two side by side. Kids grow a lot every year!
Normally I just grab a chalkboard we have and write the first and last day of school on it. Simple is always great, and it's worked well! But this year I knew it was time to give it an upgrade with a first day of kindergarten sign. And we want to make sure you have it as a free first day of kindergarten sign so you can use it too!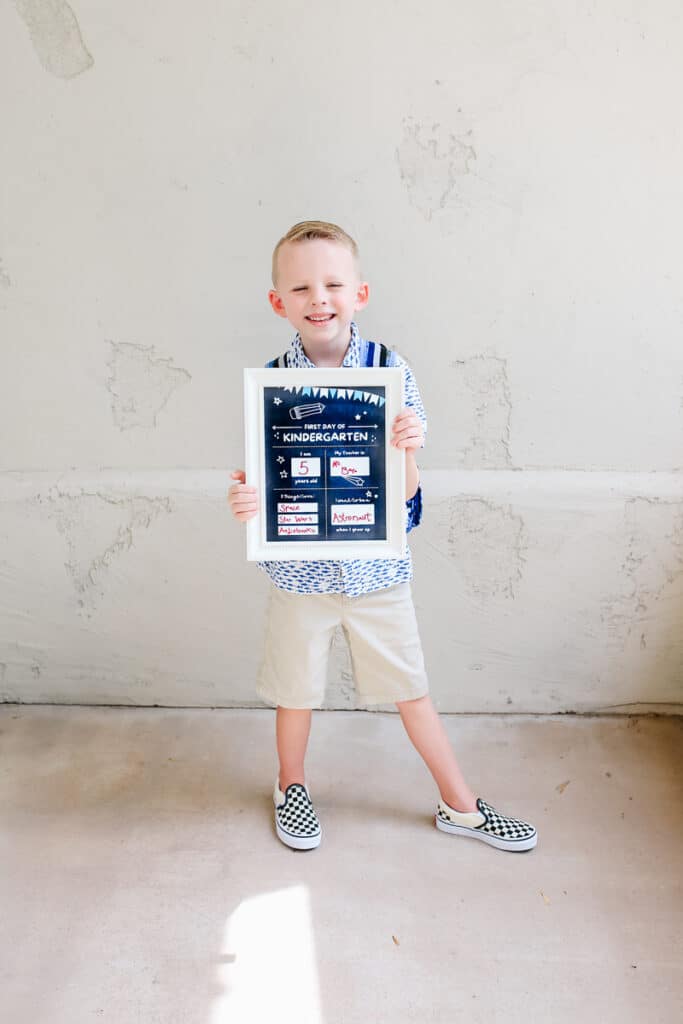 We're including a space to write who their teacher is so you can easily document it. There are also three spaces to write some things they really love and are into right now. I thought my three-year-old would never outgrow is dinosaur obsession. He still loves dinos, but Star Wars and all things space are his current jam. I'm sure it will change by the end of the year. But it's fun to know what they love (food, hobbies, colors, movies, etc.) at the moment they start school.
There's also room to document their current age, and what they want to be when they grow up. If you want to fit their name at the bottom you can do that too! I figure most of us know our kids and even if we have two clones, we can put together the age and year easily twenty years from now.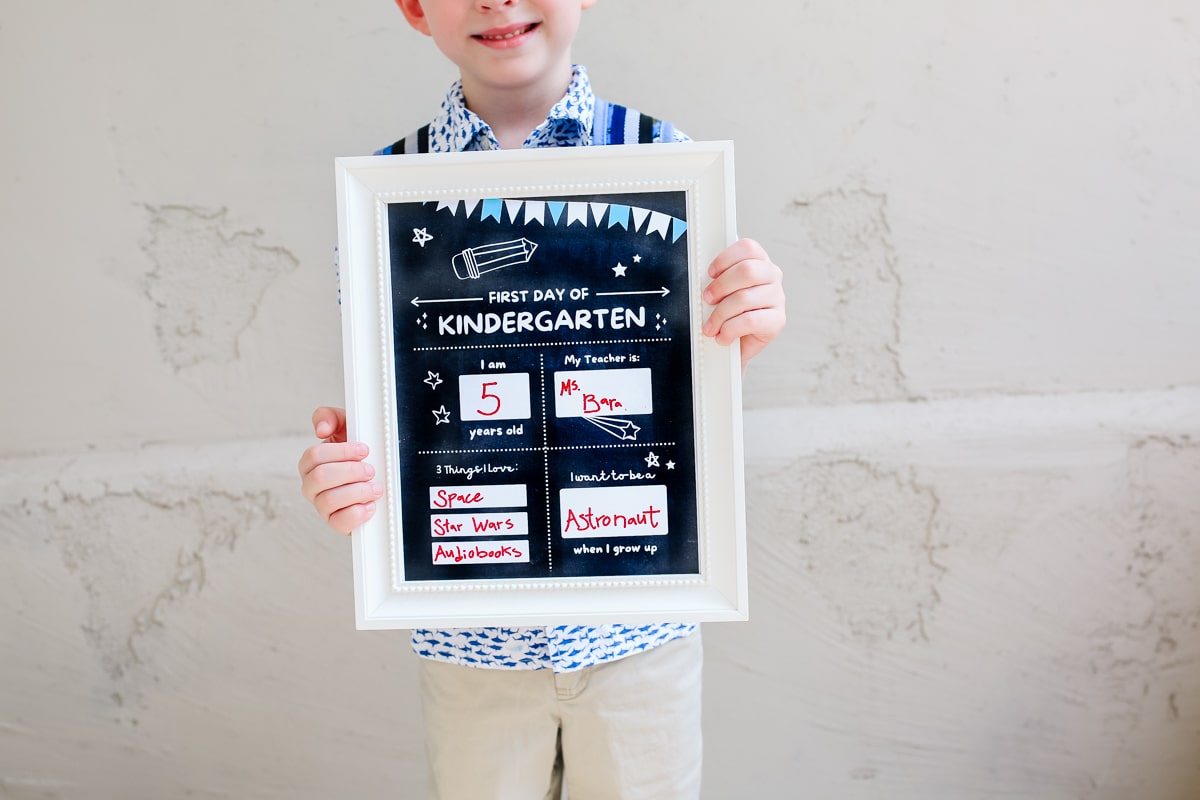 Kindergarten First Day of School
We love taking these pictures to document the kindergartner's first day of school. Kids are excited and usually dress up and look their best. But if you want to get ahead of the game feel free to take them early to lessen the stress of the first morning. Also, it's never too late to grab that first day of school picture! If you missed the big day, no one will ever know if you grab it the second day, or a week or two later. You do you!
But we hope you do it with the free first day of kindergarten sign printable you can grab right here! And if you use it, feel free to tag us or send us a DM on Instagram (@fridaywereinlove), we'd love to see it!
Grab Your Printable Here!
And we hope your first week of kindergarten goes well for your entire family!
Like this first day of kindergarten sign? You may like these posts too:
School Supply List: The Supplies You Should Stock Up On!
Early Kindergarten: How We Made Our Decision
Back to School Activities for Families
Get 365 Date Ideas!
We want to help you have the best date nights ever! Grab this FREE printable with 365 date ideas, a date for every day of the year so you never run out of ideas!