An easy and delicious date night for chocolate lovers: All the info on how to create a fun chocolate tasting date idea yourself.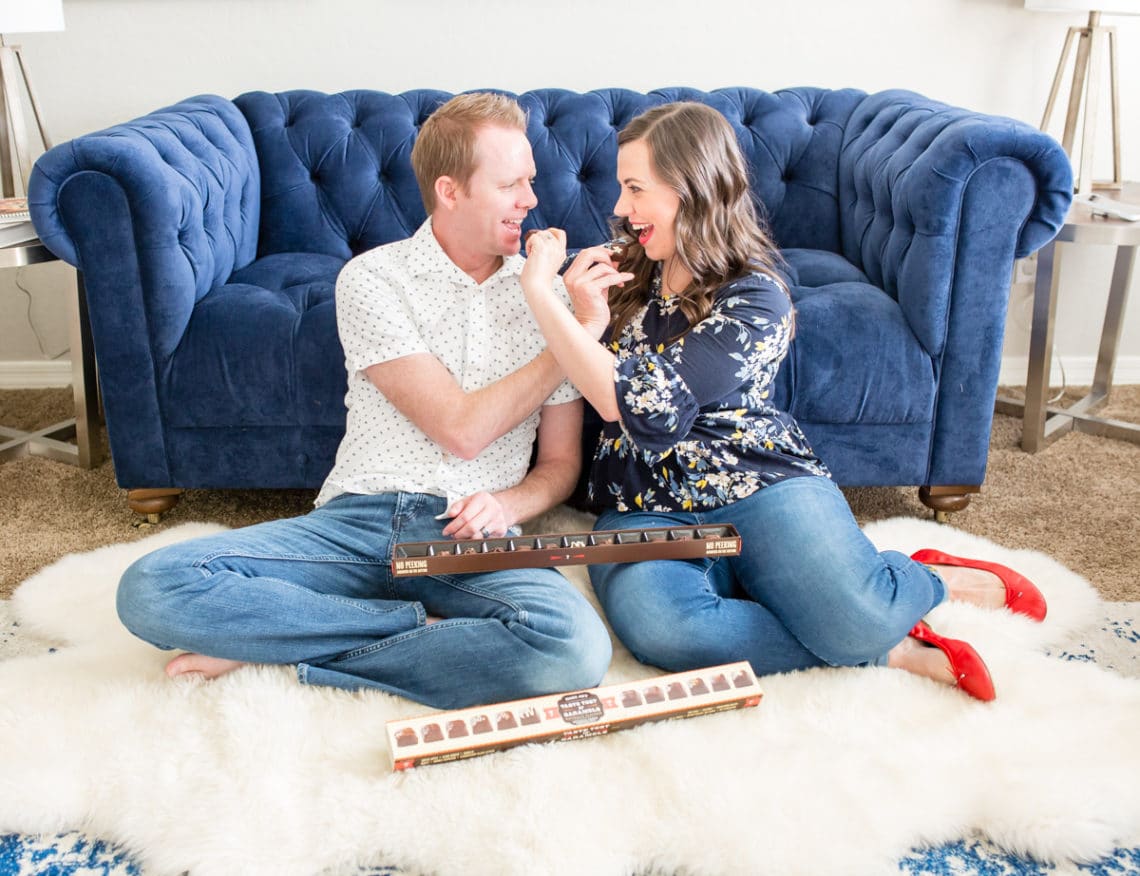 Chocolate Tasting Date Idea

Date Idea: Chocolate Tasting and flavor guessing
Location: At Home
Price: Cost of a box of chocolates, ours was $6
Time: 1 hour
Tip: Cut the pieces in 1/4ths, it's a lot of chocolate to consume in a little amount of time. You can always go back for more of your favorites when the chocolate taste test is over.
Whenever I see anything that I think could be fun, my brain automatically categorizes it as a date night idea. Since we're always on the hunt for our next date night, it's easy to find new things to try that could fun.
One day at Trader Joe's I happened to be pursuing my favorite section; the chocolate section. I saw a box that caught my eye and a light bulb went on. I thought "this could be perfect for a no-prep, cheap, chocolate tasting date night!"
One date night tip I'd highly recommend is to have a plan B date ready. It's just inevitable that you'll have an unexpected change of plans some time that you really need a good date. We've had babysitters cancel last minute. One time a car issue happened. But last weekend we had a sick child that we didn't feel like we should leave with a babysitter. I sure hate to cancel on a sitter and dissolve our fun plans. However, those plan B dates remind me we can still be together and still do something fun.

Chocolate Tasting Made Easy
This taste test of caramels chocolate tasting box from Trader Joe's set us back $6. I think they may be a seasonal item (so call ahead to make sure your TJ's has them), but I knew they'd do fine on the shelf for a few months and be perfect for a plan B date night.
Friends, they absolutely were! They were so good and so fun that I felt guilty thinking of them as a plan B. These are plan A first choice date night quality! I couldn't believe how fun chocolate tasting at home for date night could be!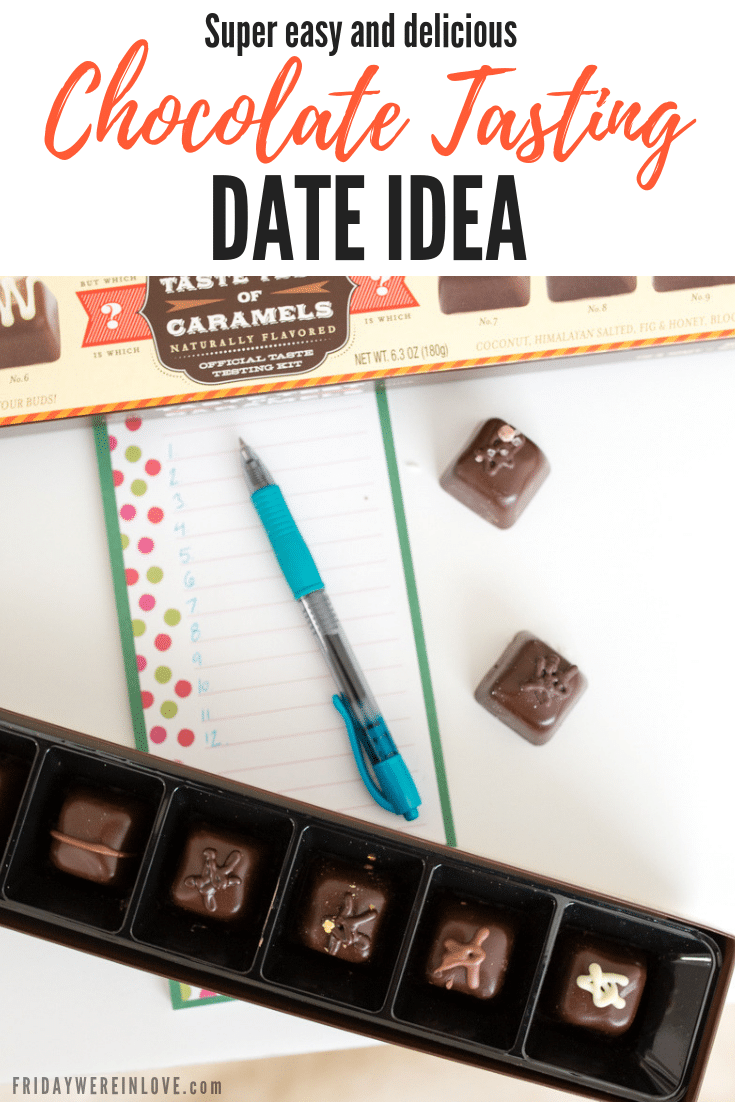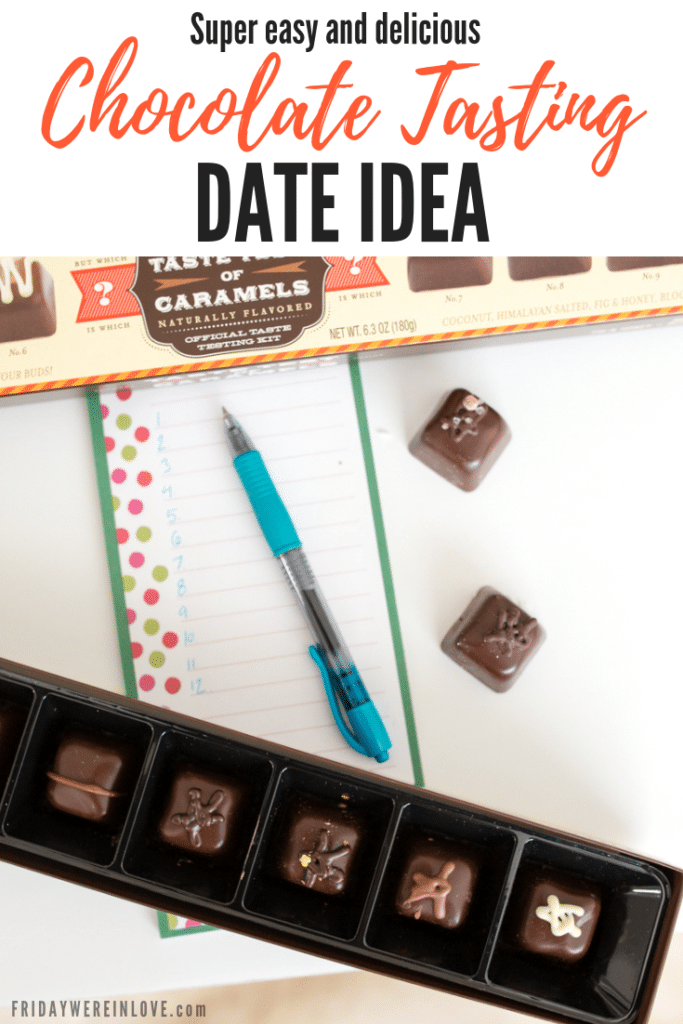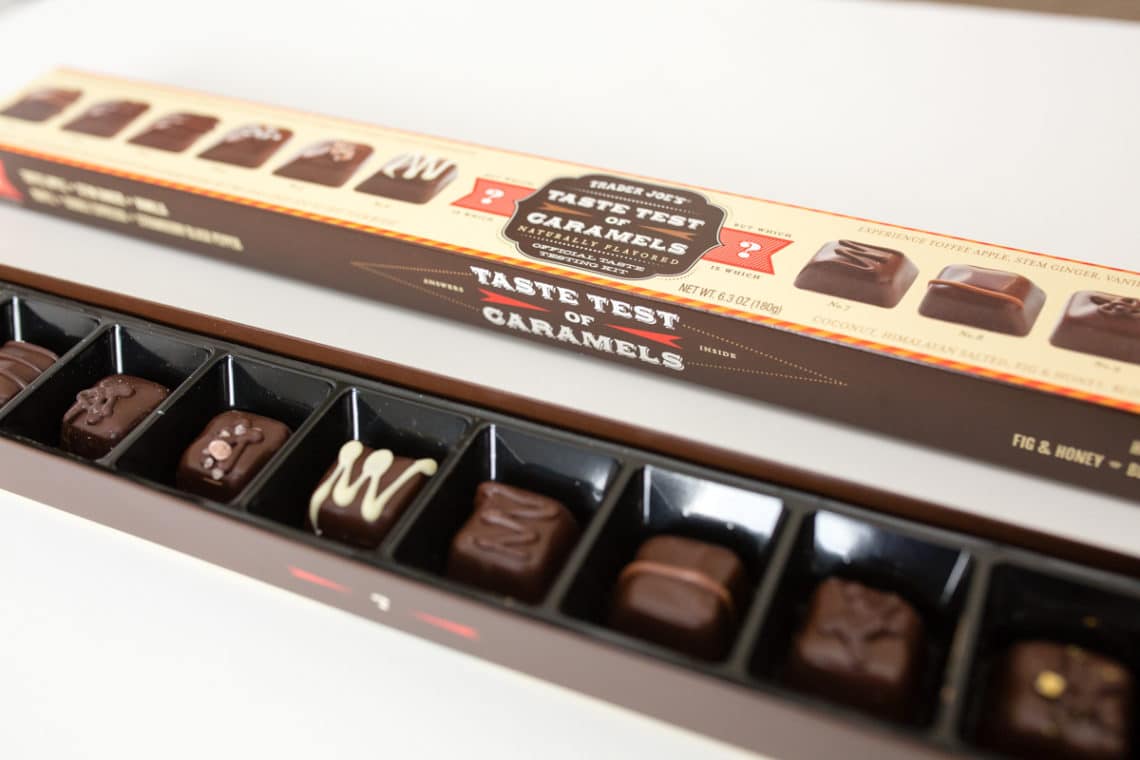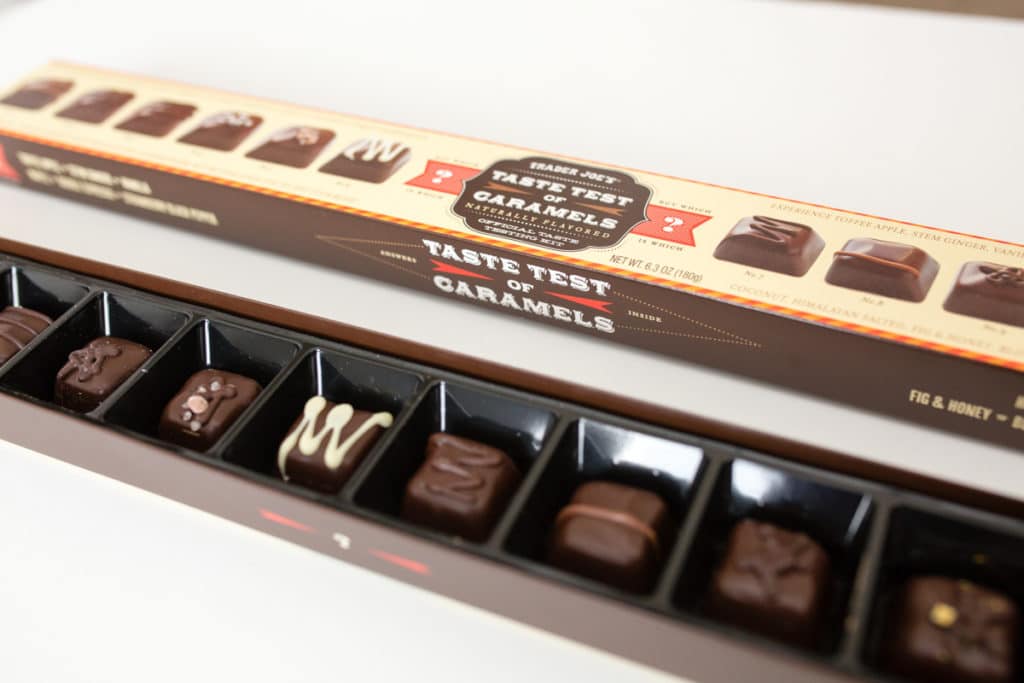 Chocolate Tasting Date Night
So here's how it works. And FYI, you could easily do this with another box of chocolates. No need for Trader Joe's or to find them when they're in season. Any box of chocolates can be an excellent chocolate tasting date night. You'd just need to remove the guide that tells you which kind each flavor is. From there you can keep track of each chocolate you remove from the box and guess the flavor. It may just take slightly more keeping track of your chocolates. But it's still the same chocolate tasting date!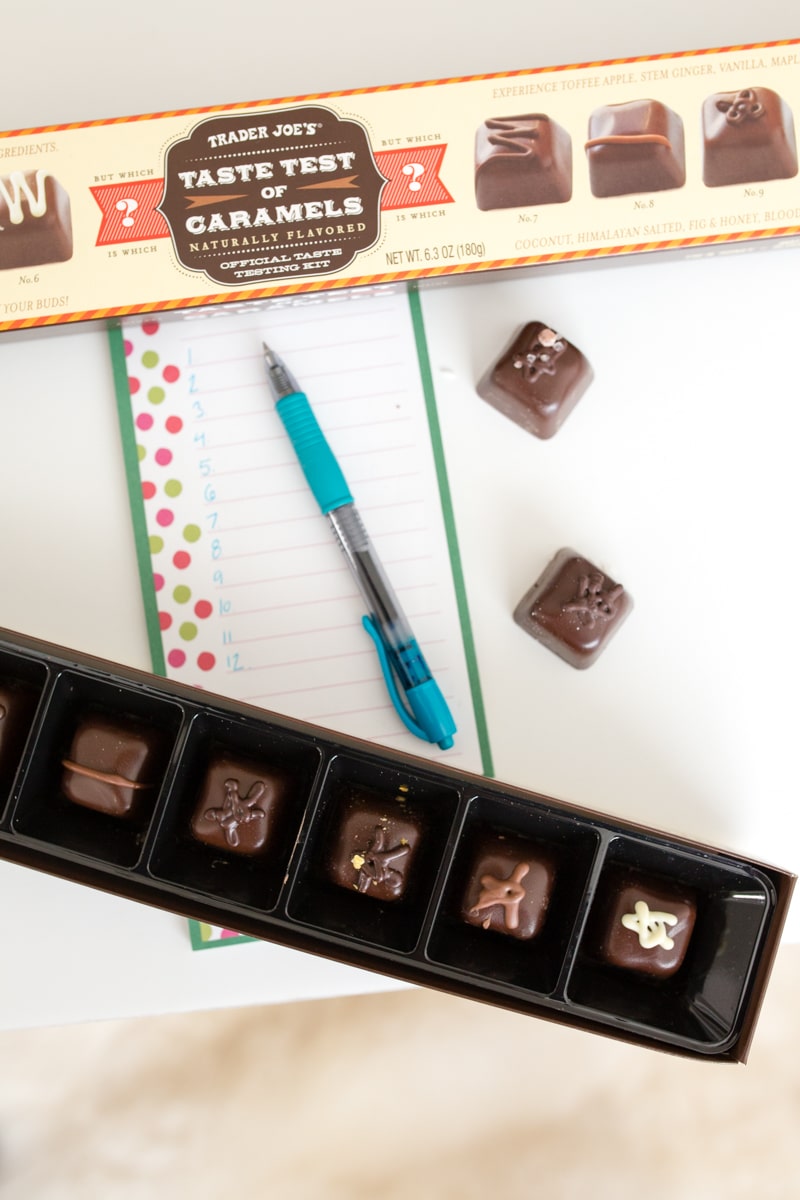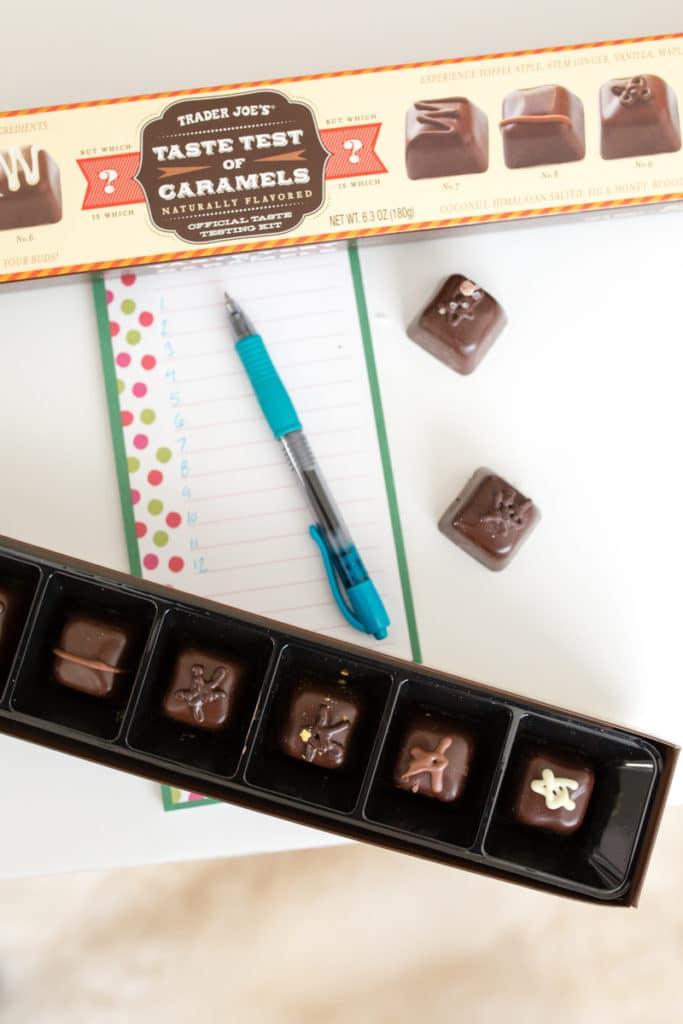 Our box was clearly designed for this and made it extra easy. We went in a row from 1-12 testing each one and taking a guess what flavors were included. I was surprised at how good they were, and also how rich! We cut them in fourths and halfway through I was satisfied with chocolate. I'm of Dutch descent, and dark chocolate is my jam! I really was impressed with the quality and unique flavors that were all good.
Dark chocolate fig and honey, strawberry pepper, and butterscotch were my unique flavor favorites. Not that I guessed any of them correctly, but at least they were delicious!
It took just a sheet of paper and pen per person to list out of guesses. We laughed at some of the surprised faces we made (oh hot chili made for a fun surprise!) and there was a lot of smiling and laughing. It really was so fun to see if we could pick out those subtle flavors in each one.
I'm embarrassed to admit I only got two right. Jacob has a more refined palate with four correct guesses. But we both agreed it was a fun challenge to take on!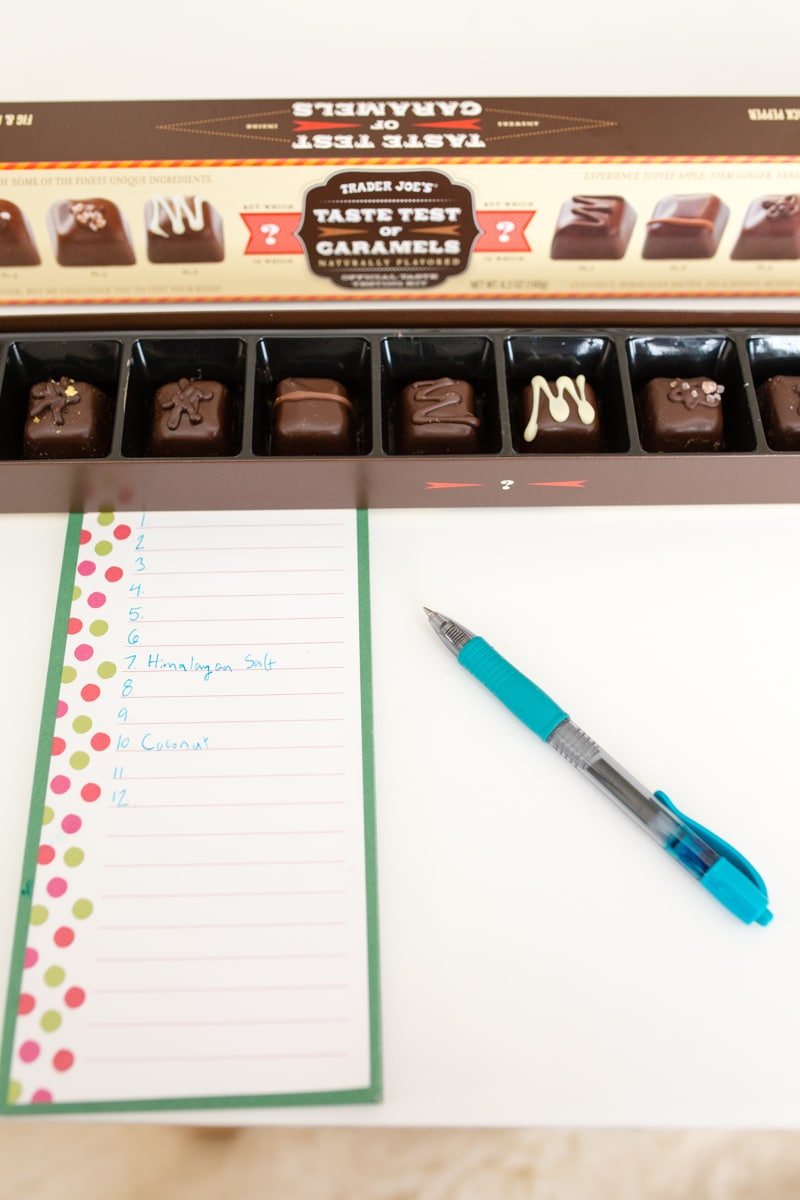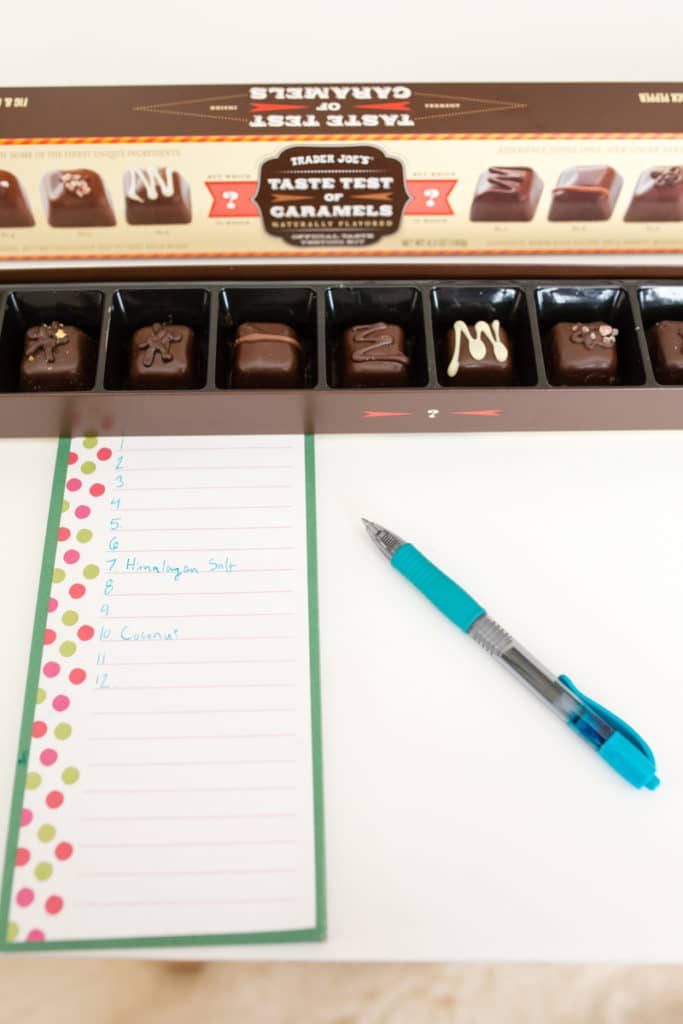 I love that you can buy a box of assorted chocolates any time of year. All it takes is one box of chocolates for a sweet night of chocolate tasting you can easily do as a cheap at-home creative date idea.
Like this chocolate tasting date night? You may like these date ideas too:
Romantic Valentines Day Ideas" 10 Unique, Romantic Valentine's Date Ideas
European Chocolate Date Night
The Best Romantic Comedies for a Movie Date At Home
Get 365 Date Ideas!
We want to help you have the best date nights ever! Grab this FREE printable with 365 date ideas, a date for every day of the year so you never run out of ideas!