In need of some ideas for a first date? Here are over 50 first date ideas so you're ready to ask that special someone out!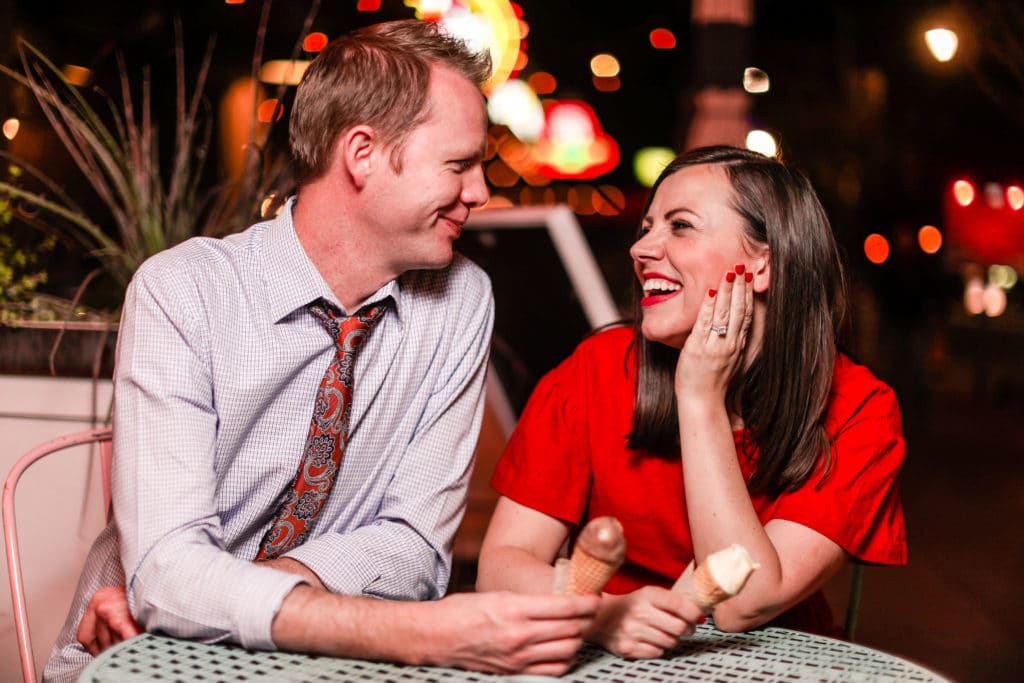 What are good ideas for a first date?
Whether you met somebody over a dating app, got set up on a blind date, or trying to turn a long-term friendship into a relationship, we have a first date idea here for you! Let's help you connect and enjoy getting to know each other with the perfect first date idea for you!
What makes a great first date?
A perfect first date involves something that gives you the right amount of time to talk. But it also provides a fun and good time. You want to make an impression, so getting a little creative is key!
Typically you want a date activity that shows you value sharing that person's time. But you also want to not have a date too expensive or extravagant to make your acquaintance feel guilty.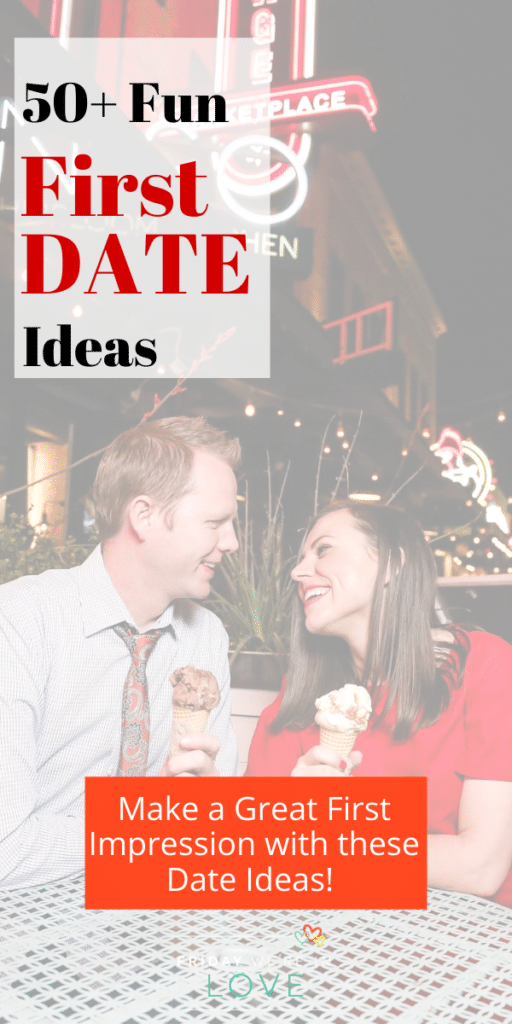 Over 50 First Date Ideas
Jazz or Blues Night Show:

A unique, cultural night out on the town.

Rock Climbing: A little conversation, a lot of fun! This will take your first date idea to new heights.
Related: Rock Climbing Date Night
Bowling:

It's an iconic first date for a reason. Enough time to sit, but enough time to keep moving and having fun.

Batting Cages:

Take a swing and get to know your date better!

Roller Skating / Roller Blading / Ice Skating:

The perfect activity if you need to find an excuse to hold hands.

Cooking Class: For a splurgier first date, you can recreate that cosmopolitan feel in the movie Hitch (hopefully without the allergies).
Related: Romantic Cooking Date
Painting Class: Did you originally connect over a love of art? Then this would be the perfect follow-up.
Related: Paint night date night
Dog Park (with your dogs) or Animal Shelter:

If you and your date share a love of canine critters, make it a good date at the dog park or animal shelter.

Mini Golf:

Fun, low-key, but keeps you moving – perfect first date formula. It's a classic first date idea for a great reason!

City / State Fairs and Carnivals:

Dependent on your budget, you can go big with a state fair or save some money on a smaller fair in town.

Nearby Water or Amusement Park: Make a day date out of it with a group for an unforgettable first date.
Related: Waterpark Date
Skateboarding / Longboarding:

This is either a great opportunity to show off your skills or teach your date something cool.

Nature Reserve or Botanic Gardens:

Enjoy the beautiful and unique nature in your area.

Rodeo / Country Dancing: Put on your cowboy boots for some extra, old-timey fun.
Related: Rodeo Date Idea
Fun First Date Ideas
Go-Karts:

One ride around a go-kart rink is pretty affordable for an unforgettable first date.

Paddle Boat / Canoe / Kayak:

Take to the water together for a "rapid" adventure.

Escape Room:

To make it cheaper, you can make it a group date night with your friends.

First Friday Walk:

An excellent way to discover the city you live in and your date.

Zoo:

Walking around animals will help with the small talk or potential awkward silences.

Virtual Reality Arcade:

Have you seen these immersive experiences popping up? They're a fun twist to the usual arcade.

Laser Tag or Paintball:

Strategize with your date for a rush of fun.

Swing Dancing:

Another fun, active option with a classy, romantic twist.

Karaoke:

A great ice-breaker activity, but hopefully not a deal-breaker from bad singing!

Sports Game: From a baseball date to soccer, watching a live sports game can provide entertainment with enough for conversation too! Also, if you and your date share a mutual interest, playing in a game might be even more fun.
Pottery Class:

You can go all cheesy "Ghost" style if the date goes well. But all jokes aside, it's an engaging, artistic date to give a try.

Axe throwing date or Knife throwing:

For the ultimate "thrilling" first date.

Group Board Games Date Night:

Another affordable, safe option. Especially if it's a blind date.

Short Hike: A slightly more athletic version of the "walk in the park" date.
See our Hiking Date Idea tips here.
Aquarium: Explore awesome marine life and have a lively conversation along the way.
Relate: Aquarium Date night
Racquetball:

You can often find free courts in parks or high schools. You'll just need to bring the bat and ball.

Seasonal-Themed Date: go sledding, try a hayride, float in tubes, or dance in the rain.
Related: Pumpkin and Chili Fest Date
Service Activity: A date you'll feel good from afterward, especially if it leads to a second date! Try a soup kitchen, meal packing, or simply an "Acts of Kindness" date.
Acro Yoga Class:

This is a great way to get more comfortable and trusting of each other.

Shooting Range:

Get your adrenaline rush by pulling the trigger in this controlled environment!

Unique Holiday Festivities: Halloween haunted houses, Christmas sleigh rides… or look for a more novelty holiday like National Donut Day if there isn't one coming up and get free donuts! The possibilities are endless.
Museum or Special Exhibit:

The more unique the museum or exhibit you find, the more conversation starters for your date!

Fun Run: Color runs, glow runs, mud runs… all of these you can optionally walk too! Plus it's an easy way to get in an active date idea while promoting conversation.
Thrift Store Fun:

Dress each other up in goofy or stylish apparel. And, if you find something you or your date likes, it's not an expensive gift.

Trampoline or Bouncy Park:

As the infamous lyrics from House of Pain Say, "Jump around!"

Epic Puzzle: Probably a 1000-count puzzle is enough for one evening, as long as it isn't a polar bear in a snowstorm.
Related: Puzzle date night idea
Chocolate / Candy Factory or Novelty Shop:

You can often enjoy samples and grab new, unique flavors of your favorite treats.

Kite Flying:

If the wind is right, then it's perfect timing to take advantage of this affordable activity.

Unique Sports Event:

Watch Roller Derby, college Quidditch matches, bocce tournaments, or something else you discover in your area.

Volunteer: Lookup JustServe.org for some easy volunteer opportunities in your area.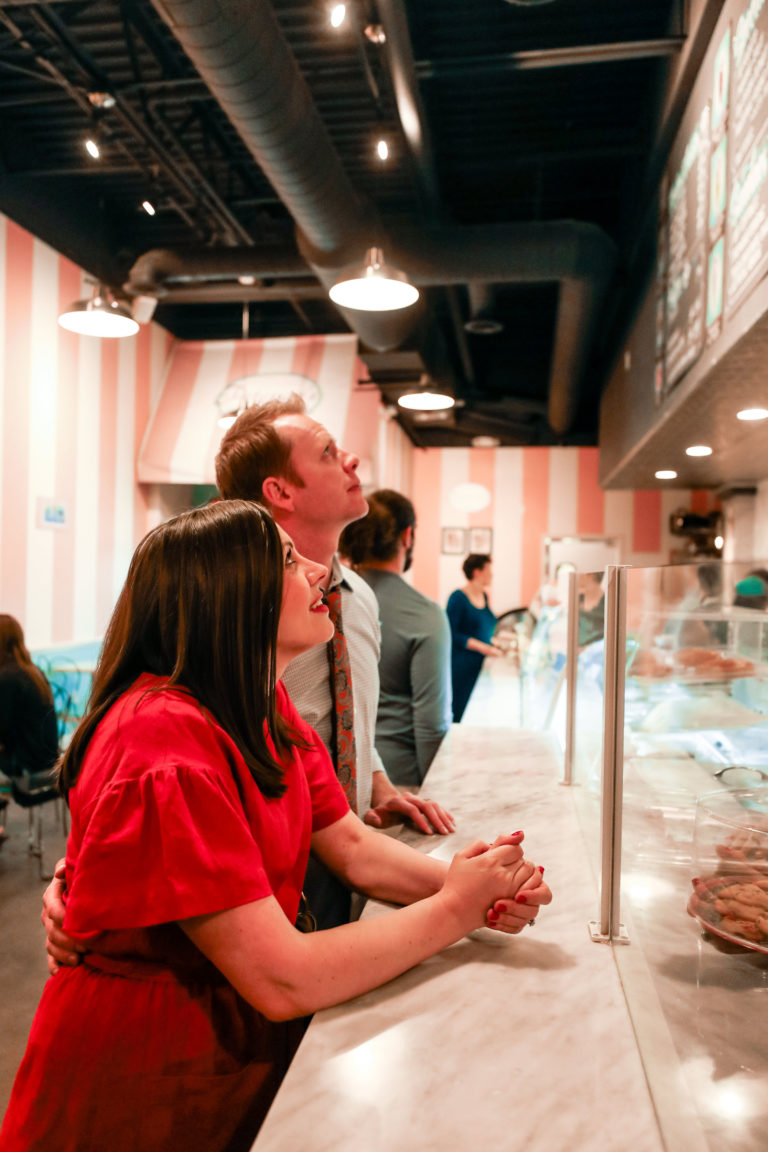 Low Key First Dates
Brunch: If this first date is especially somebody new, this is a low-commitment but quality way to get to know them better.
Related: Brunch date idea
Frozen Yogurt / Self-Serve Ice Cream:

Probably the simplest, easiest first date option if you need a last-minute or late-evening idea. This is a caffeine-free version of the first brief meetings at coffee shops.

Concerts / Theatre / Movies in the Park: A highly affordable way to take somebody to a quality show. Or, a unique alternative to dinner and a movie.
Related: Movies in the Park
Mocktails and Card Games:

Recreate your own "casino night" without losing a ton of money over it.

(Busy) Park Walk and Dessert:

This is a great, simple option that keeps you a little active and distracted, but also focused enough to chat.

Improv Comedy Show: This is a very low-key but high-quality first date option to share each others' sense of humor.
Related: Improv Comedy Show Date
Trivia Night Out on the Town:

These are most often held at arcades, pubs, grills, and bars. Just Google, "Trivia Night near me."

Bike Ride/ Tandem Bike Ride:

This is the perfect, laid-back, and fun activity if the weather permits.

Side Attractions at the Mall:

bungee rides, back massages, Merry-Go-Rounds, and more!

S'mores with a Campfire or Bonfire: A delicious way to take advantage of cooler temperatures and stay comfy outside.
Related: S'mores Bar Date
Farmer's Market: Local markets hold plenty of surprises beyond vegetables – they often have food trucks available too.
Related: Farmer's Market Date
Drive-In and Drive-In Theatre: Another unique twist to the dinner-and-movie formula.
Related: Drive-in Movie Date Night Tips
College Show and Campus Walk:

A discounted cultural experience with a stroll through beautiful architecture and landscaping.

Group Movie Night Date at Home: Make your own novelty popcorn and enjoy a classic show with some other couples. Bonus if you do an outdoor movie night.
Picnic: Make your meal, order take-out and find a unique, beautiful spot to enjoy. Parks, lakes, and more.
Related: Romantic sunset picnic date night
Scenic Drive:

If you and your date are more familiar with each other, this would be a safe option to enjoy.
Like these first date ideas? You may like these date night ideas too:
Best Date Night Ideas You Can Order From Amazon!
Date Night Boxes: A Review and Roundup of the Best Date Night Subscription Boxes for Couples
Adventure Challenge for Couples
Photos: Andrew Millet Photography
Get 365 Date Ideas!
We want to help you have the best date nights ever! Grab this FREE printable with 365 date ideas, a date for every day of the year so you never run out of ideas!