Summer Schedule for Kids with Free Printable
Summer Schedule for Kids: a fun system to set up a summer routine that works for moms and kids with a free printable download!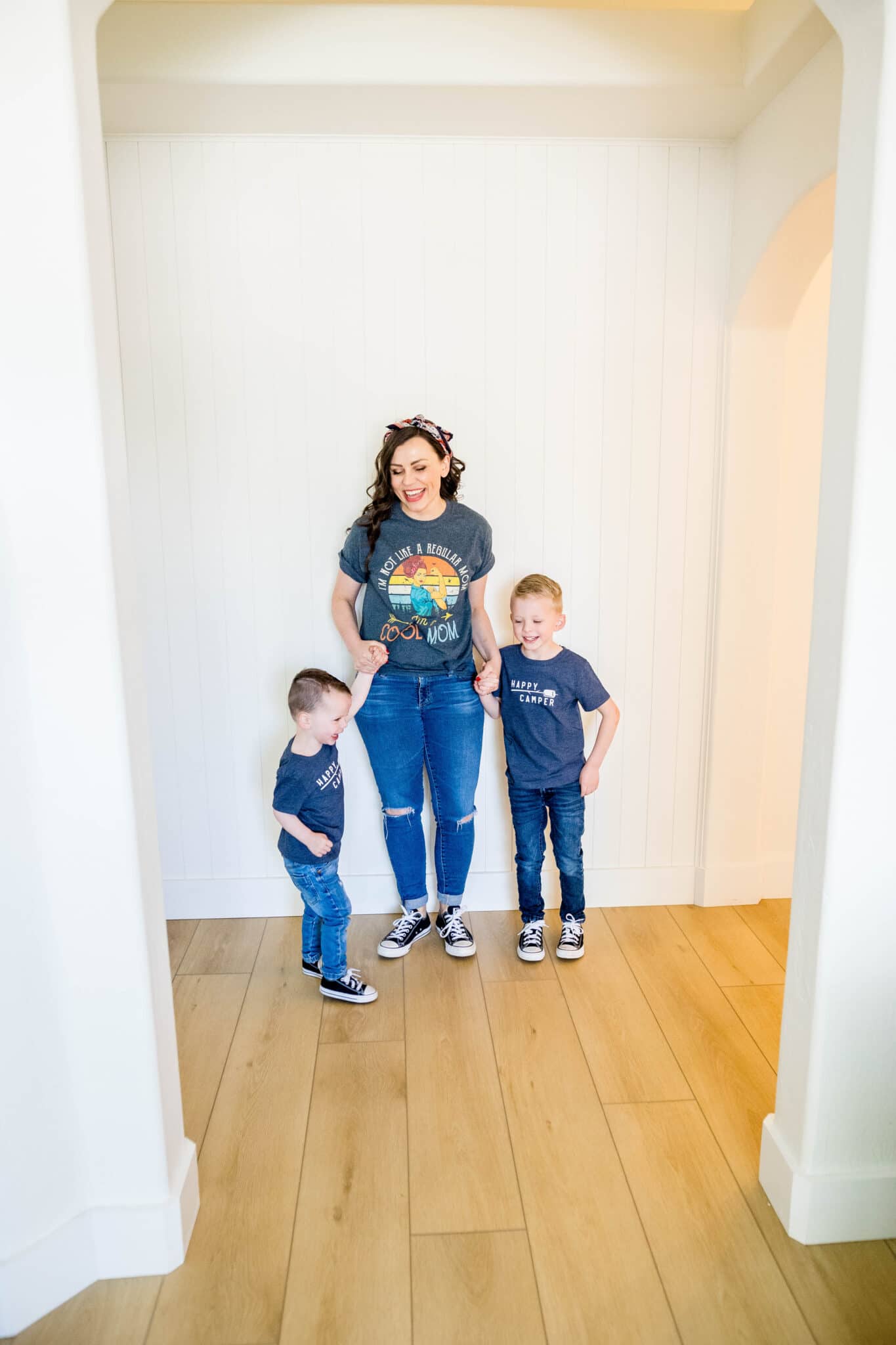 Grab Your FREE Summer Schedule Printable Here:
We're so excited about the hundreds of families who downloaded our 150 Summer Activities for Kids Free Printable yesterday! I know you're going to make so many fun plans and create those memories!
But I also know so many moms who start the summer excited to do all the things, and within a week feel burnt out, tired, overwhelmed with work and home responsibilities, overwhelmed with messes, and broke. Raise your hand if you relate to any of the above! (Both my hands are up, trust me!)
This is why we're all about setting up a very clear summer routine and summer schedule for kids that works. If you don't plan the fun, it won't happen. If you can't make it make with your time and budget, it's overwhelming quickly. Also, I'm a firm believer that it isn't all up to mom to make summer amazing. Even if you have little ones, they want to be helpful and a few easy routines make all the difference!
Why You and Your Kids Need a Summer Routine
If your kids are home at all this summer, I promise you setting up a summer routine will be the best thing you can do! Here's what it helps with:
Kids know expectations
Structure helps kids feel secure
Fun is built-in and set to happen
Chores and responsibilities are accomplished
Mom has time to tackle the things she wants to and needs to
Everyone knows their jobs and roles
Less stress for everyone
Set boundaries on screen-time, friends, and messes
No more asking/begging/whining about when things will happen: kids feel informed!
Different family needs are met throughout the week so everyone feels included and involved
Setting Up a Summer Routine
I consider myself a high-energy mom who thrives on going and doing. But I learned my first summer with a toddler that too many plans left our house a mess and me overwhelmed. And I started to create schedules for kids and myself that helped us tackle different things on different days.
My house may not ever be perfectly clean (I'm a toddler boy mom after all!), but it is picked up most of the time and deep cleaned at least for a few days every week.
Family outings help us all keep the house clean and feel like we're loads of fun. But they have to stay in check for summer fun.
I've also learned that even my most extroverted child needs some downtime and quiet time fun at home. Every kid does, and every adult does too!
IT IS ALL ABOUT BALANCE!
This is why we create a summer schedule for kids that balances what matters to us. And why we think you should do the same thing!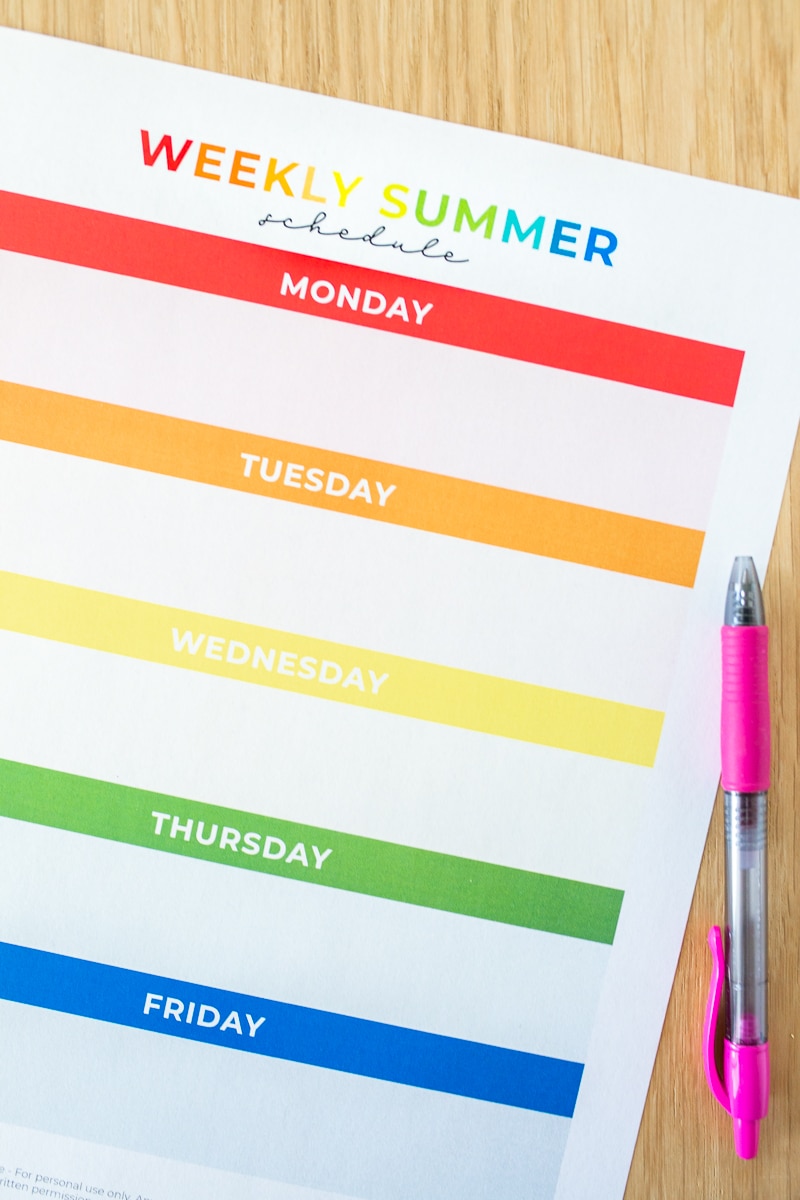 Our Summer Schedule for Kids
Our summer schedule for kids included choosing a set day of the week and going with a set type of activity for each day. Some days we make intentional plans to leave the house, some days we make intentional plans to do certain activities at home.
My kids love knowing "It's Monday, that means today mom has less work and more time to do something fun with me!"
We do this every day of the week. My kids know when they get a lot of mom attention, when we're leaving the house on an adventure day, what day we're working on school/learning/summer reading time, and when mom is willing to bust out the craft supplies and let gluesticks and googly eyes reign the kitchen counter.
Here's What Our Summer Schedule Looks Like:

Mom and Me Munday:
Let's do something together! Today is all about some quality time with my kids, or each kid individually. We may bake cookies, play a game, or spend time cleaning or fixing up someone's room.
Creative Tuesday:
I may not be the crafty Pinterest mom I dreamed about, but this is the day I pretend to be! We have some craft kits on hand to pull out, and also some art supplies we use this day. It may be formal and planned or a free-for-all to create something with recycle bin items.
But Tuesday is the day I opt to keep the vacuum on standby and let my kids enjoy the creative process.
Work it Wednesday:
I'm all about helping my kids stay active: hello better naps and early bedtime! Wednesdays are for outdoor adventures, exercise, water fun, and getting all of their energy burned off.
Let's Learn Thursday:
Summer is a time to relax, but it's also a time to keep minds sharp! I love setting up structured reading time, planning for STEM projects, doing activity books, and working on school skills. It's also a great time to learn something new together about whatever your kids are interested in.
Fun Friday: Hello fun outings and field trip day! We learn and clean on Thursday so Friday can be a day we head to museums, fun centers, the library, or go out and get a treat.
If you like our schedule, we have great news, you can get our Weekly Summer Schedule as a FREE Printable/digital download! Print it and post it so your kids know what day they can plan each type of summer fun.
Need Your Own Printable schedule for kids? We have you covered!
Printable Schedule for Kids and Families

This printable works for so many different things, but I love it to help you create your own summer routine! If you know dance/basketball/jump center burn-off energy day is always going to be on Tuesday, you can get that on your own customizable summer schedule all set.
I'd highly recommend taking a look at our 150 Summer Activities for kids, writing down your favorites, and plugging them into a calendar that works for you! Just make sure you balance it all out so there's a good mix of time you can accomplish tasks at home, and plenty of fun too!
I promise a summer schedule for kids, even a loosely themed one can make all the difference! Even if you do the same thing every week (I'm not judging you one bit for always have a free park day for your weekly outing!), at least it's planned. Kids can look forward to each day, and you can too knowing when laundry day, extra work time, or really intentional quality time is happening.
You know we're not stopping here! Watch out for next week when we share tons more free planning templates, calendars, and ideas for systems to keep your household running and having the best summer this year. And if you're not on our CAMP MOM email list I promise you want to sign up so you never miss one of these helpful posts chalked full of freebies and tips to make this the best summer yet!
Like this Summer Schedule/Summer Routine? You may like these posts too:
150+ Summer Activities for Kids with Free Activity List Download!
Kids School Morning Routine Simplified
Get 365 Date Ideas!
We want to help you have the best date nights ever! Grab this FREE printable with 365 date ideas, a date for every day of the year so you never run out of ideas!