Santa at the Mall Family Date
This family date to see Santa Clause at the mall is sponsored by Santa HQ. But all opinions are our own.
Santa At The Mall Family Date
Price: The cost of a pictures with Santa package. Check your local listing for exact pricing.
Location: Your local mall! We love Santa HQ at the Chandler Fashion Center and Scottsdale Fashion Square Mall in the Phoenix area.
You can find Santa HQ in California, Arizona, Chicago, Metro New York, and the Washington, D.C. corridor.
Time: About 30 minutes.
Tip: Reverse a fast pass time in advance so you don't have to wait in line!
One of our favorite things is documenting the season of life we're in. And the easiest way to do that is with pictures.
It's a blessing and a curse to have apps that show you what happened on the same day every year prior to this year. My heartstrings are always pulled when I realize how much my kids grow and change each year!
This is one of the reasons I think pictures with Santa at the mall make for an excellent family date. It's fun for the kids now, but it's a moment frozen in time. Santa pictures document the ages of your kids and the season of life they do it perfectly.
Preparing Kids to see Santa at the Mall
There are two purposes to go to the see Santa at the mall. The first is to allow children the chance to tell him what they'd like for Christmas. This can be a fun and exciting part for them! No worrying about if a letter made it to the North Pole, they can see the big man in person!
We prep our children by role-playing in the car. If they can confidently say the toy on their wish list, they are set to meet the big man!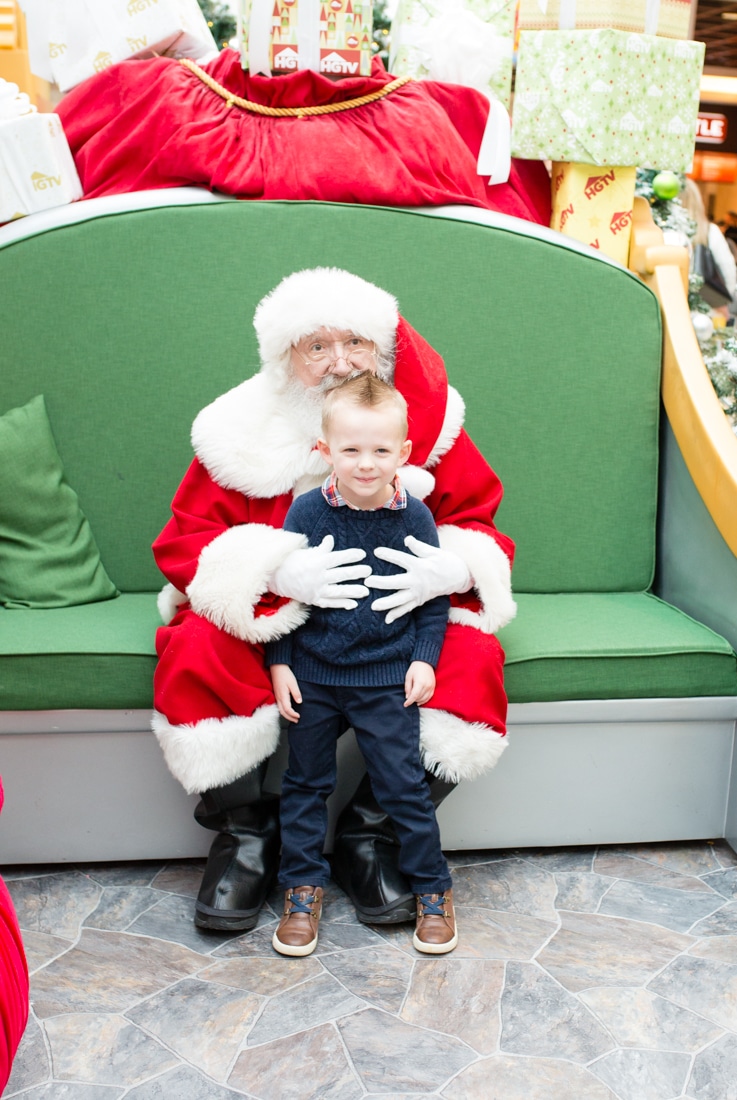 Pictures with Santa at The Mall
After that moment, it's time to capture the picture. Santa HQ has a photographer ready to capture several shots! If you want that smile while they walk up to Santa, they are ready. We kind of love the crying baby pictures. Even though I feel terrible for the baby/toddler, it's a parenthood bucket list moment worthy of a picture!
We love to get our little guys dressed up a bit, and we stand prepared to capture the true essence of their reaction. Also, we're fans of getting a few family pictures too. It's a fun memory and it typically calms baby nerves to add in a parent.
Hacks for Santa Visits at the Mall
I think the worst part is taking excited children only to find you're going to have to wait in a long line. Our favorite hack for avoiding lines is to visit HGTV's Santa HQ. You can reserve a fast pass spot online and even buy a photo package before you even go! It makes the whole process so easy. Just show up without your 30-minute window and walk right in!
Make it more of an experience with fun activities. Santa HQ provides this for you. They have all kinds of fun interactive activities for kids. It's fun to take your children to the Naughty or Nice Meter and have them weigh in. We were confident our oldest had the right reading.
But our baby had just scaled the pantry in the name of sneaking chocolate chips. We had to double-check the accuracy on that one!
It's also fun to do the other activities at the Elf Academy. It's a fun family-friendly experience with interactive technology to enhance your Santa HQ visit. My boys loved flying Santa's sleigh, using the Magic Mirror to transform into one of Santa's elves, and making their own Elf-ID selfie.
We had fun as parents helping them use the Elf-Ray Vision to look through tablets for an augmented reality experience. The technology really enhances the fun and experience.
Santa HQ Events
This can also be a giving event for your entire family.HGTV's Help Through Holiday Giving is a program that encourages visitors to donate toys for underserved children during the holiday season.
They also host special events you can find online that include accommodations for specials needs families, bring your dog or cat, or meet Santa's Elves.
Like this Pictures with Santa post? You may like these posts too:
Decorating the Tree Family Tradition
Stocking Fillers: The Formula That Makes Stocking Stuffers a Breeze!
The Best Christmas Picture Books
Get 365 Date Ideas!
We want to help you have the best date nights ever! Grab this FREE printable with 365 date ideas, a date for every day of the year so you never run out of ideas!