Our Surefire Way To Calm Baby Down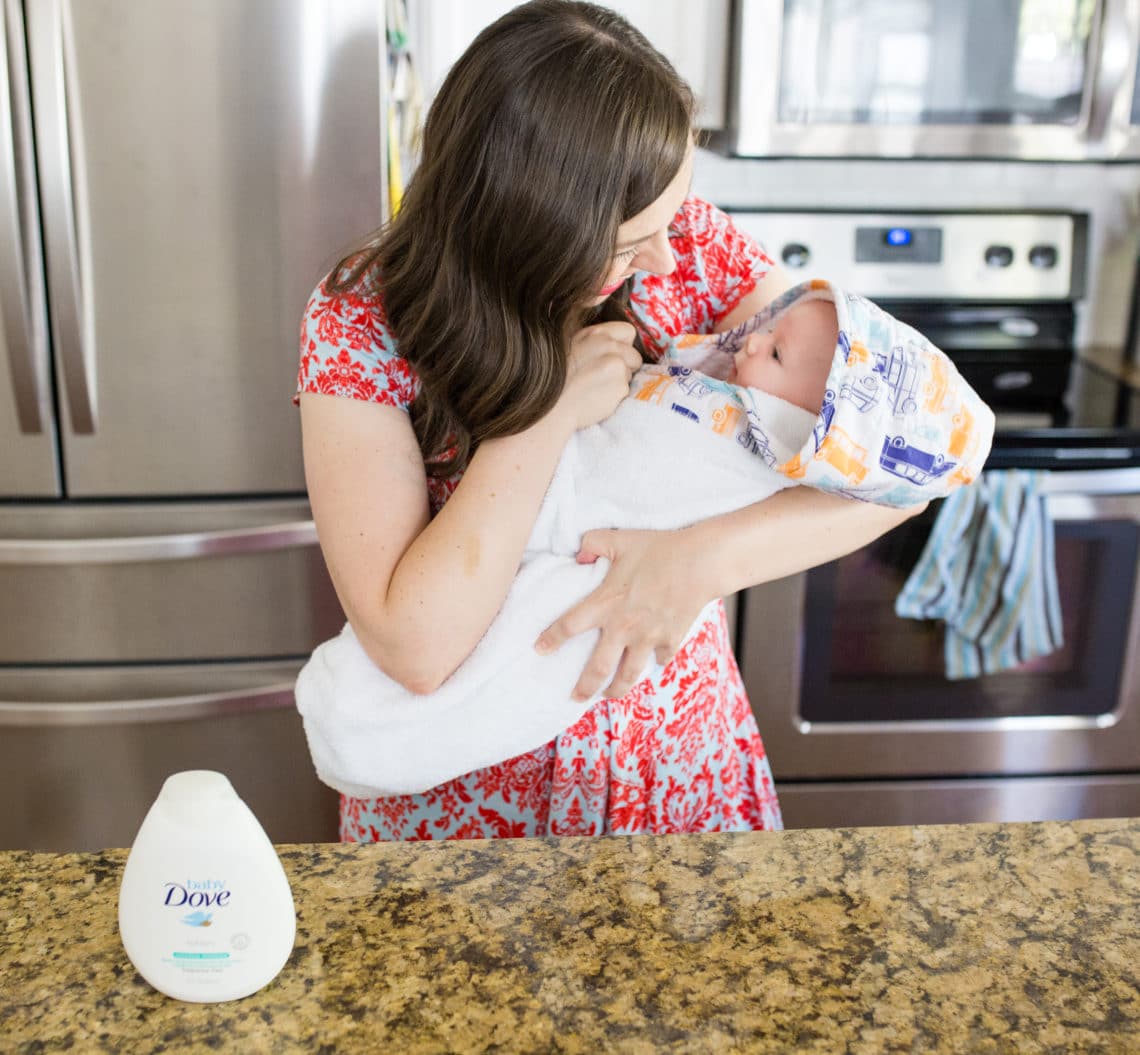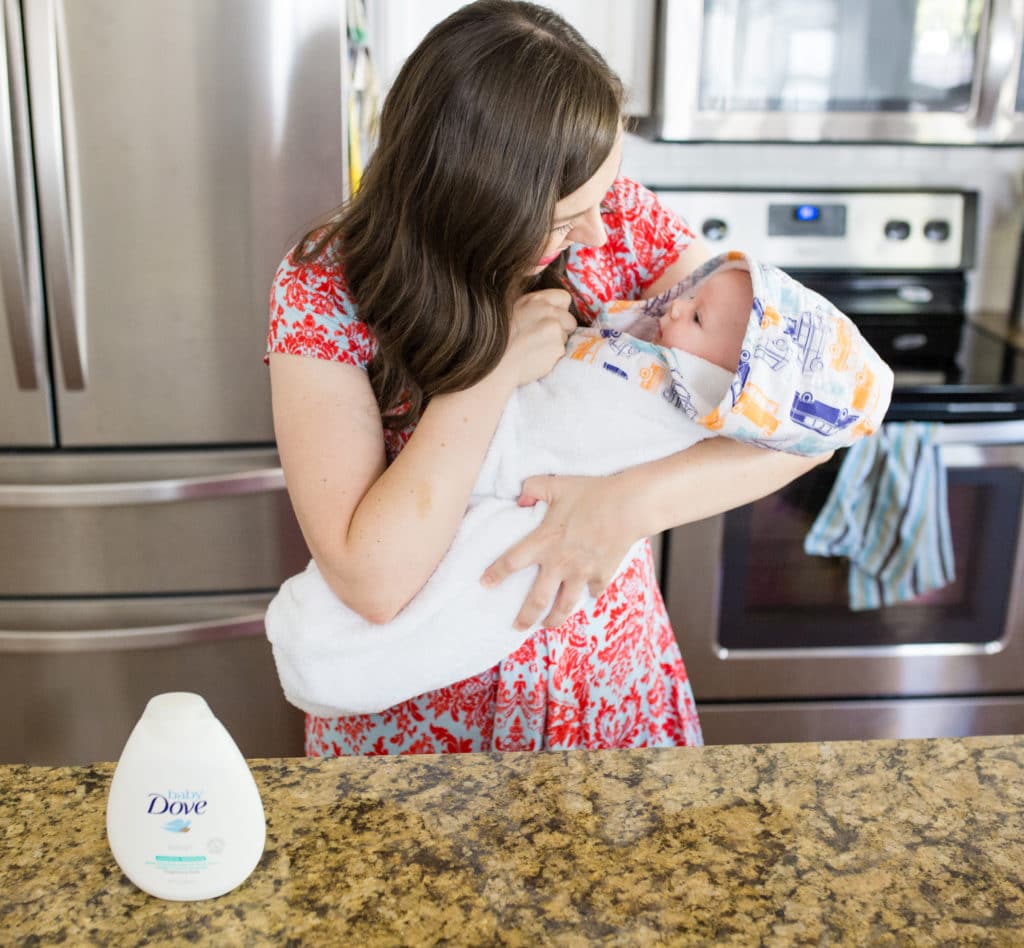 This post is sponsored by Baby Dove, but all thoughts and opinions on the surefire way to calm a baby are our own.
Luckily, we've learned a few things after surviving colic with our first baby. Phew, you can teach adults new tricks! With our first, our nights often consisted of a crying baby for hours, and we knew we had to calm him down to help him sleep. We're so fortunate that we are only seeing a fussy baby some nights and not consistent colic with our second baby. But we still love calming that little guy down and helping him get into a deep sleep, particularly on the fussy nights.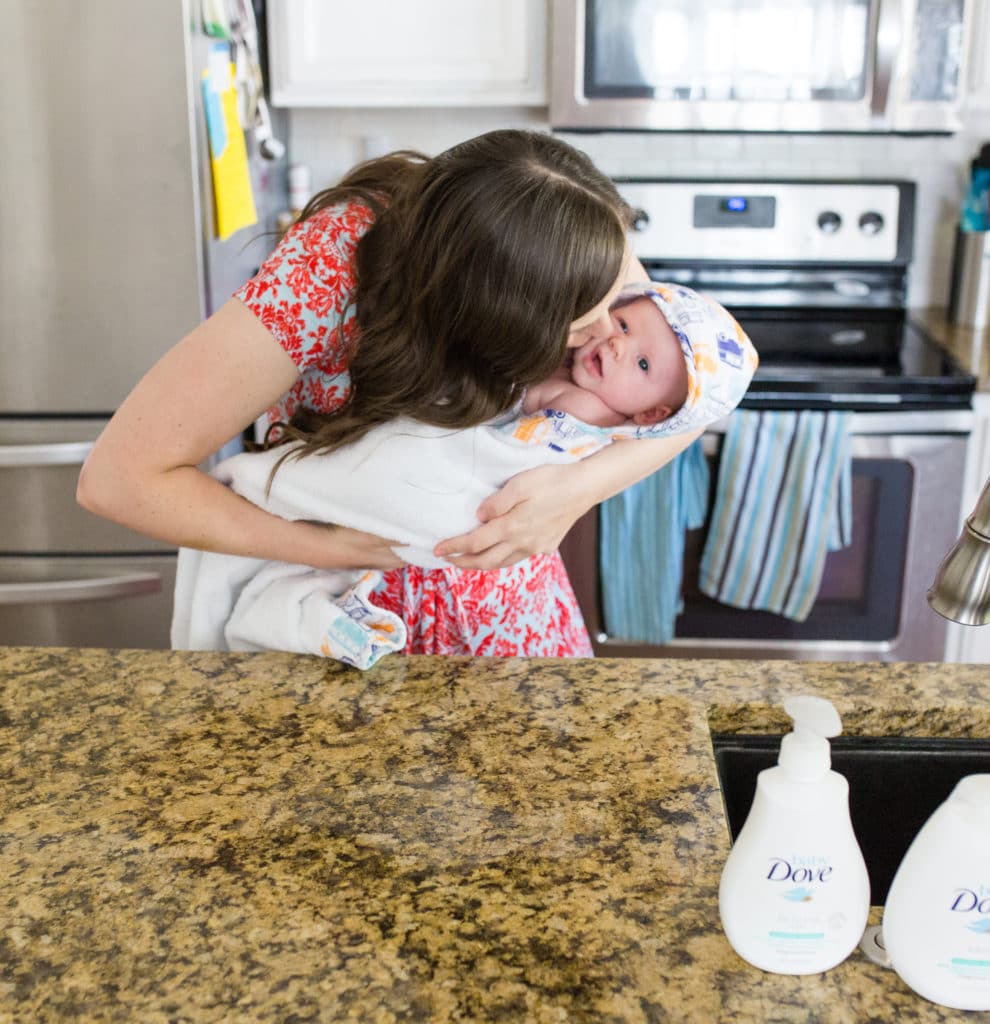 Our Surefire Way to Calm Baby Down
Both our babies' favorite part of the night is bath time. We're lucky to have not one, but two deep kitchen sinks perfect for bath time for baby. I love that bath time means we can both enjoy the smiles and faces that indicate pure relaxation and happiness from baby. It's like a baby spa date, and it's our surefire way to calm the baby down and help him relax before bedtime.
Our poor kids never had a genetic chance to have tough skin. We both have sensitive skin and sadly passed that on to our baby and toddler. We're always on the hunt for sensitive skin products that help with dry skin! Ingredients matter when it comes to cleansers and lotions, which is one of the reasons we love Baby Dove so much.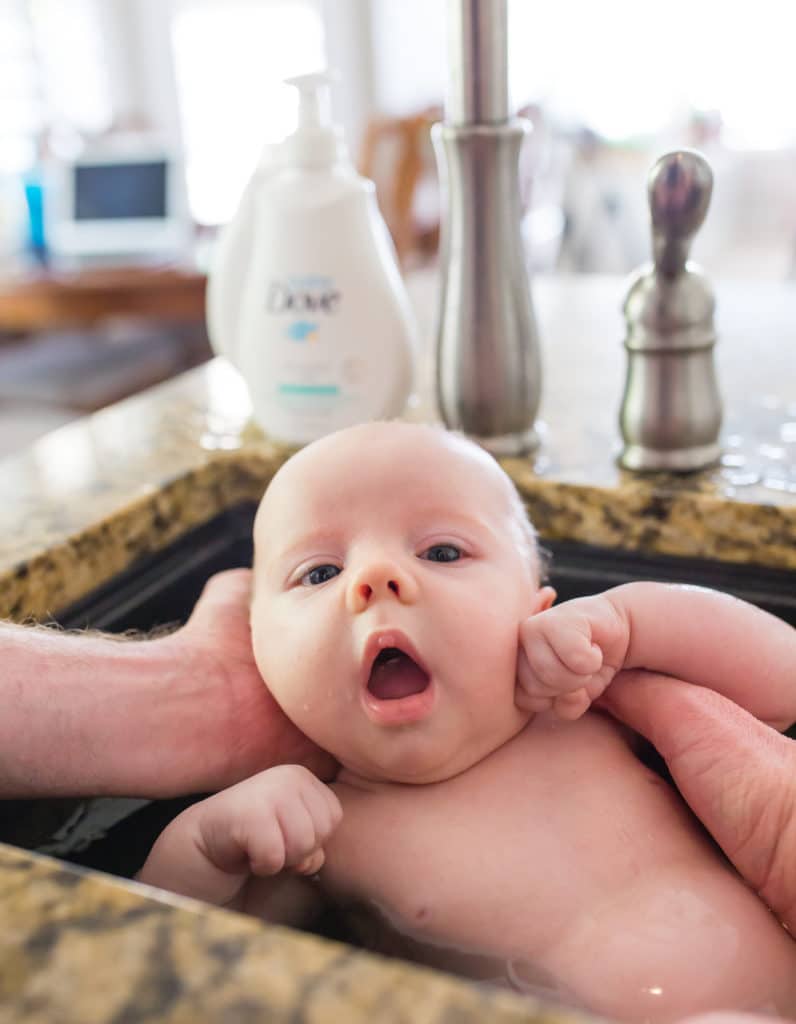 Sensitive Skin Baby Cleansers
Baby Dove cleansers and lotions are made with 100% skin-natural nutrients and are ultra-gentle for newborn skin. This made it perfect to use from the start, even during baby's first bath. It's created without dyes, parabens, phthalates or sulfates. Baby Dove's Sensitive Moisture Tip to Toe Wash has been developed for babies with sensitive skin (just like our babies) with nutrients identical to those found naturally in the skin, which helps retain baby's natural skin moisture. It's also fragrance-free, hypoallergenic, and tear-free. I love the creamy lather that leaves skin feeling clean and soft, and that it's Ophthalmologist, dermatologist, and pediatrician tested.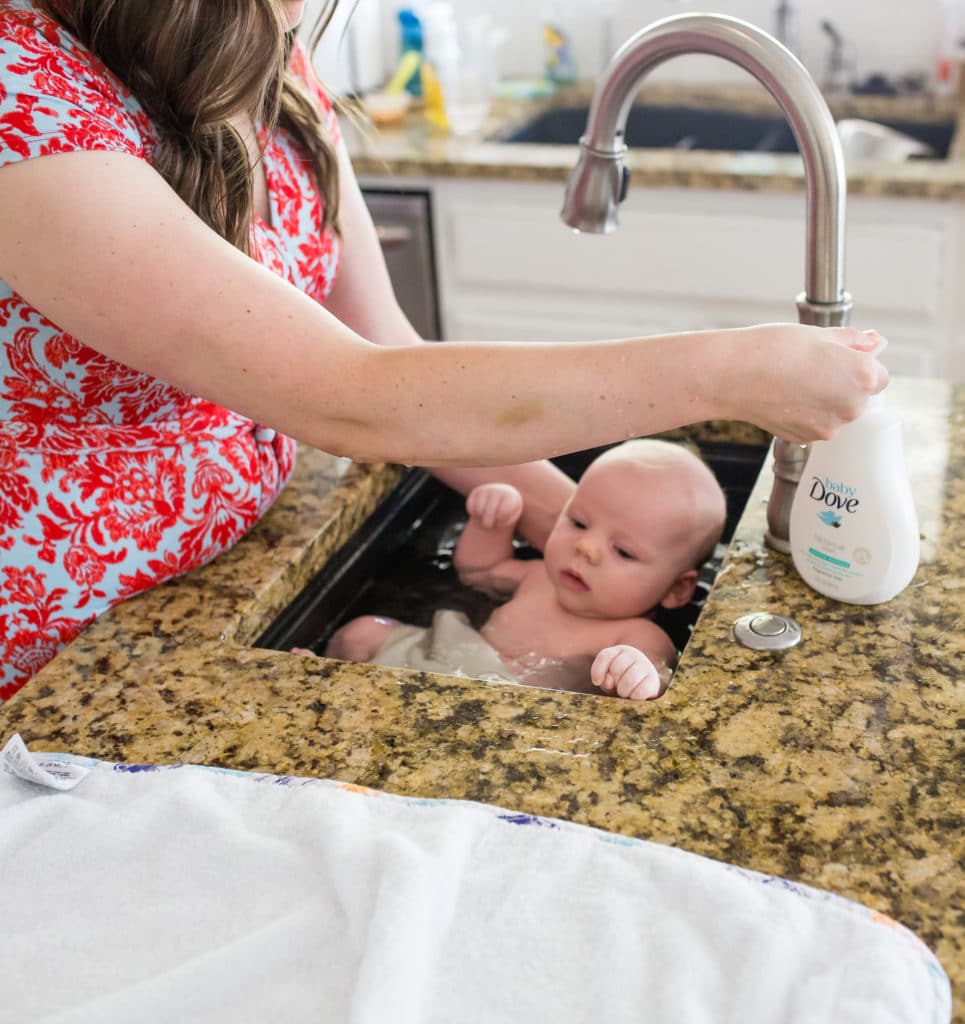 The same goes for the Baby Dove Sensitive Moisture Baby Lotion. Perfect for dry skin, it gently moisturizes all day. And you can save money on future purchases with this coupon.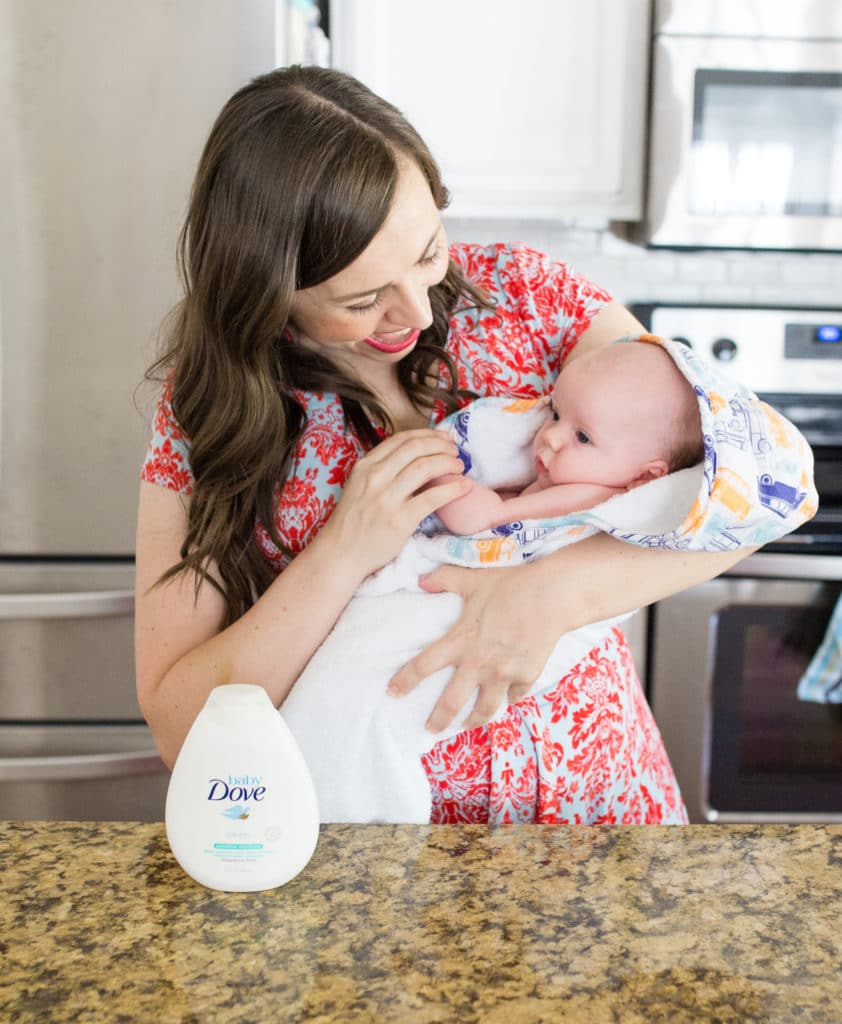 Baby can enjoy his bath that actually helps his dry, sensitive skin. It also completely relaxes him, so it calms him down on even the fussiest of nights. And mom and dad can enjoy much more sleep at night as we calm baby down and watch our baby fall into a calm state with a bath, and a deep sleep as they go down for bedtime.
It's our favorite parenting hack. And we may argue, it's also the cutest.
This is a sponsored post written by me on behalf of Baby Dove.
Get 365 Date Ideas!
We want to help you have the best date nights ever! Grab this FREE printable with 365 date ideas, a date for every day of the year so you never run out of ideas!