Palm Springs for Kids: Family Friendly Things to Do in Palm Springs
Things to do in Palm Springs with kids: Here are 15 Palm Springs kids activities that the whole family will enjoy.
Although this post is not sponsored, our travel was sponsored including comped tickets to some of the attractions listed below. As always, all thought, opinions, recommendations, and experiences are our own. 
We love to break up the hot summer months with family fun and family travel. It gives us something to look forward to, something to make the summer break feel more exciting, and memories we can make as a family. We just returned from a road trip to Palm Springs, a place known for Hollywood vacations, lavish style, mid-century modern paradise, and hipsters galore.
Also, it's one place we were a little worried about bringing a toddler to with Palm Springs for kids in mind. We were so pleased to find it's a really family-friendly place. And, there are a lot of family-friendly things to do in Palm Springs. Here are fifteen we found:
Things to Do in Palm Springs with Kids
Palm Springs Aerial Tramway.
Gorgeous mountain views, an escape from the heat, and a fun relaxing ride everyone can enjoy.
Living Desert Zoo and Gardens.
A mix of a botanical garden and a zoo, and one of the top places the tourism board recommends for families! 
Wet 'n' Wild Waterpark.
We loved the quaint feel, the easy-to-navigate park, the abundance of life jackets for small visitors, and plenty of slides for small visitors too. Our toddler even had a water slide he was okayed to use with a life jacket and a parent at the bottom to catch him, and we both agreed his "Weeeeeeeee"'s followed by "AGAIN!" was the highlight of the entire family trip.
Hit up Palm Springs Boulevard and count the palm trees, stop to take pictures and let them take pictures, and to talk about palm trees with a little learning mixed in. 


Family Friendly Palm Springs

Walk Palm Springs Boulevard in Downtown Palm Springs. Window shop, and find a cold treat to enjoy.
We loved Great Shakes! There are so many amazing flavors with a cute donut on the straw. It's hard to beat these gourmet shakes, particularly on a hot day! There are a lot of places to stop and get a treat from candy shops to Dole whip shops to truly gourmet ice cream and shakes all in one area.
Take a dip in the pool!
The is a climate that makes it pool weather all year long, and so many hotels and rental homes have a pool. Our vacation rental courtesy of Wyndham Vacation Rentals had one of the most amazing private pools in the backyard. We could have enjoyed our entire trip in the pool! While you're there, bring several swimming suits and plan a fun and relaxing swim together.
Go for a hike.
There are so many amazing trails just outside of the city for all different hiking levels.
Palm Desert Aquatic Center.
If you aren't lucky enough to have a pool where you're staying, don't worry, the aquatic center is an amazing and affordable place to go swim. 

What to Do In Palm Springs With Kids

Outlet shopping.
I know shopping with kids isn't always a fun experience. But, the outlets are a seriously cool outdoor mall with a lot to offer! There's a store for everyone, including kid and toy stores (we let our Lightning McQueen-loving child pick out a new car at the Disney Outlet). There are lots of food and treats, outdoor fountains, car-cart rentals, people watching, and room to run around.
We found some of the best deals on high-end items you just don't see anywhere else, and we made sure to have a balance of stores we visited and outdoors games we played together to keep it a fun experience for all of us.
The Children's Discovery Museum.
Sometimes you need a break from the heat and this is one of those places kids and roam around, be entertained, and learn! It's a very interactive museum and it's great for toddler through older elementary ages.
The Air and Space Museum.
So much WWII and Vietnam War history, with close-up views of planes. If you have a plane loving little person like we do, this is an exceptionally fun family-friendly place. Plus when it's hot, the Palm Spring Air Museum is a nice break from the heat!
Outdoor Activities in Palm Springs
12. The Windmill Farm.
This place is a quick drive just outside the city, and a really beautiful site with hundreds of tall, modern windmills that make the coolest pictures, and boomerangs, and an easy way to talk about science and engineering with interested children.
13. The Joshua Forest.
It's a fun place to talk about different ecosystems and laugh at the funny trees. It's also one great Palm Springs area with different side of nature most kids don't get to see.
14. Ruth Hardy Park.
It's a great park near the Hollywood homes. If the weather is on your side, it's a free outdoor place for kids to run around and enjoy.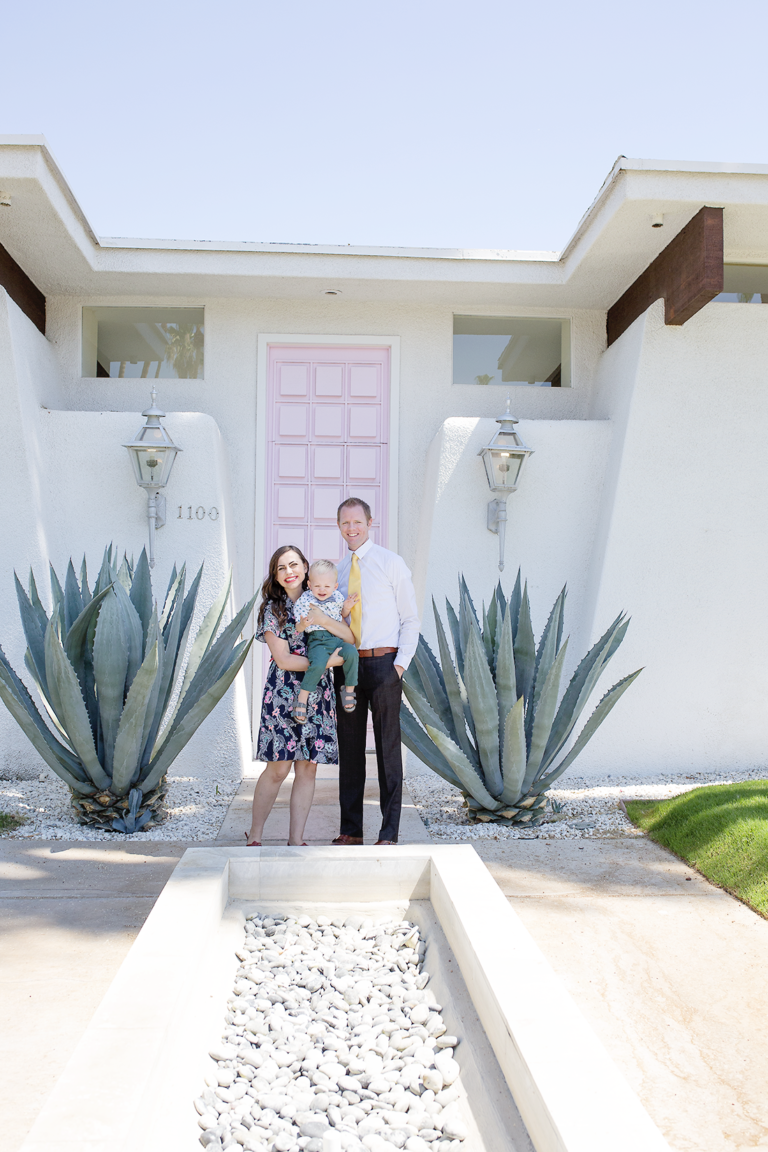 15. The Door Tour.
Yes, friends, you can book a tour to see all the amazing and quirky doors of Palm Springs. Also, this makes for a great Instagram shot (check out #thatpinkdoor, it's a thing) that your teens and preteens can enjoy, and color and shape spotting younger kids will love too!
Like this Palm Springs with Kids post? You may enjoy these family dates:
Get 365 Date Ideas!
We want to help you have the best date nights ever! Grab this FREE printable with 365 date ideas, a date for every day of the year so you never run out of ideas!