How Stitch Fix Makes Vacation Travel Packing a Cinch!
Packing for your next vacation and trying to find the perfect vacation outfits? Ordering a Stitch Fix box with requests for special events makes vacation travel packing a cinch! My Stitch Fix review with Stitch Fix outfits for the next getaway.
This post is sponsored by Stitch Fix, and brand I've used for years and blogged about many times! Although I've been compensated, my love of Stitch Fix and opinions of their amazing stylists and ability to help with vacation packing are all my own! *This post contains affiliate links.
Vacation Travel Packing
It's that time of year, where everyone who lives in colder climates starts to look into tropical getaways, warmer destinations, and how they can beat the cold. There's also the New Year vacation planning to go to a destination at some point, and even those summer vacation plans often get people through! Then of course, Valentine's Day is right around the corner and romantic getaways and fun dates are on the horizon. It's a time to plan some fun, and it's also a time when the oh no, I need to vacation pack and I don't know where to start hits. I am so excited to team up with Stitch Fix today to share how Stitch Fix makes vacation packing a cinch!

Our first real vacation was our honeymoon on a cruise to the Caribbean over Spring Break. We left the day after our wedding. I remember looking at the suggested packing list and feeling so overwhelmed and like I didn't have time to shop. It was more than a feeling- I didn't, I was facing mid-terms in grad school and a wedding!
I love clothes, I probably hoard them too much. Even with this habit it was still difficult to find something that would work for the formal night in a pinch. Additionally, I wasn't sure I could get warmer weather wear for all the active adventures either. I'm normally not a high-stress person, but packing for a cruise is no joke, and I just hoped I could make do.
Fast forward seven years later. I've learned a lot by traveling a lot. But I've also learned there are always those times when you need help finding pieces fast, you definitely want to look your best for the million pictures that will forever live on social media from this event, and you often just need to outsource and get some help.
Stitch Fix and Vacation Packing
Enter Stitch Fix. I've blogged about them several times before. They have helped me figure out maternity clothes, figure out nursing clothes, figure out a new and awkward postpartum body, help me find really fun date night pieces when I was done nursing and ready to head out for longer, more exciting date nights.
And now that I'm looking at my birthday coming up next week, and knowing my husband told me to block off the weekend because we're taking a trip for it, I've turned to them again and they delivered the perfect Stitch Fix box that has me so excited to get dressed for this getaway and to make packing for vacation a cinch!
Waived Styling Fee for Friday We're in Love readers- click here to get the deal!
After several boxes, I've learned this: Be as specific as you humanly can in your note to your stylist. I let them know I'm a modest dresser and need shoulders to knees covered. Also, I let them know the after holidays pooch was present (I didn't mention pregnancy, but I have before and they've helped me there too), and I didn't want anything too tight around my waist.
The budget was also a concern. I told them I'd rather focus on less expensive pieces since I'm in the after-holidays budget mode. Additionally, I told them the specific activities and events I thought I'd need help getting dressed with. I made to sure to fill out my color preferences in my profile, and asked for something fun and bright, perhaps yellow or bright red to help happy up cooler winter months. And oh my word friends, did they deliver! I am so ready for vacation packing with this Stitch Fix!
Here are the Stitch Fix outfits my stylist put together for me:
Outfit #1: A casual dinner date or sightseeing date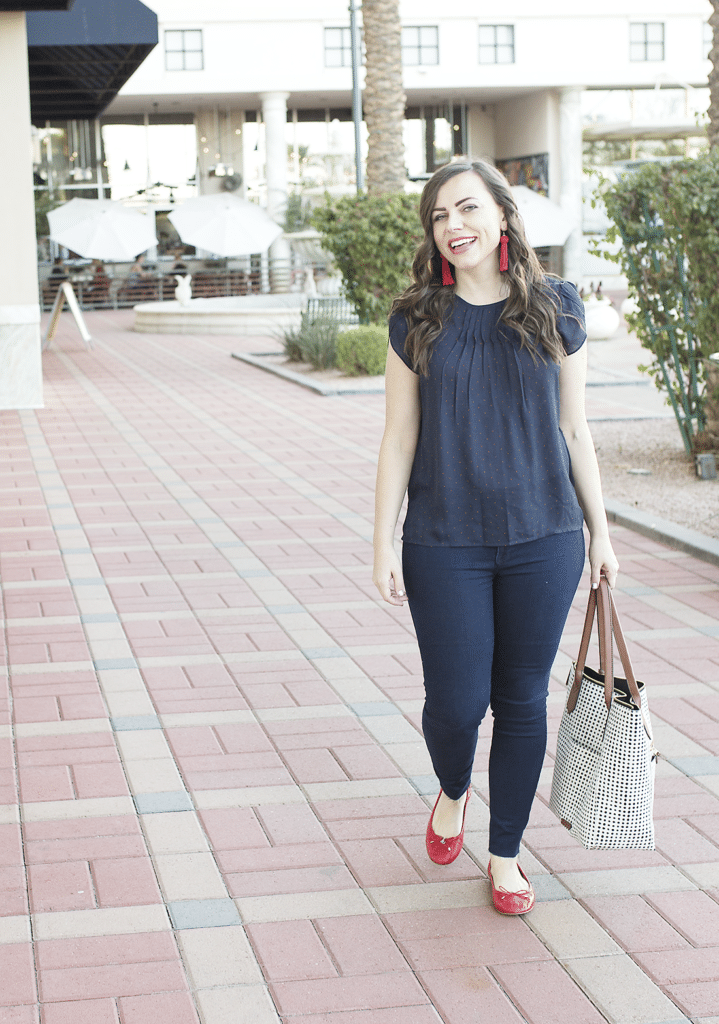 Whenever we travel we take a lot of pictures. I love looking put together and in something, I feel great in. We usually fit in tourism with a nice dinner date that requires a casual dress. I wanted jeans that were comfortable but helped with the mom pooch, and a fun date night top. I am so pleased with my two favorite colors married to the perfect tulip sleeves.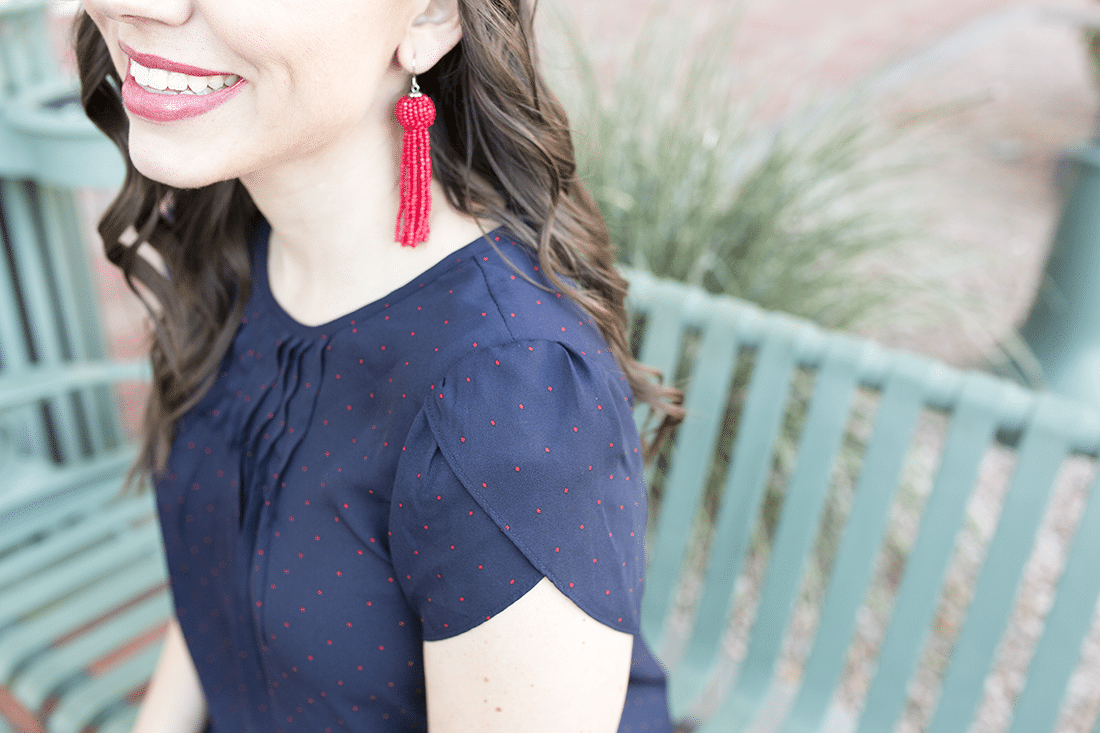 Look #2: An active date going sightseeing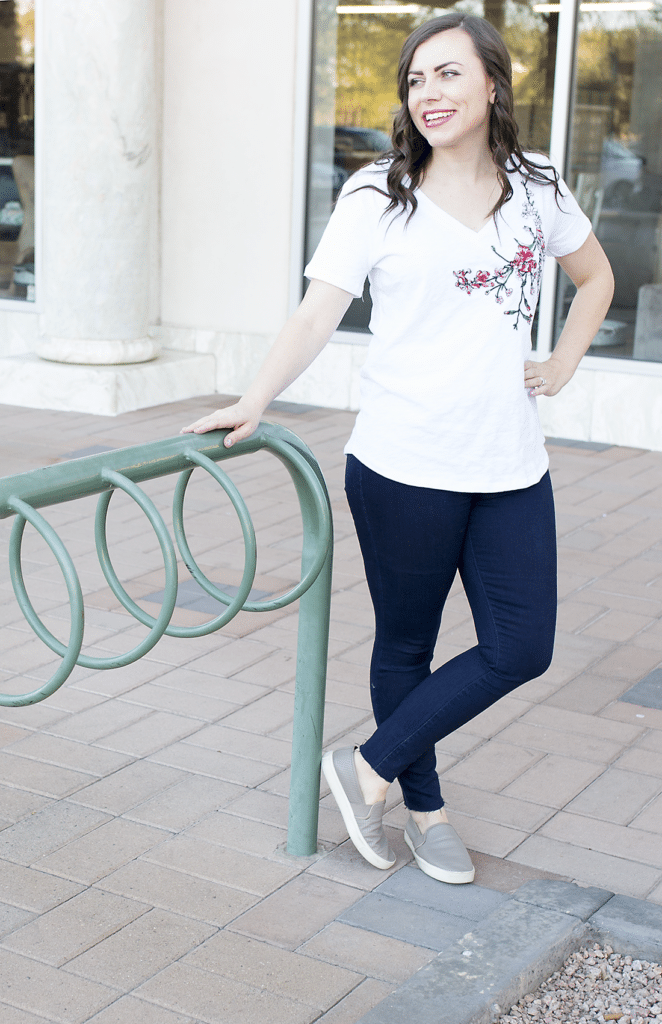 We love to rent city bikes in large cities and bike our way around. This requires breathable fabrics, pants with some stretch, and something that still helps me feel more put together. I love this loose embroidered t-shirt. It's romantic and sporty. My jeans did double duty this time. Plus the yellow cardigan was a fun pop of color for the chilly mornings and nights.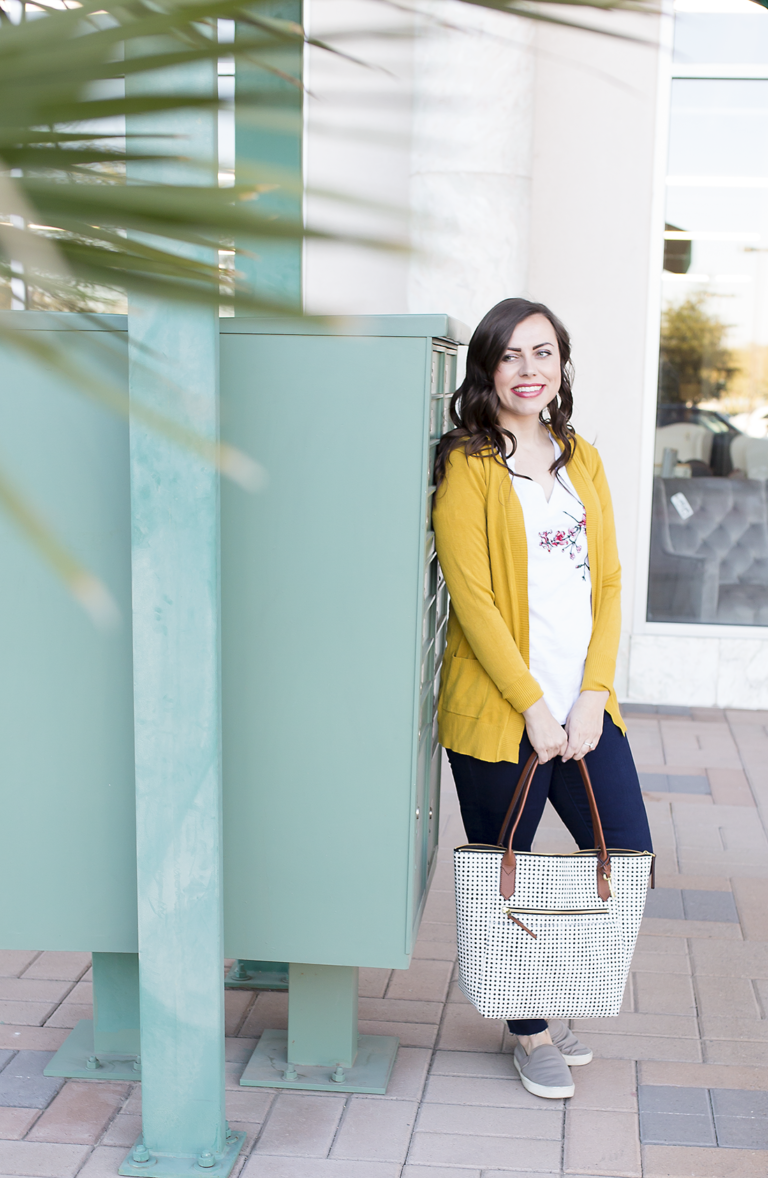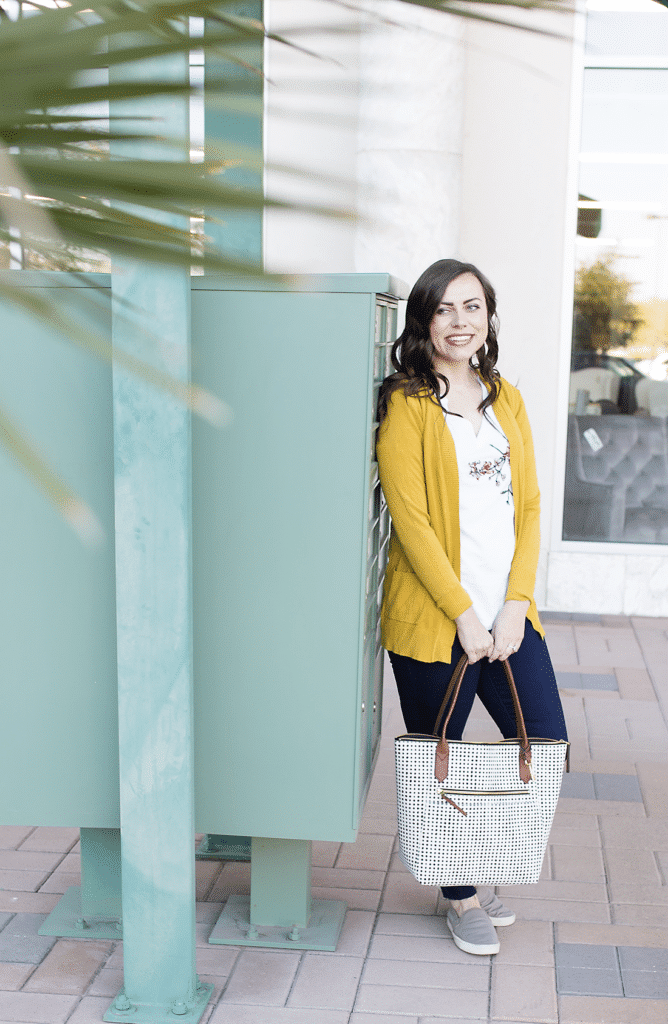 Look #3: A romantic night on the town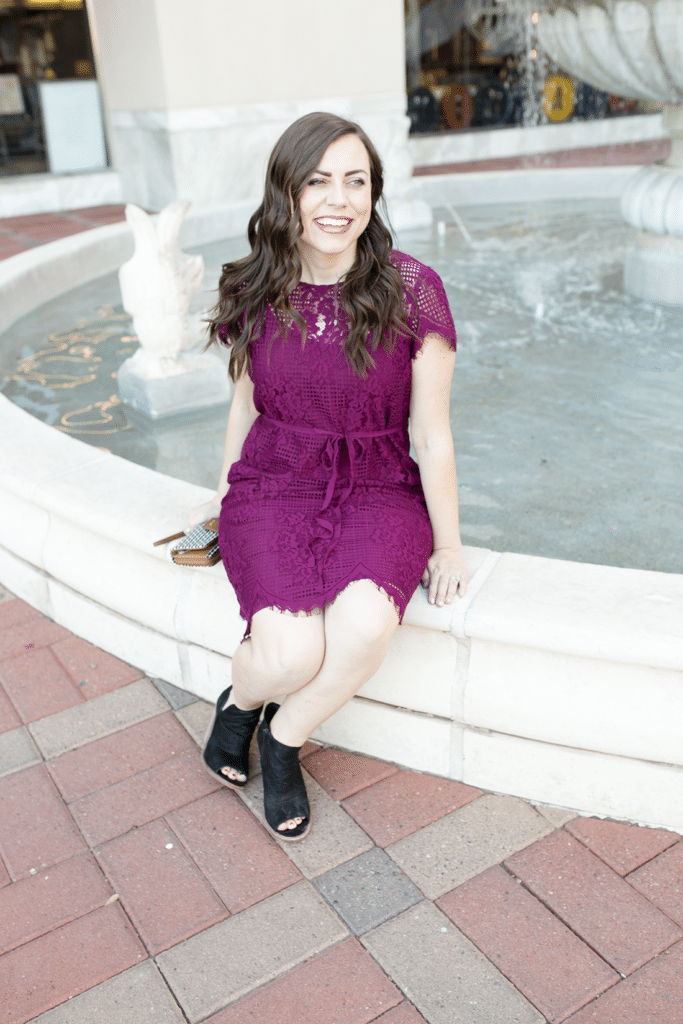 We love to try at least one of the best of the best places while we're traveling. I've also found myself in Broadway places, London theatre, and art exhibits galore. These require a nicer dress code. A fancy dress that's easy to pack and won't wrinkle is a must. This is also the clothing item that throws most people for a loop when they book a cruise! I love that my Stitch Fix stylist found the perfect colorful piece that fit like a charm and packs like one too!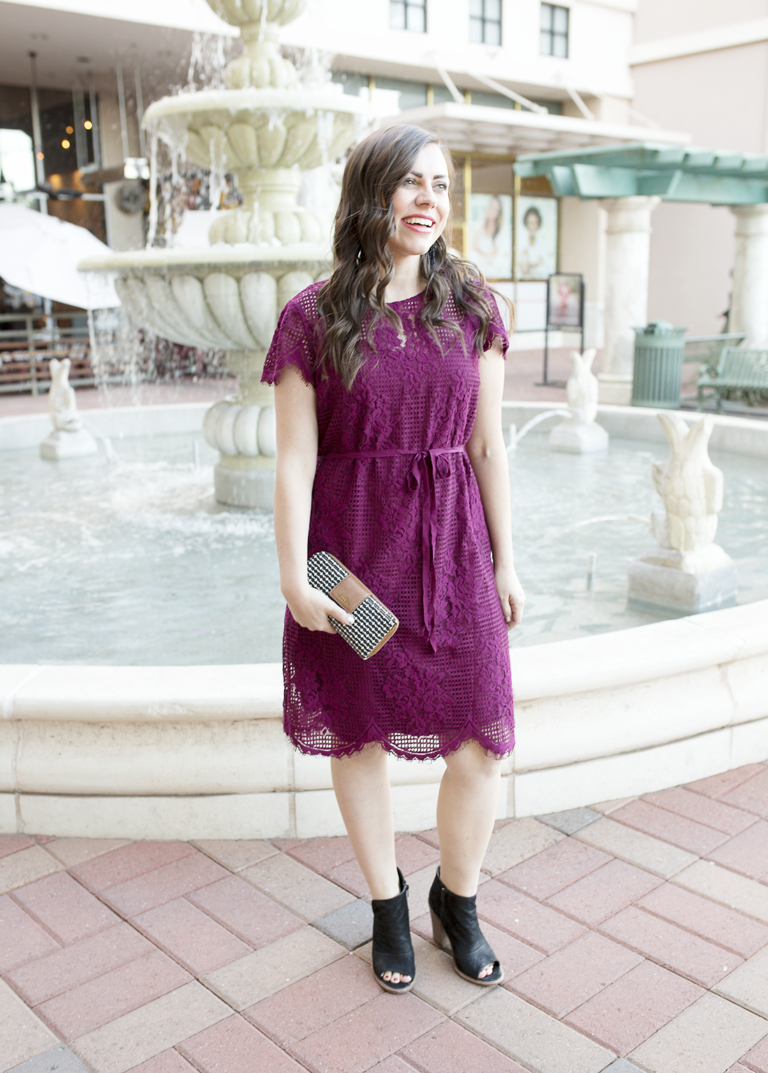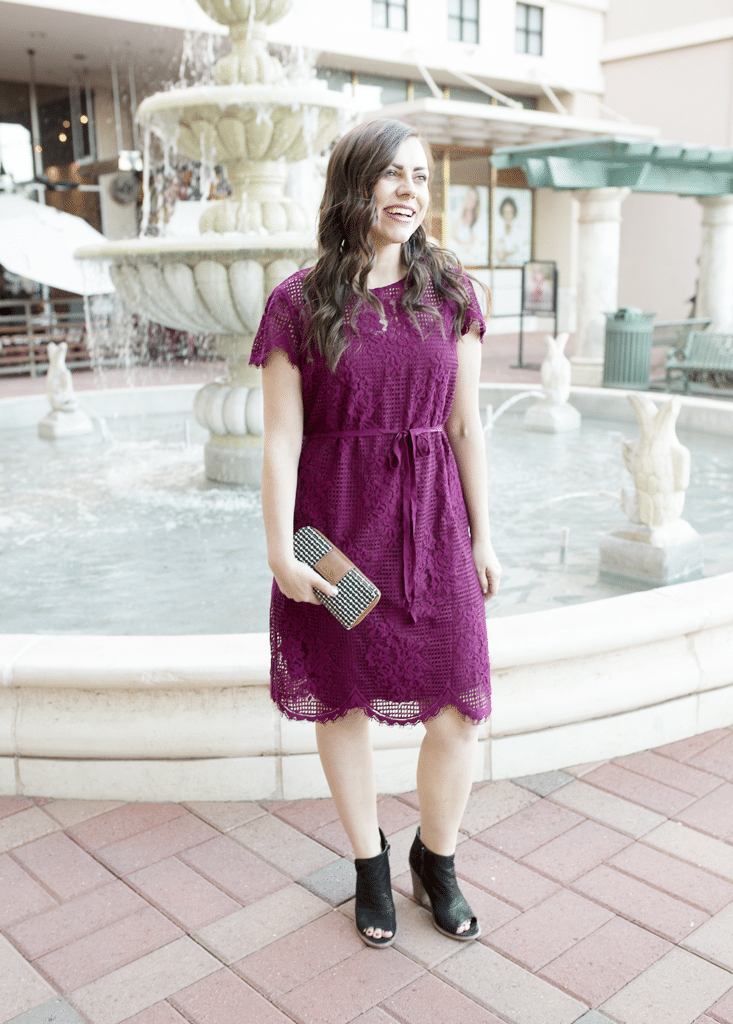 Stitch Fix Waived Stylist Fee Promo
Here's how it works if you're ready to get your own fix: You sign up and there's a $20 stylist fee for your fix. It's applied as a credit to the clothes you choose to buy, but you have no obligation to buy any if they don't work. You choose what you love, and you ship back the rest. There's a great discount if you buy your entire box. AND if you're a Friday We're in Love reader, you can get your first Stitch Fix stylist fee waived through this link, which means you get to try it for free! It's been such a fun way to update my wardrobe, save time shopping, and find the perfect pieces for whatever phase of life I'm in.
Like this fashion post? You may love these:
Casual Date Night Looks with Stitch Fix
Pregnancy Overalls: The Trend to Rock
Polka Dot Peplum Perfect Date Night Outfit
Get 365 Date Ideas!
We want to help you have the best date nights ever! Grab this FREE printable with 365 date ideas, a date for every day of the year so you never run out of ideas!