Parenting Goals: My Simple Mom Resolution That Changed My Relationship With My Kids
Every year I like to set a few parenting goals to try to help me be a better parent. Last year I set a simple mom resolution that changed my relationship with my kids. It's an easy parenting goal with huge results I'm doing all over again this year!
I am an achiever by nature, every single personality quiz I've ever taken has put me in this box. I like checkmarks, I like reaching new goals. My crazy analytical brain likes to assign achievement goals to matters of the heart too. I guess it's how I make sense of them. Not that I try to manipulate or coerce things, but I do think small intentional goals can add up to big things.
But I've learned by small means great things come to pass. Those little daily or weekly things that
I've gone on out on a date night every week for a decade now, and my husband and I are still best friends. I set a goal to "get over abuse and a divorce" one year. That seemed ambitious, but putting time to therapy, spiritual endeavors, and personal growth seemed to change me in a short time. So sometimes I think it's okay to set up a specific task or series of events that engages the matters of the heart. My parenting goals often reflect this.
Setting Parenting Goals
Last year I was at a point in motherhood that I felt like I was drowning. My smart three-year-old entered the why phase with a billion questions. He wanted a lot of mom time, and my new little infant seemed to want the same! There never seemed to be enough of me to go around. And sadly, the baby's needs usually had to come first. My preschooler is a patient one, and also an articulate kid! I could see the pain in his eyes when he always had to wait. One time he even said "It's hard to share my mommy!" through some tears. Gee articulate kid, talk about a melt-your-heart parenting moment.
I kept thinking of ways I could show this kid a little more love and give a little more time. I struggled, I had felt like I was drowning in life and had no extra time give. So I thought about it. I prayed about it. And I knew setting a matter of the heart goal to "help my child feel more loved" needed some tasks assigned.
My son's love languages are quality time and physical touch. I kept thinking of an easy way I could give him both.
And after some inspiration, a simple motherhood goal came to me.
My Simple Motherhood Goal
I love reading, and so does my oldest. He would sit and listen to books all day if I had the time and voice! He loves library time, and he asks for books as presents. I knew I could commit to some quality intentional one-on-one reading time. And I set that as my mom new year's resolution. It may be simple, but it was one thing I felt I could fit in our busy schedules.
I decided we'd shoot for five books a day we'd sit and read together in one-on-one time. Prior to this, I read to him sporadically throughout the day. There's always a few bedtime stories. I was definitely already reading to my son. The big change came in the amount and the focus on our intentional time together. But five books consecutively read was a bit of a stretch, and one I knew might make a difference.
How we made it work
I knew this may take 20 minutes a day, and I was already feeling short on time. But I told myself 20 was worth helping him feel loved and like he was still getting personal attention.
When baby brother went down for a nap, I had him choose three or four books, and I'd choose two. We'd cozy up on the couch or in his bed in his room, and read. I'd make sure to put my arm around him. He'd often lay his head on my shoulder. But it definitely had intentional physical touch paired with our quality time.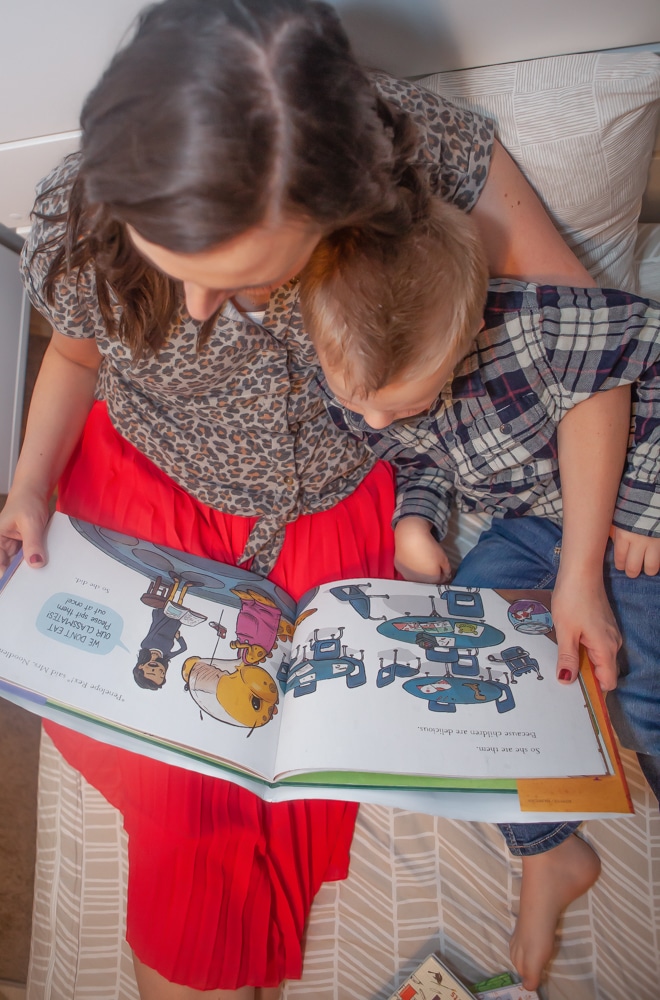 I was amazed at how easy this was, and how much I enjoyed these moments with my son.
The Results?
This was the part that truly blew me away!
I expected him to feel a little more love, and he most certainly did. But I didn't expect the byproducts of him feeling more love.
My favorite was watching his behavior improve drastically. He's a good kid anyway, but I was shocked to see patience increase. His ability to wait and to have a good attitude grew by leaps and bounds! I could tell he felt secure and he was able to get through other frustrations of the day knowing his time would come.
The other greatest byproduct was the sibling love that grew. He starting pronouncing it was the baby's turn to get my help, and his turn would be later. I have a lot of tips for helping your older child adjust to a new baby, but the individual quality time that came from these simple parenting goals to read and spend a few intentional minutes together.
His vocabulary has grown by leaps and bounds! And I had to add that little brother also started joining the fun at the end of the year. We're hoping that he's going to love this bonding time and book worm life too.
I'm a firm believer the most important thing you can you do is let your kid know they are deeply loved. And I have found speaking their love languages make for some of the best parenting goals.
Like these parenting goals ideas? you may like these posts too:
Gifting Experiences Instead of Just Things: Experience Gifts Ideas They Will Love!
Read Aloud Books Online: Raising Kids Who Love to Read
20 Books Every New Mom Should Have In Their Library
Our Favorite Halloween Books For Kids
Playroom Organization and Toy Storage Ideas
Get 365 Date Ideas!
We want to help you have the best date nights ever! Grab this FREE printable with 365 date ideas, a date for every day of the year so you never run out of ideas!