Ready to cut screen time, make memories, have the best summer, and have someone else plan it for you? Welcome to Camp Mom: Summer Camp Ideas at Home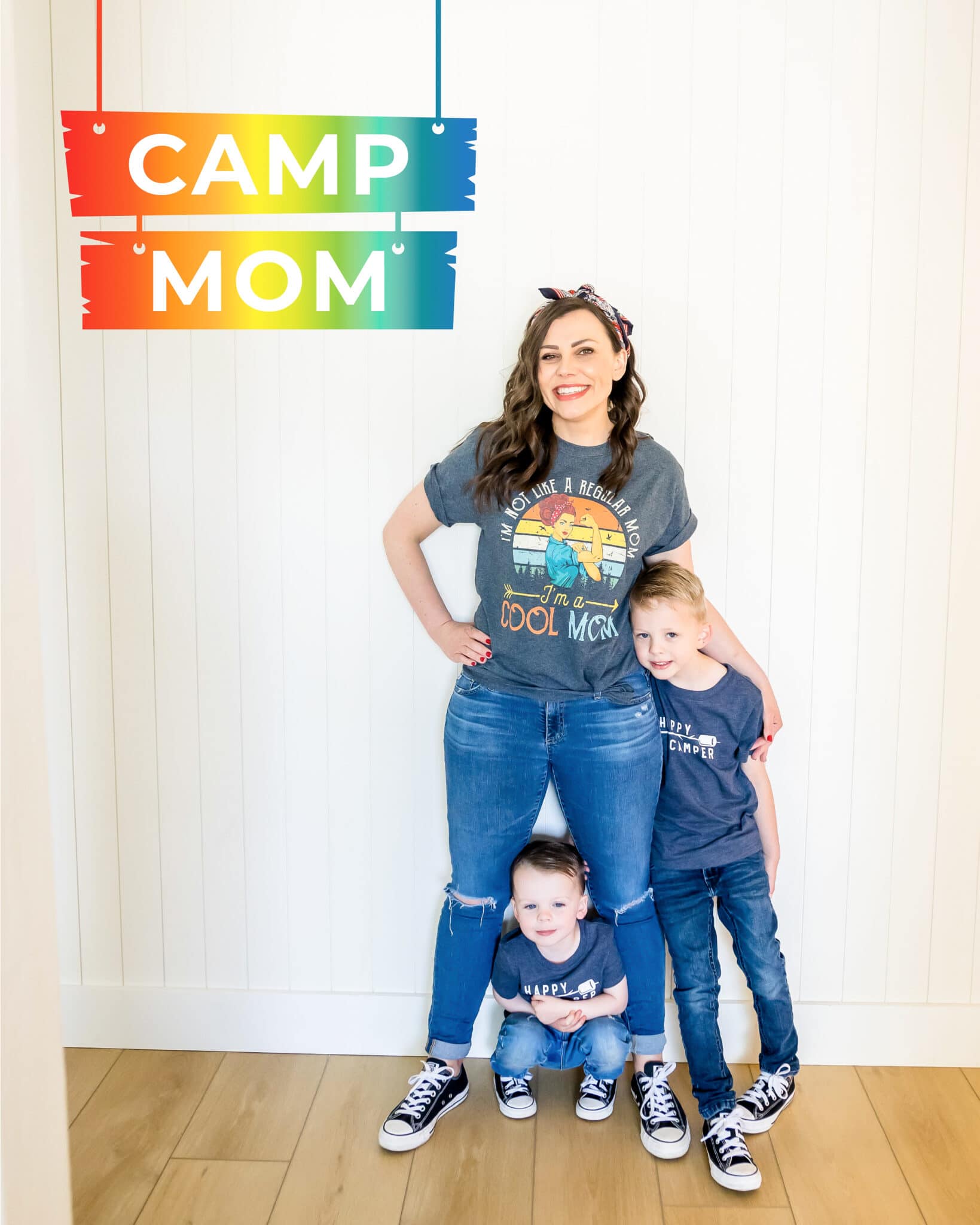 Summertime Fun
If you're a mom, there's a good chance you've seen the memes about how summer goes with children.
May/June: Let's go to the park! Camping! Learning! Creating! Best summer ever!
July/August: Here's the remote. Netflix is your parent now.
I don't know a single mom who doesn't start the summer off with all the hopes and dreams to create the best summer ever. We are full of summer camp ideas, ready to flourish!
And then after a few weeks, we start to see the problems:
I'm exhausted!
I'm feeling broke!
We're all spending too much time together
I'm feeling behind in my work and projects
These are common problems!
As a former marathoner, I've seen what it's like to watch people start excited and energized, and burn off all their energy and drive the first few miles! It just doesn't yield the results they're hoping for.
A Year Moms Could Use Some Extra Help
Also, aren't moms feeling extra tired this year, ready for a break from kids before summer break even begins? Most of the moms I know have survived so much burden already, and summer feels like an extension of what they've done this year.
I mean you're eying summer break and realizing you had an entire year of no actual break, right? After a year of most programs, activities, and even schools having shutdowns, moms have been through the wringer like never before! If I'm being honest, as a mom to a busy school-aged child and toddler, this year has just about done me in! And now I'm thinking about summer camp ideas and realizing it's been a long year trying to help brains grow and emotions stay stable
And yet, studies are showing most moms feel the pressure to show up, create fun, and cultivate positive experiences like never before. We want that fun! We're all hoping for positive memories and to help our children really thrive. All while trying to fit in work, home responsibilities, and maintain other relationships.
You guys, we feel the pain and also the hope, and we're here to help! Introducing…
Camp Mom:
I had this overwhelming feeling a few months ago that it was time to create a program that helps moms and kids have their best summer yet! And, we want to make it as easy as possible for moms! Particularly for those who have already put in overtime all year long.
We're doing all the heavy lifting helping you plan fun, plan systems, and keep kids and your house their best this summer!
What It Is: Summer Camp Ideas At Home
So, friends, this isn't a one-off post of summer camp at home ideas. This is going to be an entire series with hundreds of helpful ideas and systems to set up Camp Mom!
We want to help you declare "I'm not like a regular mom, I'm a cool mom!" And do it with a summer full of fun! But we also want you to feel balanced and not wear yourself and your kids out, and burn through your budget in the first few weeks of summer. You can do this! It's not hard to balance things with a few key systems and plans.
Over the next few weeks, we will be sharing help to set up systems that work so your kids can build a lot of independent skills. But also, so you can have plenty of fun and bonding time even with tight schedules and your own work hours.
There will be a few emails a week to help you plan activities and systems for the best summer for kids (and yourself)!
How Do I Sign Up?
RIGHT HERE!
We will share regular posts here, so be sure to sign up for our RSS email alerts so you don't miss one!
But also, get our on Camp Mom email list so we can send helpful resources, deals, tips, and daily ideas for summer fun and activities to keep everyone thriving in your household!
We're full of summer camp ideas at home, and want you to feel empowered to have the best summer of your lives while you create memories and raise successful, happy children.
Camp Mom: Summer Camp Ideas At Home is kicking off early so you have some time to prepare and budget so you can hit the ground running on day one this summer.
Come join us, and please feel free to share and invite your mom friends! We're all in this together, and we want families everywhere to thrive this summer!
Photos: Chrissy Blake
Excited about summertime fun with Camp Mom? You may like these posts too:
Toddler Activity Table and Creative Activities Setup
25 Beat the Heat Summer Activities to Do With Your Kids
Get 365 Date Ideas!
We want to help you have the best date nights ever! Grab this FREE printable with 365 date ideas, a date for every day of the year so you never run out of ideas!