Looking for a great pair of maternity overalls? I wasn't sure I could pull them off, but this pair had me falling in love at first sight! I have loved them from the first trimester to last, and I'd recommend them to anyone!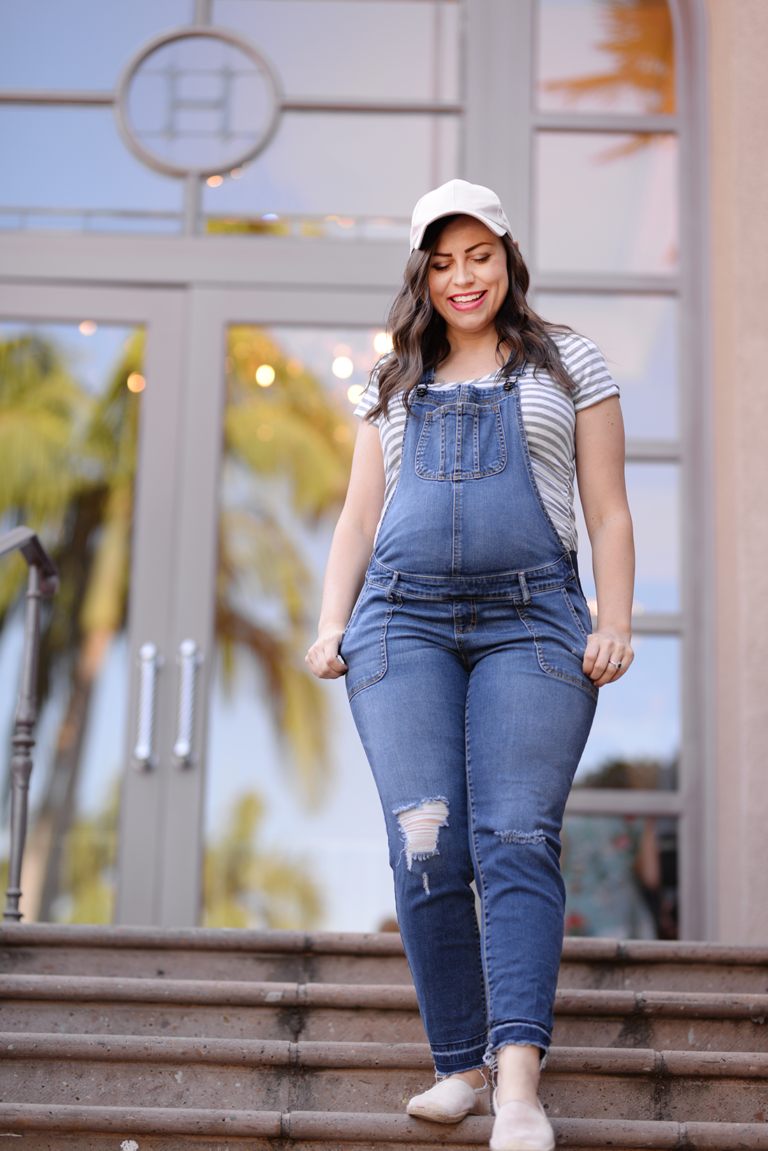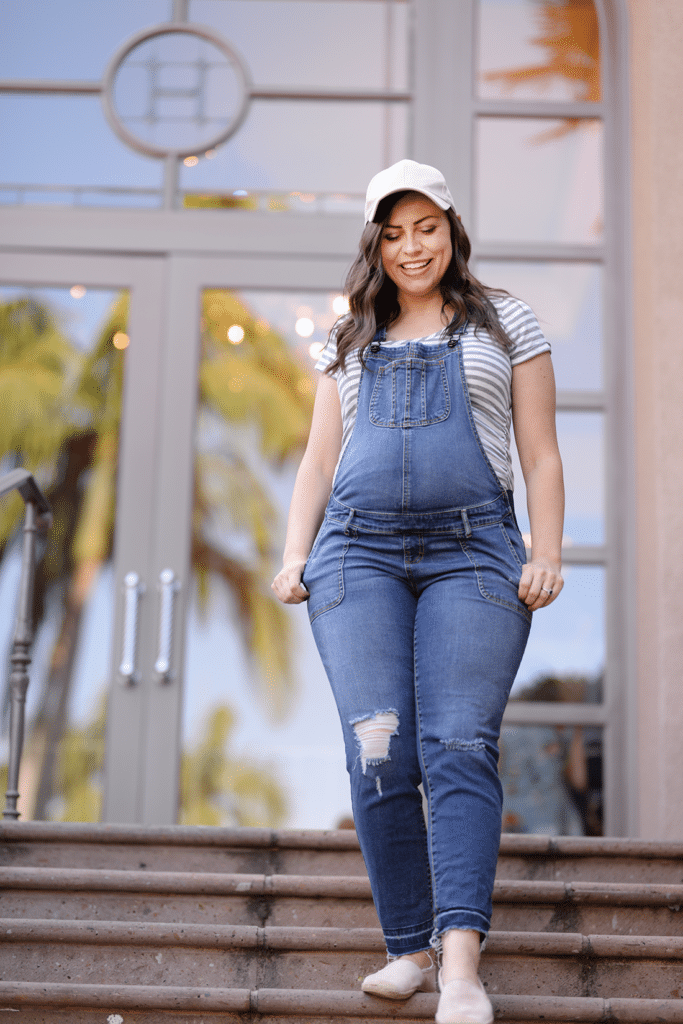 Maternity Overalls Outfit Details:
Maternity Overalls / Striped Maternity Shirt / Shoes / Hat / Lipstick (wearing caramel latte)
I have been in love with these maternity overalls since my first trimester! I started thinking maybe my former 90's child who wore our overalls welcome years ago could think about them again. Particularly for pregnancy, overalls just seemed like a good fit!
I went on the hunt for a pair I could wear to Disneyland for my birthday. I hoped whatever maternity overalls I found would fit great and work at that time your belly is expanding and it's just too sensitive to have jeans or a band of any kind around them. Then, I ended up on the Motherhood Maternity website, and I found a pair I thought was cute but wondered if they would work for me.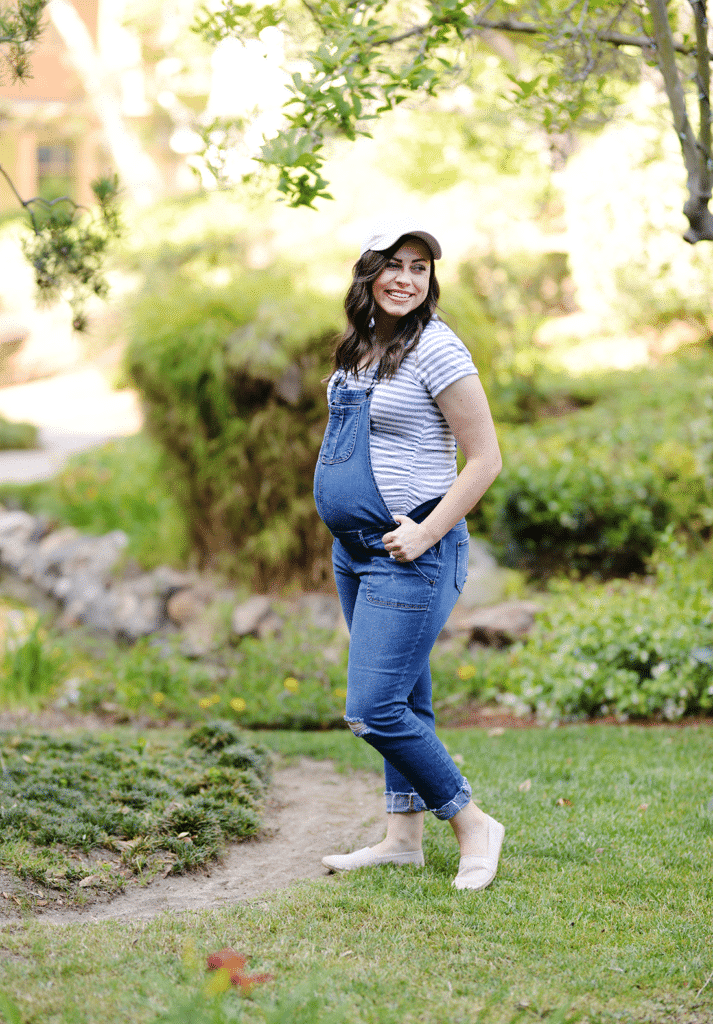 The Most Comfortable Maternity Overalls
The best part was reading the reviews. I'm kind of a review junkie, so I made sure to check out what others thought. I expected comments on quality and fit. There were good reviews there. But what really got me was how funny so many of the reviews were!
So many had said they didn't think they could rock the overall trend, particularly in maternity overalls form. There was one that said they tried these on as a joke and came out thinking they had put on the cutest outfit. Some said they thought they would try them just for the phase of sensitive stomach time in pregnancy. All said they fell in love. All said they loved these throughout their entire pregnancy.
I was laughing at how many people had similar thoughts I did, can I pull off maternity overalls? And all seemed to walk away with this exact pair thrilled with their purchase their entire pregnancy!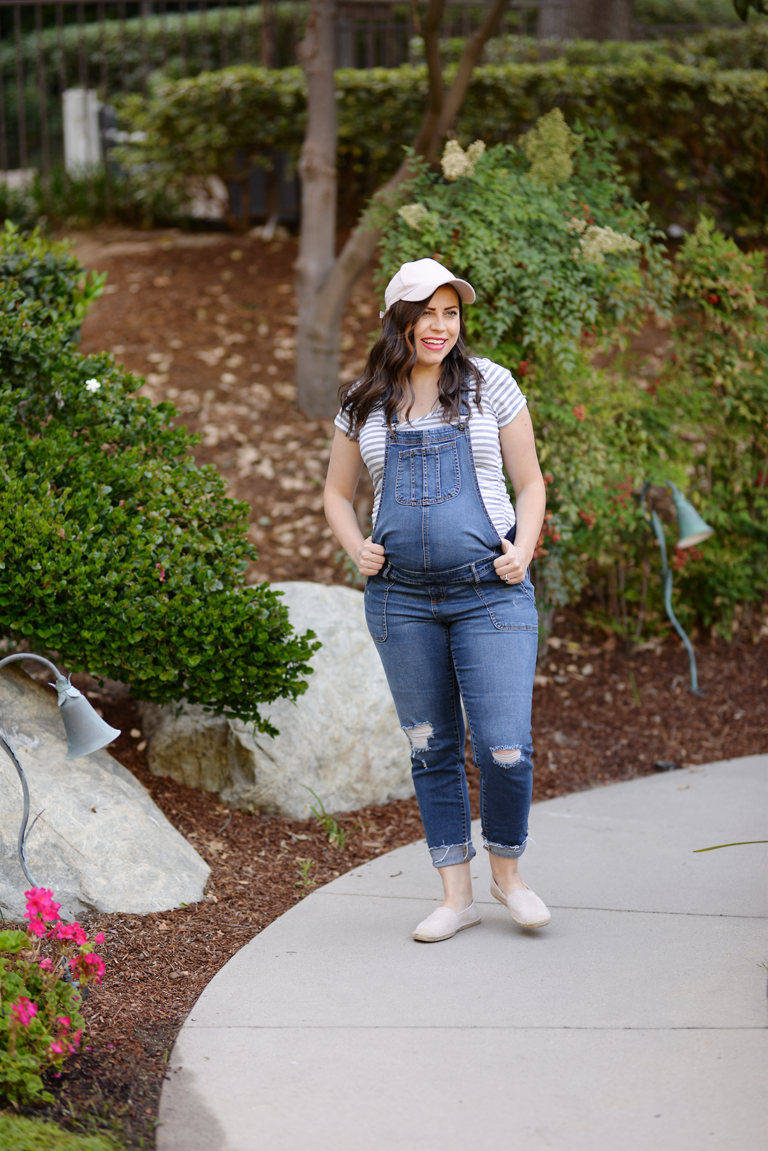 Maternity Overalls to Last All Pregnancy
I'm now at the end of the pregnancy, but I plan to wear these maternity overalls as a new postpartum mom too while I recover. I also love how easy it has been to pair them with shirts that fit at all phases of pregnancy. Amazon fashion has been a go-to for me to find shirts that work at each phase. They've also been excellent to find the perfect accessories and shoes to complete any outfit!
Like this maternity style post? You may like these too:
Perfect Knit Dress for Summer (Maternity + Postpartum Friendly Too!)
15 Maternity Outfits Using the Same Maternity Dress
Pregnancy Overalls: The Trend to Rock
How to Tell Your Husband You're Pregnant
Get 365 Date Ideas!
We want to help you have the best date nights ever! Grab this FREE printable with 365 date ideas, a date for every day of the year so you never run out of ideas!