Expecting and looking for the best pregnancy apps to keep track of your pregnancy? Whether you want a week by week pregnancy app or one with the most information, here's the best pregnancy apps to get you through your pregnancy!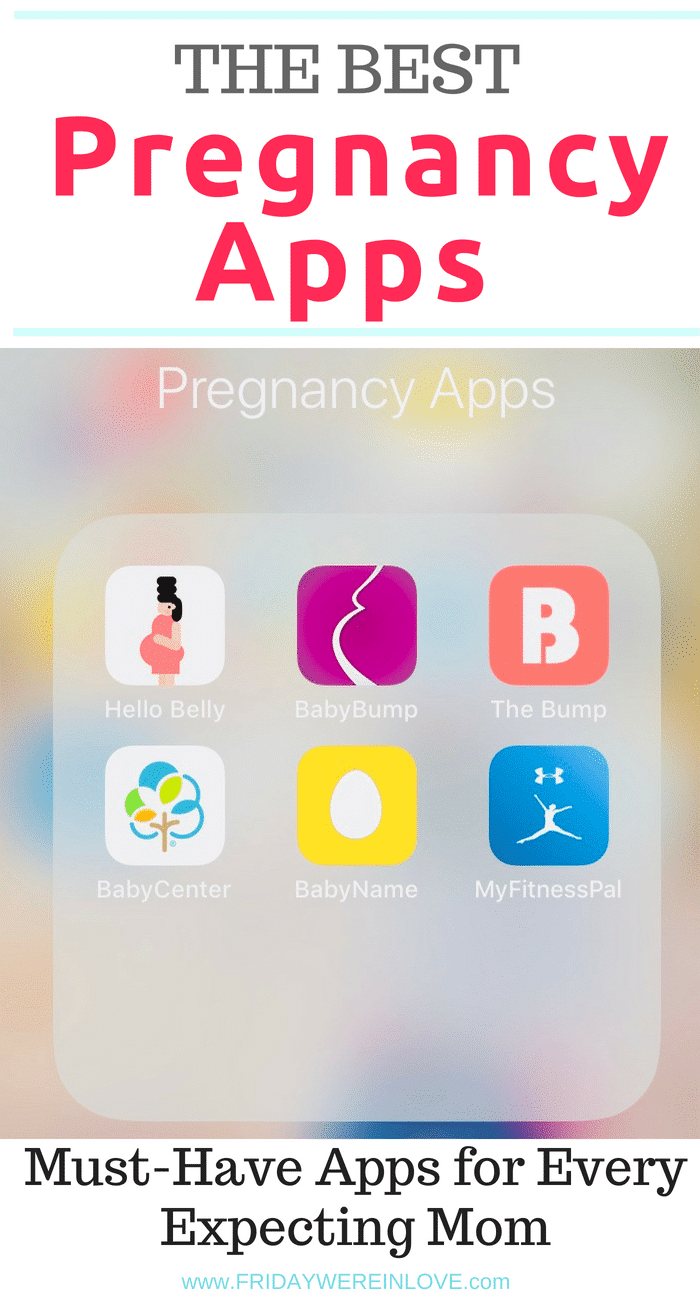 I am just going to start this like it's an AA meeting. Hi, I'm Camille (this is where you all say HI CAMILLE out loud at your screen), and I am a true marketing nerd. I love to research everything half to death. I like to have as much information as possible before I decide on a course of action. Additionally, I want to feel like I know all there is to know about everything. You can imagine what pregnancy does to me. I've become addicted to researching baby and my body, and I've really explored the best pregnancy apps to keep me posted.
As much as I want every piece of information, that doesn't always the best pregnancy app make. There's a lot of elements to make a pregnancy app amazing.
Let me tell you that I also used to work in app development as a project manager. I feel like I look at them with a pretty picky eye. Are they easy to use? Do they give valuable information? Is the design pleasing? When seeking the best pregnancy apps, I have looked for all these things!
I wanted to share the best pregnancy apps I've found, and help you decide which pregnancy app (or apps) is right for you!
The Best Pregnancy Apps
The Bump
This one is probably my favorite overall, and here's my favorite features of The Bump pregnancy app.
– Sleek design! It's modern, it's pretty, it's easy to follow and navigate.
– You'll have a great user experience. They also update regularly so bugs are rare and it's intuitive to use.
– You can find weekly information on baby's growth, your body changes, and checklists. There's also great informative articles below the basics if you want to dive deeper.
– It's our favorite pregnancy app for dads. Yep, dad wants info on baby's growth and moms body changes too. We found this gives him what he wants to know quickly and easily. It's the one pregnancy app for dads he has on his phone and doesn't borrow mine to look at!

Pregnancy Tracker App

BabyBump
If you want information, this one has more than any other! I know several parents-to-be are thrilled with weekly updates and information. But if you're an OCD planner and wants more detail this one is for you!
– Weekly updates or daily updates, you choose the setting!
– Email opt-in for regular updates on your desktop if you're less of an app or phone user.
– Daily concerns/questions included in updates to address any concerns or precautions you may want to take.
– A great layout easy to find what you're looking for!
– The Honest Company makes this and does a good job not being too promotional while staying helpful. But they've also announced less support and a closing of communities. It's a great place to find info, but less of a great option for forums of connections.

Photo by Malia B Photo

Week by Week Pregnancy App

BabyCenter
This is not just an information app, you'll join a community! There's a lot to love, and only a few things that could use some improvement.
– You can find weekly updates on your baby and your life/body weekly. You'll have to sort through some advertising and design that isn't quite as pretty as the others listed, but it's relatively easy to use and it's a good middle ground of information.
– This works as a great pregnancy picture app if you want bumpies to be a regular part of your pregnancy!
– The community center is awesome with Q&A forums, and groups for everything. If you have gestational diabetes, there' a group for that. Also, If you're on bedrest, there's a group for that. If you want general due date friends going through the same week you're in, there are lots of groups for that. It's a great place to not feel alone and find the pregnant community online!
HelloBelly
Welcome to the most modern and chic of all the apps. The only downside is although it's a free pregnancy app, it's laden with super annoying ads. They will ask you to pay a fair amount to turn ads off. But if you don't mind clicking out there are some awesome perks.
– Stretches, yoga, health, and fitness tips for each trimester included
– Images of what baby looks look week by week
– Articles and pregnancy tips you should read up each week of your pregnancy

Baby Name App

BabyName
Naming a human being is no small task, and there's a good chance you'll have at least some debate about this. This app is perfect the perfect baby name app!
– It's like the Tinder of baby names. You can swipe left and swipe right on name suggestions. You can also get lists of ideas to help you find a name.
– If you connect with your partner, it keeps track of your matches. It's such a great place to find the names you both like and have more productive naming conversations!
I know there are so many others, but they either cost quite a bit that I wouldn't put them on my list. Or, some just really only do one thing. All the apps above have been on my phone at least one point during pregnancy. The top three I look at almost daily!
Like this pregnancy post? You may like these too:
The Best Places to Buy Cute Maternity Clothes
Fun Things to Do While Pregnant: Date Ideas While You're Expecting!
National Infertility Awareness Week: Signs You Might Be Infertile
15 Maternity Outfits Using the Same Maternity Dress
Get 365 Date Ideas!
We want to help you have the best date nights ever! Grab this FREE printable with 365 date ideas, a date for every day of the year so you never run out of ideas!