I Spy Christmas printable activity: a fun activity and an easy way to keep kids busy and add some holiday fun! Grab Your free download!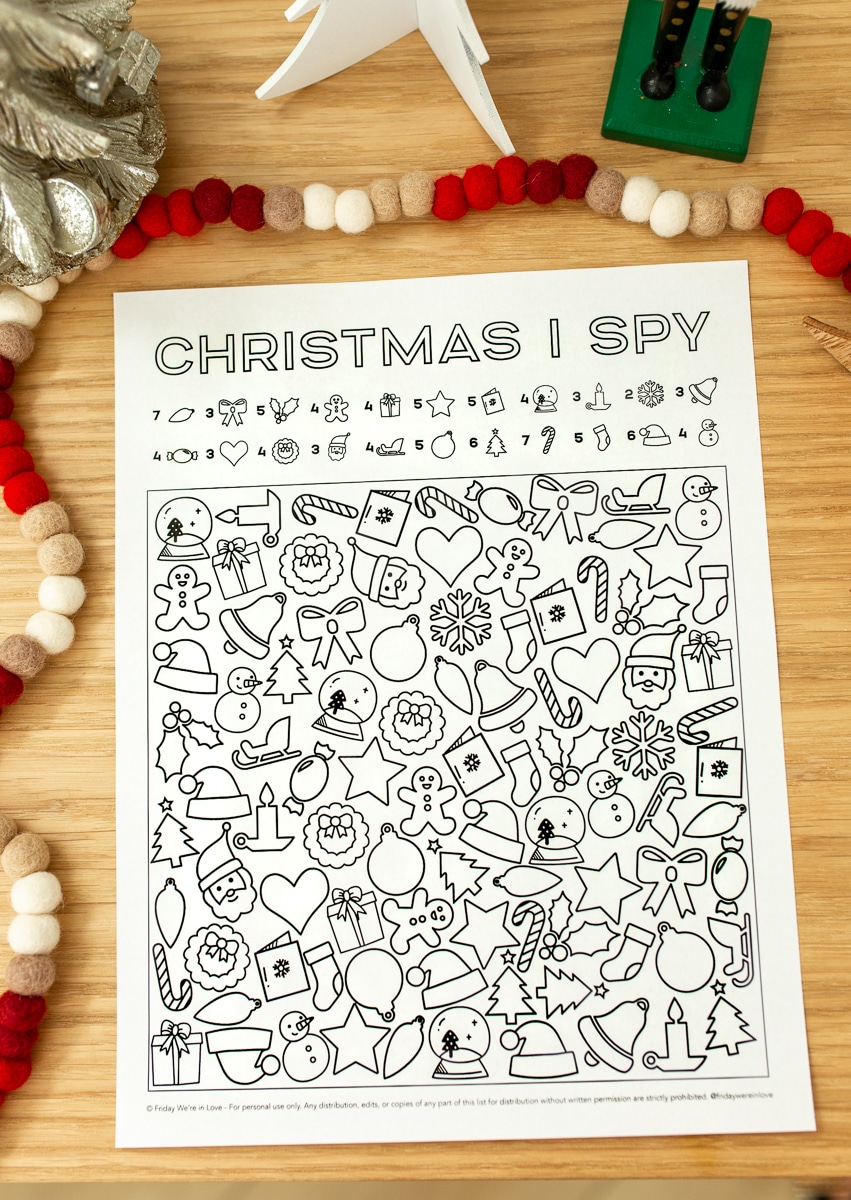 I am all about holiday fun that's easy, educational, and doesn't take me longer to set up than the time it takes my kids to enjoy it. While kids are out of school and you may need some free Christmas activity ideas that fit these categories. Don't worry, we have you covered with this I Spy Christmas freebie!
Presenting the Christmas I Spy printable Christmas activity that will keep kids busy for about 30 minutes! I love watching kids practice counting skills and sorting skills. Those are important elementary and preschool learning skills! My kindergartener flourished with counting skills using these freebie Christmas celebration printables!
We went ahead and created one to go with our favorite holiday, and offered a free I Spy Halloween printable that hundreds of people downloaded and loved! We instantly decided this needs to be something we do each holiday season, creating the I Spy Thanksgiving printable and of course a Christmas I Spy too!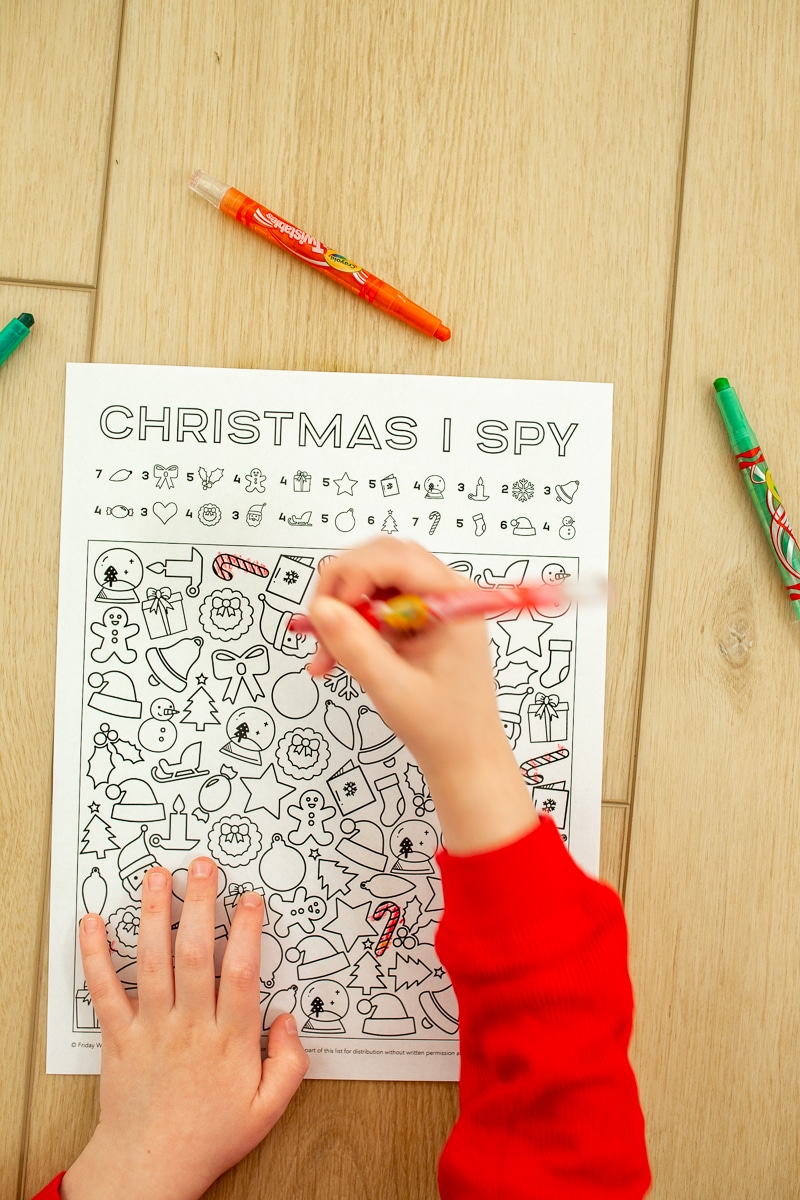 Here are some fun hidden objects kids of all ages can enjoy looking for:
Christmas tree
Candy Canes
Jingle Bells/Silver Bells
Ornaments / Assortment of ornaments in different shapes and sizes
Snowmen
Sleigh
Snowflakes
Santa
Elf Hat
Star
Mistletoe
Christmas card
Wreath
Snow globe
Presents
Gingerbread people
Stockings
Candlesticks
I Spy Christmas Printable
I Spy activities help with so many learning concepts while kids play a game and do some coloring. Truly, it makes learning feel so fun! And do you know what's also fun, the bonus of all the quiet time! This is one activity that keeps kids working and playing for about 30 minutes and I was sold in less than a minute! What mom can't use another 30-60 minutes during the holiday break?
Kids can search for one item at a time, or start a brand-new search by coloring the page and counting the rest of the festive things at the end.
When's a Good Time to Use a Christmas I Spy?
I'd say almost any time is a great time! But it's fantastic to help hyper-excited children calm down. If you need a quiet time moment, kids can easily enjoy it in their room or at the table while you get some needed work done. Should you be having a get-together and need something for the kid's table, it's a great thing to print and include! We've shared other Kid's Table Christmas Activities ideas, and this one is one of our favorites!
But we love to enjoy them on a cold afternoon with some Christmas cookies. Turn on some Christmas music and celebrate the greatest time of year with this fun-free Christmas activity!
What age is this Find look activity best for?
These I Spy printables have fans of all ages! Seriously, our teenage babysitters love doing them with our boys! Preschoolers and kindergartners through older elementary-aged kids tend to love them most. It's the perfect fit for a class activity around the holiday season! But it's also a great way to add some steam curriculum into holiday plans and practice intellectual discovery with everyday objects you'd see at Christmastime. But because it is picture-based, readers of all ages, including older toddlers, enjoy this bit of holiday cheer searching for different objects.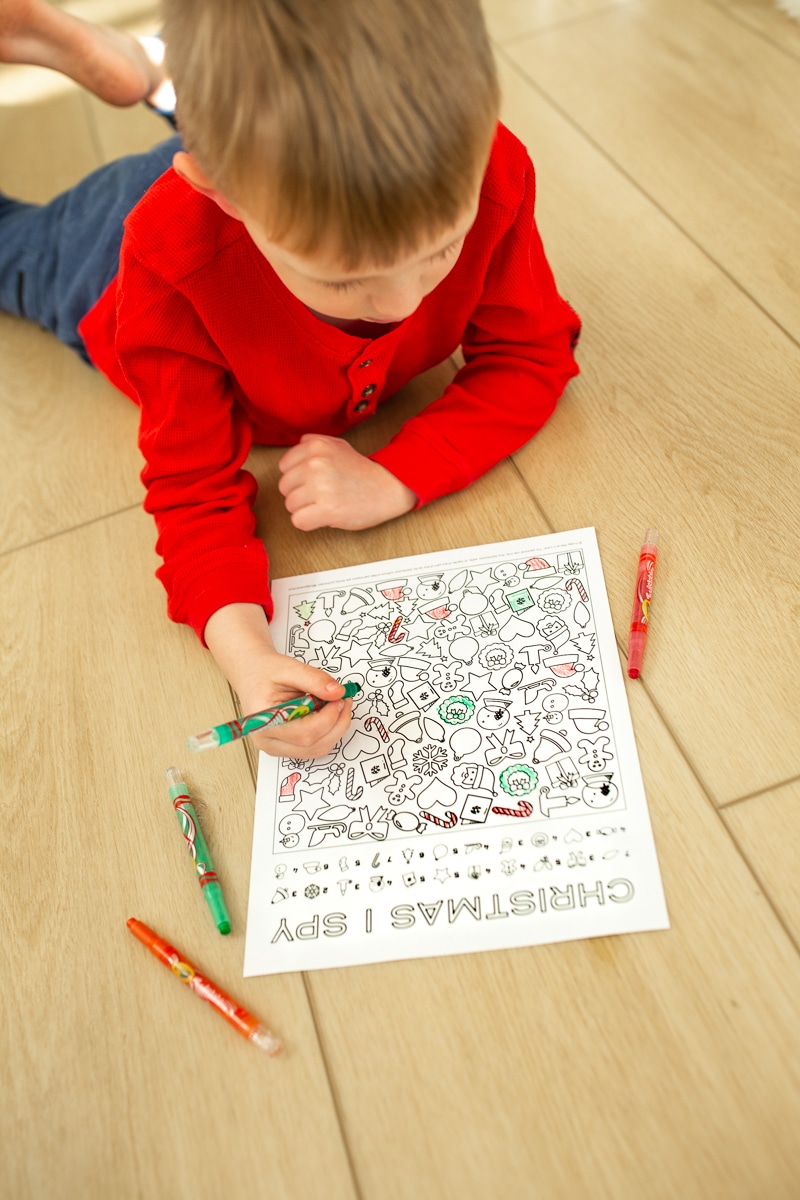 If you need a little Christmas fun for kids or adults, this I Spy Printable is an easy (and currently free) option! It's one fun way to add a little more festivity and joy in a year we could all really use it!
P.S. These Twistable Crayons are perfect to use with it!
GRAB YOUR I SPY Christmas WORKSHEET HERE
One note: Many email clients and/or your internet browser (like Chrome or Firefox) will automatically download once you click the confirm button in your email. Be sure to check your Downloads folder for the file.
LIKE THIS Christmas ACTIVITY FOR KIDS? YOU MAY LIKE THESE FESTIVE POSTS TOO:
50 Fun Christmas Activities for Families
Christmas Lights Scavenger Hunt
25 Christmas Picture Books to Help You Count Down to Christmas
Christmas Puzzles Holiday Tradition
Get 365 Date Ideas!
We want to help you have the best date nights ever! Grab this FREE printable with 365 date ideas, a date for every day of the year so you never run out of ideas!