Things to Do on a Hot Day: Beat the Heat Date Ideas
Looking for fun things to do on a hot day? Trying to find a date idea during the hottest season of the year? Here's a list with tons of ideas to help you find fun things to do on a hot day and beat the heat on your next date night!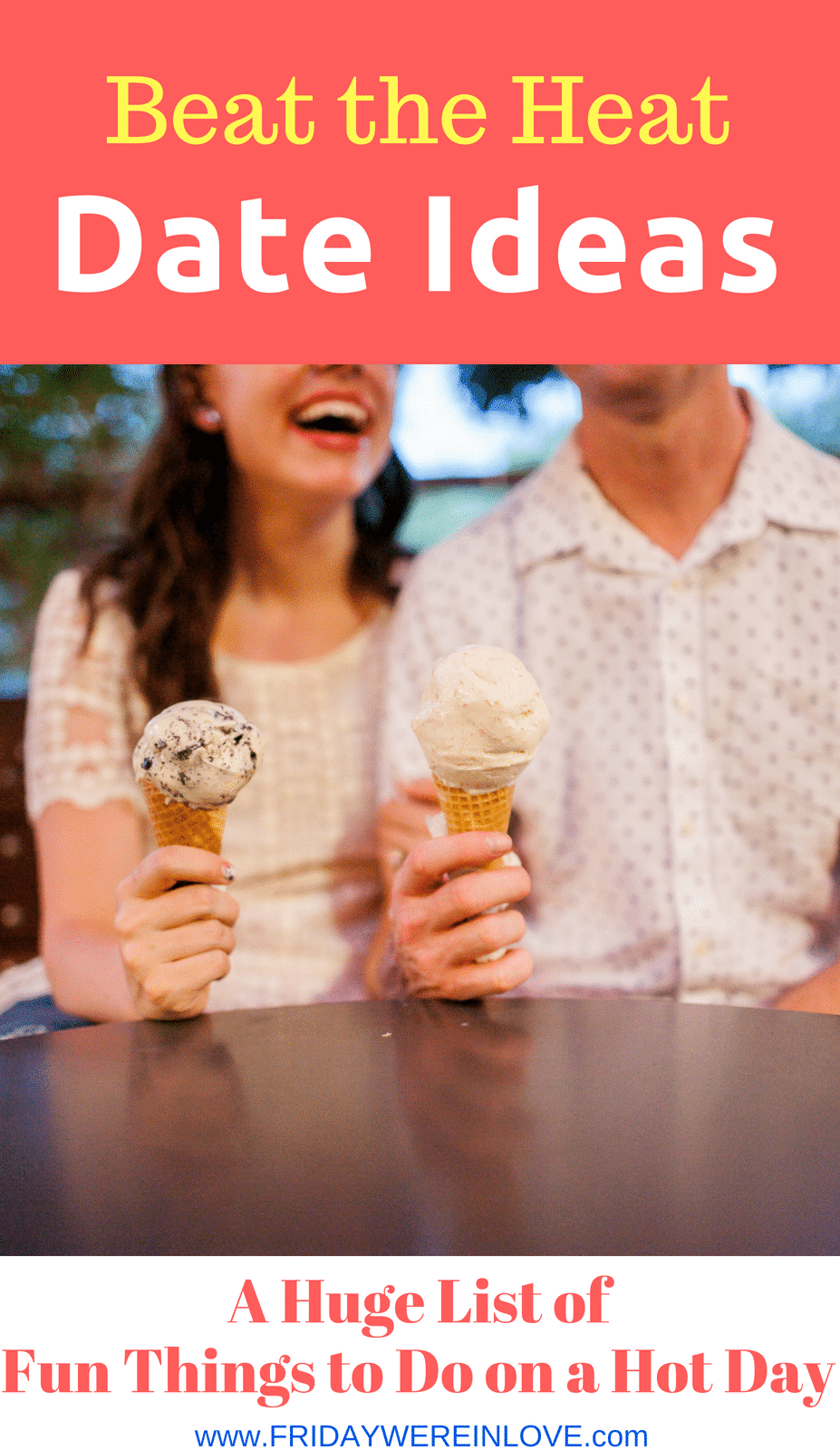 We live in Phoenix, and if you haven't heard, it gets pretty hot here. Summer is this time that feels like you've walked into a blow dryer anytime you go outside. When I think of date nights, I am thinking of things to do on a hot day that won't melt us!
If you're burning up and looking for some ways to stay cool while still having fun in the summer (or an abnormally hot time of year) we have your back with some of our favorite cool down fun activities perfect for date night!
Things to Do on a Hot Day: Beat the Heat Date Ideas
Ice Skating
This is our favorite time of year to go! You can wear jeans and a jacket and actually feel cold on even the hottest day of the year!
BYOB Art Classes
These are indoor, you bring your own drinks and snacks, and you get to enjoy recreating a famous masterpiece while you enjoy someone else paying the AC bill. It's about three hours
Hit Up a Museum
Several have a late night opening on at least one weekend night


Fun Summer Activities

Go to the Movies
We know you know this one. But really the AC blasting at the movie theater is such a great way to go! Get a cold drink, enjoy summer blockbuster season, and make this the top of your list of thigns to do on a hot day!
Get Out of Town
That doesn't mean you have to get to Antartica, but most big cities hold onto more heat than the country. And most big cities allow a more remote experience only an hour or two drive away. Find a cooler location, enjoy a picnic.

Water Activities: Things to Do on a Hot Day

Go to the Water Park
Feel free to find a discount night to enjoy the cooldown without the sun. There's also more adults and fewer kids at night, so it's a great time to go!
Find a Dive in Movie
Many pools and water parks host dive-in movies. You essentially wear your swimsuit, rent or bring a tube or floatation device, and cool down in the water while a movie plays on the big screen.
Float the River
There's bound to be a river somewhere in your area. Park one park at the top of the river, one at the bottom, and let yourself leisurely float down the river.


Beat the Heat Date Ideas

Do Some Service
This is typically a warmer activity, but if you sign up to help pack food, you'll enjoy a really chilled environment. We love helping pack at Feed My Starving Children, or similar organizations. There's a little extra AC blaring, and you get to do some good while you have fun.
Get a Cold Treat
Go ahead and cool yourself down from the inside. Ice cream, shaved ice, snow cones, slushies, etc. are all great ideas for an easy way to find some fun on a hot day.
Did we miss any fun things to do on a hot day that are perfect for date night? Let us know your favorites in the comments!
Photos by: Chrissy Blake
Like this beat the heat date ideas post? You may like these date night ideas too:
25 Beat-the-Heat Summer Activities to Do With Your Kids
365 Date Ideas: A Date for Every Day of the Year
Get 365 Date Ideas!
We want to help you have the best date nights ever! Grab this FREE printable with 365 date ideas, a date for every day of the year so you never run out of ideas!