Creating a Romantic Backyard Date Space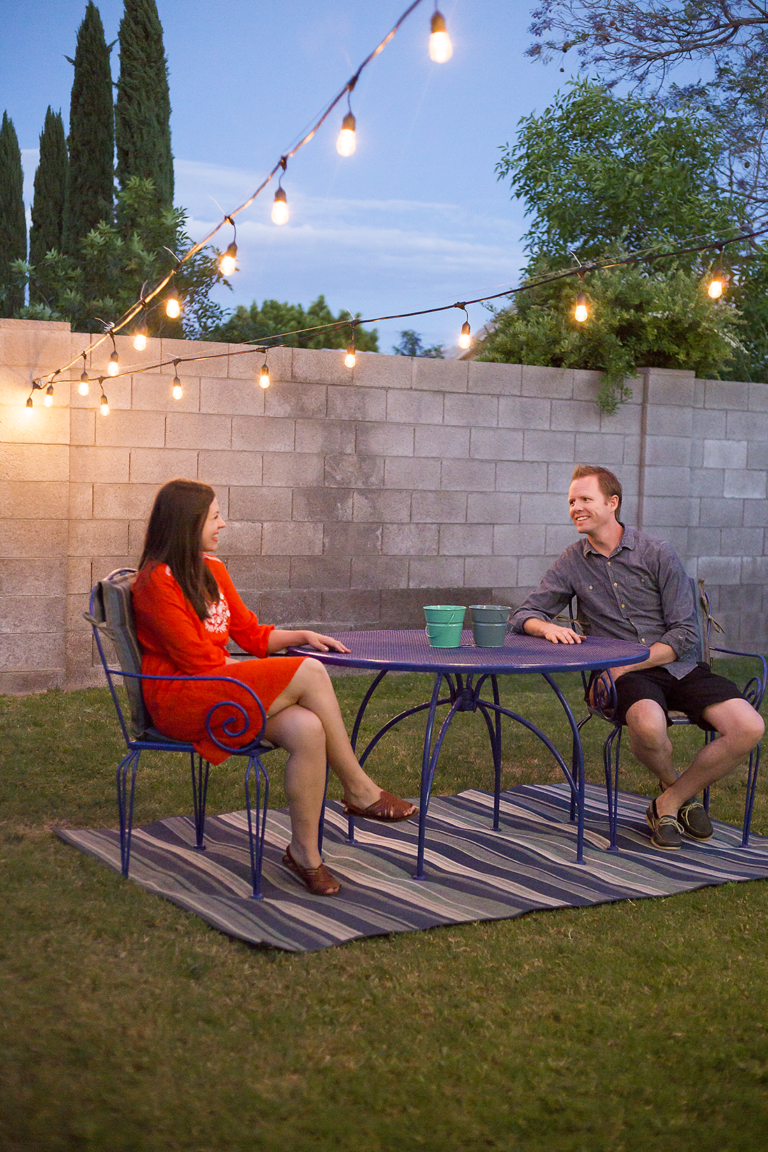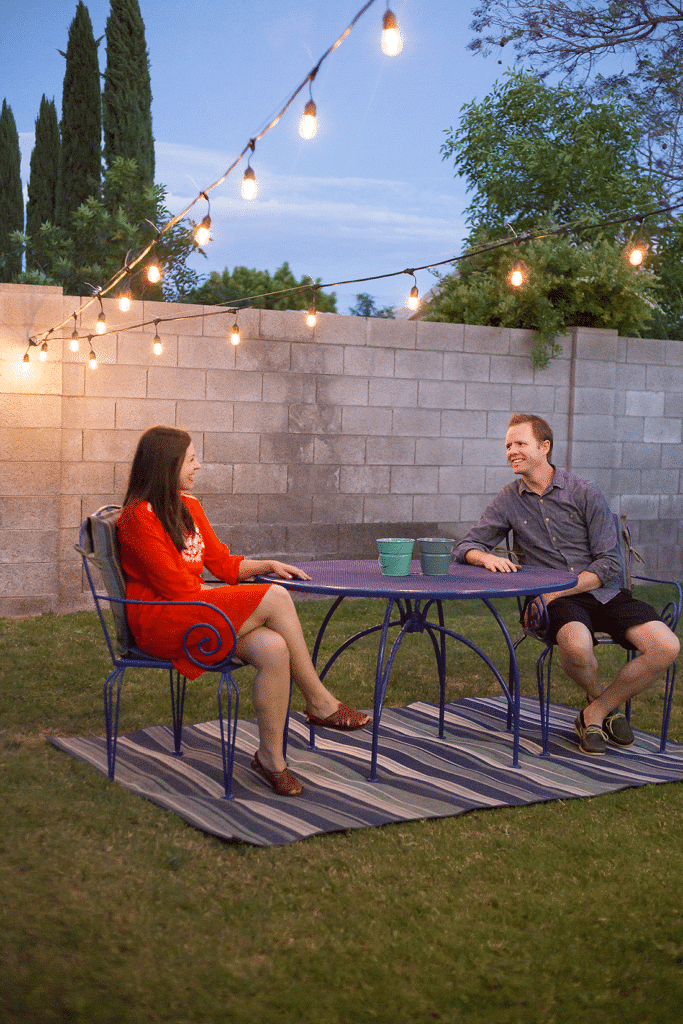 Spring is a pretty magical time in Arizona, and we're thankful for our partnership with Lowe's to make it even more magical. In Arizona Spring means we're starting to heat up and the weather becomes a comfortable warm that isn't too hot. It's a time when everyone seems to be outside as much as they can. We love spending as much time outdoors as possible before the strong summer heat comes, and that includes finding outdoor dates to add to the date night calendar too.
Easy Backyard Updates
We're still parents, and we still need to do some date nights in after we put our child to bed, so an outdoor date night with the monitor is still a must! We're learning that the perfect outdoor spring/summer date night at home is a night spent having dinner al fresco and enjoying a romantic dinner in our backyard. We've always loved this idea, but we've never created the perfect outdoor patio romantic feel you can get at a restaurant at home, until now.
It's not something hard to do, and it's surprisingly not expensive either! We've found it's pretty easy to create a romantic backyard oasis on a budget, and one that extends your living space into a perfect spot for entertaining or a romantic date night for two. Here's what we did for ours.
Creating a Romantic Backyard Date Space
We started with a dining table. We actually had a beat-up one we decided to update with paint. But, if you're starting from scratch, it's easy to either find a used one or look at some of the really awesome quality affordable options at Lowe's. We saw a table almost identical to our table in the Lowe's Patio Guide that would be so easy to use as-is or give a paint makeover like we did.
Next, was getting the table and dining space looking better and feeling more comfortable and inviting after its makeover with some patio furniture accessories. There were lots of great seat cushion options for any size seat, but we're glad we found this striped set that went perfectly with our blue table! We also found a coordinating outdoor rug, which is perfect for updating any space, adding some color and texture, and creating a space you can comfortably wear heels on if you want to get fancy with your dining spot.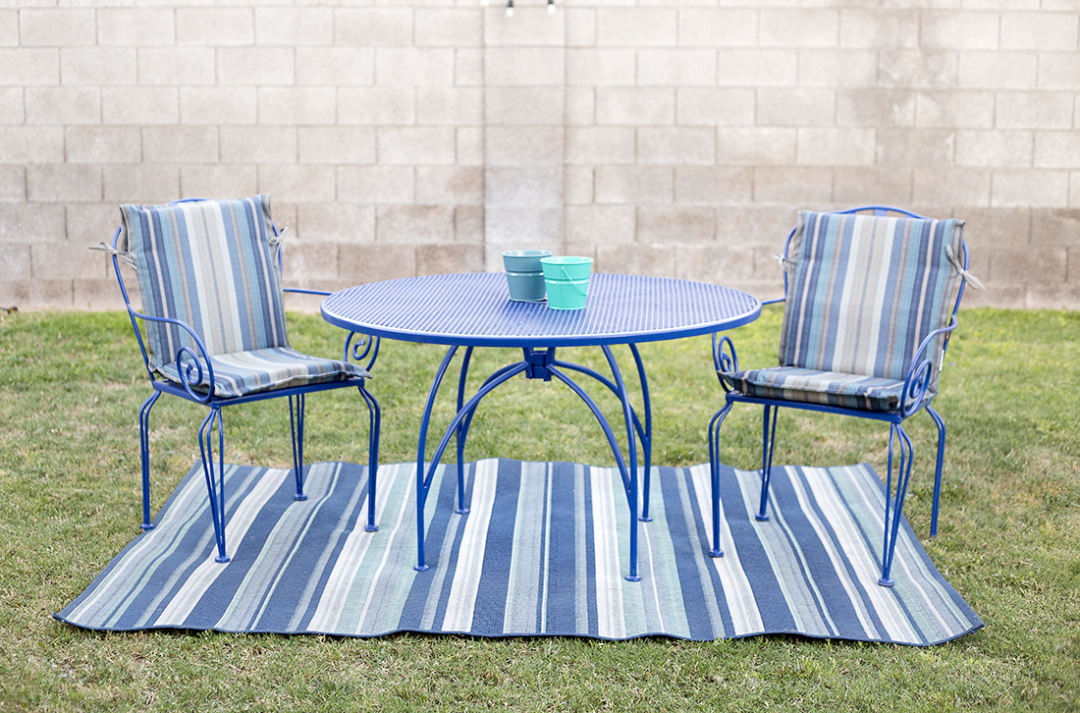 We were happy enough with our table and decided we could quit there, but we borrowed one more huge trick to creating a romantic outdoor space from one of our favorite dining spots- outdoor string lights!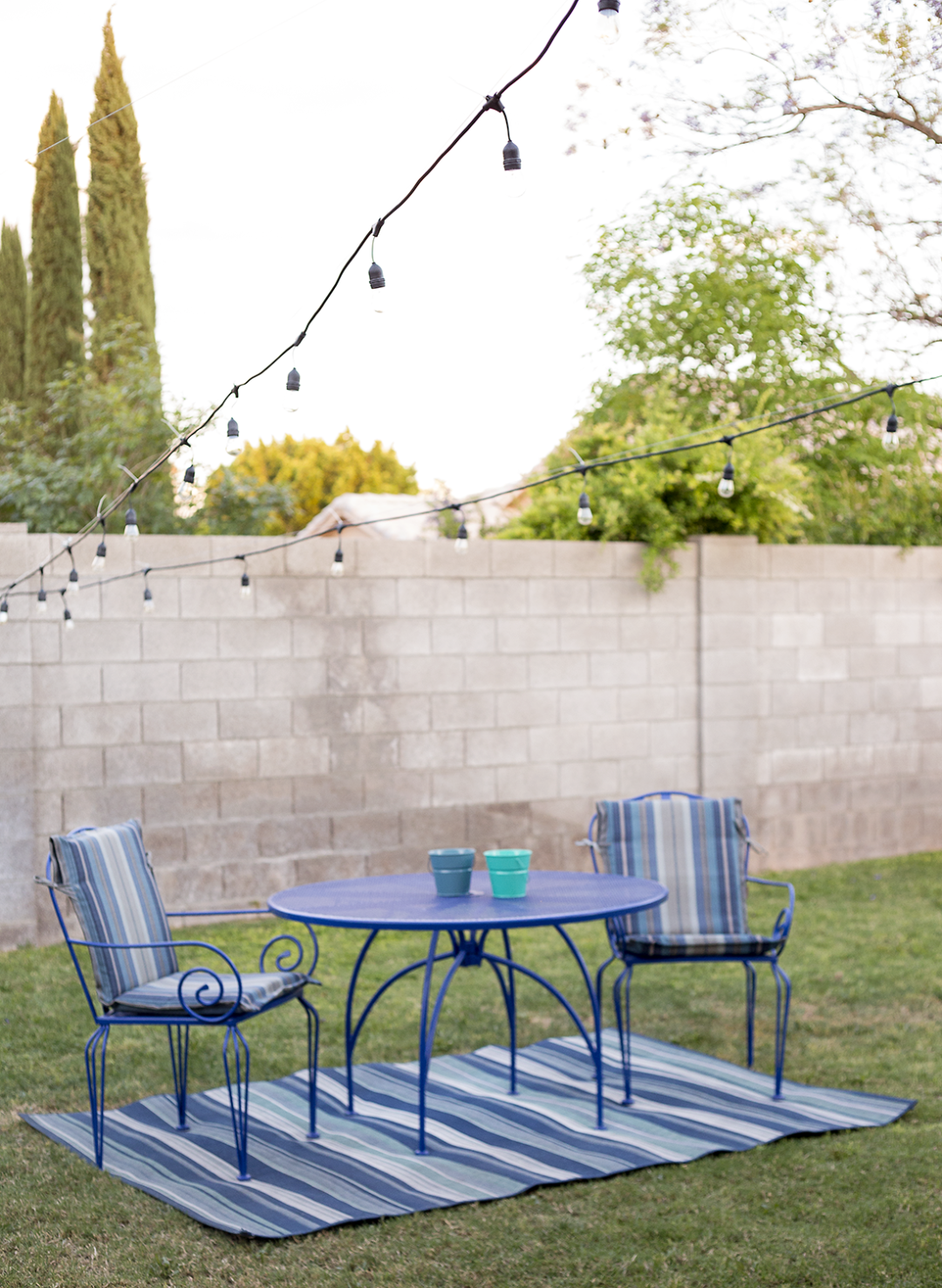 Easy Backyard Lighting
Hanging a few strands of heavy-duty outdoor lights that are approved for wet locations and safe in pretty much any space adds a really whimsical feel that brings up the romance several notches. With these lights and a few romantic citronella candles that repel mosquitos, we're in good shape for an outdoor dining experience worthy of date night.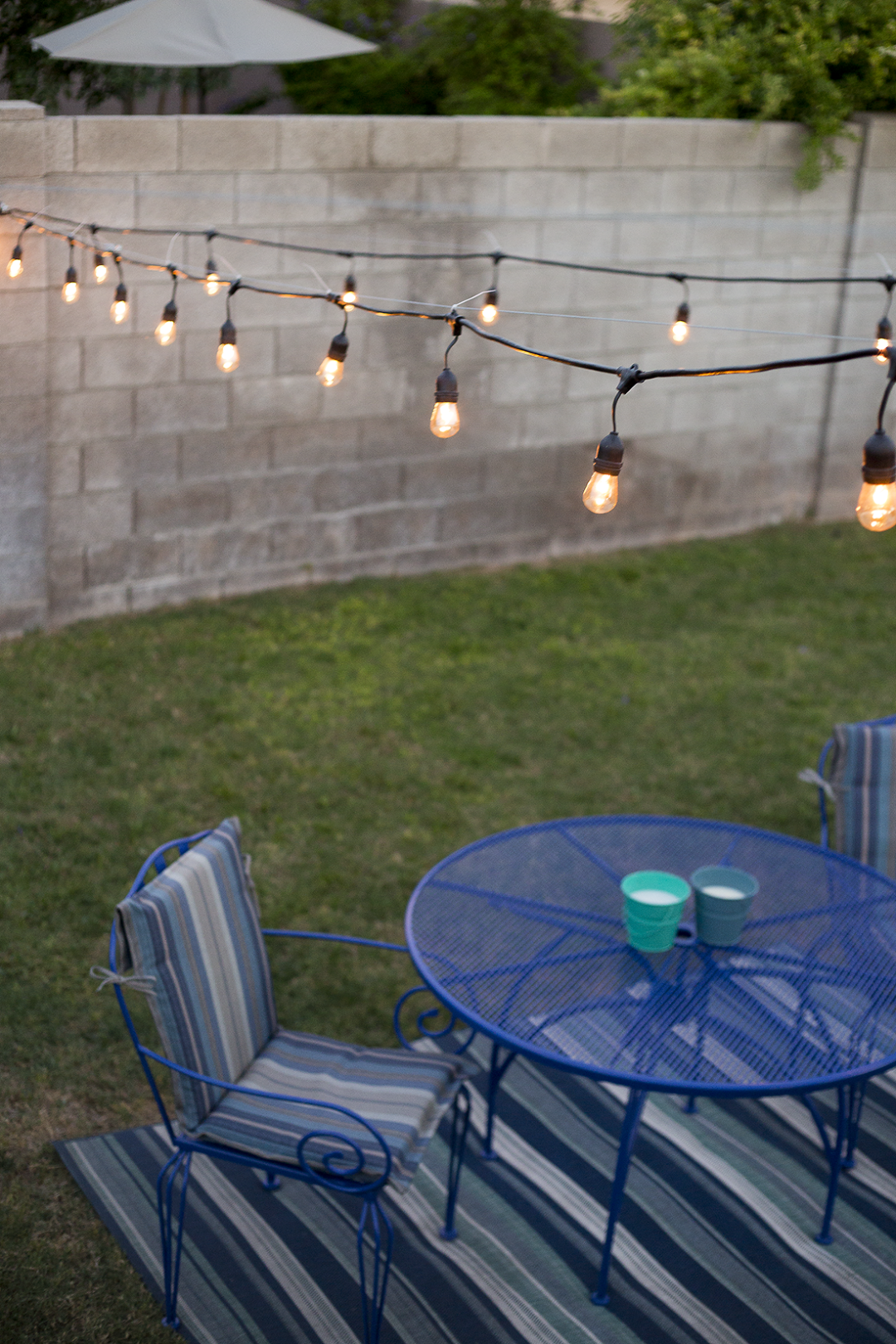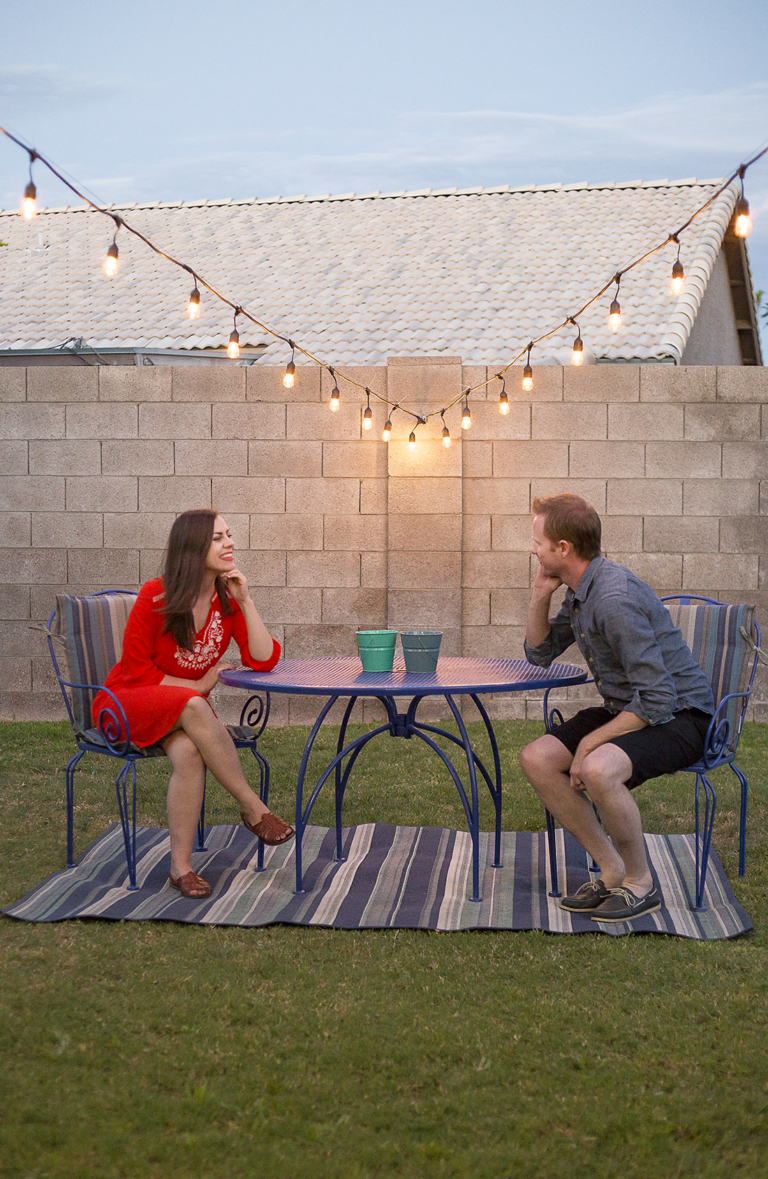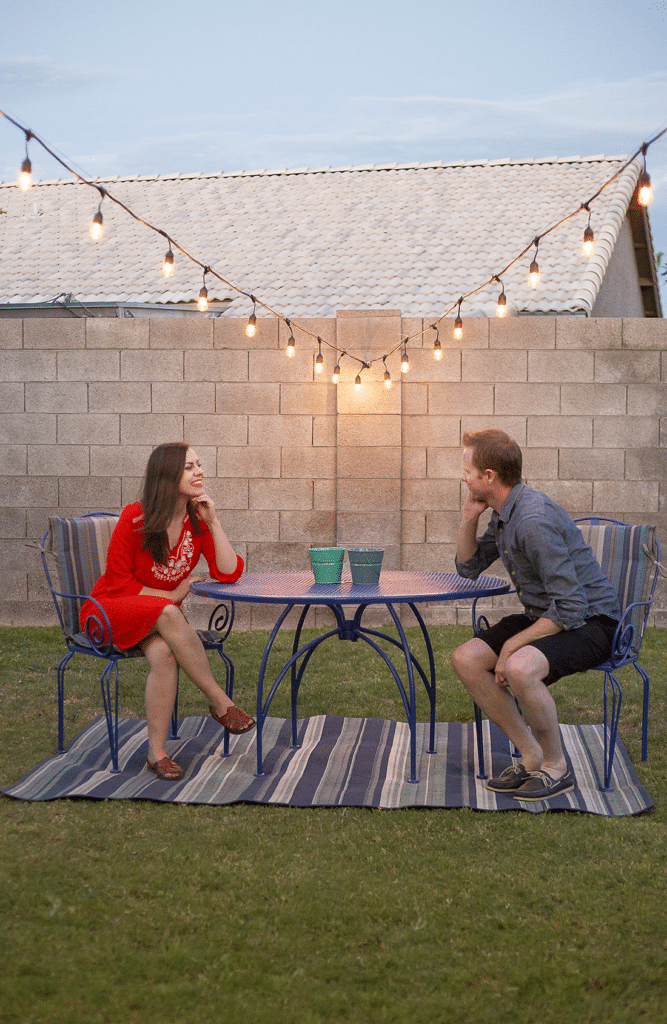 Romantic Backyard Date Night
We love to take it one step further and make a dining experience on the grill. And once again, if you think you can't afford a grill or don't have space for one you really need to go to Lowe's and see how many options there are! There are so many small, inexpensive high-quality grills, but you can also find that huge, fancy kind too! We've been talking about installing a custom grill and I love seeing there were even options for that! We currently have a portable gas grill that we love, and it's been good to us for years while we wait to buy an upgrade. If you love to eat healthy food at home a grill is such a game changer and I can't recommend it enough! My quality of life increased significantly when my first grill came into my life.
A favorite easy meal is London Broil with mixed veggies.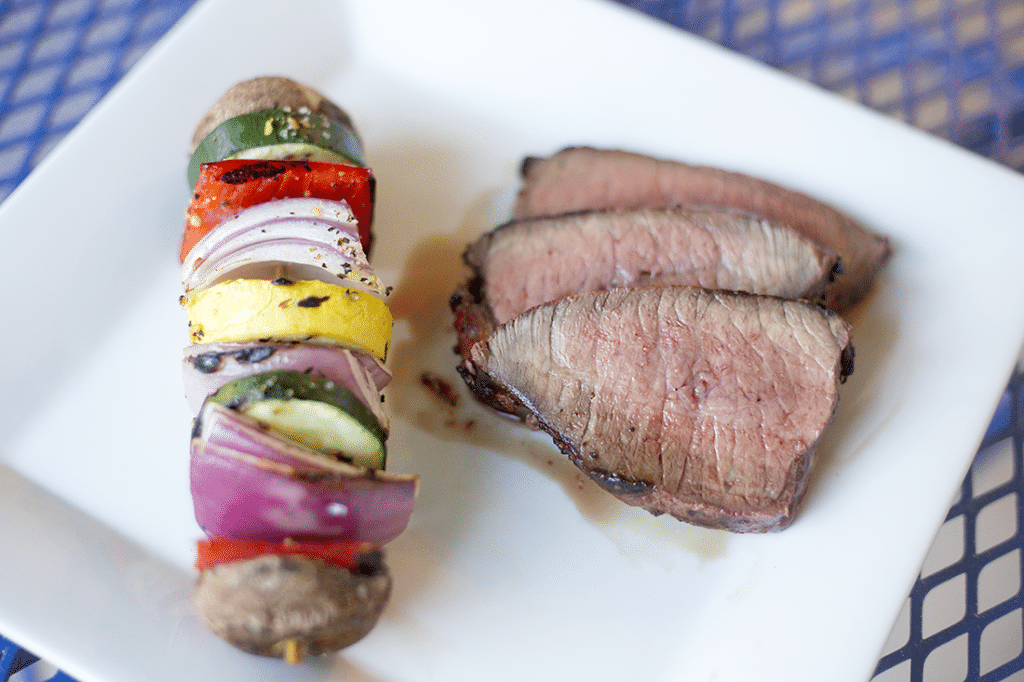 It's SO easy! You just rub olive oil all over, season with your favorite grill rub (we just buy a pre-made pack of dry rub), and cook on high heat for 10 minutes on each side. We add our favorite veggies to a skewer and add a little olive oil and rub as well, and cook until tender. It's so easy, it's so delicious, and it's a fancy meal we enjoy in the comfort of our newly updated romantic backyard oasis!
This is a sponsored post written by me on behalf of Lowe's.
Like this romantic backyard date night post? You may like these too:
Fall Brunch
Bonfire and Grilled Pizza
Get 365 Date Ideas!
We want to help you have the best date nights ever! Grab this FREE printable with 365 date ideas, a date for every day of the year so you never run out of ideas!