DIY Faux Brick Wall Tutorial
This easy faux brick wall using
brick paneling
comes together so quickly with the help of faux brick panels! A few brick paneling options, some German smear techniques, and a few hours later you'll have the perfect white faux brick wall!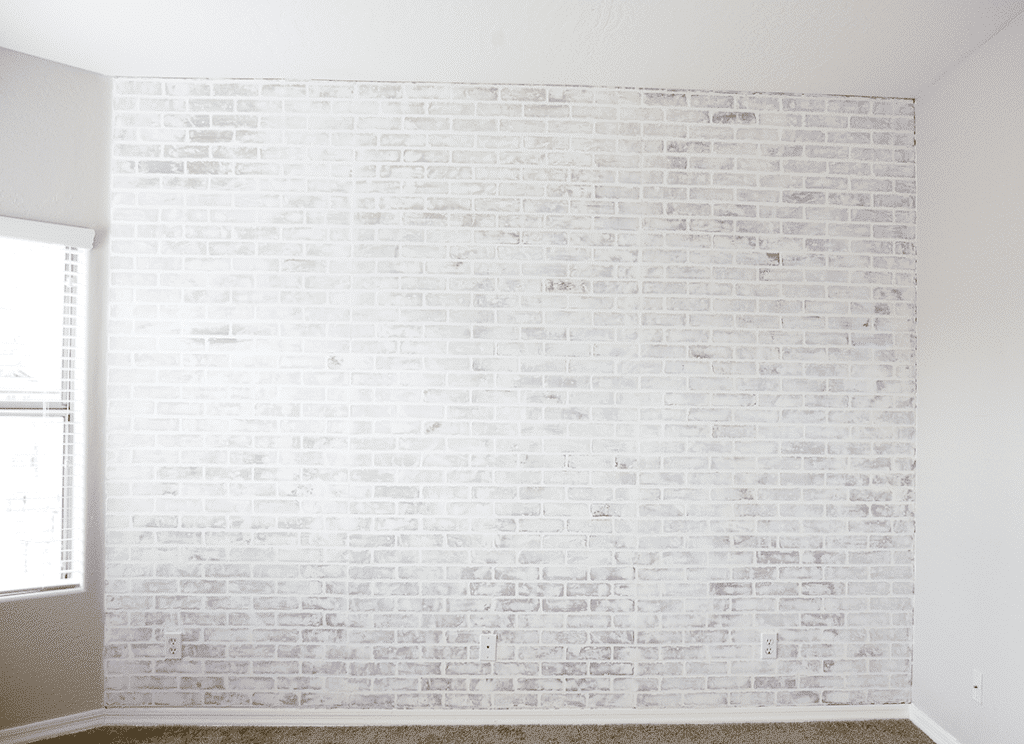 Creating a Faux Brick Wall
One of our resolutions this year is to get our home in order and actually furnish and decorate in hopes it would look and feel more like our home instead of just a house. Our house was recently updated and it's left us impressed but feeling less inspired on how to make it more us with a little more character. One particularly challenging area was the office.
We have a very ugly couch Jacob picked up back in his single days from a much older church leader for about $20 that is straight out of the 80's with a subtle pink stripe garnishing a brown plush exterior. It's pretty awful by today's standards, but it's in amazing condition and hardly used! It was always on our to replace list in our old house but went okay with our brown kitchen and we just kept casually looking never replacing. We both agreed when we moved into our home with light-gray walls the couch wasn't coming. You can imagine our dismay when we walked into the new office to this couch that just didn't fit plopped right in the middle of our new home. Sigh, it's like a trusty stray dog that we somehow keep feeding and it keeps coming back for more.
The weirdest part is we actually use this couch! We finagled it to fit in the office and it's where I sit and work when our nanny comes, where Jacob holds a lot of church meetings, and where we throw a white sheet over it for certain pictures and YouTube recordings (*hangs head in embarrassment letting this secret out, but now you know more about this post and this post's hidden secrets).
So, in a way, it's been really great for us to talk about the purpose of our office and what we want/need from it. Decorating and showing its multi-use purposes is another post for another day, but let's just say one purpose was the need for a picture background and YouTube video creation spot. I really wanted a cool wall that helped bring in a lot of bright lighting, and until I mapped out the flow and functionality of the room, I didn't have a vision.
Brick Paneling Vision
One day sitting on that ugly couch it hit me how perfect a faux brick wall could be! There are a few things we miss about our old house, but the exposed vintage brick wall is on the top of my list. I knew a modern twist on that wall with a whitewash look would just be perfect for our home office.
I set out looking at every option I could and decided on a few techniques we would combine for our do-it-yourself faux brick wall. And best of all, this is about a half day's project. It only takes about four hours total if you do the measuring and cutting right the first time, and use the right tools. If you have a smaller wall, it will be even faster! Oh the measuring mistakes we made that caused more time than needed!
I'll guide you through how to avoid our mistakes and make this a breeze! And did I mention it's about a $100-$200 total project cost project, depending on the size of your room? Our wall is rather large and we're coming in at just under $150 total with some supplies to spare.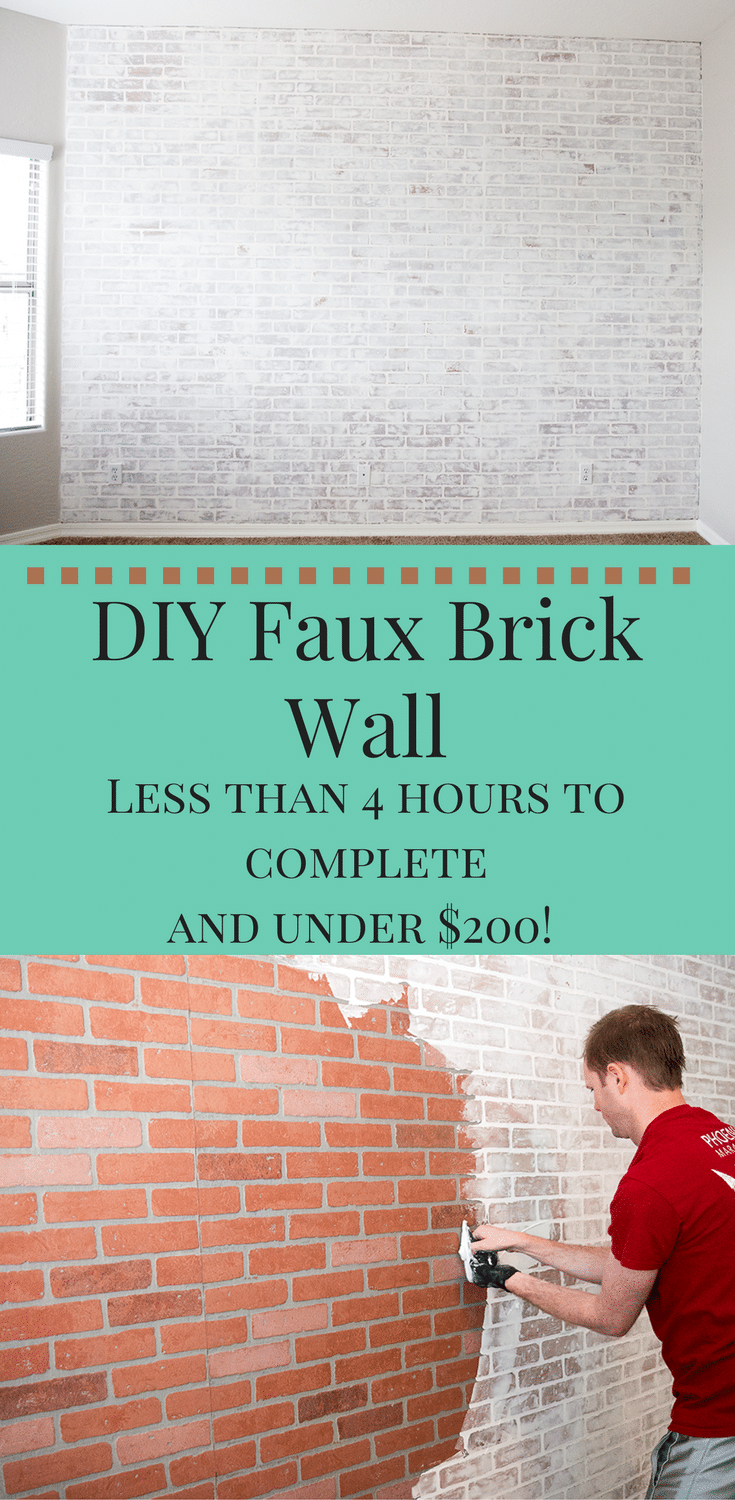 Materials for a White Faux Brick Wall
Faux Brick Panels: We went with these sheets from Home Depot. It took us four brick panels total, three to cover the wall and one more to extend to our vaulted ceilings. Measure your space carefully so you get enough!
Nails: We went basic with what we already had for this. A nail-gun would also be nice, but we didn't have one and it wasn't a big of deal to do it by hand.
Spackle: Get the big tub. We went through a bucket size amount and another small can. You'll need quite a bit.
Plastic Putty Knife: A bigger one will make it go faster, but just make sure it's plastic! We learned the hard way with metal.
White Paint: You'll use this to seal the dried spackle, and you only need a sample size amount. It doesn't matter what finish it is, you're going to water it down and we found a glossy still gave the weathered look we wanted.
Sandpaper: This is optional, but if you want a less white and more distressed look you'll need some!
How to Install Faux Brick Panels
Measure your walls and get the precise cuts you need for your wall. One tip, think about how the brick paneling will line up side by side. Think about the pattern if you have to cut a little more to reach the ceiling as well. A little planning before you make any cuts will go a long way and make the actual process so much faster!
This is where we went wrong just having cuts made and coming home realizing it wasn't going to line up perfectly like it should. If you plan how they will line up in advance you'll save yourself a lot of time! And pro-tip if you didn't know, you can have Home Depot make the cuts for you. If you have your measurements in advance and plan the pattern on the spot, you can go home ready to hang up the panels and do the whole project in less than a few hours!
If you have any plugs of phone jacks, be sure to measure and cut a hole for those. We found an Exacto-knife worked great, and we cut ours smaller than the hole so our covers would sit on top.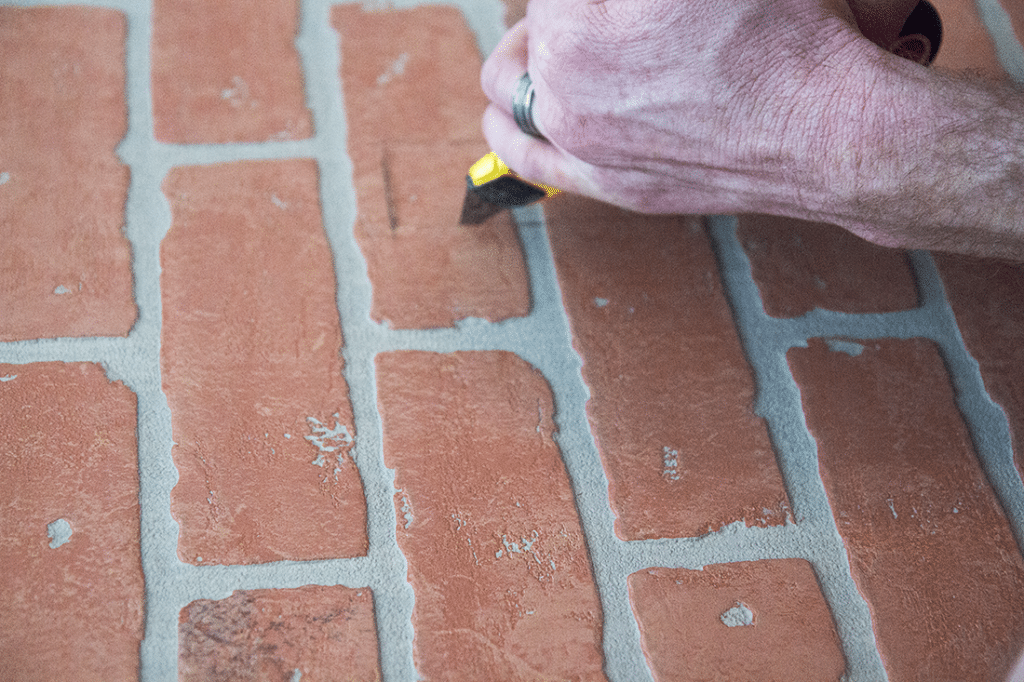 How to Apply Faux Brick Wall Panels
You'll start by nailing your faux wall panels to the wall. We found it was best to find the studs and do a couple in the row of each stud. This kept things smooth and even. Match up your next panel and do the same until the entire wall is up.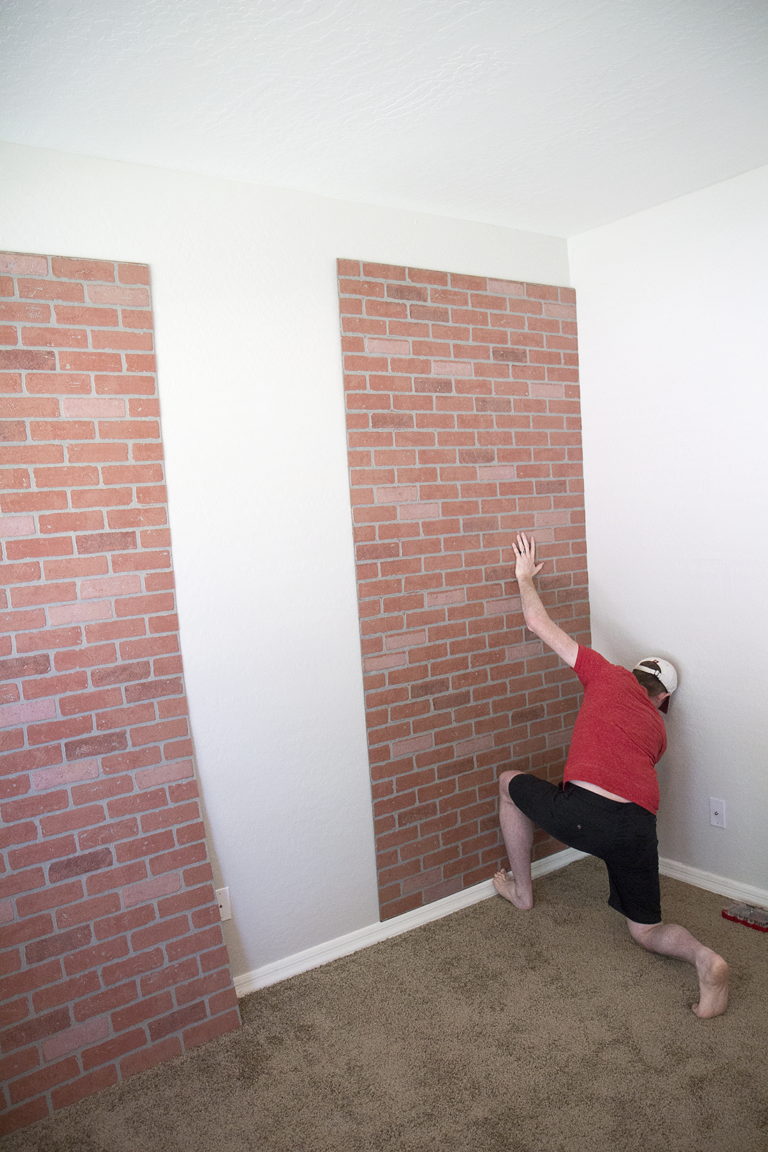 How to German Smear a Faux Brick Wall
Several people are content to stop there, and if you want that color of brick then go for it! We wanted a whitewashed natural look, so we went ahead and did something called a German Smear (German Schmear). This involves applying a thick coat of spackle, primarily in the cracks. You'll also use a putty knife to smear it along the rest of the wall.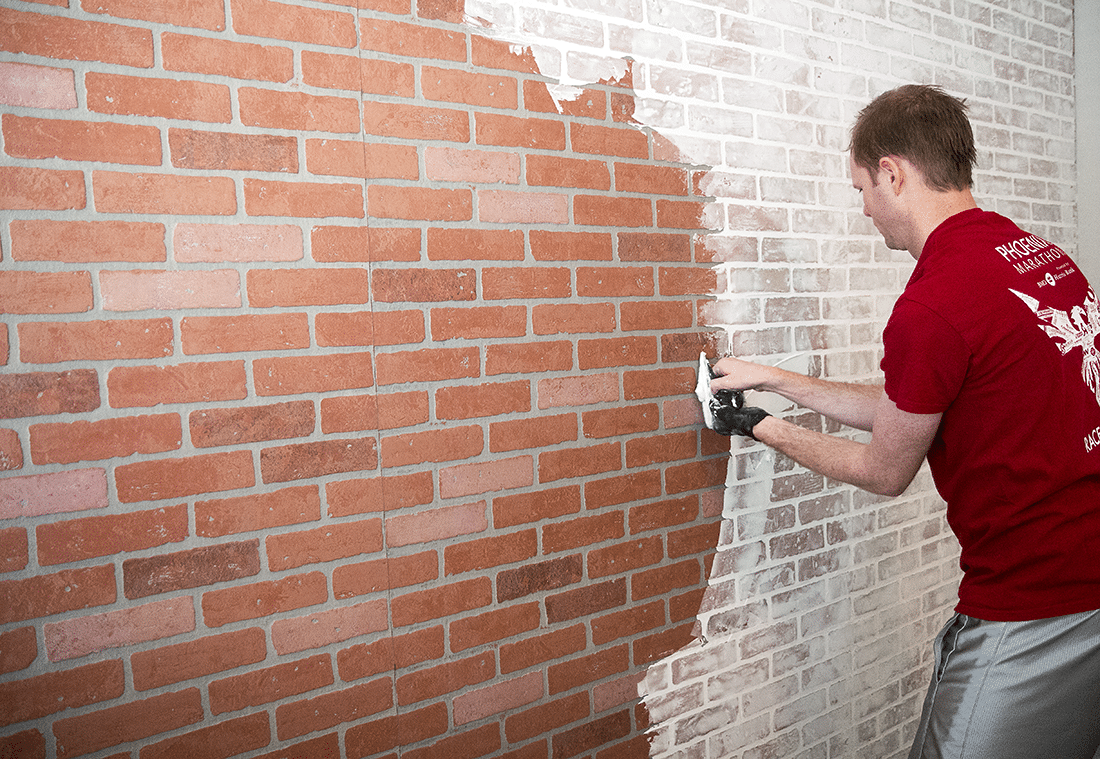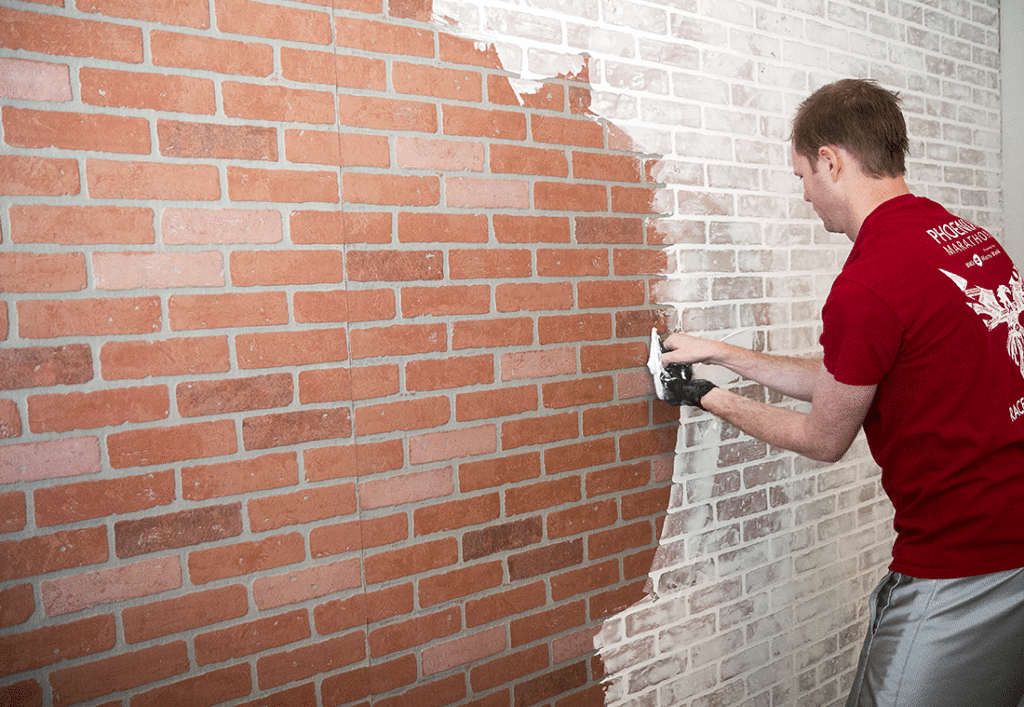 The scraping motion thins it out on the actual brick. It also applies thick coats to the grout and hides the seam of the panels well. We wanted to make this as easy as possible to explain. So, we decided to just make a quick movie tutorial. This way it's super simple to see what I attempted to explain above.
Finishing Your DIY Faux Brick Wall
After your entire wall is done let it dry. We decided overnight was best, but if you think it's drying more quickly for you I'm sure you could tackle it sooner. When it's dry you can decide to either finish it from there if you're happy with the heavier white look, or you can get sandpaper and smooth any rough edges and distress a few areas to expose more of the red brick color.
We liked the distressed look, and we knew the top coat would add more white to the wall as well, so I spent about an hour sanding out certain areas and trying to fix a few spots we'd used a metal putty knife on by accident. I'm glad I did it, but I would have loved it a deeper white too. It really is your personal preference! Wipe down any excess debris from sanding if you choose to do so before you move onto the last step. I actually vacuumed the wall with a brush attachment because I'm OCD like that.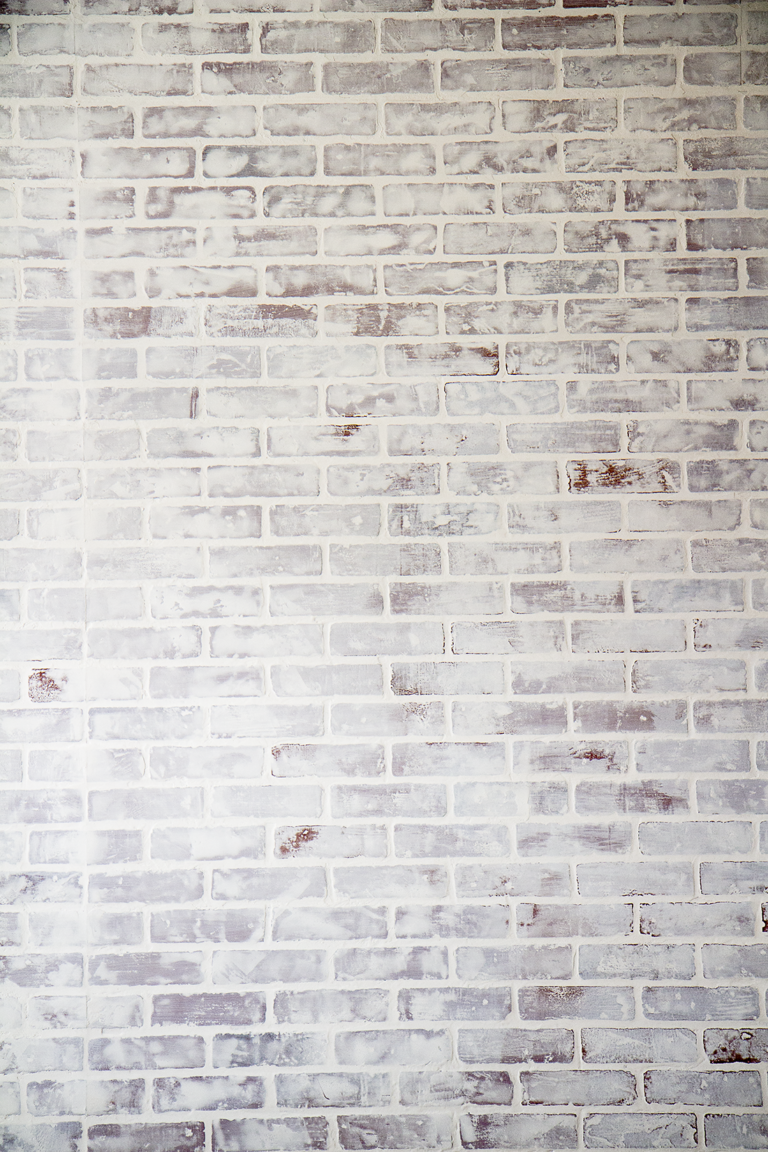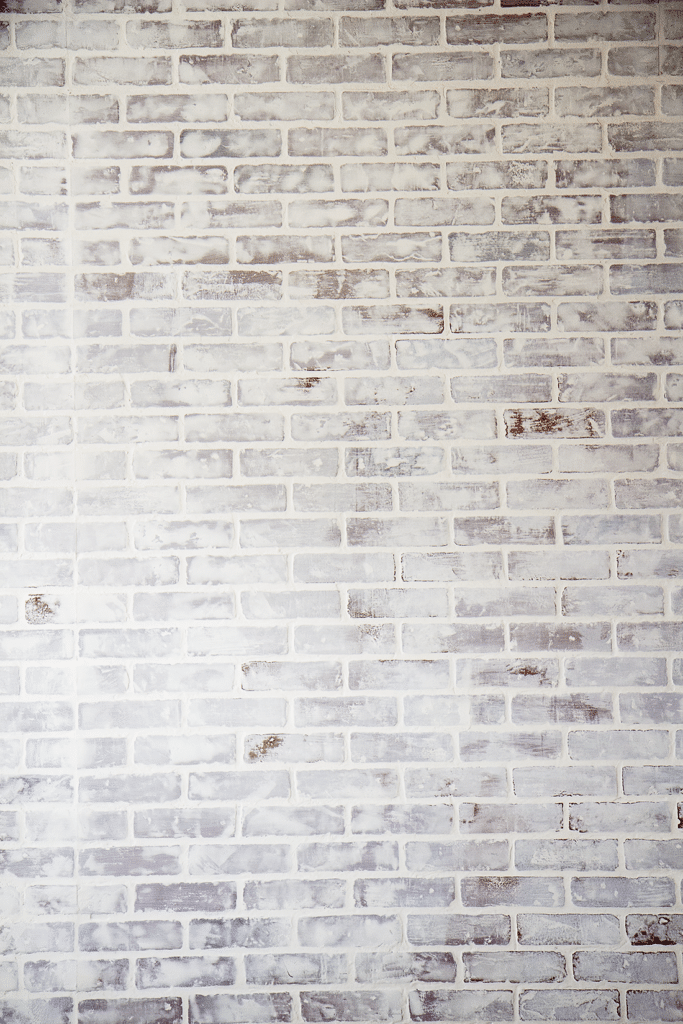 The spackle leaves a chalky texture that will transfer if you rub against it. It definitely makes a mess when little hands try to play with it, so you'll want to seal the final wall. We did a white paint/water mixture. Because we didn't want to add too much more white we went with 25% paint to 75% water blend. Just go slowly and put on a thin layer so you don't let the water run and make strange lines.
If your wall could use a little more white, go for a 50/50 blend. You could also try a clear coat on top. We actually used a glossy finish because it's what we had on hand. I was a little worried it would ruin the look. But I was pleasantly surprised! We were fine with the water mixture so I don't think it matters much what you seal it with.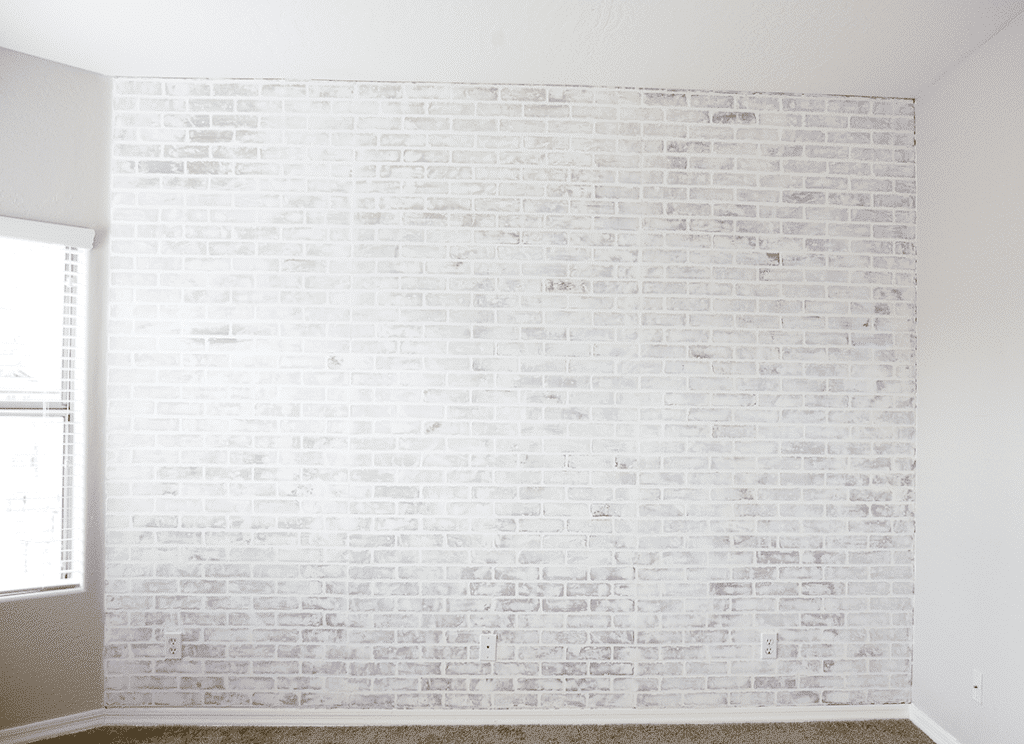 Finalizing your White Faux Brick Wall
Once it's applied you have three options. First, you can enjoy your work if you're happy with the look. Second, you can wait for it to dry and sand some more if needed for a more minimal look. Lastly, you can add another sealant coat if it's still a little chalky. I did do a bit more distressing with ours, and I didn't do another top coat.
We let it dry for about a day before we called it 100% finished.
And voila, a really big impact for a quick, cheap, classic statement wall that gives a modern twist to any room! We love it so much, and so far it's already been very enjoyed for several pictures, and even a YouTube video filming without any sheets involved!
Like this Faux Brick Wall tutorial? You may like these posts too:
Front Door Makeover: DIY Spring Porch Refresh
Easy Way to Get Your Home Ready for Spring
Modern Wallpaper: Temporary Wallpaper Installation
Get 365 Date Ideas!
We want to help you have the best date nights ever! Grab this FREE printable with 365 date ideas, a date for every day of the year so you never run out of ideas!