Boys Bedroom Ideas + Toddler Boy Bedroom Reveal
Our toddler boy bedroom reveal with lots of boys bedroom ideas and sources to find the best pieces for a cool boy's bedroom you'll both love!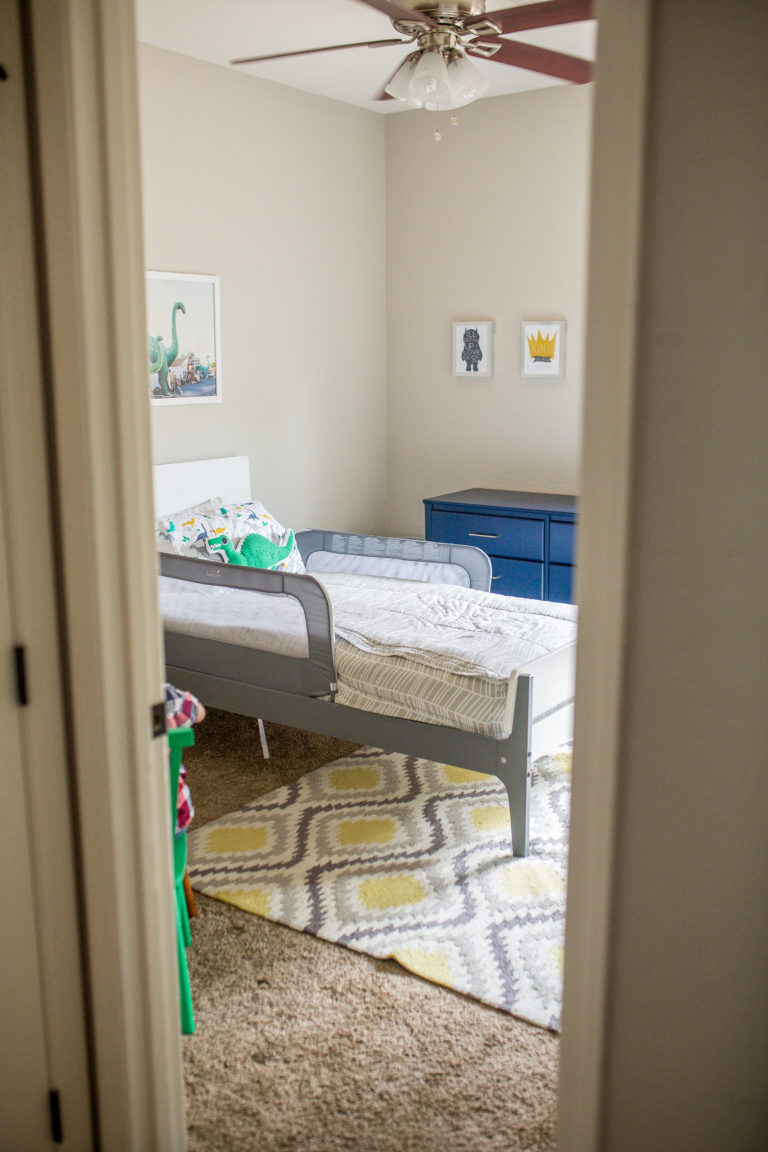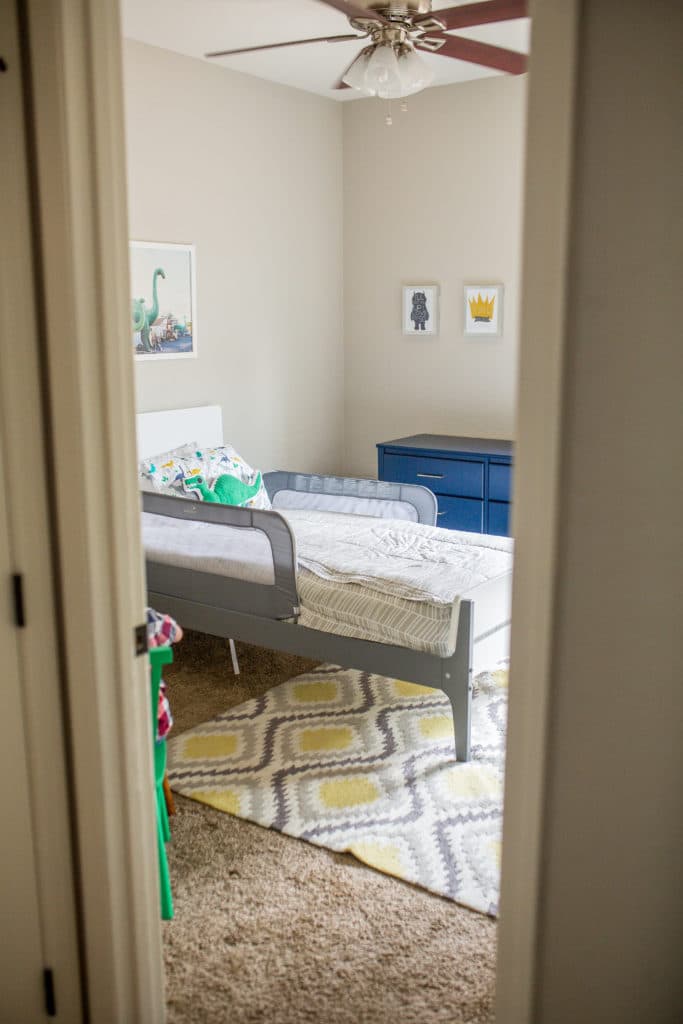 Boys Bedroom Ideas
A few months ago I shared that we were moving our toddler into a big boy room and that we felt a little clueless how to convert his love of his Where the Wild Things Are Nursery into a big boy room. We turned to Modsy for amazing kid's room design help. They did such an amazing job and we found ourselves loving concepts from all three designs they sent our way.
As I started the shopping process there were elements that we just couldn't comprise with and elements we knew we could find a deal on. Ultimately, all our boys bedroom ideas came down to functionality first with style as a close second. I wanted pieces that would last and grow with him. I also wanted a toddler boy bedroom that a two-year-old would get excited about.
And get excited he did! I'm so excited to share our boy's bedroom ideas with our toddler bedroom reveal with you today!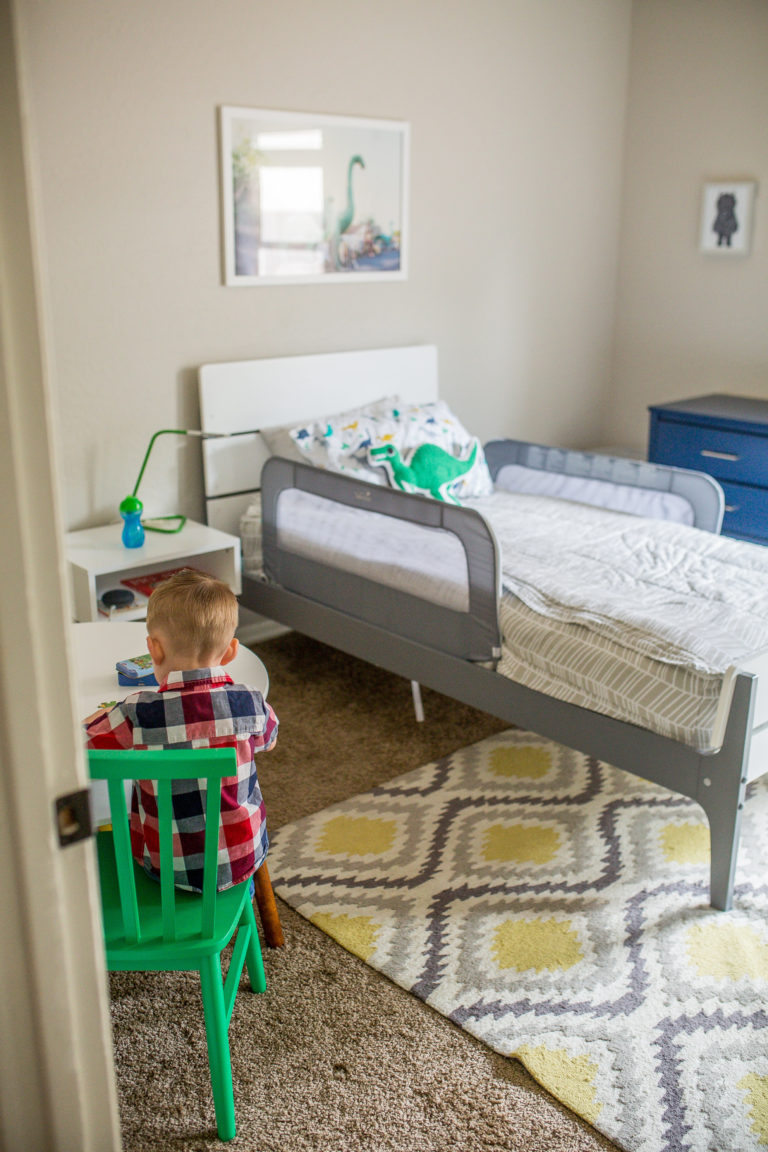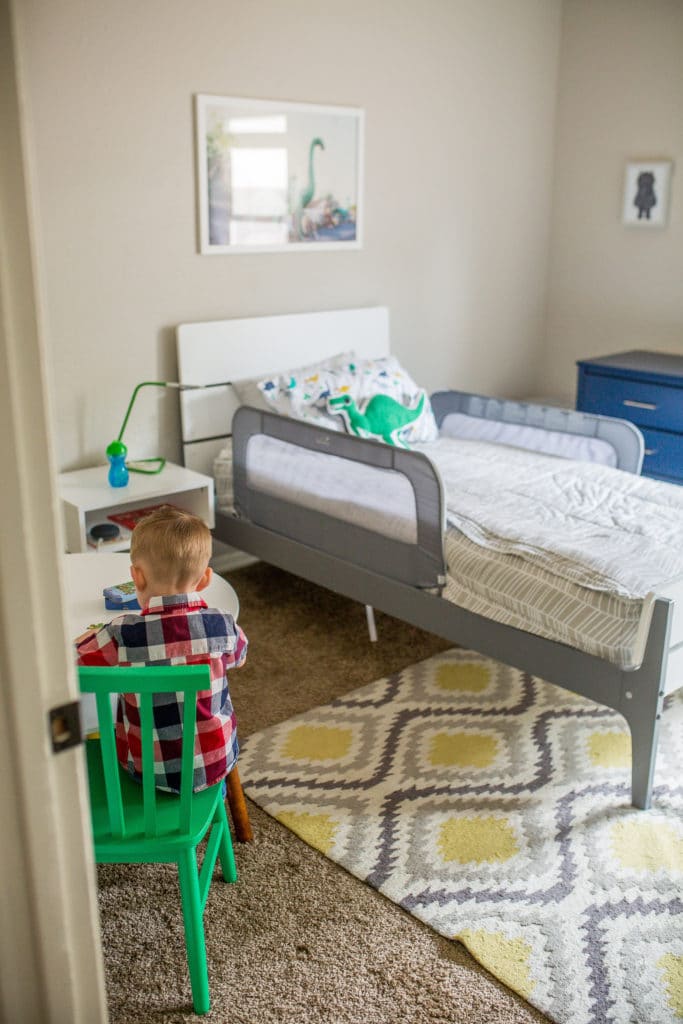 Dinosaur Room Decor and Furniture Sources:
Bed frame / bedspread / dinosaur pillow / dinosaur pillowcase / bed rails / rug / chairs / play table / nightstand / lamp / dresser / dinosaur print / wild things prints / picture frames / floating bookshelves / custom embroidered wall hangings
Let me start by saying we kept a few elements from the nursery to ease the transition out of it. The rug, the Wild Things, and the yellow and bright navy color scheme stayed intact. That made it easier to keep continuity while still introducing big boy elements to his new space. Namely, helping this dinosaur-loving toddler enjoy dinosaur room decor.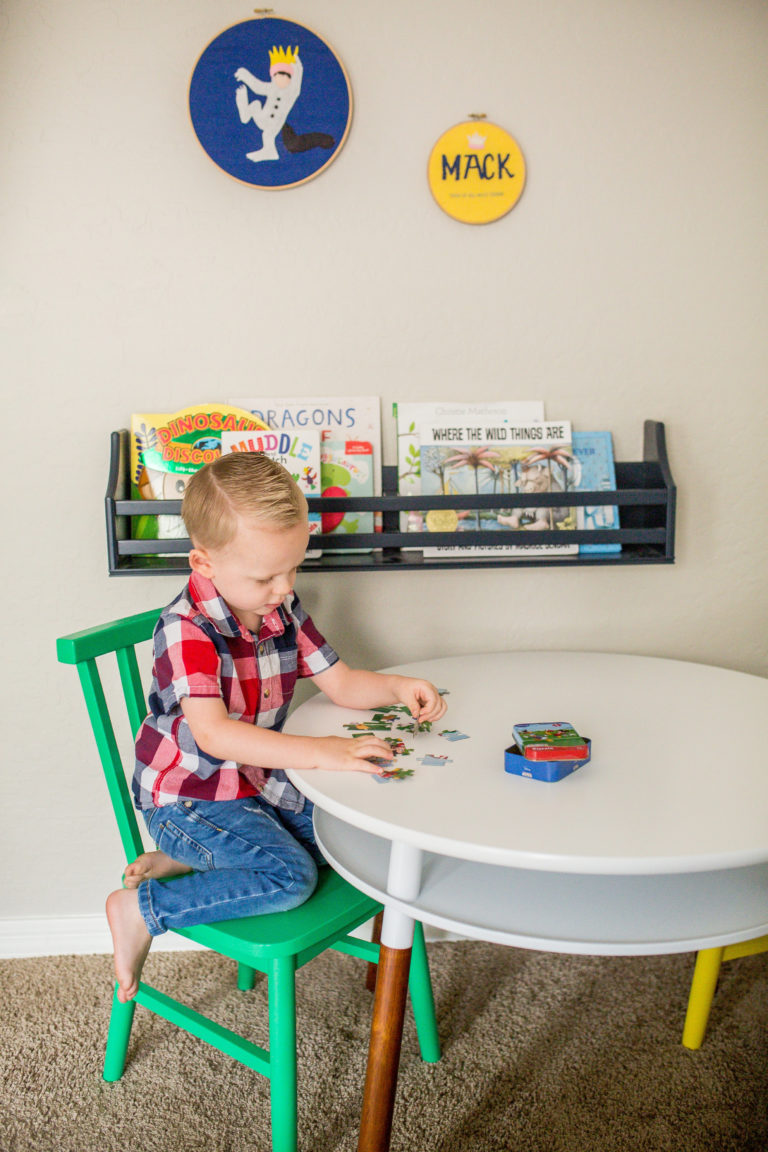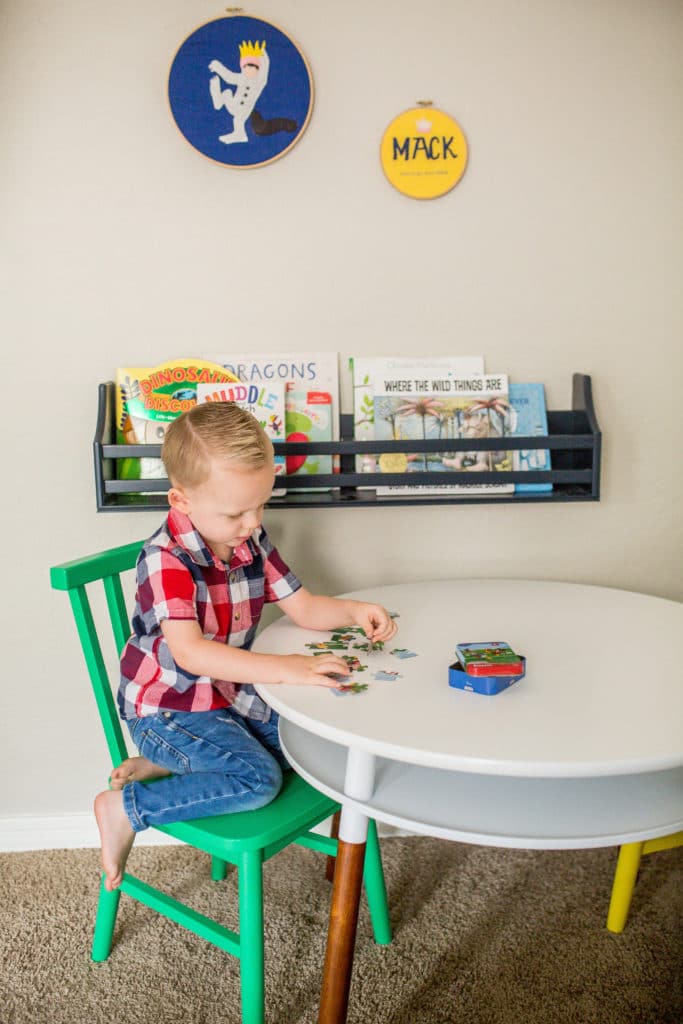 Toddler Boy Bedroom Ideas
The big splurge was the play table. I knew there were cheaper options out there, but the midcentury modern toddler room pieces spoke to my soul. Actually, that was secondary to my love for the size and quality of this table. I have tall children. A taller table was in order.
Also, I knew the oldest was about to become a big brother. He'd need a space to retreat to and a place to do big kid things when little brother turns mobile. It should last through at least two children easily. Plus the green chair was just too fun with the dinosaur room decor!
I can honestly say months later it's his most used and loved area of the bedroom! The chairs are big enough for adults to sit on comfortably. We read a lot of stories by his bed each night sitting in these. They are still small enough to be inviting to children. The table hides projects and puzzles so well with the dual layers. It can also take a beating and still look amazing. Not to mention it cleans up well. It's a place I know he loves, and approximately one thousands puzzles are put together here daily.
Little Boy's Bedroom
Other elements were more function meets style. We knew a navy dresser would tie everything together. I also wanted a functional one that would grow with him.
His bed needed to blend the color scheme together, and work with all the midcentury modern elements in his room. I loved this bed the moment I saw it. It was so easy to add bed rails for a toddler bed transition. Naturally, Beddy's Beds were our first choice for bedding. So easy, and he can make his own bed each morning!
Of course, fun had to come into the picture too. I knew a dino pillow would help him stay in his new big boy bed. The pillowcase and plush friend have done just that!
The dino print from Jenny's Print Shop just works perfectly with the green dino elements of the room. We've caught our child on his monitor making the plush dino talk to the print. He adores it! It was a great inexpensive way to add some art and some color to the walls.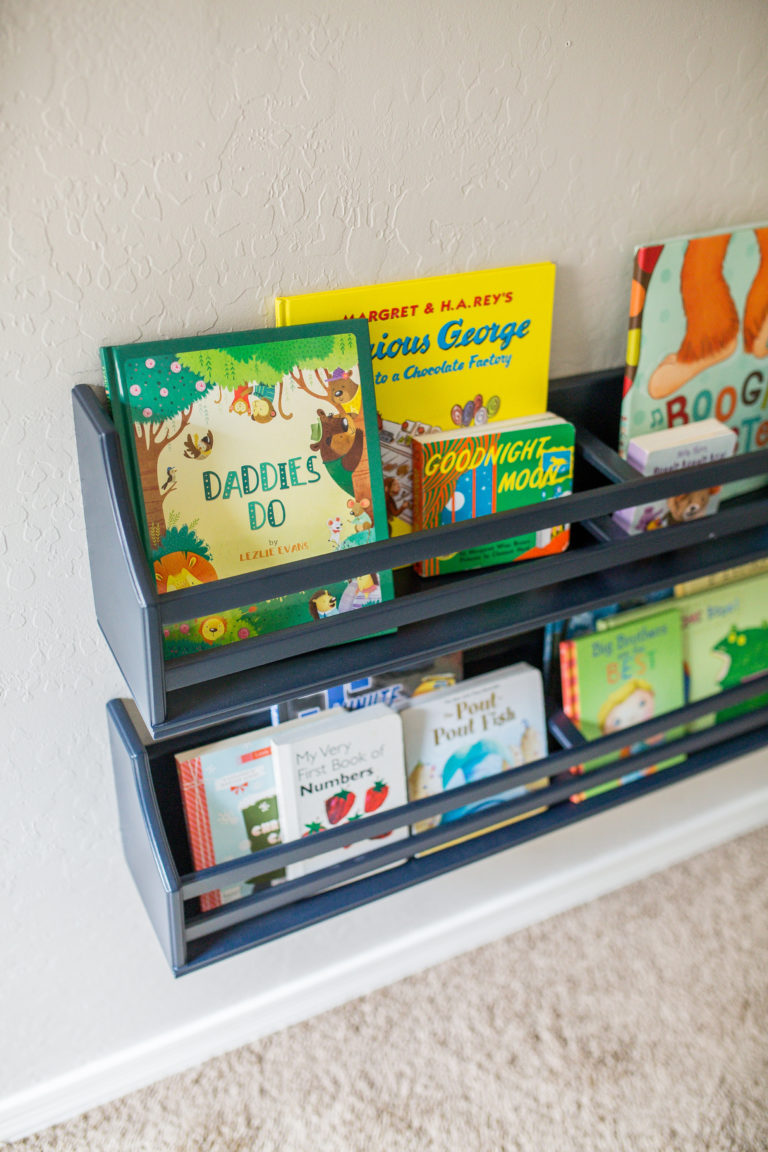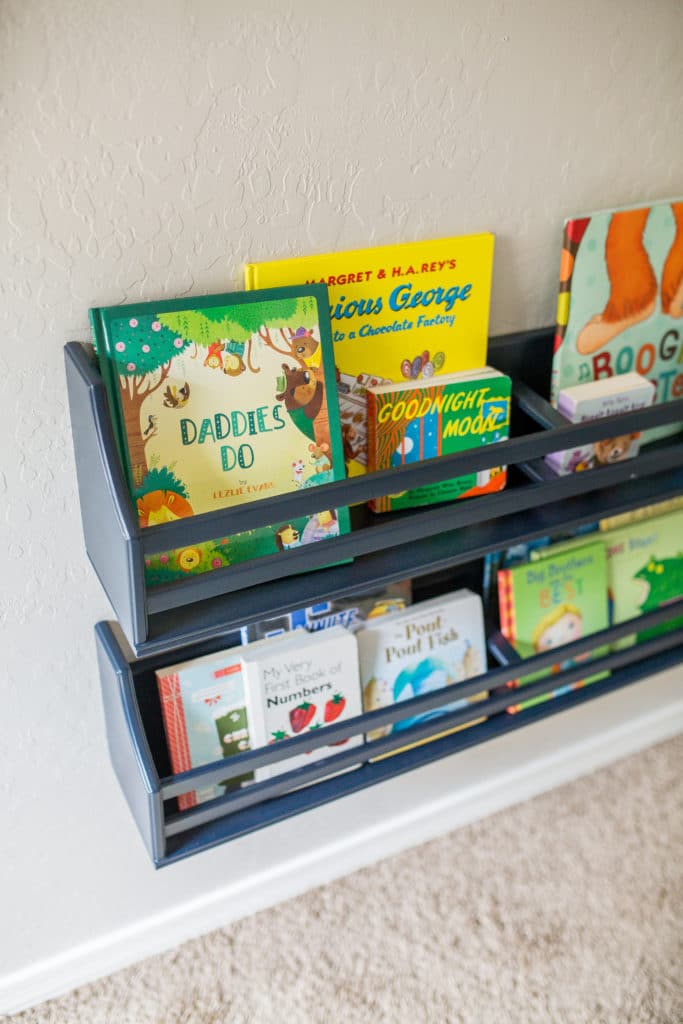 Cool Boy's Room
We ordered everything and grabbed the pieces he was keeping from the nursery to assemble the room. It was looking great and we even moved forward with the big transition when I turned to Jacob and said, I think something is missing. We both agreed our book-loving boy needed some bookshelves with his favorite books surrounding him. We opted to keep his old bookshelf in with the baby, and knew he needed an older kid upgrade.
These navy shelves worked perfectly, and we've loved having three to hold all his big boy favorites that we don't want the baby to get into. He's also always surrounded by books. My motherhood dream children happily reading in their room has been realized. I'm also a huge fan of decorating with books. It was fun to grab so many green, yellow, and blue covers for his space.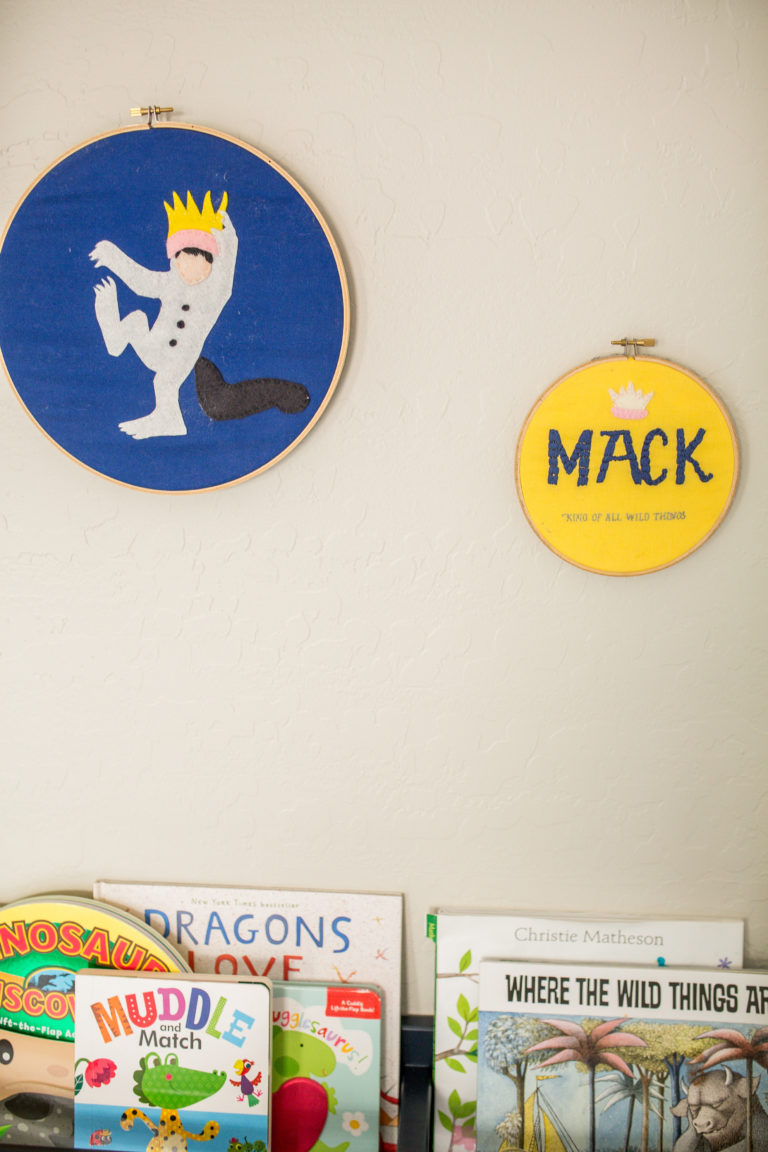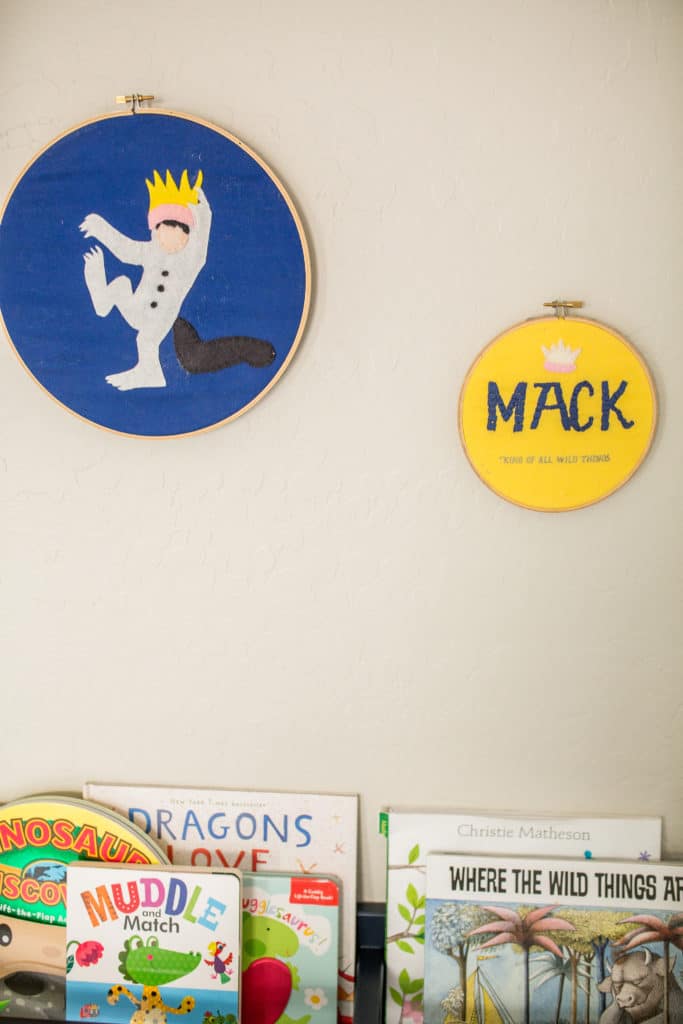 A custom embroidery job an Instagram friend made years ago that never made it into his nursery finally found its place. If you're reading this message me friend- I need to add the link to your shop!
I love that he can still reflect on his love of Where the Wild Things Are. I really love that the best parts of his nursery and life as a baby came with him. But most of all, I love that the perfect boys bedroom ideas all pulled together so easily for a space he adores and he can use for years and years.
Photos: Chrissy Blake
Get 365 Date Ideas!
We want to help you have the best date nights ever! Grab this FREE printable with 365 date ideas, a date for every day of the year so you never run out of ideas!