10 Ways to Make Your Business Casual Wardrobe More Fun
How to make your work wardrobe more fun and spice up the blues and grays. Here are 10 ways to make your business casual wardrobe more fun!
How to make your Business Casual Wardrobe More Fun
I'll never forget the first time I started a job that clearly stated the dress code was business casual- what does that even mean I thought? I looked it up, essentially no jeans, dress pants, skirts/dresses, and looking your best for a casual but professional business type environment.
I was in college, and it was my first gig at a marketing firm, just the reception, but little did I know it would lead to a quick promotion and shape my love for marketing and my long-term profession. What I also didn't know was how much it would shape my wardrobe and style preferences.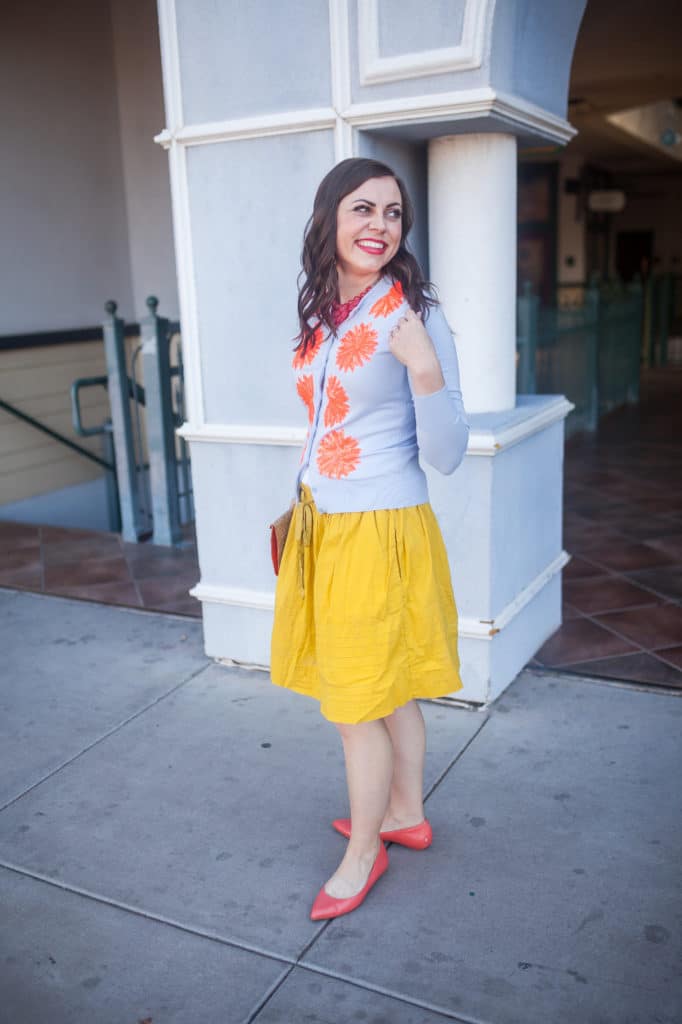 Cardigan/ Skirt /Shoes /Clutch /Earrings /Nail Stickers / Lipstick
I started with plain button-up shirts, a few pairs of khakis, and some classic pencil skirts mixed in. However, I felt like my business casual wardrobe was pretty boring and just super classic and textbook.
At the time, I thought that's how it should be. But I quickly observed all these insanely smart, creative, business-savvy, well-dressed women show up to work every day looking amazing and wearing something super creative and original. They do this while totally keeping the business casual appropriate ways in check.
So I observed, I learned, I asked for advice, I copied, and I slowly fell into the realm of a creative and fun wardrobe ready for any business casual day. Here are 10 things I learned and I live by to spice up the 9-5, the conference meetings, and the fancier dates in my life.
Buy fun accessories.

It's the gateway drug of fun fashion, start small with a few trendy accessories you can pair with professional items. Statement necklaces may not be the height of trendy at the moment, but many businesswomen will still rock the right statement necklace full of color with a classic crisp white button-up shirt. It could be the tassel earrings, it could be a textured ring or even a pair of textured tights in the winter, but a subtle piece can become a fun piece and add a lot of interest fast.

Say yes to color.

That doesn't mean it has to be neon, but by all means clearly, this outfit shows I believe in professional neon! That does mean you can buy the bright red skirt instead of the black, or a bold top instead of the standard business blue. Love business blue as a due, it's a true neutral and a bright piece paired with it instantly makes the outfit more interesting and more fun.

It's all in the shoes.

I loved watching women rock stilettos to meetings, I loved it even more when they were a fun color or had an interesting detail. I'm not that coordinated, but even a pair of flats in red or coral make for a color that pairs with almost everything and makes it more fun. Get creative with shoes, buy the fun texture or interesting shape, and leave the classic black pumps to a minimum if you're trying to add more fun to your business wardrobe.

Spice Up Your Work Wardrobe

Look for fun details.

I've always been a fan of embellishments in any form, but in office wear that can mean sequins on your cardigan, bows or floral in the right places, lace or ribbon embellishments, a ruffle, etc. I love twists on classics, and they make an outfit so much more interesting and less ordinary.

Texture and sculpture are your friends.

Those asymmetrical blazers go a long way in the office to spice things up, a peplum skirt or top adds interest, and I won't even go off on my love of statement sleeves right now. A little architecture in a classic transforms it into an artsy-slick feel, and it looks and feels effortless too.

Throw in one trend with a classic.

It's easy to rock a ruffle statement sleeve with a classic pencil skirt, and it's easy to wear a neon belt with a classic dress. Find a color or item that's trendy and pair it with the standards, you'll look polished and modern at the same time.

Play with color.

Back in my fashion-blogger-under-a-pen-name days, I used to love to give myself challenges to wear every color with its complementary colors, contrasting colors, and tertiary colors, and it really got me out of my comfort zone and mixing colors I wouldn't have thought to pair together. I love this outfit for just that reason, a neon coral with a baby blue and a bold yellow isn't something most people gravitate towards, but they work as a non-traditional primary color scheme. They also make business casual pieces fun and add a lot of interest.

Make Your Work Wardrobe More Fun

Buy the print.

I've learned adding a print that's outside of the classic business realm makes any outfit more fun with no effort. A floral blazer, a whimsical animal print blouse, or a fun mod style color block makes any classic into something special and adds a lot of personality doing it.

Choose texture.

It's amazing how an A-line skirt becomes a point of interest with some pleats or tiers, or how a cardigan really has its game stepped up with some sequins or lace inserts. Even a simple pencil skirt turns into something more interesting when made of tweed or leather. Find different textures and play with them, going with more than plain cotton-poly blend adds so much interest and a lot of fun when layering.

When in doubt, wear the lipstick.

It's easy to follow a trend on your lips instead of your outfits. We just went to Mexico and I loved observing a bunch of executives in suits at a brunch meeting. The women all wore bright lipsticks, and I have to add looked fantastic. It reminded me that you can buy that purple lip color or trendy coral, and if you go with it on your lips it's an easy one to add for not much money.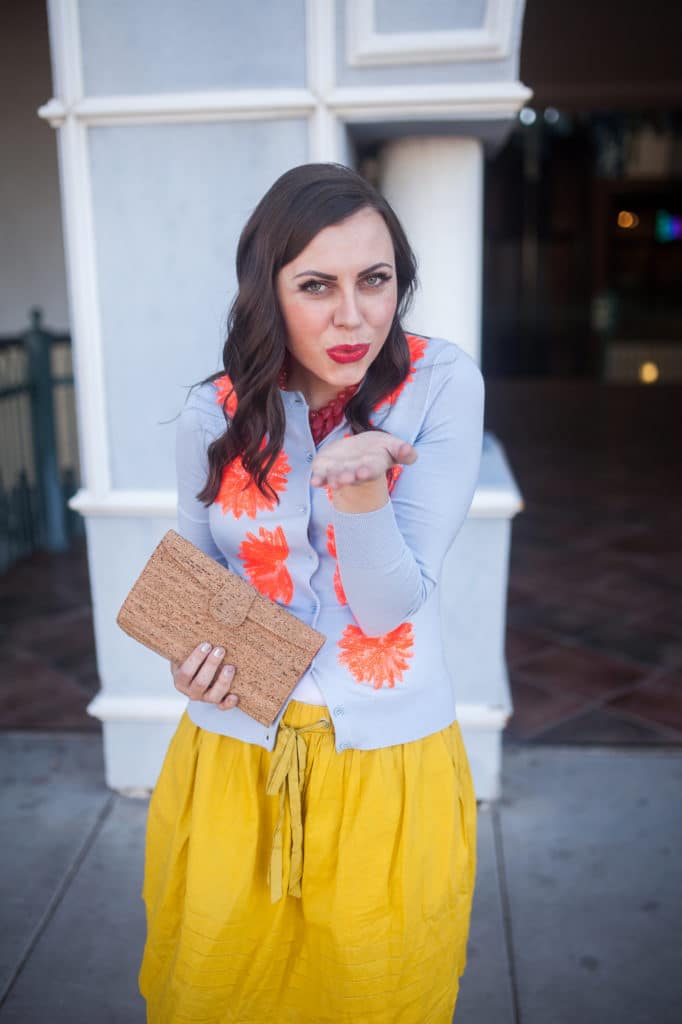 Those are details I've lived by! But also, the subtle changes I've made that have equated feeling very much like a professional, and still feeling like I had a lot of artistic license with my wardrobe. It served me well in the business world to be known as one of the stylish professionals in the room, and I'm thankful that it's now become a part of my signature style!
Any others you'd like to add? What have you done or seen done that spruces up the professional wardrobe?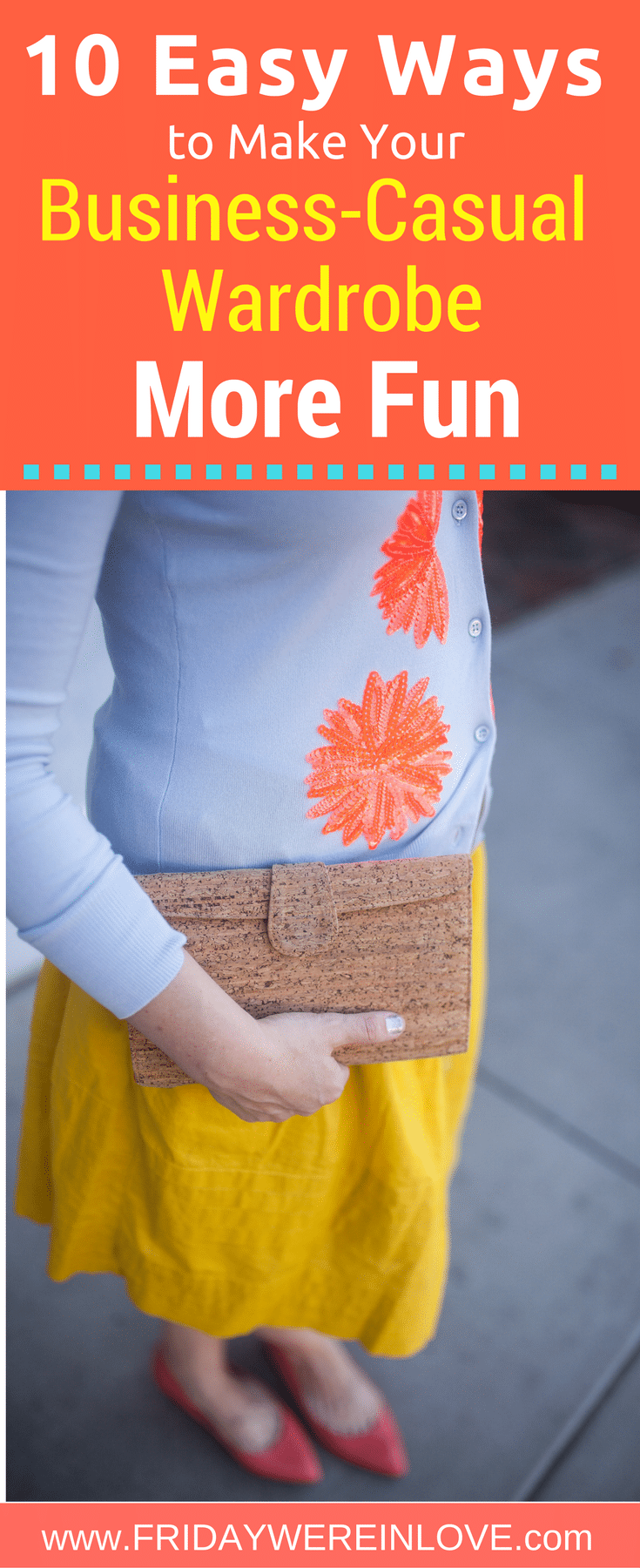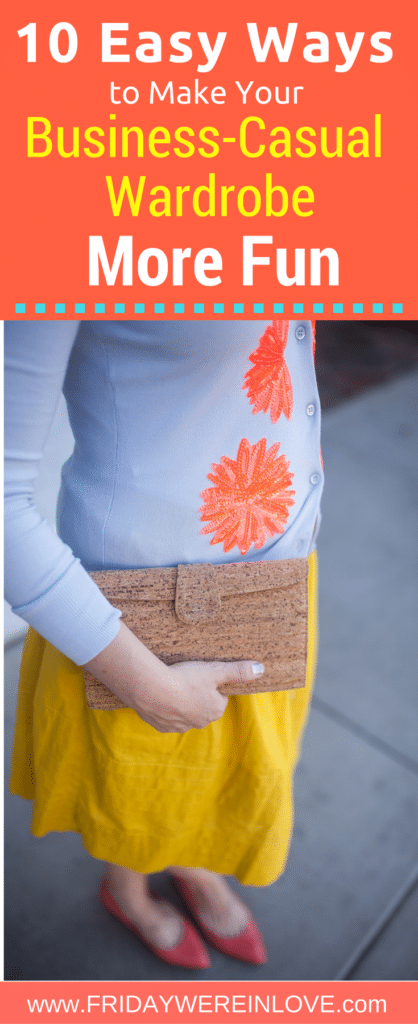 Photos by: Chrissy Blake Chrissy Blake
Like this outfit inspiration post? You may like these too:
Pregnancy Overalls: The Trend to Rock
Classy First Date Outfit Ideas
Get 365 Date Ideas!
We want to help you have the best date nights ever! Grab this FREE printable with 365 date ideas, a date for every day of the year so you never run out of ideas!