Cabo Anniversary Getaway: Day 3: Cabo Boat Tour and Street Tacos Galore
Cabo DAY 3
Location: Mexico: San Jose del Cabo Resort/Cabo San Lucas
Time: We spent about six hours total in Cabo San Lucas walking, shopping, doing water activities and eating. The rest of the day was spent back at our resort.
Tip: Take a glass boat taxi tour and make sure to barter, you can get great deals and tip guides well for a win/win situation.
Be sure to check out how we spent our second day in Cabo at our Cabo Trip activities post.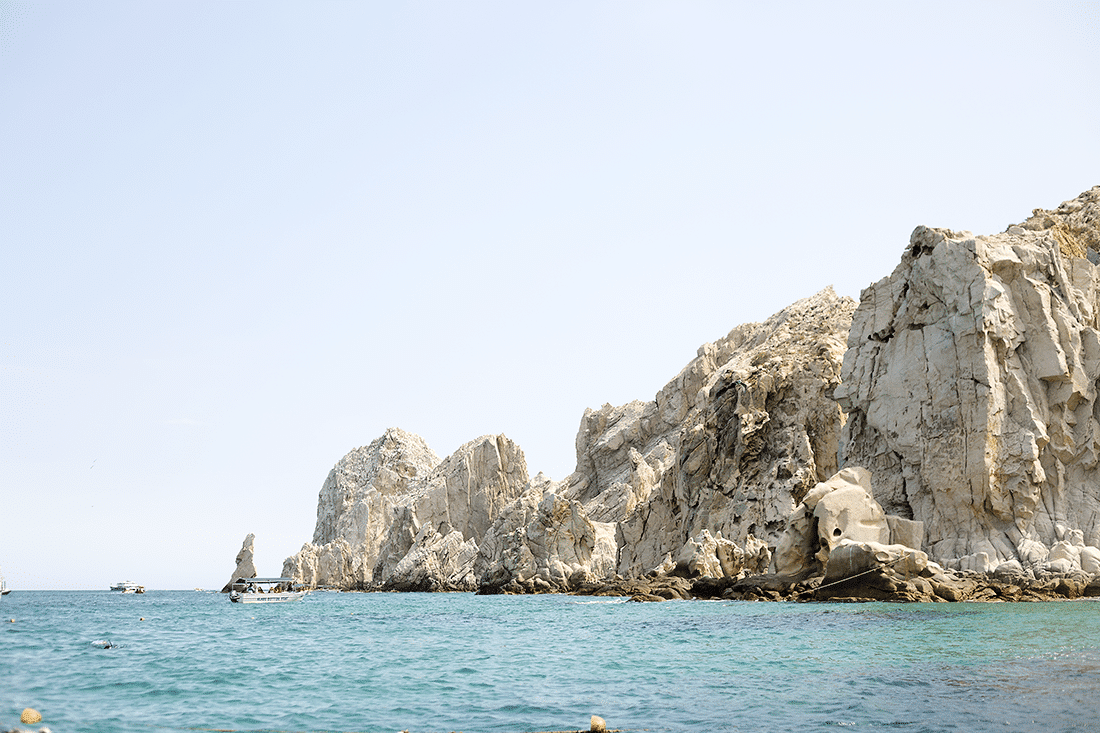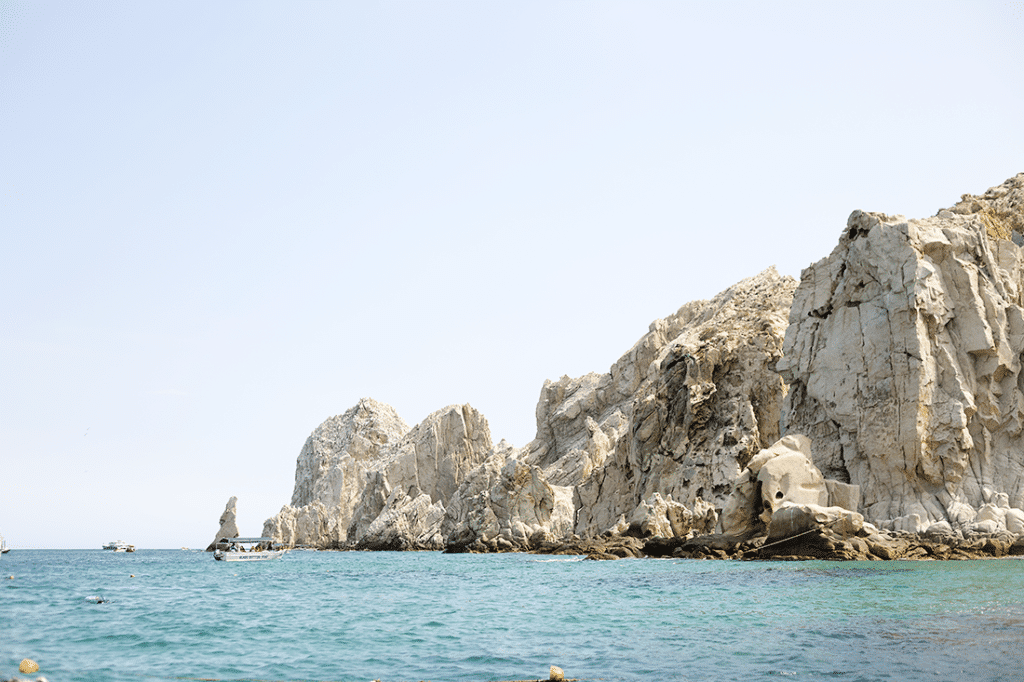 After two full nights of uninterrupted sleep away from our toddler, we were feeling so much more rested! We opted to sleep in again, to take our time getting ready, and to enjoy a pretty amazing balcony and balcony view together.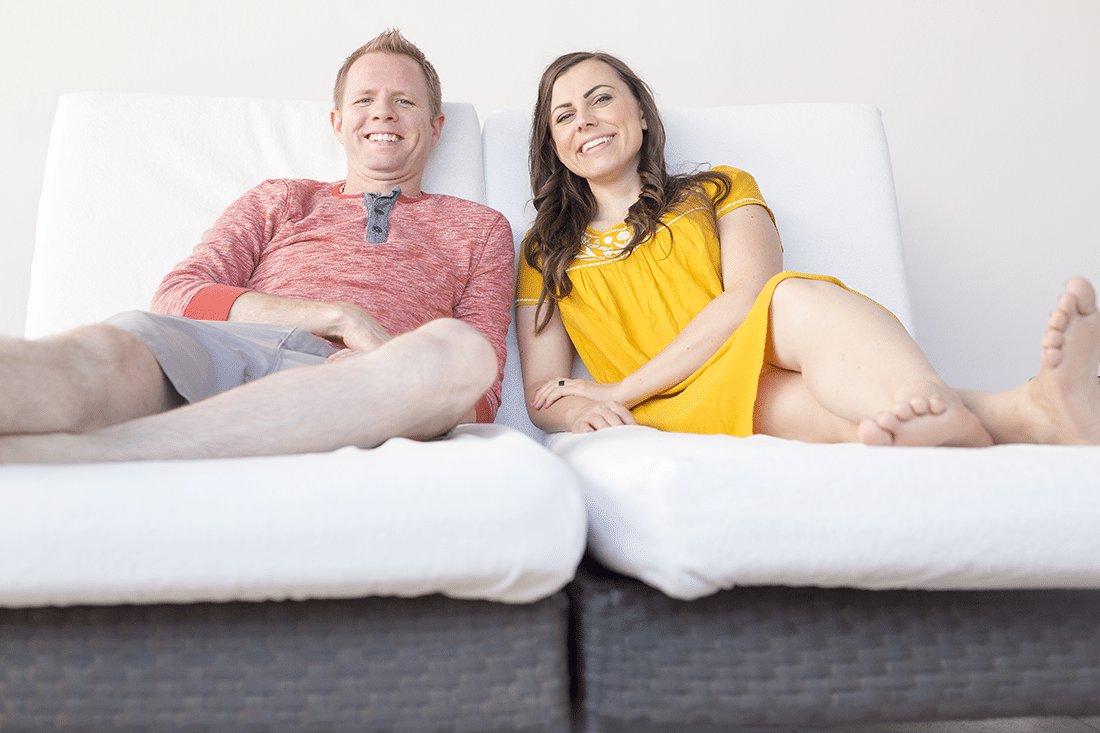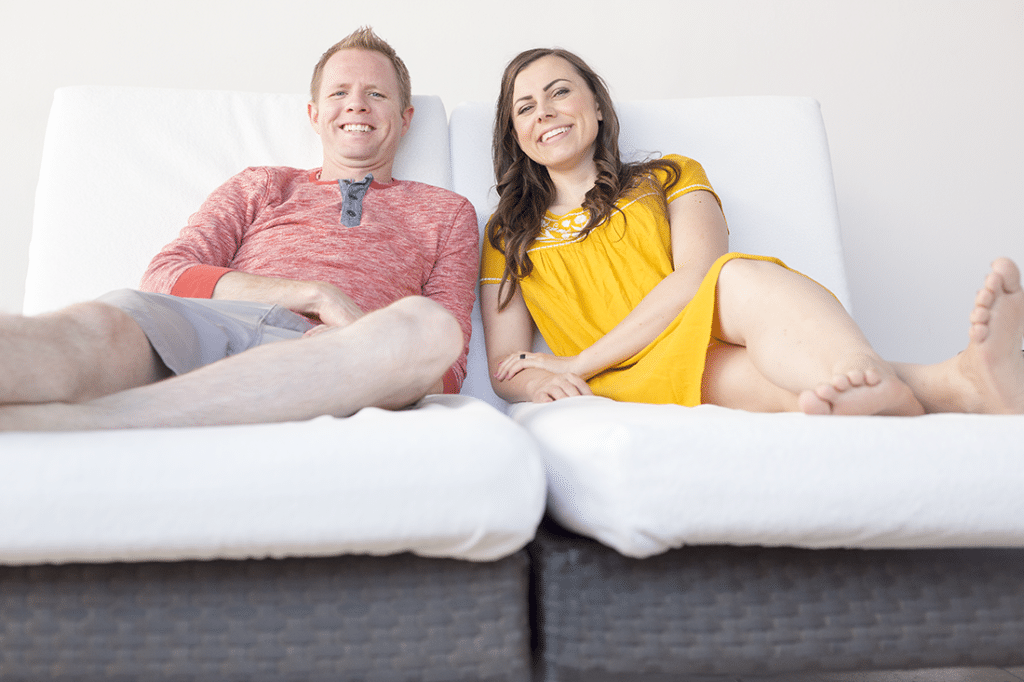 There was also breakfast. If you want to save a little cash it's always easy to bring oatmeal pouches or cups with you and eat from the hotel. It's something we do often when traveling should we decide to sleep in and skip breakfast or it's not included and we want to save some cash to splurge on other meals.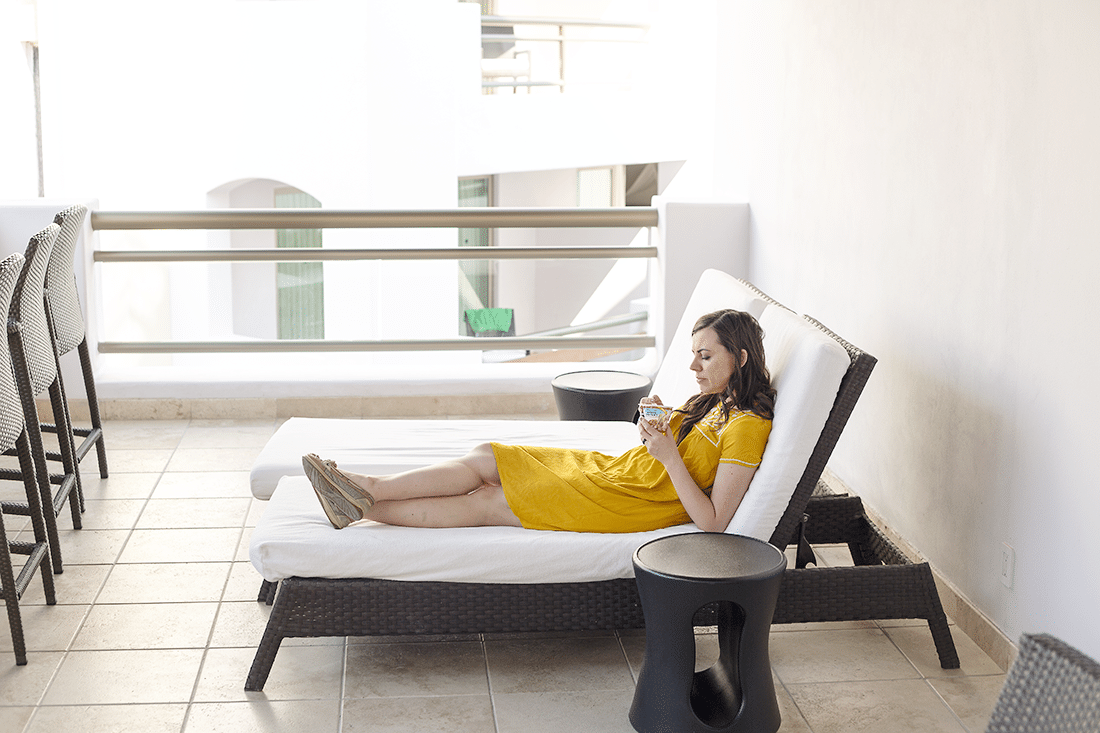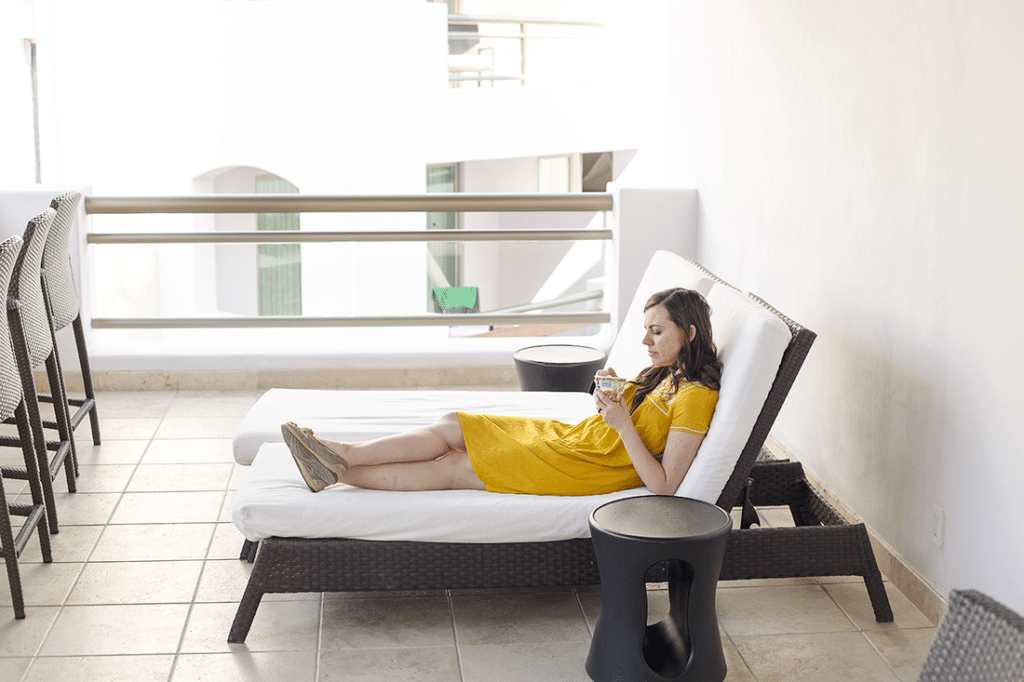 After Facetiming our toddler and having a much better experience than his screaming the night before, we decided to grab a movie to rent from the resort for later that evening, walk around a bit, and then pack up for driving in and spending a day of fun in Cabo San Lucus hitting more of the busy tourist areas on the pier. We drove for about a half hour and found a lot to park in about a mile from all the action. It was worth saving the money to park further and to do some window shopping. So we did and then headed off for the iconic Cabo rocks and pier.
But first, tacos. Always tacos.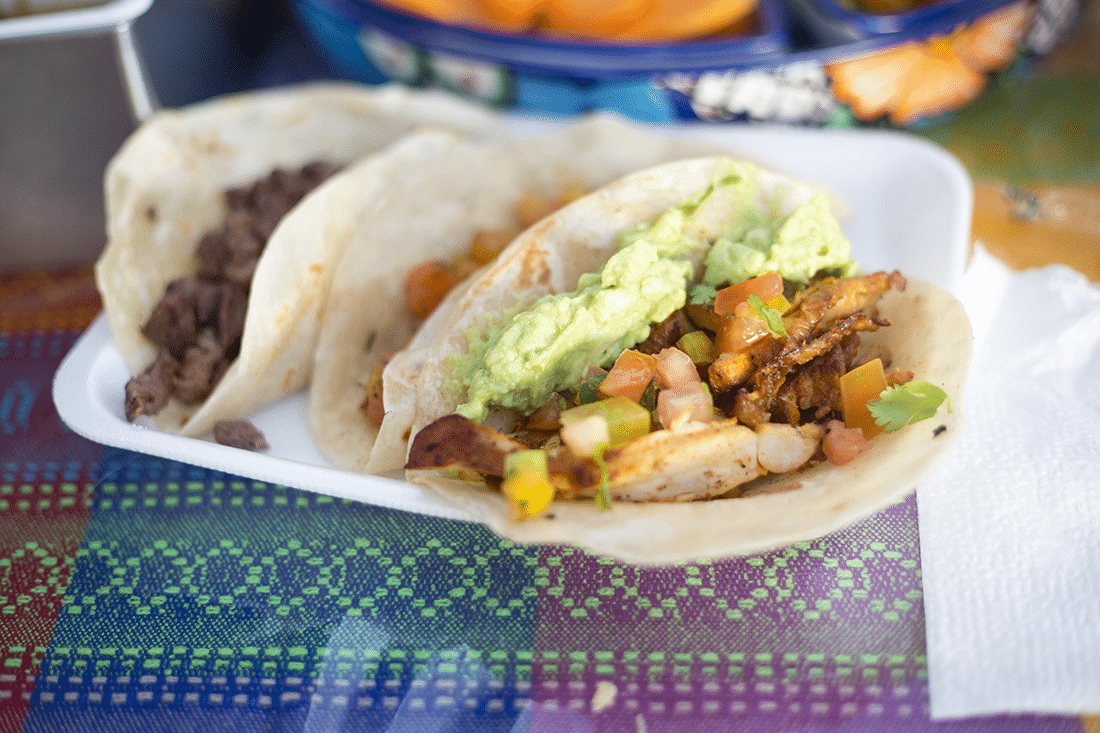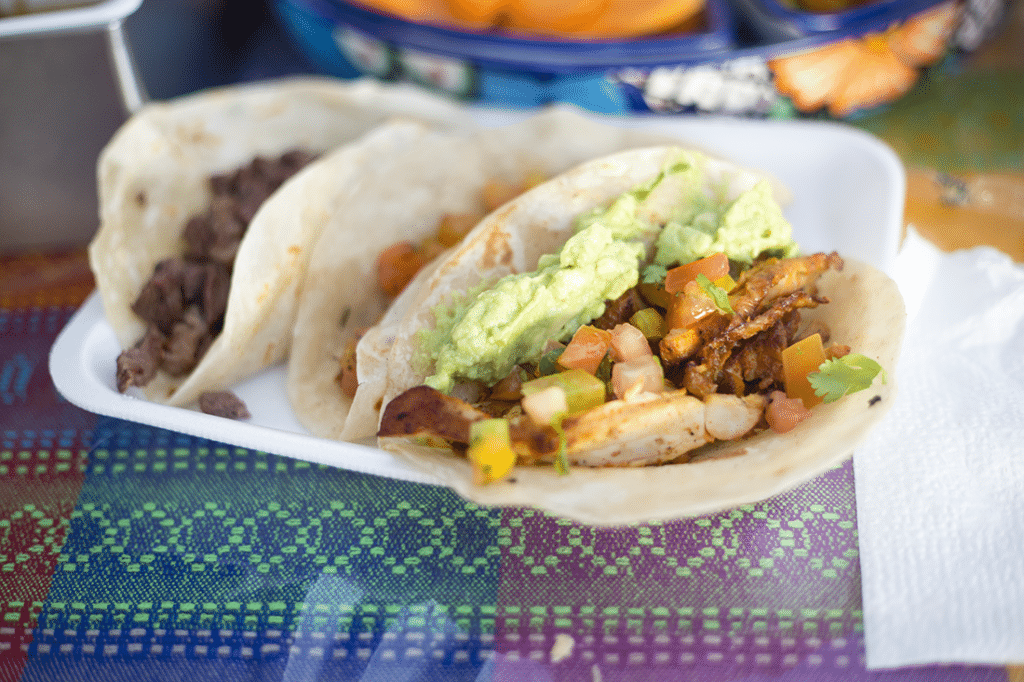 Honestly, these were the street tacos of our dreams! I ordered a carne asada, chicken, and fish, and I was so thrilled with each! If you're looking for great food in Cabo San Lucas, you should head to Tacos Guss. We were so thrilled with cheap, delicious street tacos and marked those our favorite tacos in Cabo.
But after tacos, it's definitely time to do a boat tour around Cabo to see the iconic sight. Grab a glass taxi and have them take you to Lover's Beach, Divorce Beach, and around the pier and iconic rocks. Most will barter with you for a much better price than the initial offer, and if you get a really good deal just tip generously and create a win/win for everyone.
Our guide was so funny and kept following the sea lions around that are accustomed to following boats for snacks. It was a fun way to start a fun tour!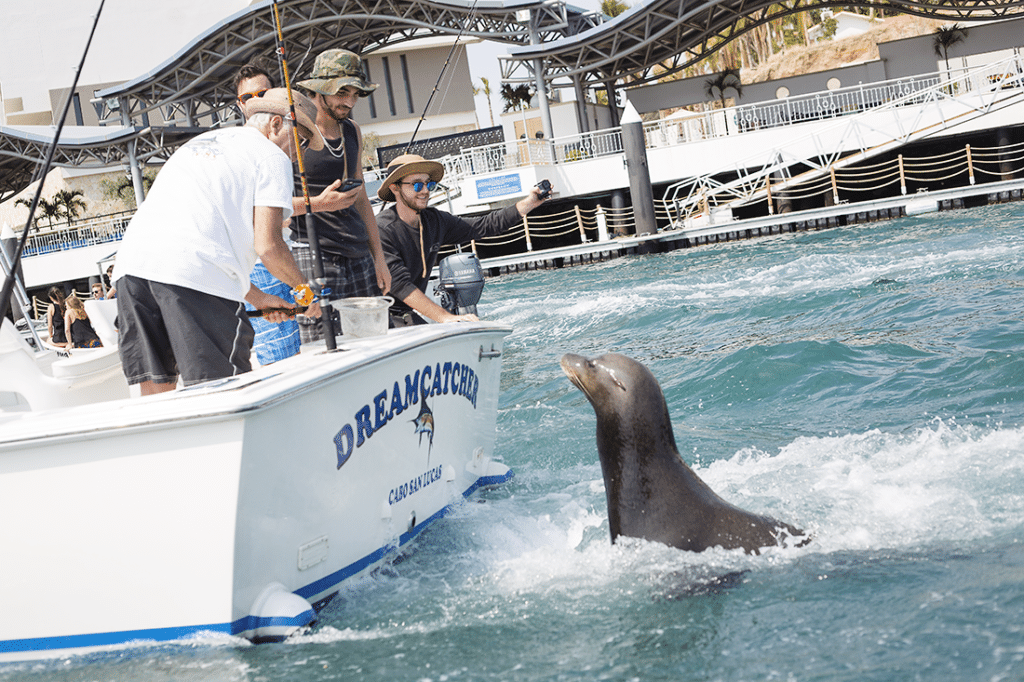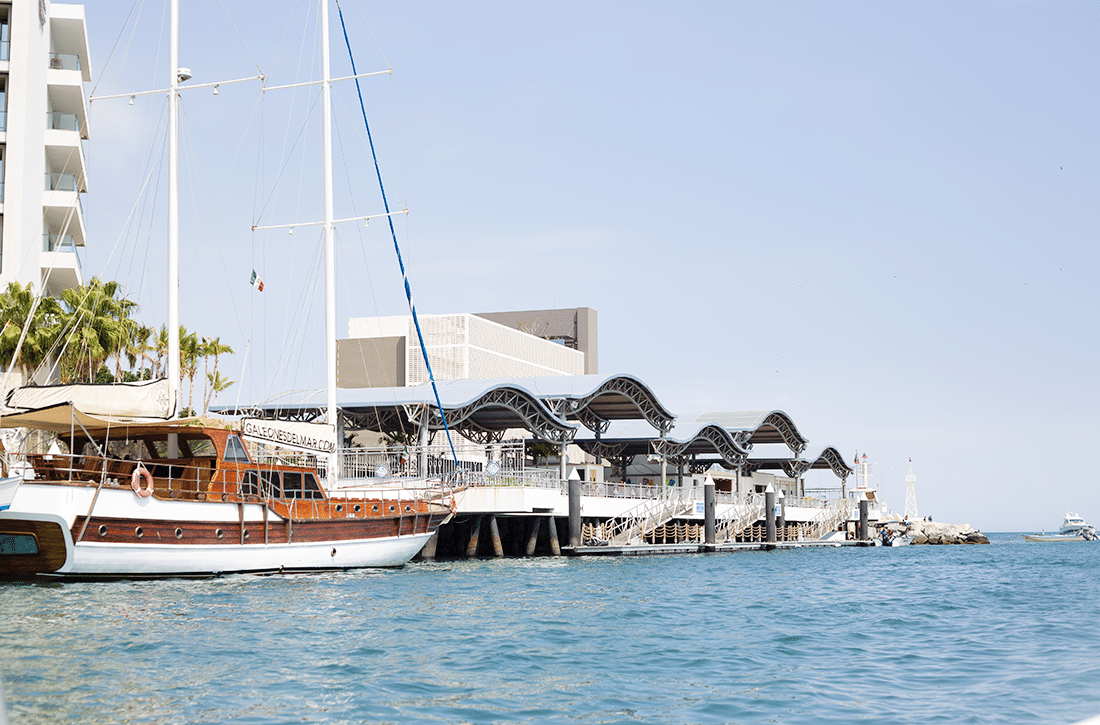 And the view of Cabo with the iconic rocks is worth the trip. It's stunning, it's beautiful, and there's always a lovely breeze to enjoy.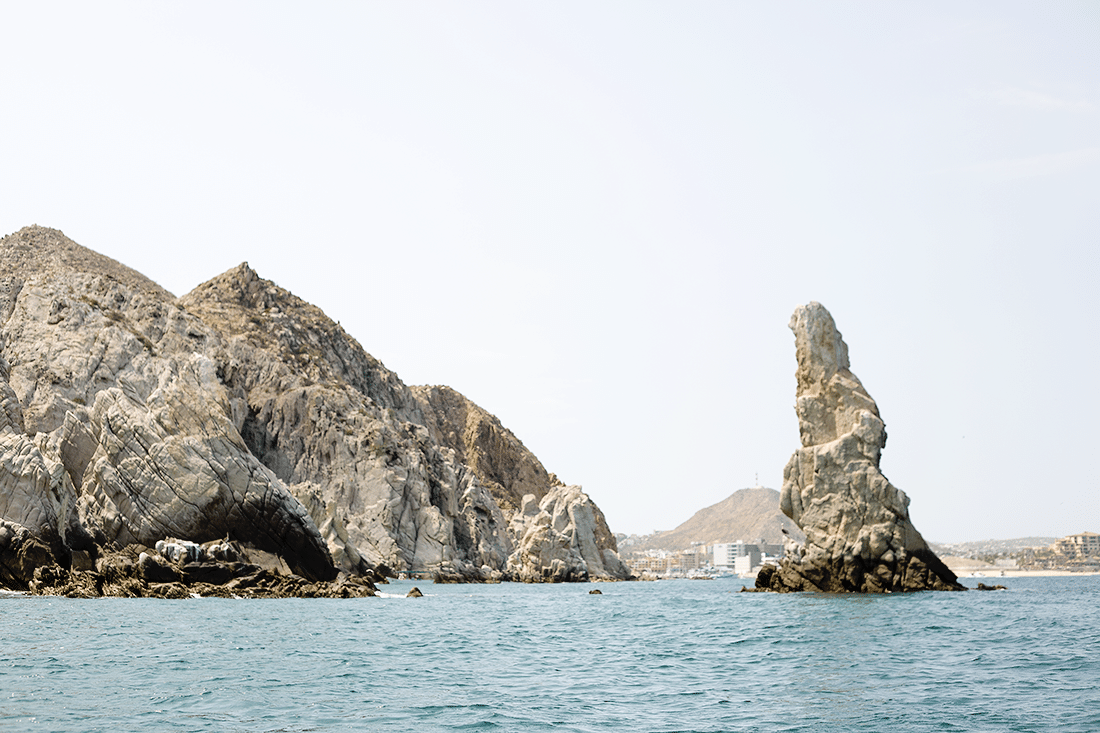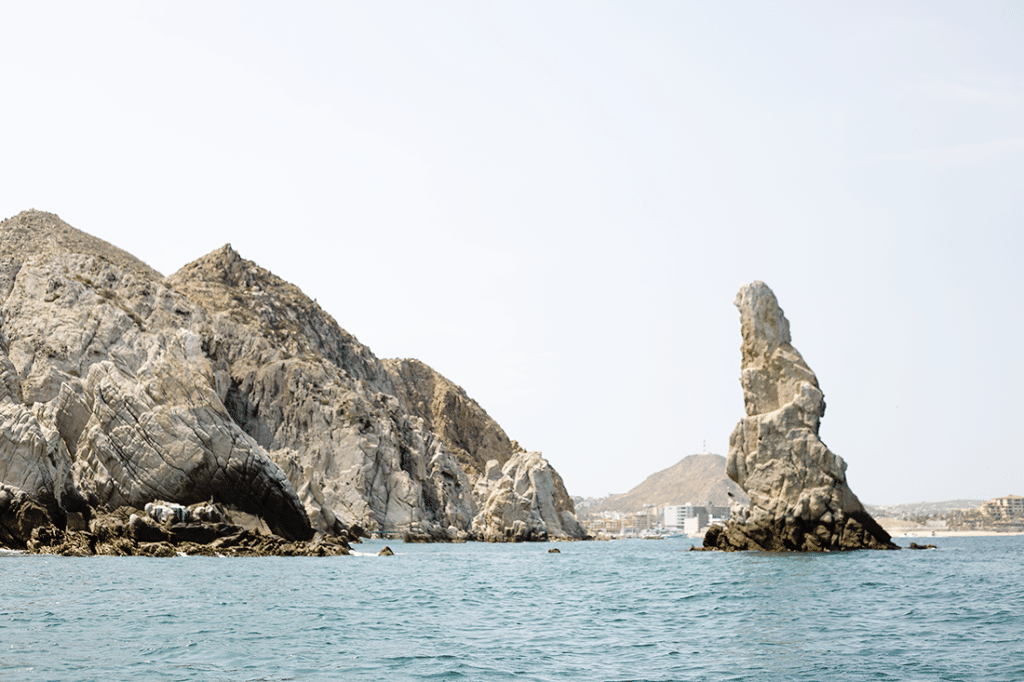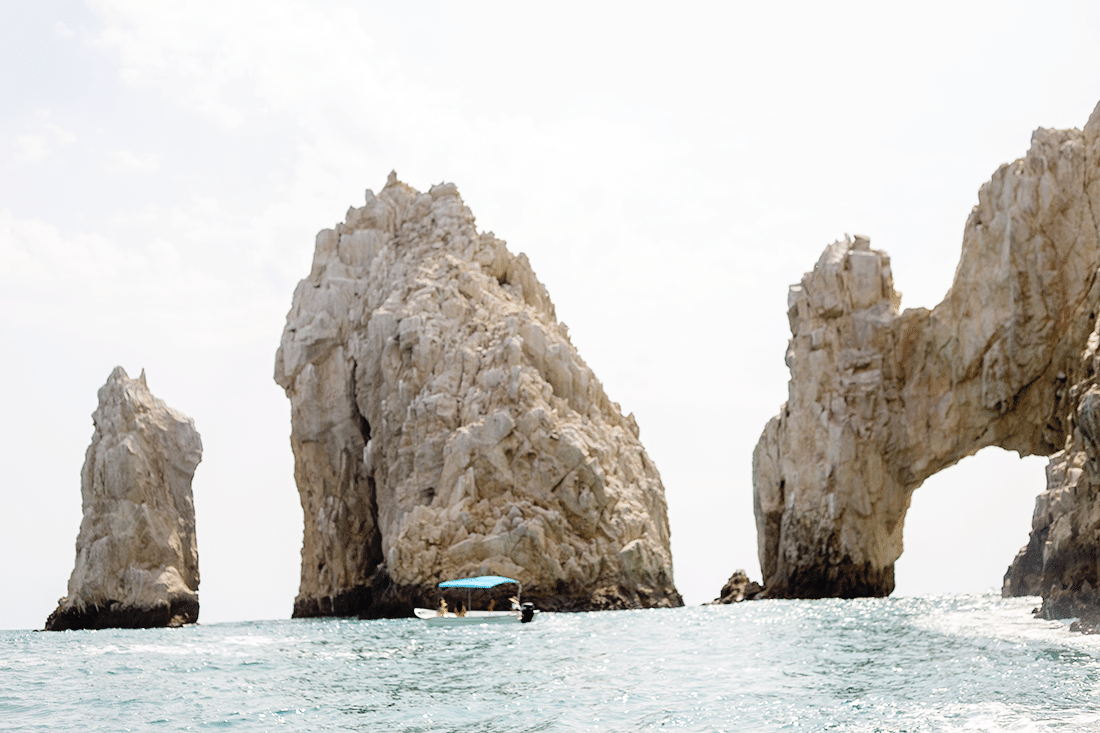 It's even more lovely when you're holding hands with your favorite person by your side.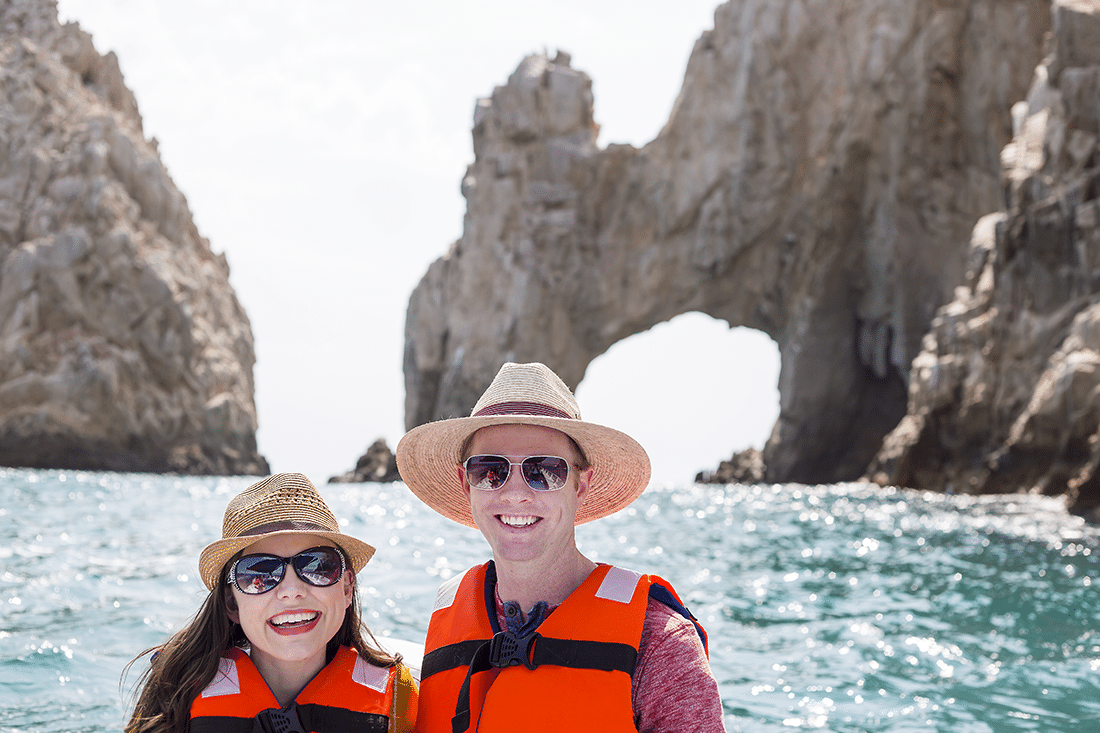 Lover's Beach in Cabo is one of those iconic places many love to stop and visit. We stayed in our boat, but many guides will offer to let you get out and take some time on the sand. Due to windy conditions, it was closed for the day, but we didn't plan on going anyway. It's totally up to you and what you'd like to do, but a scenic view worked great for us.
I've already had friends ask our thoughts on if this would be a kid-friendly trip. I would say absolutely, but for this one activity I was glad we didn't have a toddler trying to jump out of a boat. It really let us enjoy the moment without stress. There were other ships that were safer and had kid specific areas and seat belts that totally would have worked, but they didn't quite get as close to the rocks and the caves, so it was nice to see those. If you're really worried, I'd leave this activity off the itinerary, and find some other tours or ocean sports that really kid friendly.
Not to mention your older kids may opt to miss out on all the people who take mushy kissing pictures around Lover's Beach. I mean it's pretty hard to resist that cheesy moment!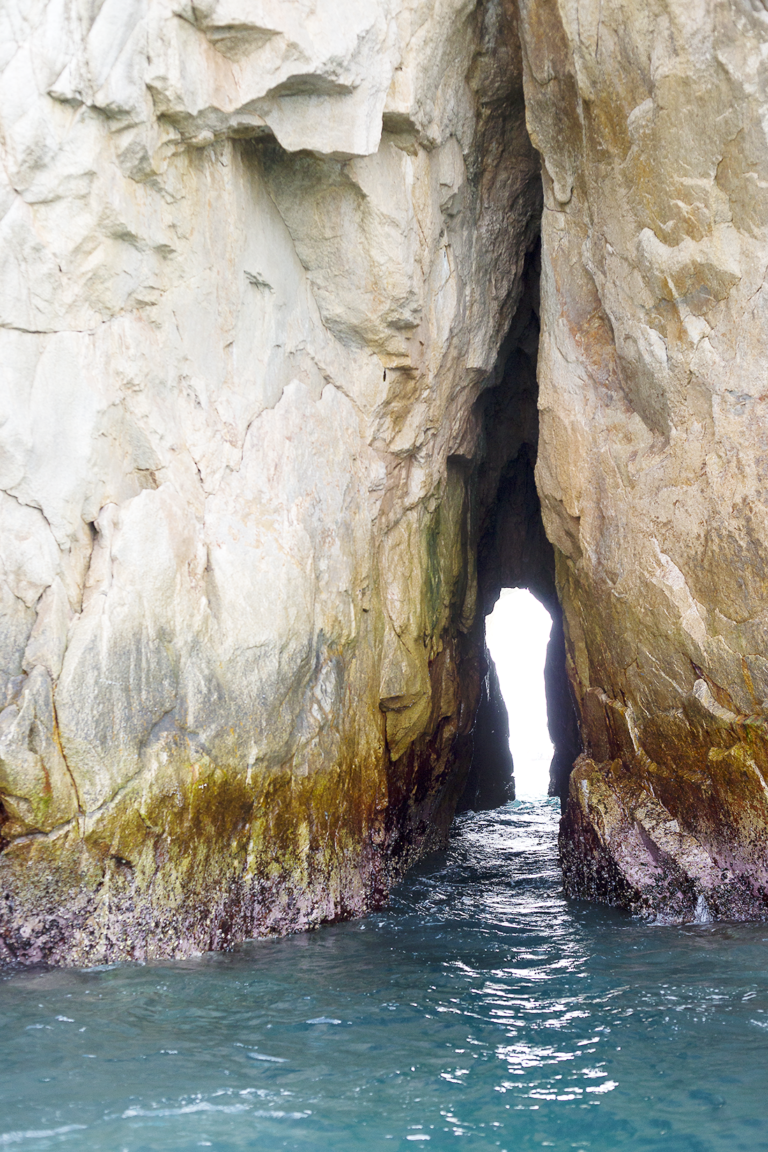 We went around the rocks to Divorce Beach, which is also lovely and has many tales why it's named Divorce Beach. Our guide joked it was the most expensive beach in all the world! We came to Cabo years ago and we were told it's because of the rocky waves and turbulent seas that give it its name. But our guide this time told us that's a myth and it's geology. There was a divide in rocks between the two areas and Divorce beach was cut off from the main area remaining in the harsher winds and seas. Either way, it was crazy to see how the winds change just around a bend and how much we were holding onto our hats while in the area.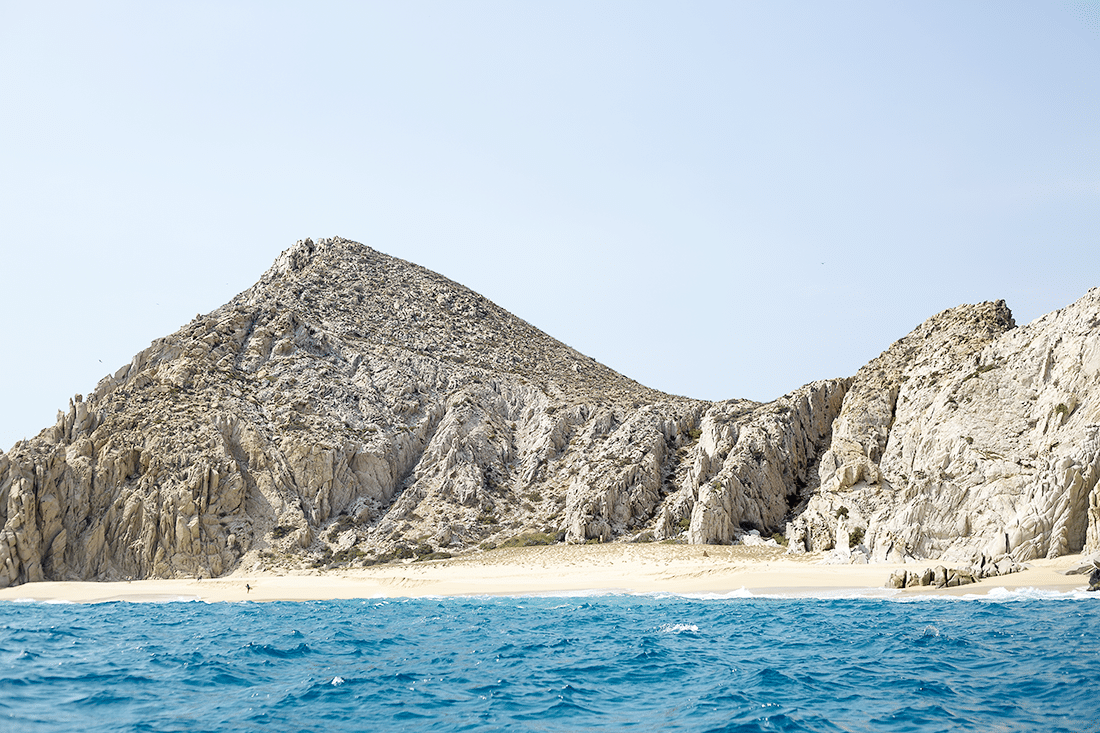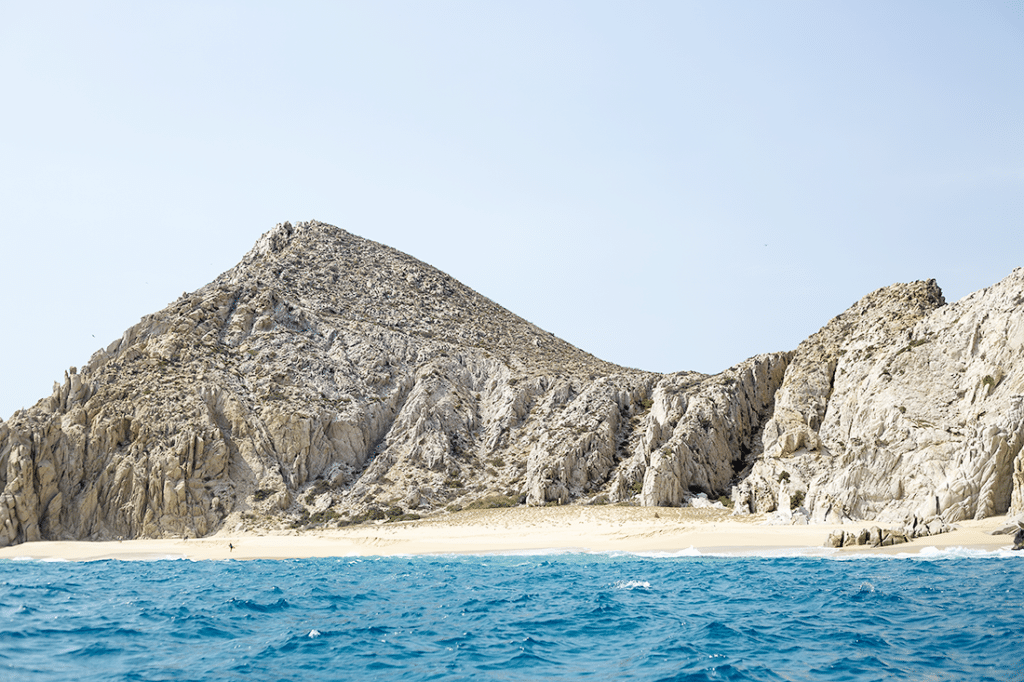 If there's one iconic Cabo thing to do, it's a boat tour and a visit to the two famous beaches. Whatever way you go, it's worth a couple of hours and worth the price, cheesy tourist pictures and all.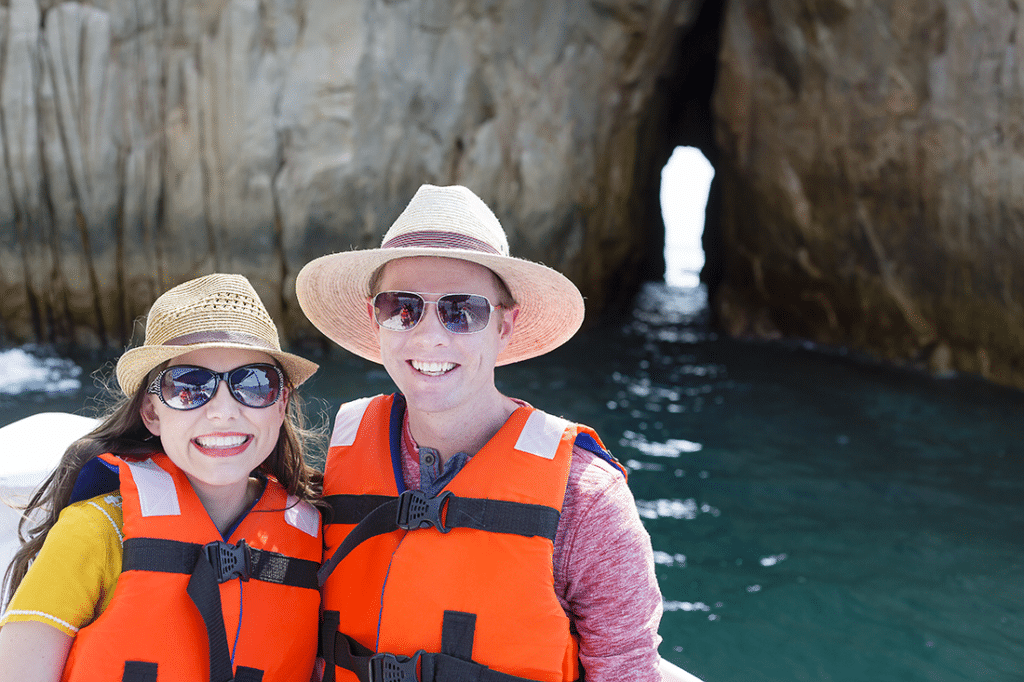 We headed back to our resort for a lovely dinner, another walk along the beach, and some time packing and snuggling while watching a movie. We had an early flight the next morning to prep for. But if you're planning a day in Cabo and want to spend minimal time with the college drinking scene like we did, I'd book a water activity, plan for 4-6 hours, enjoy a lovely meal, and head back to the resort area for a lovely evening away from the drinking games. It makes for the perfect getaway that doesn't feel like college frat party.
Like this post? Be sure to check out these travel adventures too:
Cabo Anniversary Getaway Day 1
Cabo Anniversary Getaway Day 2: San Lucas Del Cabo Resort
Reason to Cruise #4- Part 2- Cabo San Lucas
Get 365 Date Ideas!
We want to help you have the best date nights ever! Grab this FREE printable with 365 date ideas, a date for every day of the year so you never run out of ideas!