Everything you need to know about the Disneyland Oogie Boogie Bash with a complete Oogie Boogie Bash guide, and all the details what to expect for Oogie Boogie Bash 2023.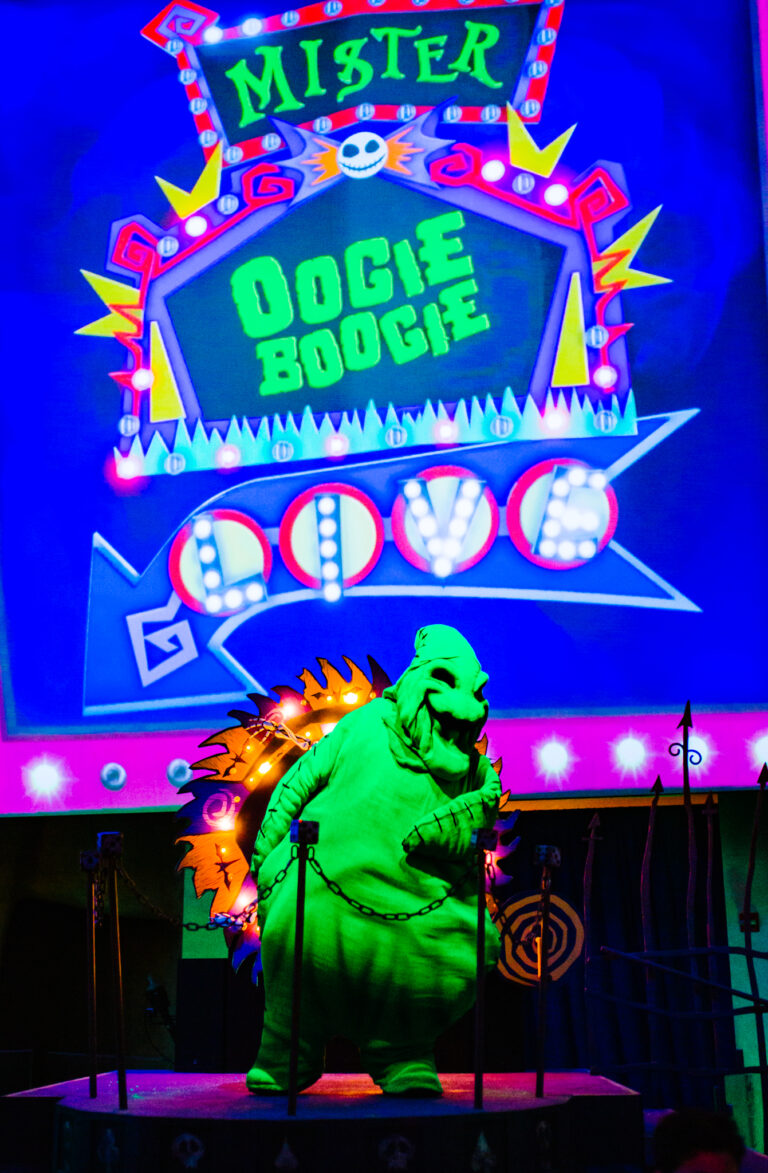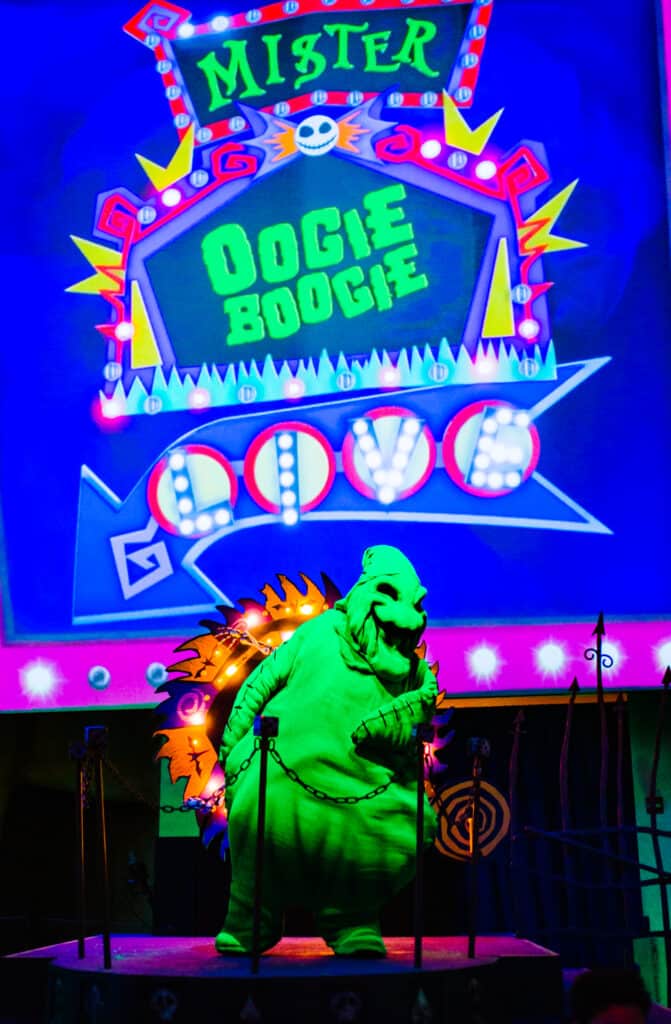 Disneyland at Halloweentime is our favorite! And perhaps my favorite night of the year is the night we attend the Oogie Boogie Bash! It's two of my favorite things combined: Disneyland and Halloween.
If you remotely like either, you're guaranteed to have an amazing time!
Here's a complete Oogie Boogie Bash Guide + tips and resources to make the most out of the Oogie Boogie Bash 2023!
What is the Oogie Boogie Bash?
This is the Disneyland Halloween party! It's a special ticketed after-hours Disney Halloween time party to celebrate spooky season. Party attendees come on select nights and will need to purchase a ticket for admission.
If you attend, expect to enjoy a bunch of Halloween festivities while they trick-or-treat through Disney California Adventure.
What to Expect at the Oogie Boogie Bash
You can enter that park at 3:00. If you've purchased the special event ticket, you do not need a park reservation. Once you enter, you'll be given a special even wristband. This acts as your ticket during the party, so don't remove it!
They'll hand you a map of events as well as treat bags to collect treats.
The Party starts at 6:00 when all the spooky events start at the California Adventure Disney park.
The general public must leave the Disney California Adventure Park by 6:00 and only party attendees can stay with a party ticket. (I'd recommend a park hopper ticket to head over to the Disneyland park if you're visiting the parks on a party night).
If you're already in the parks before 3:00, you can head to the Blue Sky Cellar and pick up your wristbands and check in any time after 3:00. That requires park reservations and a seperate park ticket. Here's our favorite way to buy discount Disneyland tickets.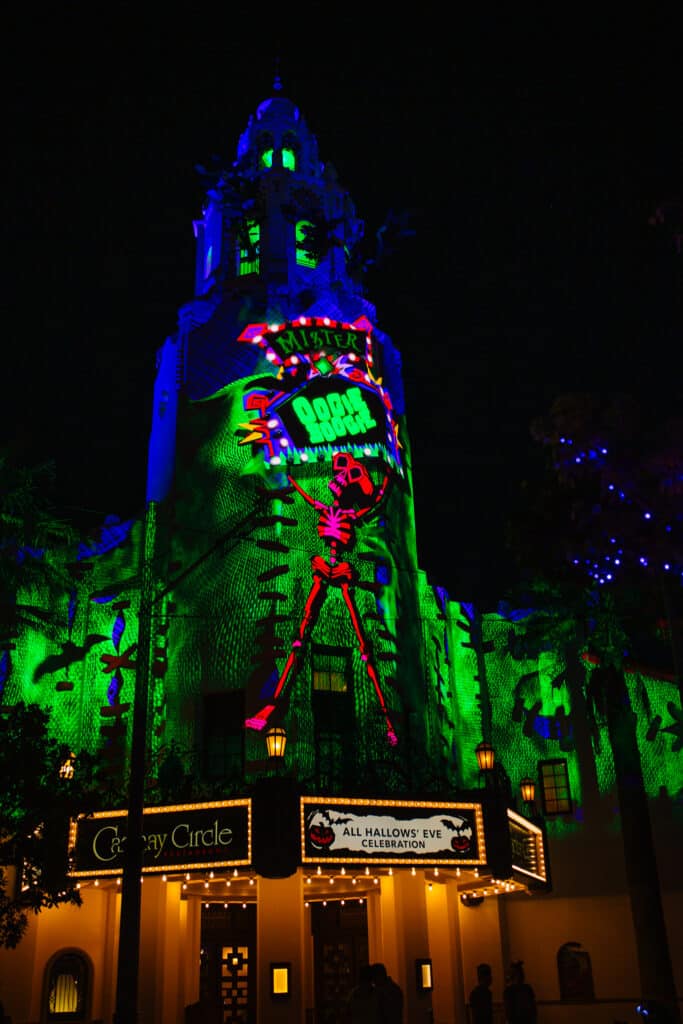 What to expect at the Oogie Boogie Bash 2023
There are so many fun attractions, Halloween-themed entertainment, and special dining options.
Treat Trails with Character Interactions Oogie Boogie Bash Guide
The villains with candy treat trails may be the best part! Experience some hilarious villain magic while loading up on candy and other treats!
Here's a look at 2022 so you have a good of characters you may see.
The map of the party does not include specifics about which character is at each trail, so we hope this helps you find them more easily!
Immersive Treat Trails Featuring Villian Characters and Their Locations:
Sid from Toy Story: Pixar Pier
Yokai from Big Hero 6: Sanfransokoyo Square
Agatha Harkness: Avengers Campus
Madam Mim from The Sword and The Stone: Buena Vista Street just before Avengers Campus
Cruella from the newer Cruella: Hollywood Land
Oogie Boogie from The Nightmare Before Christmas: Inside Animation Studio
Ernesto de La Cruz from Coco: Outside the Hyperion Theater
Count Doom from Who Framed Rodger Rabbit: Pacific Warf just past Soarin'
Mother Gothel from Tangled: Grizzy Peak on the bridge
We labeled a map to make it even easier to find them! If you want your own copy of it, grab it right here!
FREE Labeled Map Download
Want our labeled map with easy visual keys to find character locations? Put in your email right here and we'll send it your way!
Two Treat Treats without Characters
There are two treat trails with just treats and no character interactions. They do usually give great treats and snacks, but you won't meet any characters. We skipped the one in Cars Land this year since it was a way to walk and we were there for characters. We did hit up the one by the entrance/exit and were pleased to have full-sized Rice Krispy Treats and several snack bags.
Entertainment
There are plenty of fun things to experience! but if you want to sit back and enjoy some candy, these are fun entertainment shows exclusive to the special event!
Mickey's Trick and Treat Show
This takes place in the Disney Theater in Hollywood Land. It's a cute interactive show with a dance party and a not-so-scary story. If you have younger kids, they'll love this, don't miss it!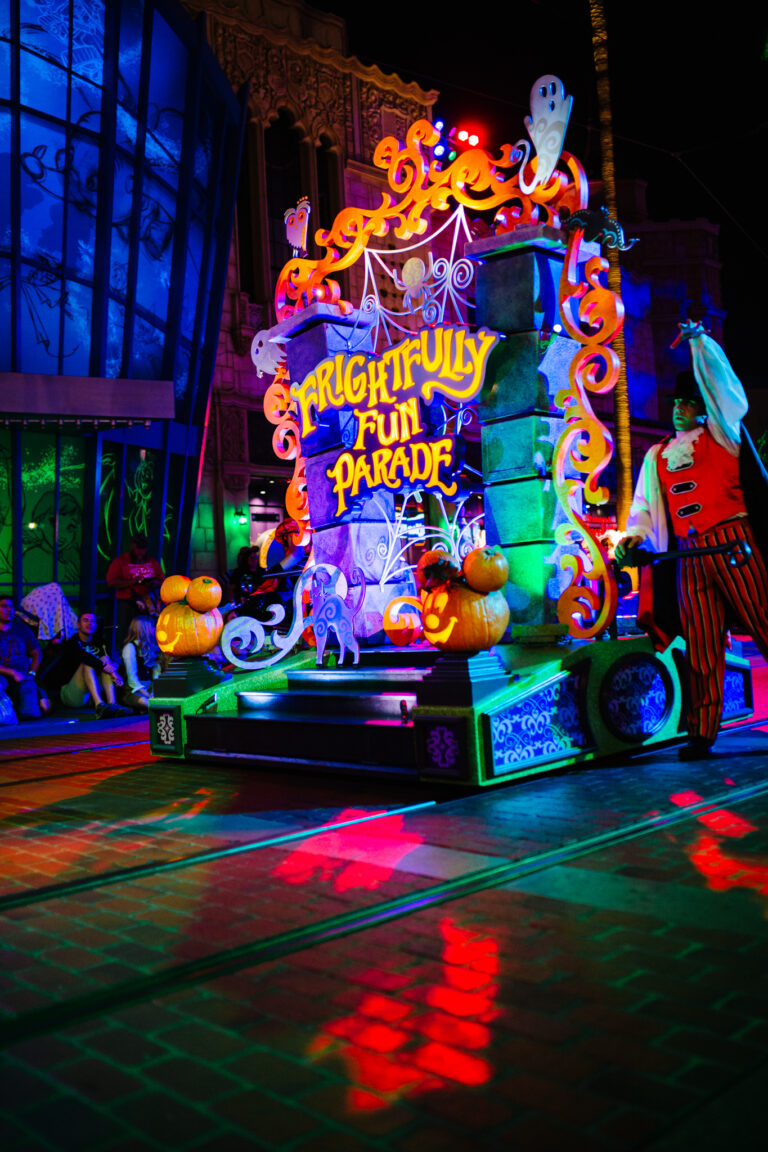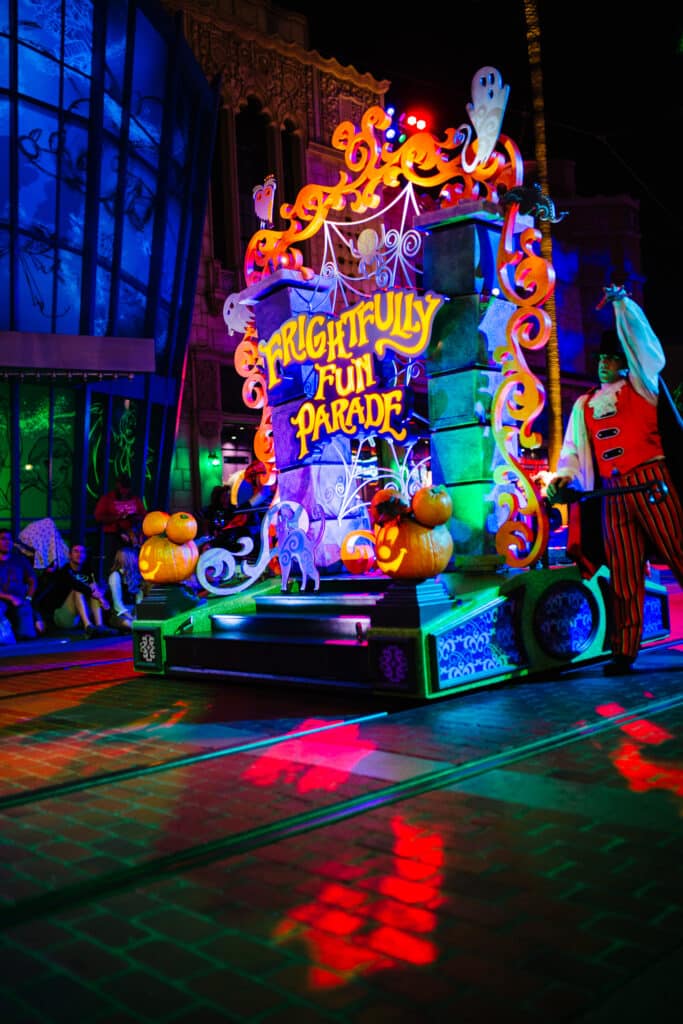 Frightfully Fun Parade
This is a Halloween parade you'll only catch at the Oogie Boogie Bash! It shows twice during the party: Once at 7:45 and again at 10:00.
10 minutes before the parade starts you'll catch the Headless Horseman parade through the streets. The parade route starts by Pixar Pier and ends between the Disney Theater and the Guardians of the Galaxy ride.
Anywhere is a great viewing area. We love to sit on Buena Vista Street and hit up the last parade. It's less crowded, and we have easy access out of the park when the party ends.
Is the Parade Scary?
It's not! Minnie Mouse and Mickey Mouse kick off the parade in Halloween costumes and remind you "Halloween is spooky fun!" You will see a few monsters like dancing ghosts, cute dancing vampires, and voodoo dolls in masks on stilts from The Princess and the Frog.
The Nightmare Before Christmas is heavily represented with a Jack Skellington and Sally float, as well as the mayor driving a car.
You'll also find a lot of Haunted Mansion characters. They're more on the cute and fun side than scary. Most kids really like the parade. Most adults love it!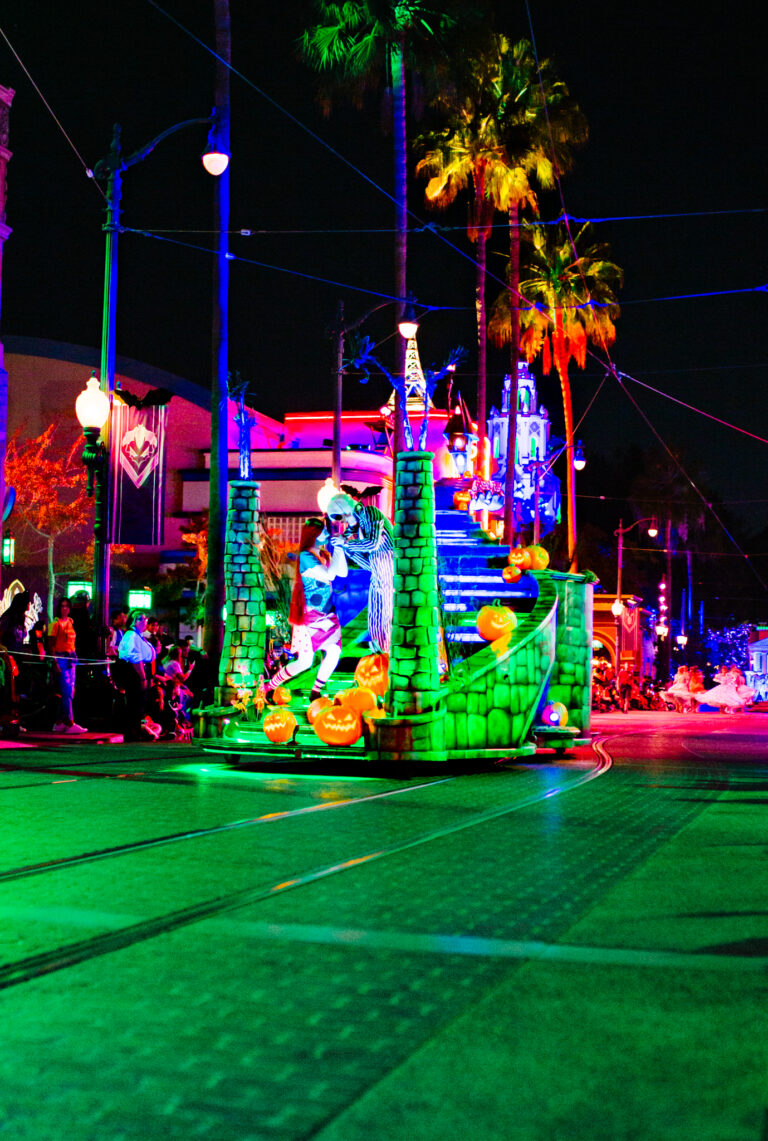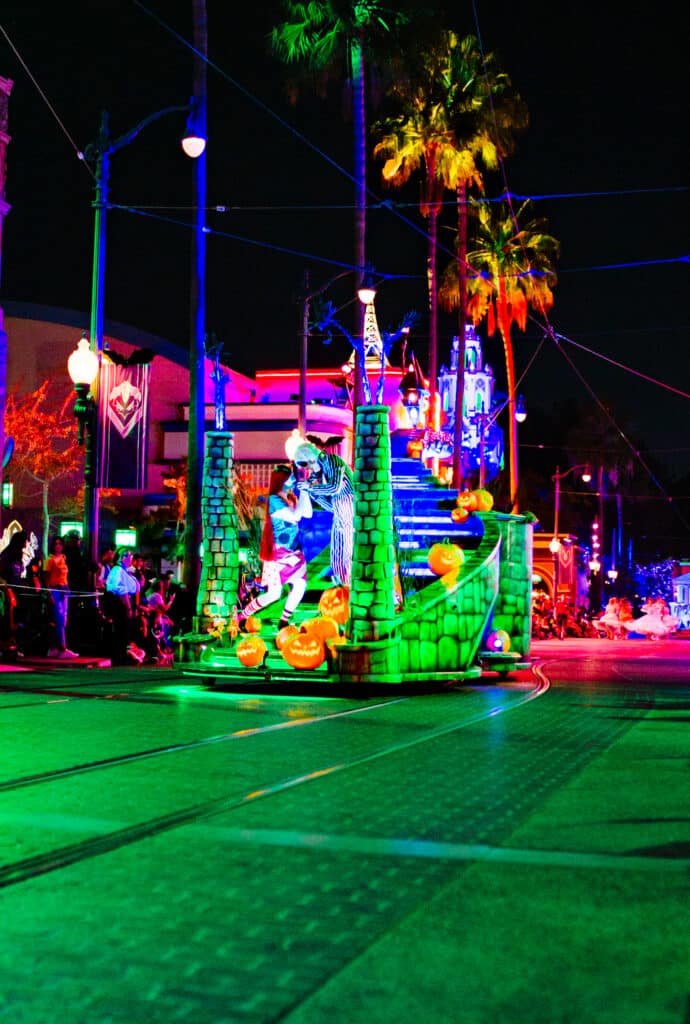 Villains Grove
The Redwood Creek Challenge Trail is transformed into some hauntingly beautiful scenes from some of your favorite movies. Expect music, sounds, smells, and special effects from your favorite villains. Everything has intention: visuals, lights, and sounds, so don't miss anything lurking in the shadows! It feels like a magical dream with just the right amount of a Halloween twist!
Lines can be long, I'd recommend going towards the end of the party when they start to slow down.
Special Photo Opps

Party guests will enjoy many fun photo ops throughout the park! Some are cool backgrounds, but many include characters.
The favorite this year is Minnie Mouse, Daisy Duck, and Clarabelle Cow dressed as the Sanderson Sisters from Hocus Pocus. But beware, these lines are about 1.5 hours all night long. So I'd recommend getting in those lines early and first if you really want a picture!
This year Bruno from Encanto and Captain Hook were both present for photo ops.
Mickey and Goofy also had their own Halloween photo ops at Pixar Pier Plaza.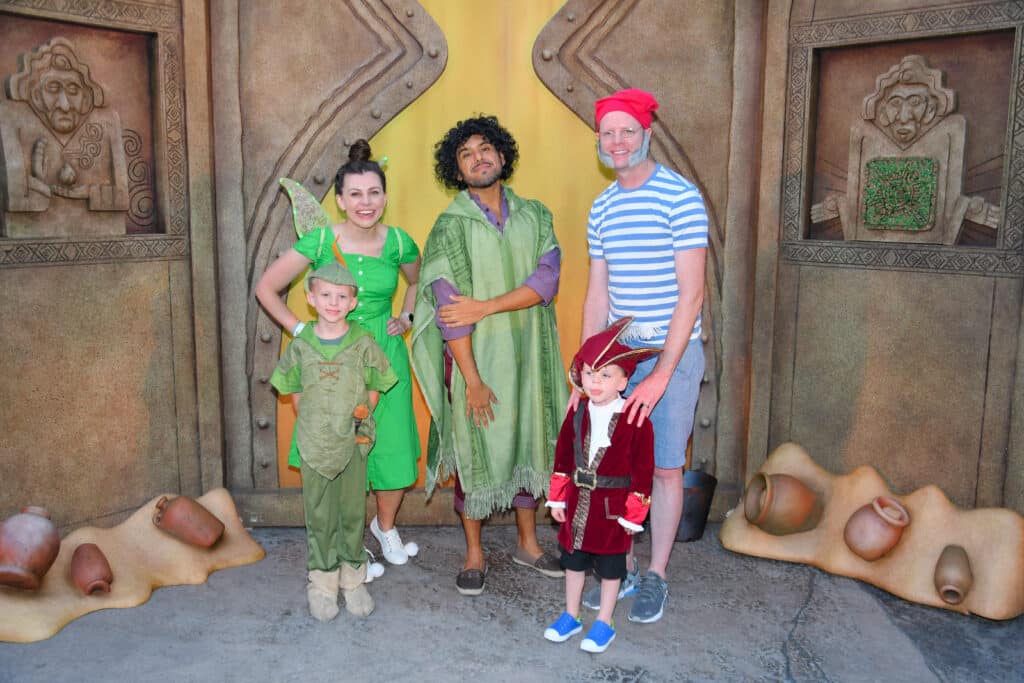 Character Interactions
Characters you might not typically see at the parks show up at the Oogie Boogie Bash!
But be on the lookout for your favorite villain! We've caught Cinderella's step sisters, The Evil Queen, and plenty of other Disney Villains ready for interactions and photo ops!
You can also check out several of the Cars Land characters in costume and cast members and Disney photographers are ready to help snag pictures while you're there.
Dining Options
Several restaurants and food vendors have Oogie Boogie Bash exclusive food and beverages. We love to grab the Spicy chicken and fries from Flo's Diner.
But if you want a little more upscale dining experience, they have two dining package options available for an extra cost.
Wine Country Trattoria Oogie Boogie Bash Parade Dining:
This is a three-course dinner with an amazing front-row view of the parade. Expect delicious starters, the main course, and dessert while you enjoy the entertainment from a reserved table.
Sonoma Terrace Oogie Boogie Bash Dessert Party
They offer specialty cocktails and mocktail options with a plate of sweet treats to try.
Halloween Attractions
These are available during the Halloweentime season. But they're extra fun to experience without the wait times! Ride times are extra short during an Oogie Boogie bash, and you'll likely have time for a few!
Be sure to check out:
Mater's Graveyard Jamboree
Luigi's Honkin Halloween
Guardians of the Galaxy: Monsters After Dark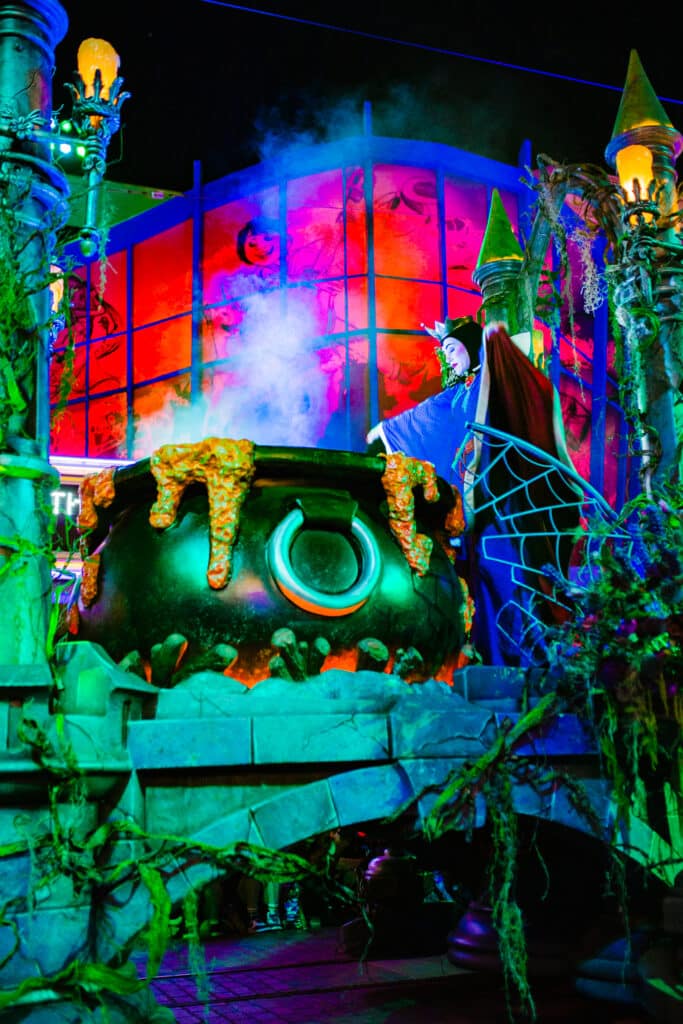 FAQs
When is the Disney Halloween Party?
They start in early September and go through October 31st.
How do you get tickets to the Oogie Boogie Bash?
Join Disney's special events email list, they'll send a heads-up sale dates and the link. You can also reference their special events tickets page.
When do Oogie Boogie Bash tickets go on sale?
Typically, tickets go for sale in the middle of July. They typically announce the party and the dates in June. Be sure to sign up for Disney special events emails so you get exact dates, as well as the day tickets, go live for sale. Magic Key holders are able to purchase a reserved amount before the general public.
They do sell out in a day or two, so you'll want to be ready the day they go on sale.
How much are Oogie Boogie Bash tickets?
Ticket prices vary depending on which date you choose. Prices start at $129 per person and go up to $179 per person.
Weekends and the last nights tend to run a higher rate. September tickets are typically the cheaper option.
How long is the Oogie Boogie Bash?
The party starts at 6:00 pm and ends at 11:00 pm. Ticket holders can enter Disney California Adventure at 3:00 if they wish to enjoy the park before the party starts.
Do people wear costumes?
More do than don't. They certainly aren't required, but it's the one time you're allowed to wear a costume at Disneyland!
Many go all out missing zero details in their Disney costumes! Some wear non-Disney costumes. Most wear some version of a Disney costume or bound.
However, our first year, we wore all Nightmare Before Christmas shirts and ears, and we blended in just fine! Since the weather is still quite warm, many love themed t-shirts and shorts to stay cool on party nights.
Is this only offered at Disneyland Resort?
Walt Disney World has its own party called Mickey's Not so Scary Halloween Party. Or often referred to as Mickey's Halloween Party.
Like this complete guide to the Oogie Boogie Bash? Be sure to check out these Disney posts too:
Where to Stay at Disneyland: Hotels In Walking Distance to Disneyland