You've Been Booed Printable
Grab our You've Been Booed Printable download! Three cute You've Been Booed Free Printable options with instructions on how to do this fun Halloween tradition!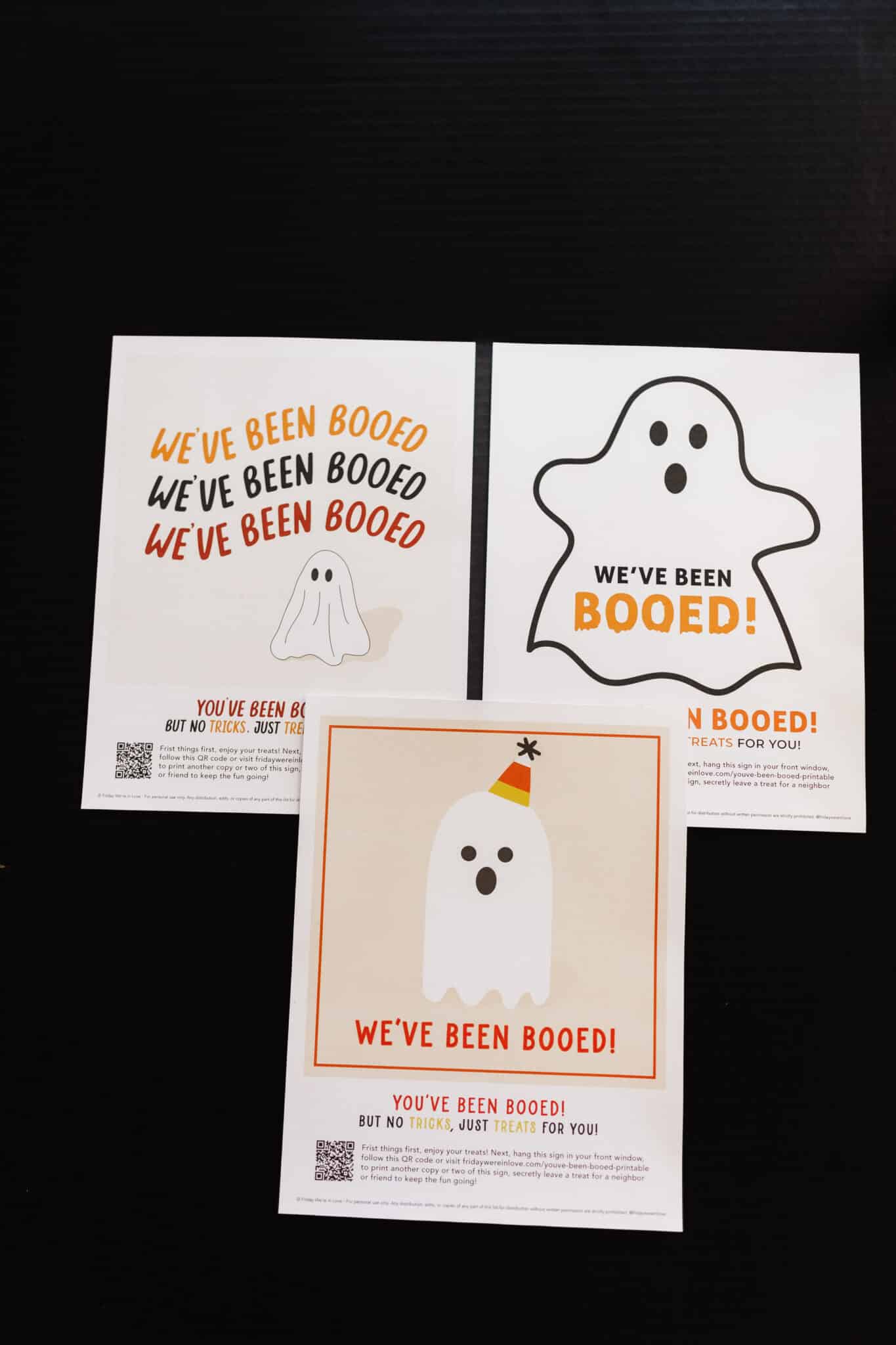 One of my favorite childhood memories is watching my neighborhood "Boo" each other with Halloween treats left on the porch for neighbors to enjoy. And it's so easy to do, you just need treats, and our free You've Been Booed Printables to get the party started!
Grab Your Free You've Been Booed Printable Right Here!
This year we designed three different printable options. They come in cute modern colors, as well as black and white versions.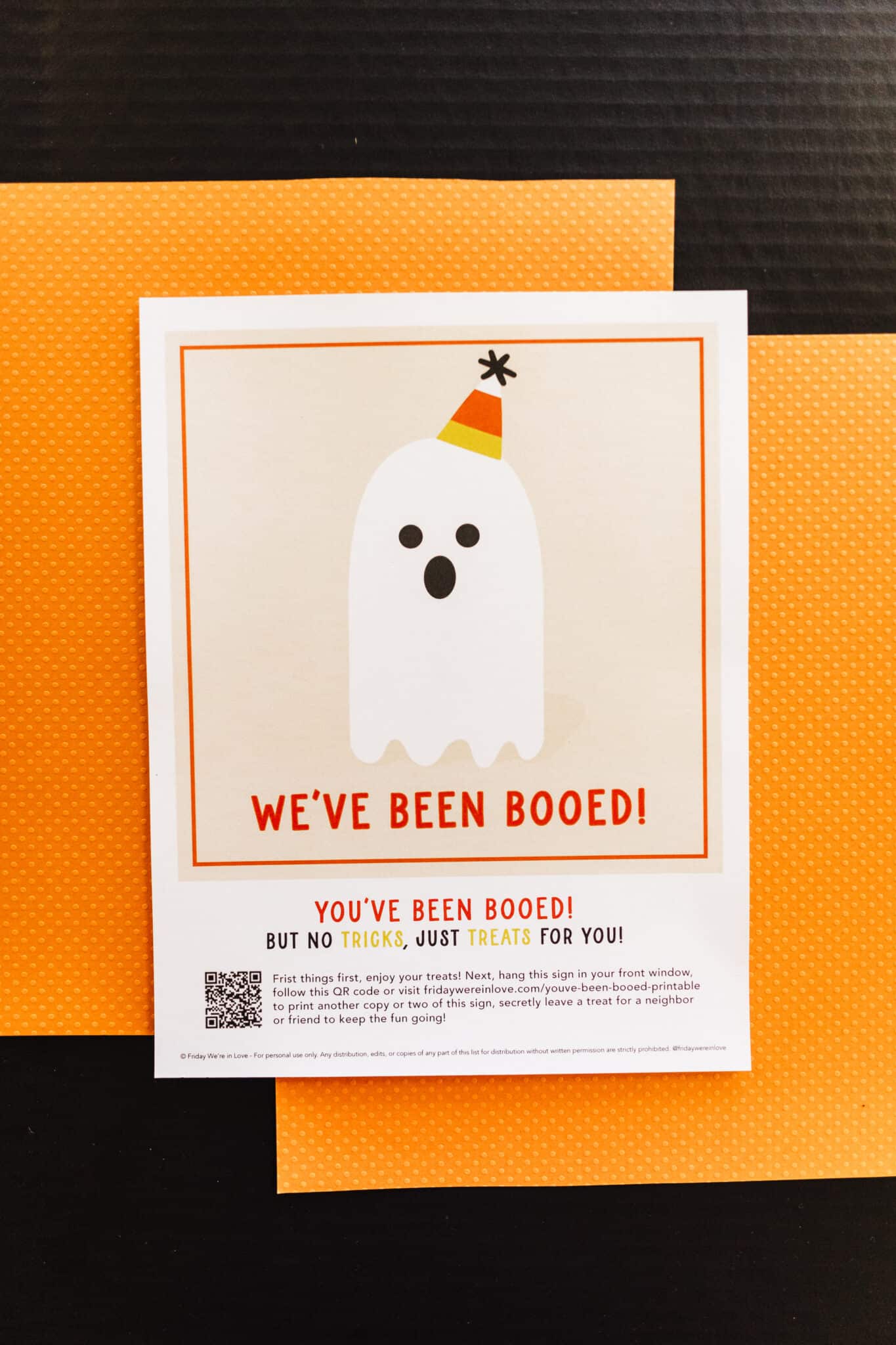 We also included a QR code to this page so people can easily download and print their own, see the rules, and see ideas of things to include too!
You've Been Booed Color Printables
Grab the color version right here!
*For personal use only
You've Been Booed printable black and white printables.
Hey, we get you may not want to use the ink, or maybe making a quick copy of the free download. We made sure to design black and white you've been booed printables that look great and are easy to use!
*For personal use only
How do you play the you've been booed game?
"Playing the 'You've Been Booed' game is a delightful Halloween tradition that spreads joy and spookiness in equal measure!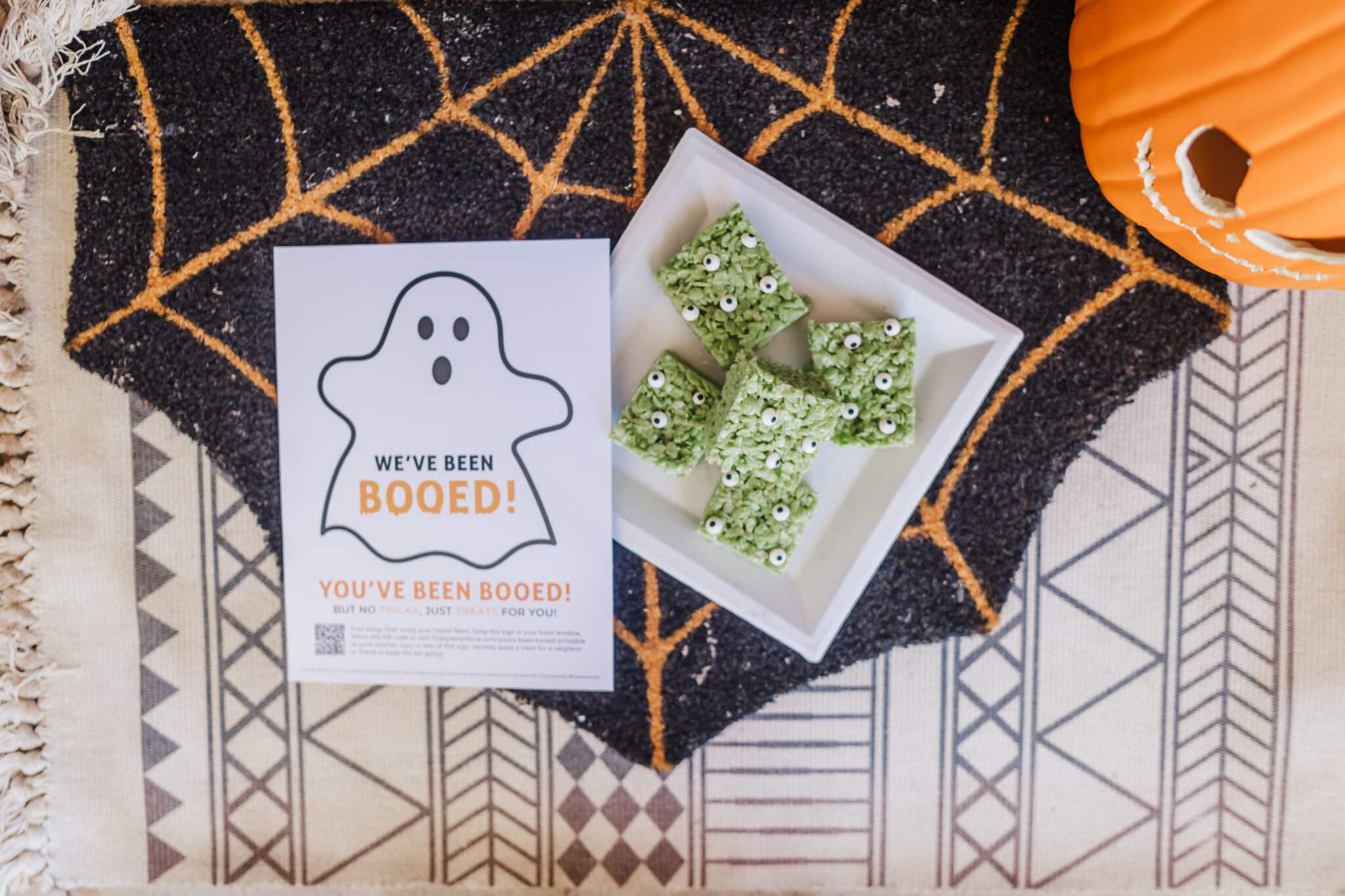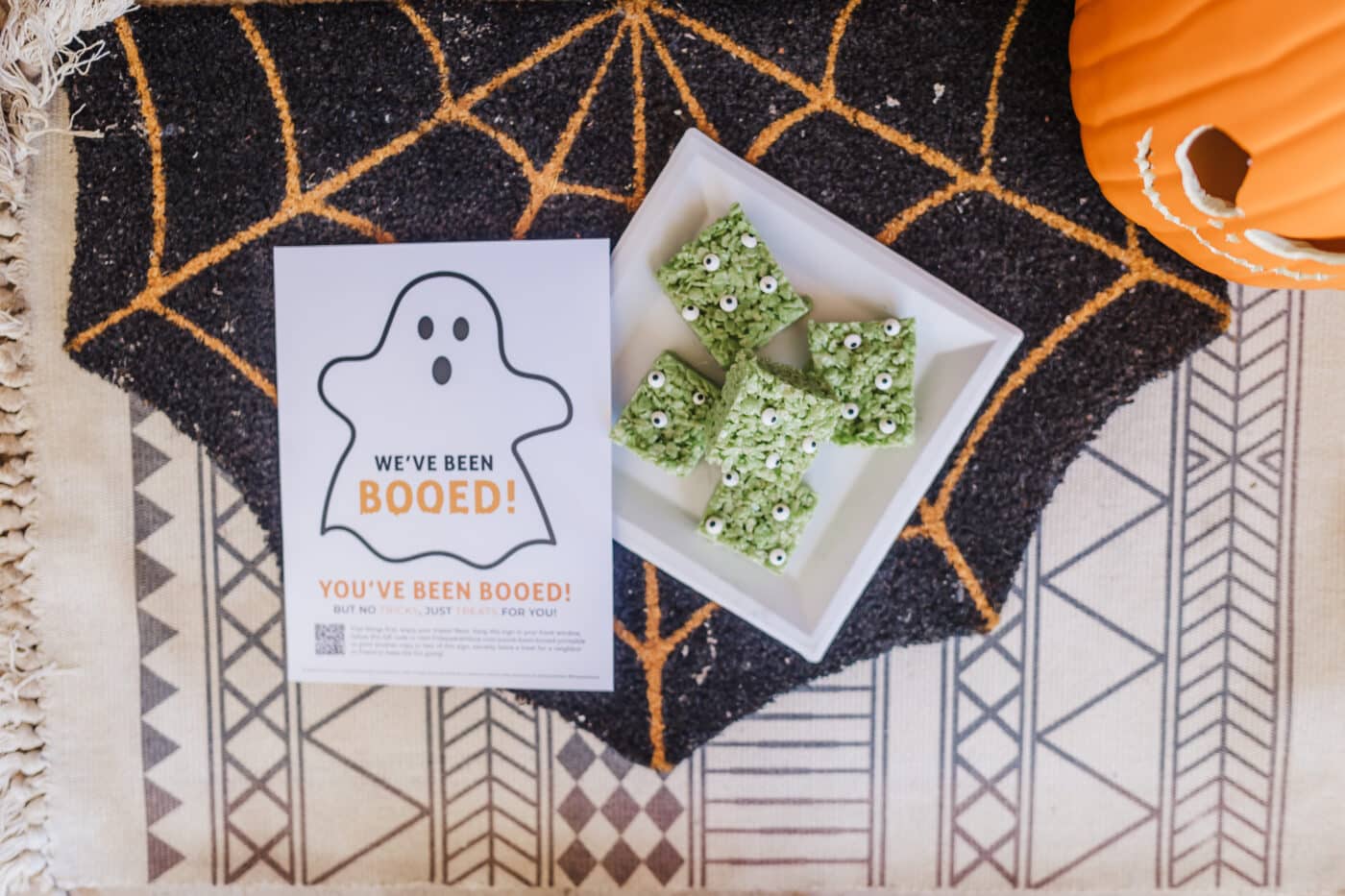 20 minutes 20 minutes
Here are the rules for You've Been Booed (also known as playing the You've Been Booed game).
To begin, you'll need 'You've Been Booed' note.

Grab our free printables. Download the PDF files of the free Halloween printables and print them. I'd recommend using cardstock, but you can use whatever you have!
Tip:
Also, many people print a bonus note to give so their neighbors can join the fun. This is optional, but we've found giving two extra notes helps keep the fun activity going!

Get some goodies!

This can be a plate of cookies, a basket of treats, a goodie bag of Halloween candy, a pumpkin bread loaf, homemade treats, or even a few fun small Halloween toys from the Target Dollar spot or Dollar Tree. Some people make a version of a boo basket, boo bags, or boo buckets with trick-or-treat pails.
But it doesn't have to be anything big or fancy! We've received a package or Oreos and been thrilled!
It truly can be anything so have fun with gift ideas, small treats, or anything you think they'll love!

Leave the goodies and note on their porch.

Deliver the "You've been Boo'd" treat or gift basket on their front door. It adds to the Halloween fun to doorbell ditch and try to do it in secret. Let them find the plate of treats/bucket of trinkets, etc/.
In place of a gift tag, be sure to include a printable sign for them to hang on their door.

The recipient places the "We've Been Booed" free printable sign on their front door/window/door hanger/porch.

Those who've been 'booed' can place the included 'We've Been Booed' sign on their window or door, letting others know they've already had their share of fun.
The goal is to get the whole neighborhood involved, and the We've Been Booed sign in clear sight helps everyone know you've been included!

The recipient follows the instructions to keep the fun tradition going!

The person who has been given their treat bags/treat plate/etc. now gets to help spread the Halloween time fun throughout the month of October! They choose 1-2 other neighbors to "Boo" and deliver some Halloween cheer to.
We've left a QR code on the printable so they can easily get to this post and download their own printables.
Just secretly leave the goodies and the note on a neighbor or friend's doorstep, and continue the fun things and treat sharing!
The aim is to get as many people in the community involved without getting caught! It's all about surprising others and spreading the Halloween spirit.
A Few You've Been Booed Tips:
Print a few extra copies of the sign to make it easy for your neighbors!
Think of treats they'd enjoy! What you'd give a family with kids or an elderly neighbor may vary. It's always fun to receive something that feels meant for you!
Use this opportunity to dig out your favorite Halloween recipes! We'd also highly recommend our Halloween Rice Krispy Treats as an easy treat just about everyone loves!
Try to keep the "ghosting" going as soon as possible! The faster you return the fun, the more time others have to get their treats out.
Include everyone! It's easy to send treats to close friends. However, we've found this can be a very connecting thing for neighborhoods. It is an easy way to spread a little holiday cheer even to those you might not know as well!
And remember to have fun with it! It's meant to be a cute and connecting Halloween activity. Don't stress it, just enjoy booing others and trying to make their day!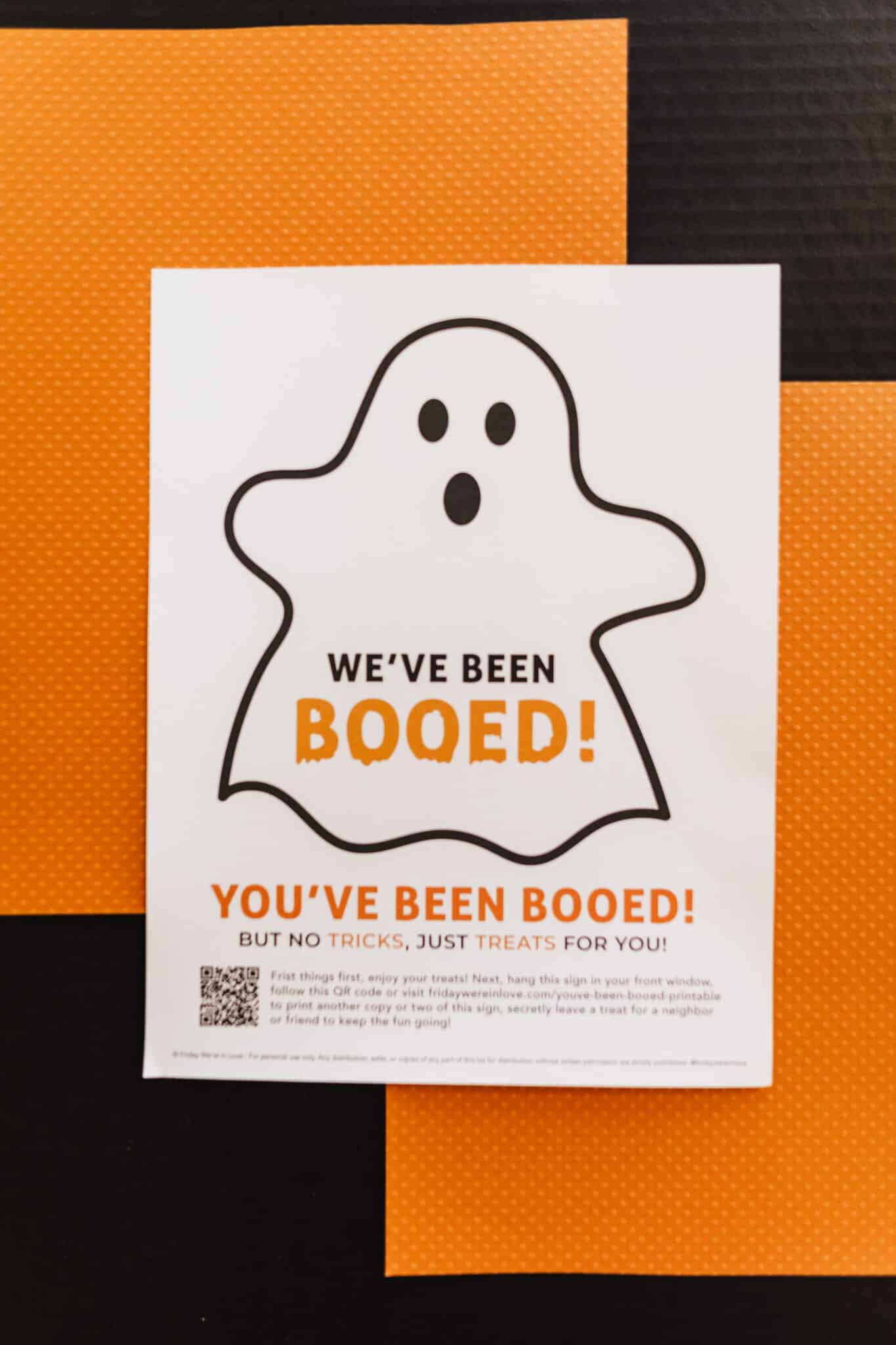 You've Been Booed Frequently Asked Questions
What is the boo tradition on Halloween?
The "Boo" tradition on Halloween is a playful, ghostly game often referred to as "You've Been Booed," "Booing," or simply "The Boo Game." It is aimed at spreading Halloween cheer in neighborhoods, schools, and workplaces. Typically, an individual secretly leaves a basket or bag of treats, along with a "You've Been Booed" note and a "We've Been Booed" sign, on a neighbor's doorstep or a colleague's desk.
The recipient is encouraged to post the sign to show they've been "booed" and continue the chain by anonymously delivering similar goodie bags to two other participants, without revealing their identity. This spirited exchange continues, ideally spreading throughout the entire community, enhancing the fun and excitement of the Halloween season through surprise, sweetness, and a dash of mystery.
What do you put in you've been booed?
Sprinkle in a delightful array of treats, perhaps Halloween candy, chocolates, or even nut-free options considering possible allergies. Integrate small, playful toys like mini puzzles, glow sticks, or Halloween-themed stickers, adding a playful touch.
You might also want to intersperse a bit of festive fright with subtle decorations like faux spiders or cobwebs, perhaps even a tiny pumpkin or two. For a dash of creativity, tuck in some craft supplies, such as colored papers and Halloween stickers.
If you're comfortable and following local guidelines, sealed homemade goodies like cookies or popcorn balls can add a warmly personal element to your boo bundle.
How do you play You've been booed at work?
To play "You've Been Booed" at work, start by secretly placing a small basket or bag of treats, like candies or Halloween-themed desk decorations, at a colleague's workspace, along with a note explaining the game. This note should prompt them to "Boo" two more coworkers in the same manner, without revealing their identity. Included should be a "I've Been Booed" sign or indicator for the recipient to display at their workspace, signaling they've already been surprised, and it's their turn to spread the spooky cheer. The aim is to keep the playful mystery going, spreading joy throughout the office as the Halloween season unfolds.
Like this fun Halloween idea? Be sure to check out these posts too!
How to Do The Boo Basket Tradition
Cute and Clever Couple's Halloween Shirts
Favorite Halloween Books for Toddlers