Toddler Bedroom Ideas and Amazing Kids Room Design
Looking for the perfect toddler bedroom ideas? Want an amazing kids room design even if you're not a professional designer? This design hack and resource is perfect for getting the kids room ideas you will absolutely love!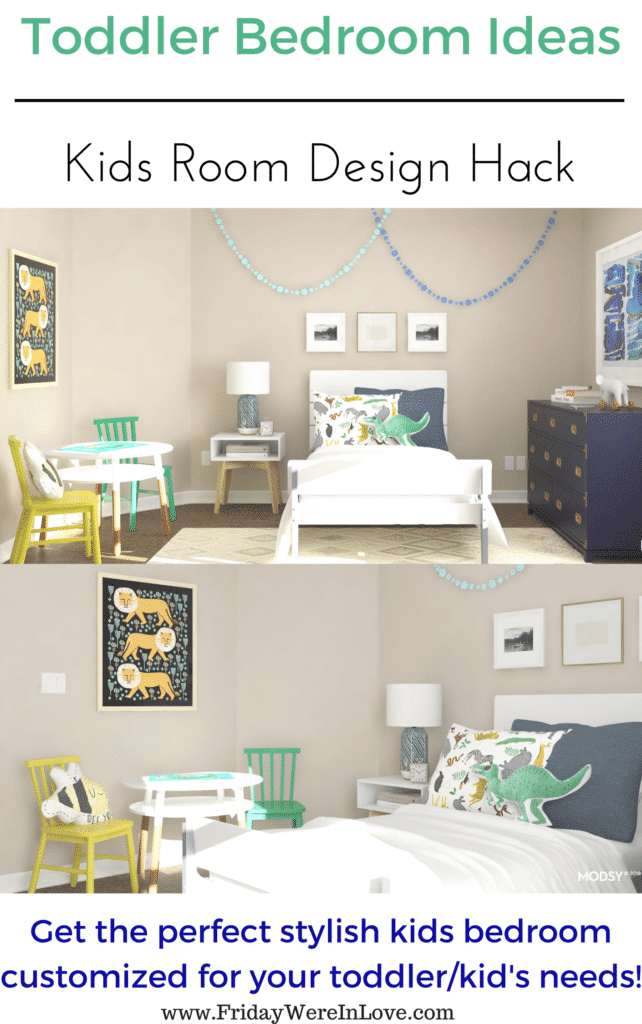 This post is sponsored by Modsy, who is offering 20% of all design services to Friday We're in Love readers. Use Modsy Promo Code:FRIDAYLOVE20 to take advantage. And read on for my Modsy design review and experience. All opinions and experiences are my own.
I feel like I've always been a person who can confidently tell you what I can do well and will openly admit when something is my weakness. Plan a complex vacation with itinerary- check, I got this! Project manage the build of a new company website from start to finish, yes I am your girl! Come up with an amazing kids room design with my interior design skills- well, that's certainly a skill I won't boast having on my own accord.
Designing a Toddler Room
We're to the point where we're moving our toddler out of the nursery, and it's time for a big boy room. Toddler bedroom ideas are something that can be really tricky to come up with, apparently even for design enthusiasts! Their constantly changing needs and growing changes combined with cute toddler bedroom ideas and kids room design often need some professional help.
Knowing I'm not that professional, I decided to reach out for some help. I've had a couple friends try Modsy and have just raved about the experience! I reached out asking if we could partner together, and I'm so thrilled I got to try them and share my Modsy experience with you! If you're new to this like I am, let me tell you all about Modsy.
Amazing Kids Room Design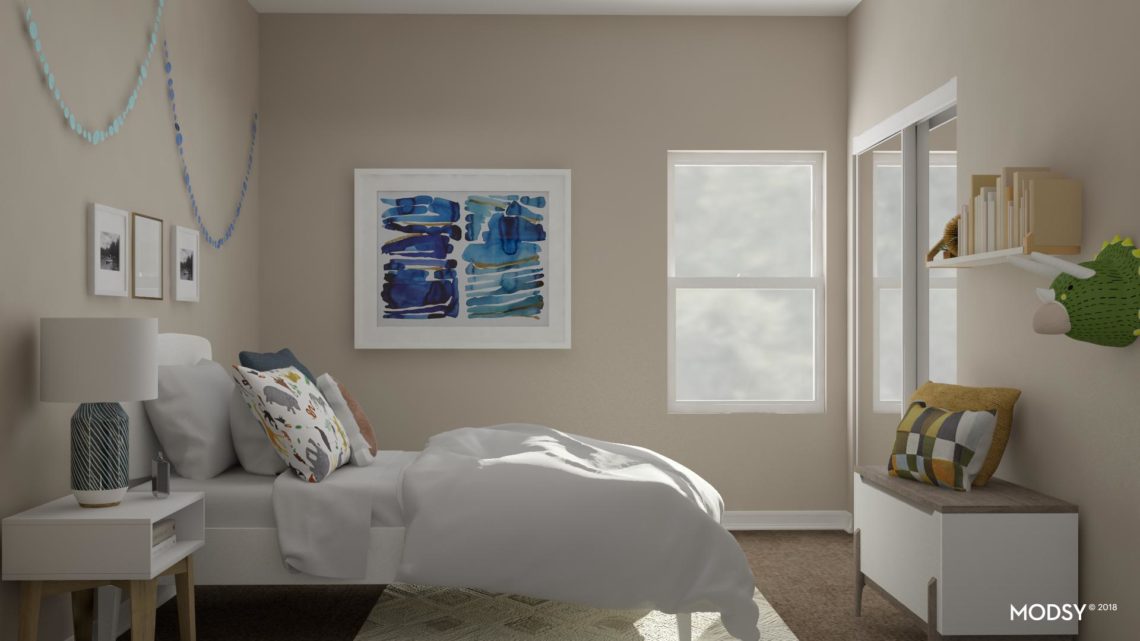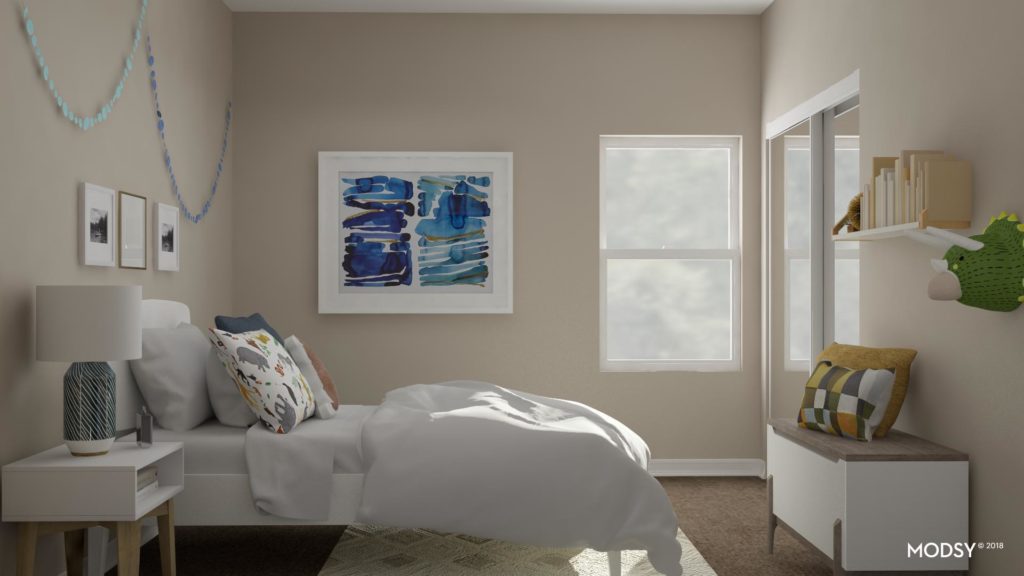 Modsy is an online design service that helps you nail down the perfect room with the perfect layout for you. You take pictures of your room, and you participate in a series of design quizzes to nail down your style. After that, you share your price points and choose stores you're interested in shopping at. You can also add in your own furniture if you have a few pieces you plan to add. Then the magic happens.
We had Modsy send us two design options for our toddler bedroom ideas. It only takes about a week (give or take a few days- they give an estimate so you know in advance!) and designs come your way. Not just any designs, a 3D rendering of your room with the new designs and layouts that look like photographs. If you're a visual person like I am, you will adore this! I could so easily see how the entire room would function and how amazing all these pieces fit together!
While we started this process, I made to sure to share that we wanted a room that would go from a toddler boy bedroom, to a cool kids room that he could grow with. I included that he wanted to keep elements from his nursery and that he's also a fan of specific colors. I could not be more thrilled with the options I received!
Toddler Room Colors
Let's start with the colors because I'm just tickled with how they blended everything! Our toddler keeps asking to keep his "Wild Things" from his nursery and if they get to move into his big boy room with him. His nursery was a bright navy blue, yellow, and gray. He's also obsessed with the color green. So we had this challenge of keeping some of the familiarity of his nursery for a smooth toddler room transition and adding new colors and older elements. Modsy seriously nailed the toddler room colors!
They kept plenty of blue and yellow elements with designs that would allow us to move some nursery art over easily. They also added some jungle elements for a more grown-up animal look, and my toddler's personal favorite- green dinosaurs. The toddler room colors all blended together so well to make a really fun space! I loved showing him the renderings and watching him get excited.
"Oh that's MY big boy room! Oh there's a green dinosaur! Can I have it mom?"
I smiled ear to ear how excited he is and how thrilled I am with these options!
Deciding on the Best Kids Bedroom Decor and Design for You
We love both the Modsy designs, and after they came I knew I had a difficult task of deciding what was best for us. Can I give advice for choosing the best kids bedroom decor and design for you? Spend a day with your child in their room. I did this completely by accident. My little guy needed a day to rest while not feeling well, and we ended up in his room quite a bit. Partially due to needing to rest, and partially for some time-out resetting moments.
I started to note what he does in his room. For us, his toys are in a play area primarily. His room is a restful place where he sleeps and naps. It's a place he calms down after a fit or when he needs a little space. It's a place he likes to read books. The more I thought of his needs and my needs for this room, the more clarity of the best toddler boy bedroom decor and furniture needs came to mind.
Little Boy Rooms: Final Design Needs and Decisions
That night I pulled up the Modsy designs and decided the light and airy peaceful room was more his jam. He needed a place to retreat and to rest. He's still napping for now and needs a place that helps him sleep. As he drops naps, I plan to change to quiet time in his room. The more I thought about what that looks like, the more I realized we needed one more toddler furniture item- a table and chairs.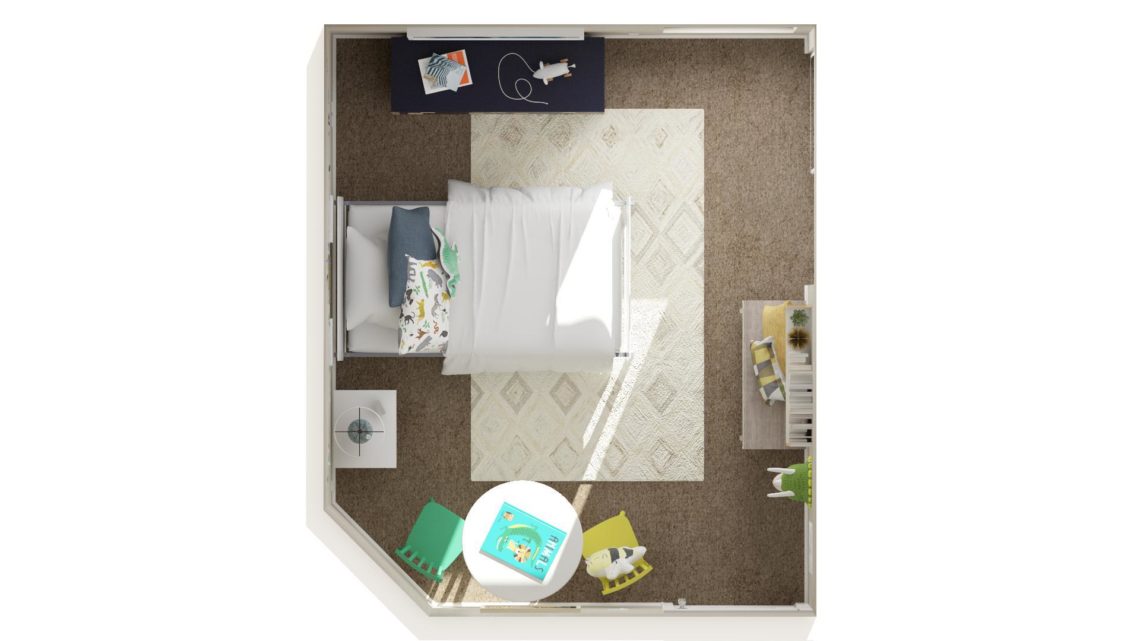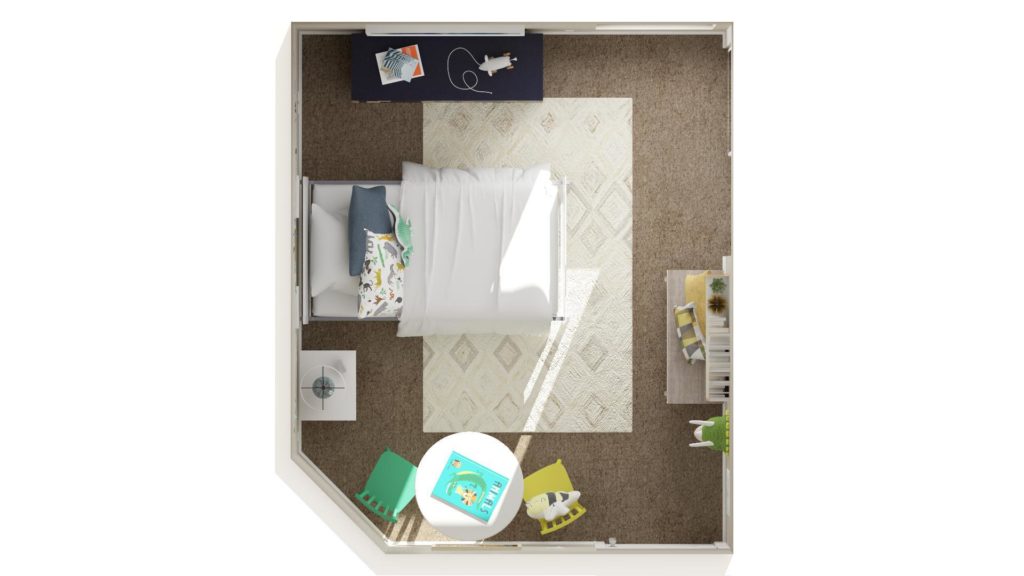 I requested a final design change with that update, and with one bed modification to be a white bed with a style similar to the darker room design. They were so awesome turning it around quickly and helping us see how we could make the space just what we needed! The perfect kid's room design for us was finished! I just fell in love!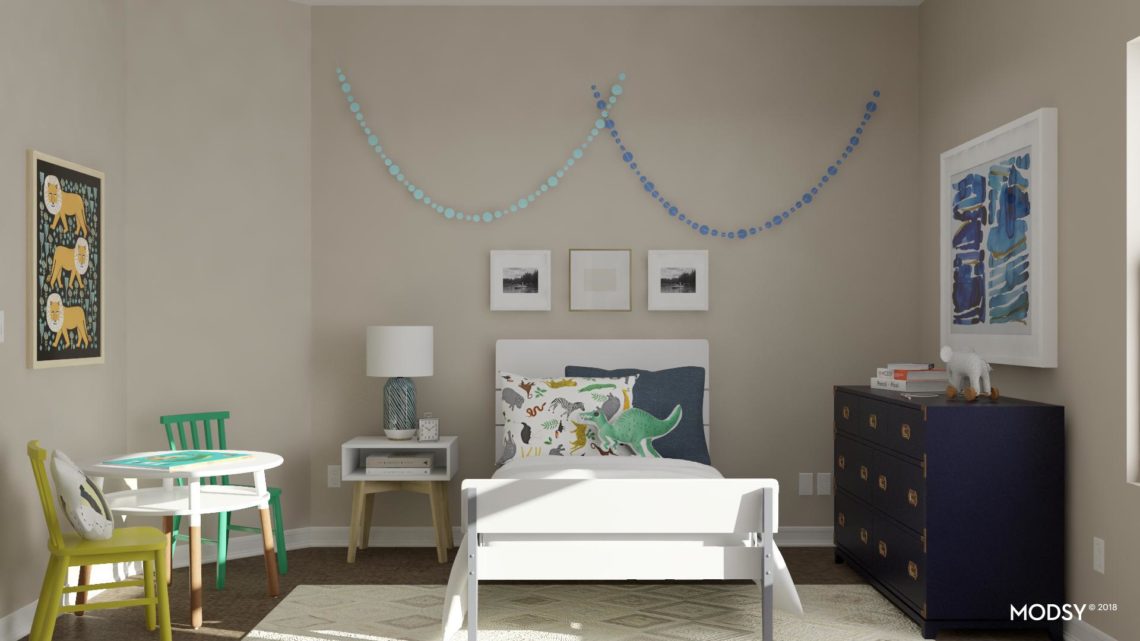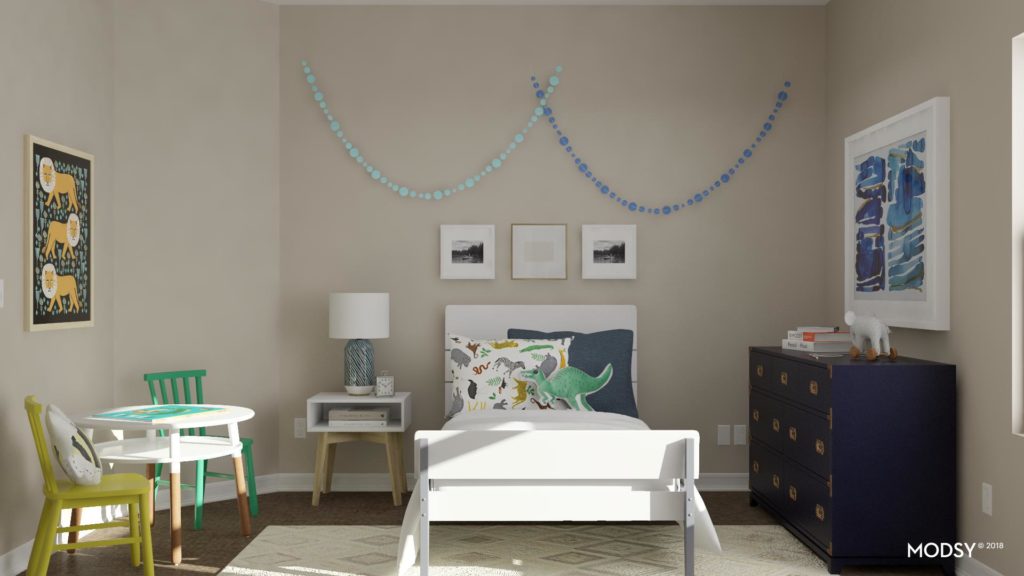 Modsy Design Review
For anyone who needs some design help in pulling together the perfect kid's room design, I can't recommend Modsy enough! I would never have thought of this layout or the amazing toddler room colors and decor. I guess I should say for anyone needing any design help who knows it's not their strength, and they need affordable professional help to visualize and design their perfect space.
Plus they link all the products they add to designs you can add them all to your Modsy cart and buy everything at once. If you're ready to pull the trigger and get a room designed and done in little time, it's such a great option and easy shopping experience!
And guess what friends, I have a Modsy promo code just for you! If you're ready to get some amazing design in your life!
Modsy Promo Code: FRIDAYLOVE20   to get 20% off your total design package!
And we can't wait to pull this room together ourselves and share our room pictures with our toddler happily enjoying his new space! Stay tuned friends, it's coming later this month!
Like this kids room design post? You may like these posts too:
Where the Wild Things Are Nursery
The Picture Gallery Wall