A master list of the best building toys separated by age and category so you can find the perfect building blocks or modern building toys for you!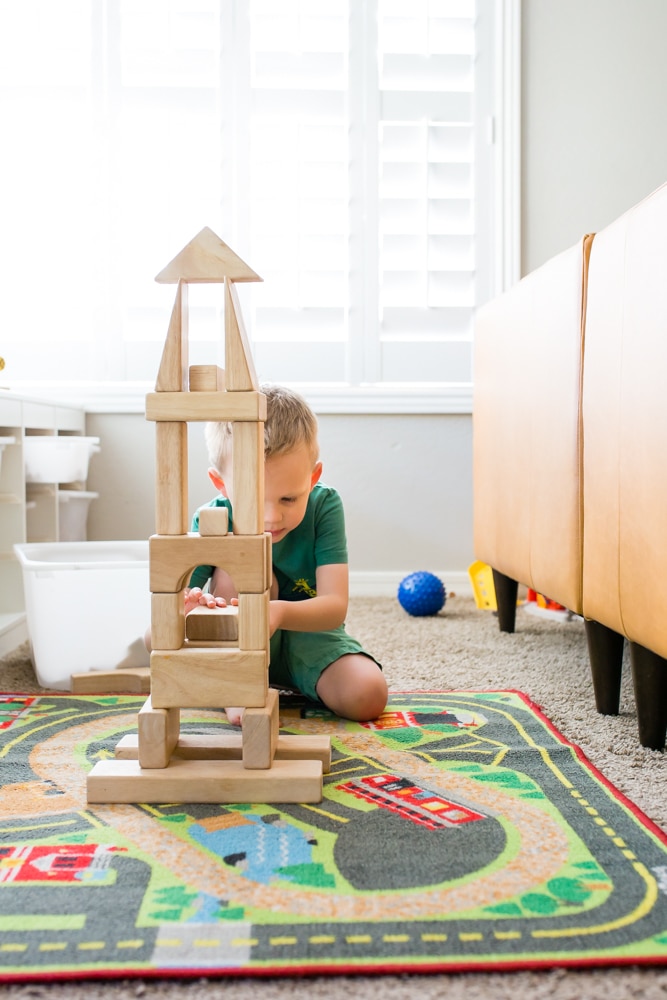 Building Toys
We're parents who found ourselves in STEM careers: Jacob is an engineer and I'm a former technical project manager. It's always been important to us that toys that enter our home are educational. Naturally, there's a big place in our hearts for STEM toys. And with younger children, building toys are our main focus.
Admittedly, we own several types. But what we don't own, we've tried at playdates, children's museums, the library, and play centers. My boys always gravitate towards toys they can build with, and I've seen first hand what makes the best, and what is worth having in your toybox.
I wanted to share the best of the best, and break them out by category so it's easy to find the best building toys for you!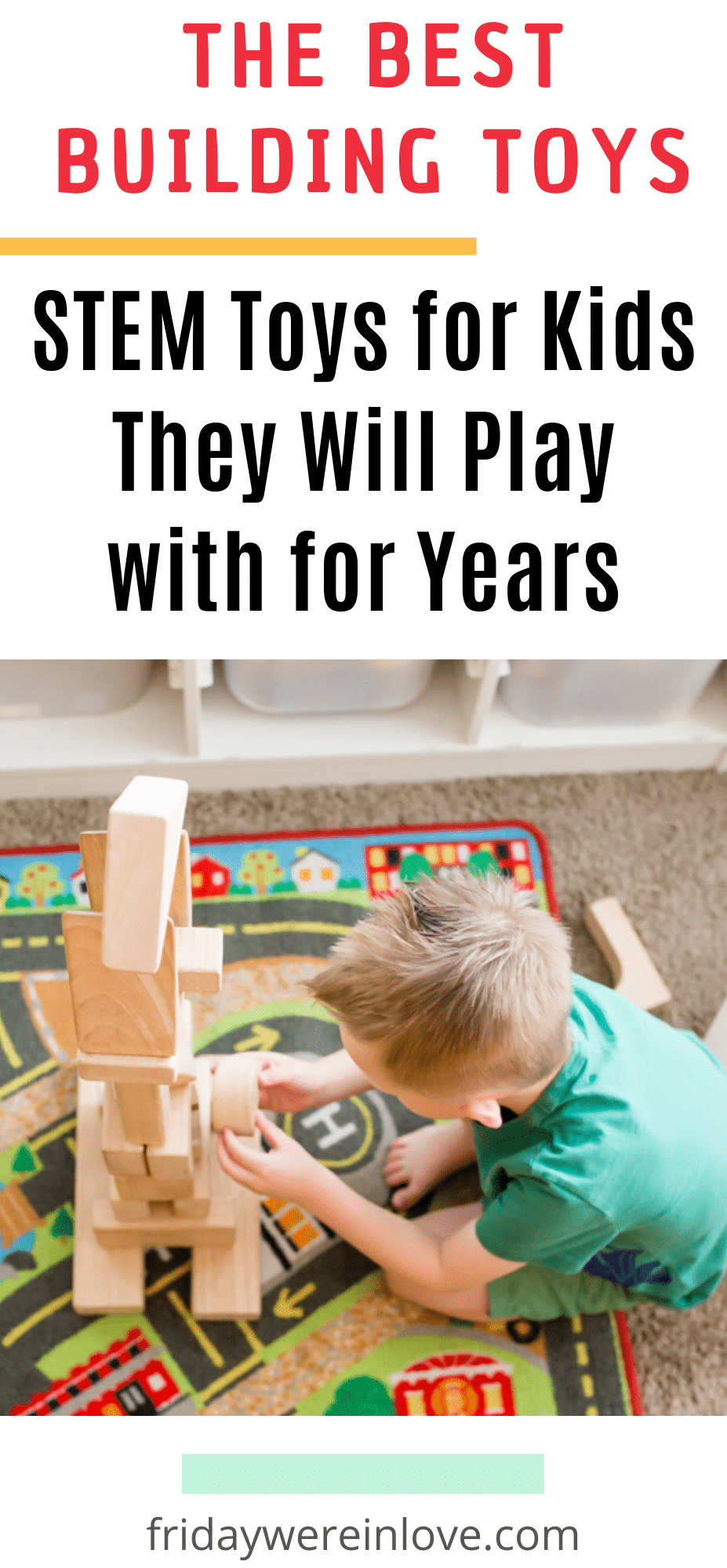 Building Blocks
I will forever taut these as the best money we've ever spent on a toy! This set was a gift for our oldest son's first birthday. He used them to teeth and learn to grasp as a baby, but quickly learned he could stack them.
Now, every day he invents a new creation daily. As we talked about Christmas toys this year and he mentioned a race track I pointed out he builds better ones with his blocks than they make in stores. He smiled and agreed. And then guess what, he asked for more blocks instead!
He has played with this set nearly every day since the day they were gifted. He's grown with them. They've held up amazing. And his imagination and problem-solving skills are so advanced thanks to this favorite classic block set!

I'm a sucker for practicing words, letters, and language development. I love that kids can build structures and also words and sayings. These are fantastic for games, and of course for large towers.
Love the wooden standard as I do, I'd also seen a tower fall and little bodies get a few injuries from hard blocks. I love that the foam set options are safer for younger kids. They can also go in the bathtub, the pool, or stay inside.
If you're short on space this cardboard set may be perfect for you! They collapse and store flat, but are big and fun when they're all set up! Plus, inexpensive and lightweight for younger kids to play safely.
Magnetic Building Toys
This is my most recommended toy item by far! They can be a bit pricey to invest in, but they are an investment well worth it! I've seen babies play with a magnetic tile toy, and I have seen teenagers get down and start building. They are built to last, and they go beyond the basic building a building concept.
My son builds flowers, rocket ships, cars, home structures, and anything his mind can think of!
I love that you can start with a small set and just keep adding, or go big andmake this a holiday gift. I've never regretting spending the money on this set, it's been used and loved for years!
I have to admit my first thought was this is such an amazing concept and company! Then, the price tag initially scared me away. We were gifted a robot set, and oh my word has my son loved this thing for years! It goes with us to church and he happily plays with it every Sunday for at least 30 minutes. Most of the sets turn into 2-3 things. They are fun to manipulate, figure out, and play with once their built.
Because my preschool doesn't read my blog that I'm aware of, I feel fine letting you know this is what Santa will be bringing him this year. We'll go big with a bigger set because we've seen how much he loves and plays with a small set! I know it will be used and loved for years and years by both our children.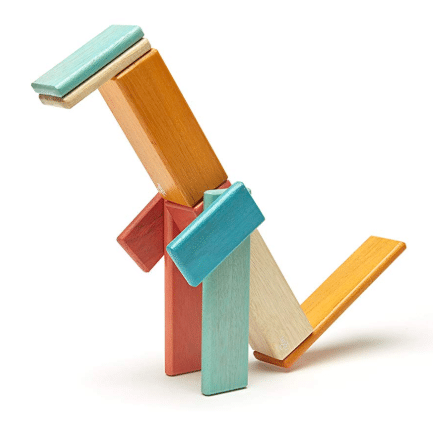 My parents have a set of these at their house, and it's always the first thing the grandkids of all ages go for. Watch out for choke-able parts if you have a baby. But if you have a preschooler or older, they are such a cool take on building toys!
Construction Toys
Legos were one of my childhood loves, long before they started marketing to girls. I wanted to play with my three brothers, and we decided one year we would all ask for a large set in the Knight series. I LOVED building my set! Also, I loved playing with my brothers! I loved taking it apart and building it again!
We grew a huge family collection, and we'd play nonstop with our Legos.
We're holding off one more year until my youngest is a little older, but I fully intend to be a Lego family and own a small fortune of these in the coming years!
Nostalgia makes me love these, we had a vintage set when I was a kid and I loved figuring how the wooden logs fit together. I asked my parents to gift my son a set we found on a Black Friday deal years ago. He LOVES pulling out the instructions and building different buildings. It's a different skill than most building toys, and it's so good for fine-motor skills.
Engineering Toys for Kids
If you've seen a toddler get a wooden train set for Christmas, you know the tracks count as a building toy! It only takes one train and a track set for kids to have hours of fun building and engineering.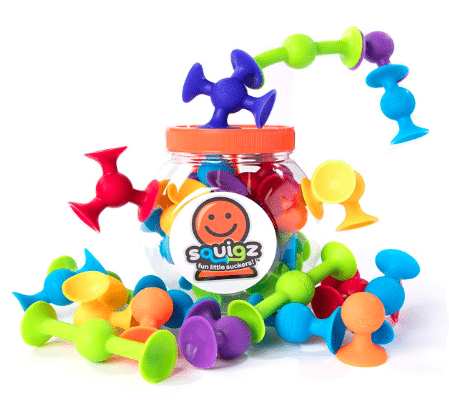 My son earned money and selected these quirky things, and we've loved them so much! They are great for babies through older children. The suction building concept is a fun new take that will take a little engineering brain to design and put together.
Building Toys for Toddlers
For kids learning how to play with brick building toys, these are the ultimate starter set! They work for babies, but they are extra fun for toddlers!
If you're out of the baby phase, a Mega Block set is great for older toddlers ready to manipulate without feeling frustrated by parts that are too small.
These make building easy! They are fun to put together, and small hands will enjoying figuring out the grooves and new builds they can create.
Building Toys for Babies

Soft, great for fine motor skill development, and really cute!
Hello, baby's first problem-solving toy! This innovative design is super highly-rated and loved by parents!
Introduce colors, shapes, and sizes with this fun set! Babies love these, and they are some of the most aesthetically pleasing toys to add to a nursery!
This set was a gift at my baby shower, and I had no idea how much my babies would love them! Safe to play with, easy to stack, and fun for sensory development too!

The Best Building Toys
I've probably given it away, but we are partial to a few. Here are our favorites that I think every family should own!
Classic wooden blocks
Magnatiles
Legos
The rest are all amazing, but those classics will help you build a STEM-based toybox that your kids will love and play with for years!

Like these toy ideas? You may like these posts too:
Toddler Gift Guide: Tried and True Toddler Gifts
Best Toddler Toys They'll Love and Play With
Fun Family Activities: 52 Family Date Ideas to Do This Year
25 Stocking Stuffer Ideas For Toddlers
Get 365 Date Ideas!
We want to help you have the best date nights ever! Grab this FREE printable with 365 date ideas, a date for every day of the year so you never run out of ideas!