Paint By Sticker Books: The Best Mosaic Sticker Book Roundup
A roundup of the best mosaic sticker book options including Paint by Sticker Books and paint by number sticker books.
Wanna know my parenting secret weapon? Sticker books literally made my job possible through the pandemic, helped me get dinner ready most nights, cerating mesmerizing silence during church with young kids, and have saved my sanity more than I should admit! More specifically, paint by sticker books have been a mindful activity that has kept little hand and minds busy for hours on end.
I have a huge post coming rounding up several different types of sticker books, but I realized our most used and loved ones deserved its own post! Mosaic sticker books are a staple in our house, and I'm not kidding when I say we've spent a small fortune trying every type.
Paint by Sticker Books
I first learned about Paint by Sticker Books at Alt Summit in 2016 when I went with a newborn baby. Workman Publishing was a sponsor, and they gave sample Paint by Sticker Adult books just as they launched. I was impressed! I made a mental note that they'd be fun to do as an adult, and perfect for older children.
What are they?
Kids or adults can follow a number code to create a full-color finished picture without any mess. Think of a paint-by-numbers of your childhood with a modern update using a particular sticker in place of paint or markers. Each sticker is used in a set appropriate spaces the user matches mup by number or letter to create gorgeous works of art, or other completed images and graphics. You'll find a page of stickers that look like geometric polygon shapes. They have easy removal and tons of bright colors. Some even come with glitter, and we love the glow-in-the-dark stickers that come with some paint-by-sticker books.
Fast forward six years after first learning about the major update to the paint-by-number artwork, and finding there are so many more options for sticker mosaic books! In fact, the Original creator now has a Paint by Sticker Kids line and is now launching new books every year! There are also several other companies that create amazing mosaic sticker books. As we've learned to use and love these, we've truly tried them all!
Here's a roundup of the best mosaic sticker books for kids, sorted by skill level so you can find the perfect sticker book for your kids (or yourself!).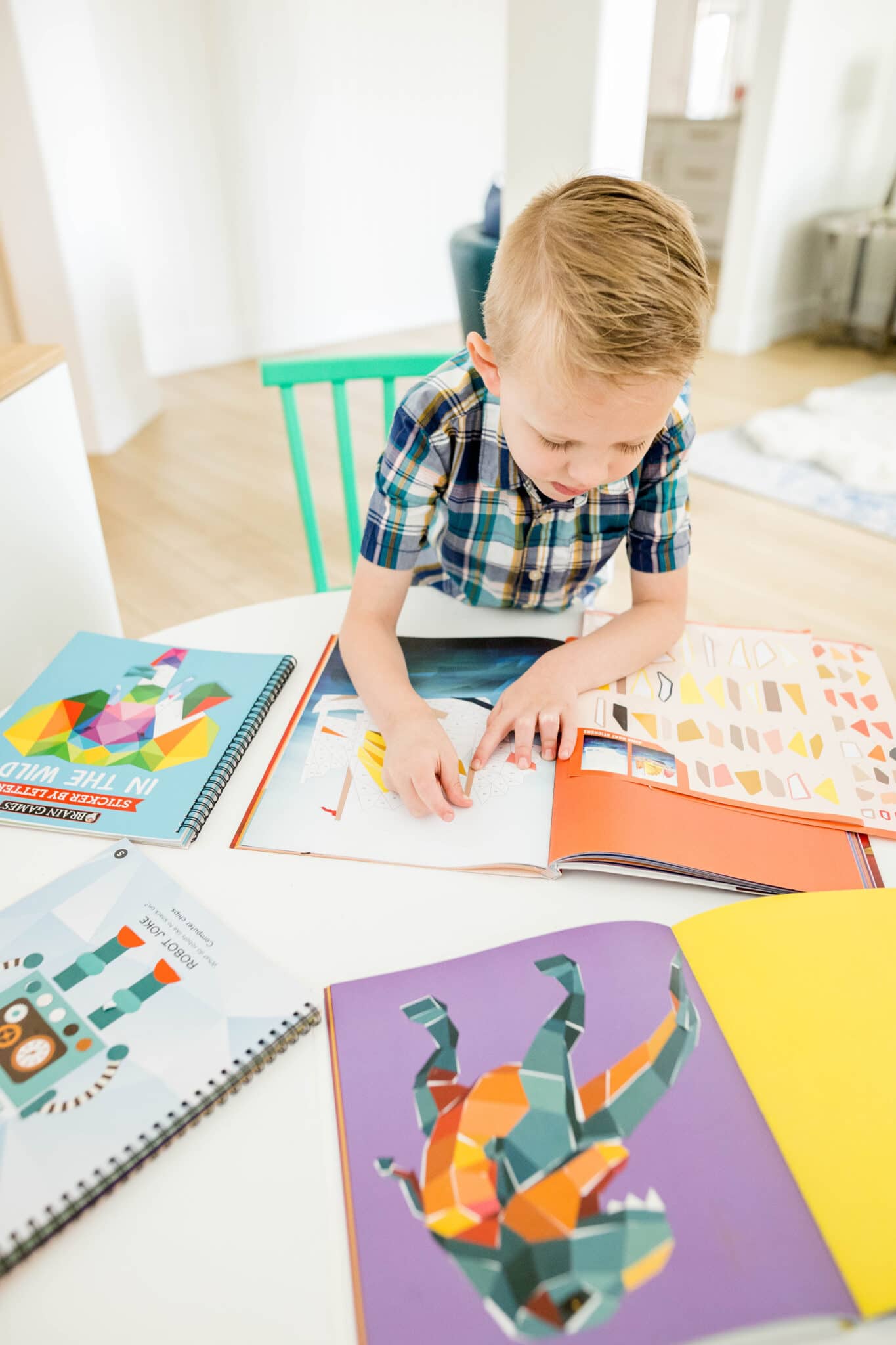 The Best Sticker Art Books
Paint by Sticker Books for Beginners
Sticker Mosaic Books: Sticker by Number Books for Kids Intermediate Level
Sticker Mosaic Books for preschoolers to early elementary-aged kids. If they know at least most of their numbers and can match shapes, this roundup of books is perfect for them!

These are great for those ready to move beyond beginner books.
Brain Games Sticker by Letter books are excellent for taking beginners to the next level. This one is bright, fun, and the mosaic tiles are big enough for little hands.
We've tried all three of these books and love this deal for 3 in 1!
For ocean-loving kids, this book is a great way to help them learn to match up the puzzle mosaic pieces.
These Melissa and Doug sticker mosaic books are so affordable! They also have larger stickers than many brands.
Sticker shapes are spaced out in the pictures in this book. It's a great to learn to match shapes with smaller stickers!
If you have a kid still working on numbers or letters, this is a great option! The shapes are varied enough that it's easy to place by shape. But the Brain Games Sticker by Number books are all a great transitional book!
Paint By Sticker Kids
The original Paint by Sticker books by Workman Publishing took the world by storm with this concept. Many others followed with their own versions.

But the Paint by Sticker Kids books are all truly top-notch with so many great options!
This was one of the first, and it's often the lowest-priced book to get kids started.
The Orignal has the most variety of pictures and colors. It's also usually a good deal!
This is the newest release and one we preordered! My space-loving child couldn't get his hands on this one fast enough! The glow-in-the-dark stickers are just so fun!
The sea version Paint by Sticker Kids has darling ocean sticker mosaics to complete. They are perfect for ocean-loving kids!
I bought a stack of these on a great Amazon sale, and instantly worried maybe they'd feel too girly for my dinosaur-loving son. Boy was I wrong! There are dragons, wizards, castles, and of course, unicorn and princess pages to complete.

There's glitter in several Paint by Sticker Magic which makes them extra fun! Boys and girls will appreciate this fun book!
Speaking of fun glitter books, the seasonal Christmas book has enough sparkle to add a little extra magic.

We love this during the holidays, but we also do a Christmas in July day and bust one out too. It's a hit year-round!
Of course, I have to include my favorite holiday in the roundup! These Halloween sticker books are so fun for the fall! We love the glow-in-the-dark element that makes them feel extra special!
My dinosaur-loving child couldn't put this one down! The pictures are so fantastic, and hello easy STEM activity!
Talk about making bugs cute! We love the Paint by Sticker Kids Beautiful Bugs book in the spring and summertime.
I love that the magic book was so popular they made a second version!
Brain Games Sticker by Number
Sticker Art Books for Seasoned Kids and Adults
If you're looking for a Paint by Sticker Adult book, they're a great option for more than just adults! Most kids really get the matching skills down with the kid books and are ready to move up. These make great books for advanced kids, teens, and adults who love a great anxiety-reducing activity! Puzzle fans will gain growing satisfication with these more challenging options!
We hope these help you find the pleasure of peeling off a sticker and having a mindfully good time creating a dazzling image while enjoying this compelling activity! Colorers of all ages truly love the framing and creating with this fun book concept! And did I mention zero cleanup time?
I hope your family finds their inner artist, and become puzzle fans completing pictures with stickers and a template the same way ours have! And may you also find time to get a few things done while your kids enjoy some screen-free quiet time fun!
photos: Chrissy Blake
Like this Sticker By Number Books? You may like these posts too:
Activities for Kids at Home (Quiet Time Activities so You Can Get Some Work Done!)
Halloween Activity Book Roundup
52 Family Date Ideas: Fun Activities for Families
Sticker Book Deals
Get 365 Date Ideas!
We want to help you have the best date nights ever! Grab this FREE printable with 365 date ideas, a date for every day of the year so you never run out of ideas!