Couples Photography: Tips For Excellent Couple Photos
Couples Photography is such a great way to capture love and a relationship! Whether it's for engagements, an anniversary, or just for fun, here are tried and true tips for excellent couple photos.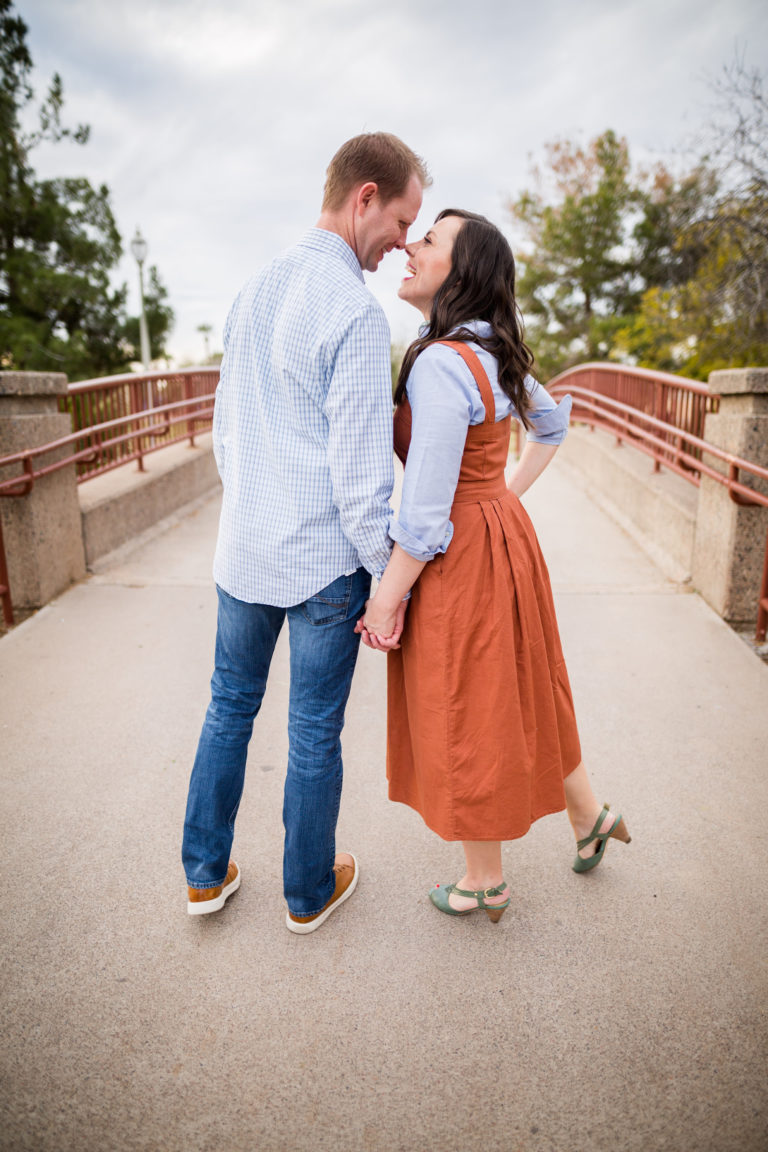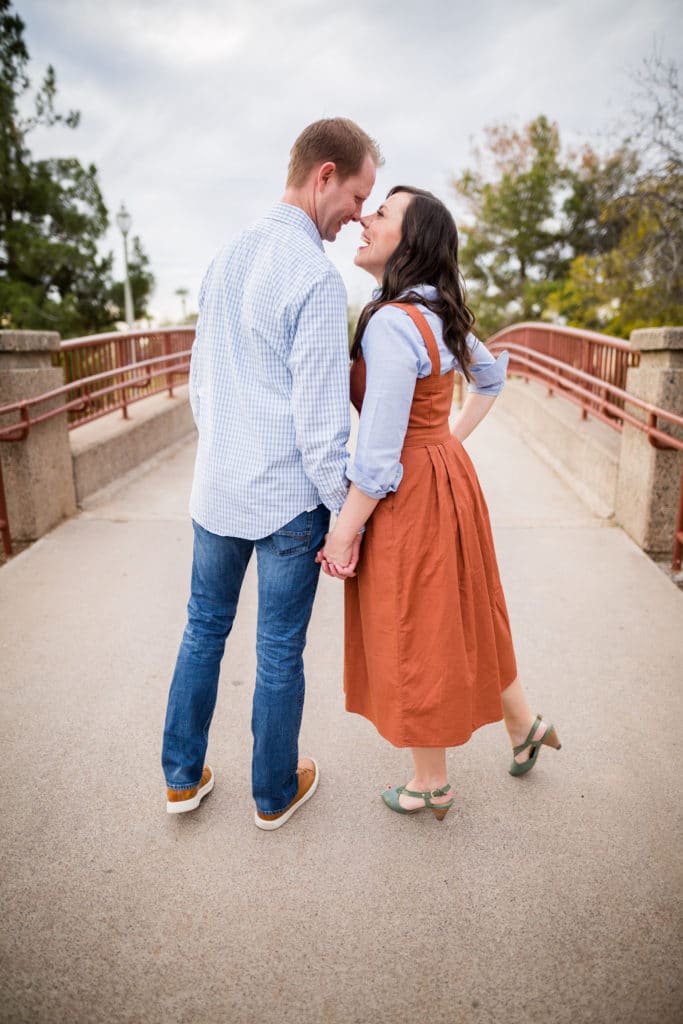 We've been doing this date night project and blogging gig for close to a decade now- whoa! That means there's been at least one couple's photography moment for us every week. We do a big mix of hiring professional couple's photographers, using a tripod and taking a couple's photography shoot ourselves, snapping casual candid phone pictures, or asking random people to snapshots.
Needless to say, we've learned A LOT about couple's photography over the years and thought we'd share some of our best tips to getting amazing couple pictures.
Tips for Amazing Couple Pictures
Hire A Couples Photographer You Feel Comfortable With

We've worked with a lot of amazing photographers, and the biggest thing we've learned is to hire someone you feel comfortable around. We've had about four photographers take the bulk of our couples pics and family pictures over the years. All were friends before photographers in our book! And it's made a huge difference! Chrissy Blake can make us all feel comfortable and smile no matter how pregnant I am or grumpy a toddler is. But as a couple, we feel so comfortable just hanging out with her that she gets these very real moments.
Prior to Chrissy we hired a friend name Anne Marie, who isn't currently doing sessions. But we cheris the time she lived in AZ and took our annual anniversary pictures!


Brenda Eden has taken some mushy photos of us too, and she gets the best moments! She's family, and getting back into photos after a little break. She can crack inside jokes, ask us about our kids, and also plan family outings while she captures us. It's so comfortable and so easy to capture the real us!
I could go on with all the others, but the point being, you're going to get real smiles and real feelings if there's someone you both feel at ease with!

Choose Pretty Lighting

Golden hour happens the hour before sunset, and it's most photographers favorite time to shoot! Your skin looks amazing, the colors of your clothes pop, and the stars in your eyes for each other shine brighter in great lighting.
The literal crack of dawn is equally gorgeous and you can often go to locations without other people showing up. It's a great time to get pretty lighting and avoid crowds.


Dress Up, But Dress Comfortably

I've had shoots where my outfit made it hard to be super active. We've had times we've worn nice jackets and it's so hot we were just uncomfortable. Then again, we've taken more professional pictures in activewear on date nights than your average couple! I've learned we love the photos we're a little more dressed up, but free to move around and be ourselves.

Couples Photography: Tips for Better Pictures

Coordinate Without Twinning

You don't want your clothes to make you look like you're going to Sadie Hawkins. So try not to wear the exact same color or style. Then again, some colors clash. I've seen several pictures where the guy refuses to dress nice and the girl insists on a more formal dress. It just doesn't quite work. Make sure you coordinate your looks and choose colors and styles that compliment.

Add Some Texture!

It never ceases to amaze me how a fun pattern, an added layer, or even a blanket with texture make photos pop. The contrast brings the eye back to the couple. It's a beautiful and easy trick for better couple's pictures. Get creative and add some layers.

Schedule Couple Shots During Family Pictures

I'm well aware most people don't take as many couple's pictures as we do. In fact, I'd venture to say after engagements few couples do. However, when couples do, these are some cherished items!
If you do professional pictures once a year, ask your photographer to do a few of just the two of you. As much as we love our candids and selfies, there's something about someone else seeing your relationship and documenting it that is priceless! No matter how much I learn and grow as a photographer, I'll always hire others for just this reason.

Schedule a Formal Photo Shoot

I don't mean formal like ball gowns, however, I've had friends do those for big anniversaries and they are amazing. I mean book a shoot for just the two of you, long after engagements or wedding days. You'll cherish the time together. It makes a really fun date, we love doing anniversary pictures together each year.
Also, you'll want to remember what you looked like in the thick of child-bearing years, during a certain decade, etc. Don't let aging, weight, or other concerns stop you! Even if it's a quick mini-session, book one just for fun!

photo: Lydia Hill

Choose a Fun Location

There's something about going somewhere new or somewhere extra fun to make you shine brighter! I love engagement shoots because couples often get really adventurous. They jump in the water, they climb to cool peaks and heights, and they aren't afraid to get a little messy.
The best couple's shoots prove you still love each other, and you're still up for a little adventure in photos! Find a fun or beautiful place, and get a little adventurous.

Let Your Photographer Be Your Guide

We can try to pose ourselves to the best of our abilities, but it just never comes out the same as a photographer telling us what to do. Oh the awkward hand gestures photographers have saved!
Trust the professional. Ask them to pose you. They will make you look amazing!

Laugh

You actually look better in pictures and it brings out all the natural smiles when you laugh. If your photographer isn't cracking you up (thank you to all of ours who usually do), make each other laugh. We have a set of inside jokes we share. Sometimes one of us fake laughs to get the other really laughing. It doesn't matter how it starts, but I promise you'll bring out the chemistry and get the best couples pictures if you laugh through them!
Most of all, be yourselves. Remember your love is worth celebrating! Think of your children and grandchildren who will cherish these pictures of you together someday. And give yourselves permission to take some awesome couple photos the next chance you get!
Like this photography for couples post? You may like these posts too:
Date Night Classes: The Best Resource for Classes Perfect for Date Night