Date Night Classes: The Best Resource for Classes Perfect for Date Night
An amazing resource for date night classes! The perfect way to take cooking classes, painting classes, and thousands more for a date night in!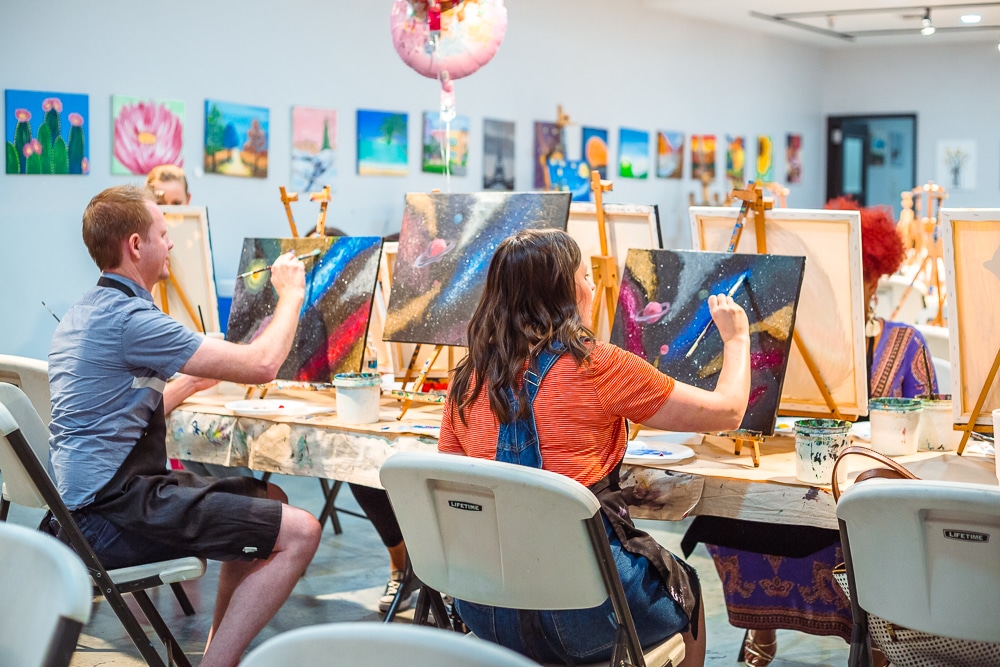 We have had a lot of classes that have involved learning in our many years of dating each other. Our gourmet cooking classes, paint night date night classes, and axe-throwing lessons have been among some of our favorite dates!
Take a Class for Date Night
There's something about learning something together. Plus, those new experiences trigger a rush of dopamine, which is the chemical that makes you feel happy and in love. That's why we're such enormous advocates for always keeping date night fresh with new experiences. Learning a new skill fits the bill!
We have found the most amazing resource that could provide us with date night classes for years!
Have you heard of Bluprint? It's about the coolest platform that brings professional experts right to you with on-demand classes. We're talking a huge pool of creatives ready to teach how to do something/how to make something. They want to help you be creative in any medium you want to learn!
There are thousands of classes, and they range from any type of professional cooking or baking class to woodworking (and building furniture tutorials), to painting and art classes. I mean choose something you'd like to learn, and there's a good change Bluprint has a class for it!
Why do we love it?
Aside from the variety, the price is so reasonable! We've spent $200 for cooking classes. Most painting classes for two will run $50-$100. Clearly, they can add up fast! That's why Bluprint classes are so amazing!
Most Bluprint classes run about $40 (but some go up to $70), which is less than any class for two we've ever done for a date night. But right now they're doing a 50% off classes, so a single class will only cost under $20.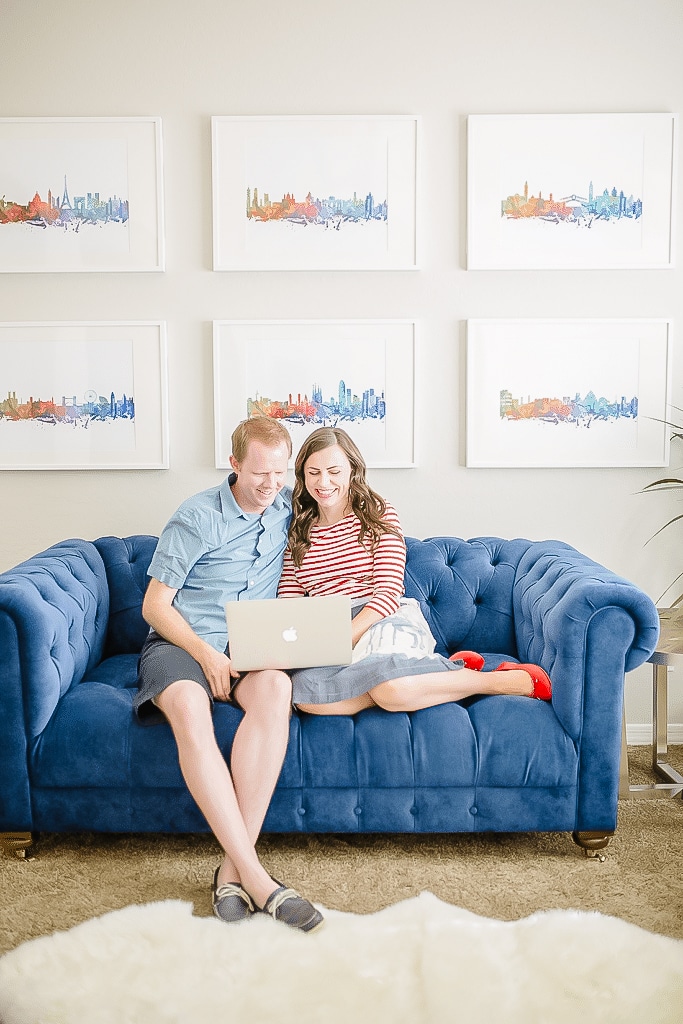 They also do an annual subscription that's SUPER affordable. If you plan to take even two date night classes (or personal classes), an annual subscription is paid for. It's also honoring the 50% off price right now at $39.99. But even full price, $79.99 is super reasonable for unlimited classes! It's something you can easily use once a month for a date night classes. And truly, there are some really cool things you can learn!
Not to mention, in honor of most the world staying home, they're doing a handful of free classes you can register for. Free happens to be my favorite price, particularly when it comes to saving up for other date nights! I have no idea how long these freebie offers will last, so jump on it now and be sure to register if a free class catches your eye!
But even if you choose a paid class, it truly is such an amazing deal you don't want to miss!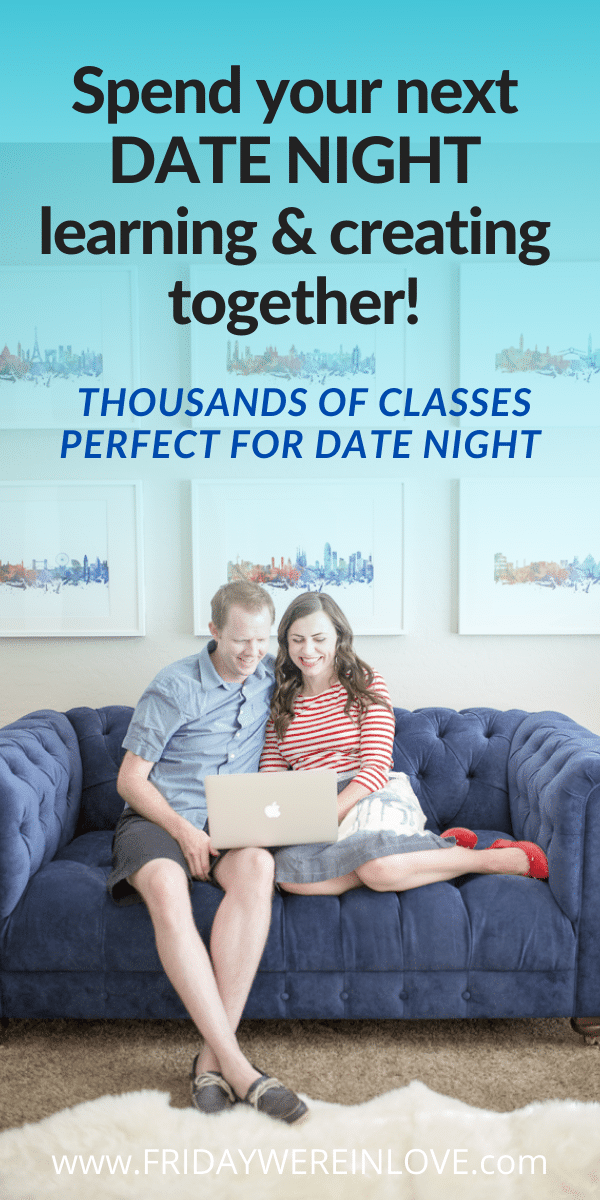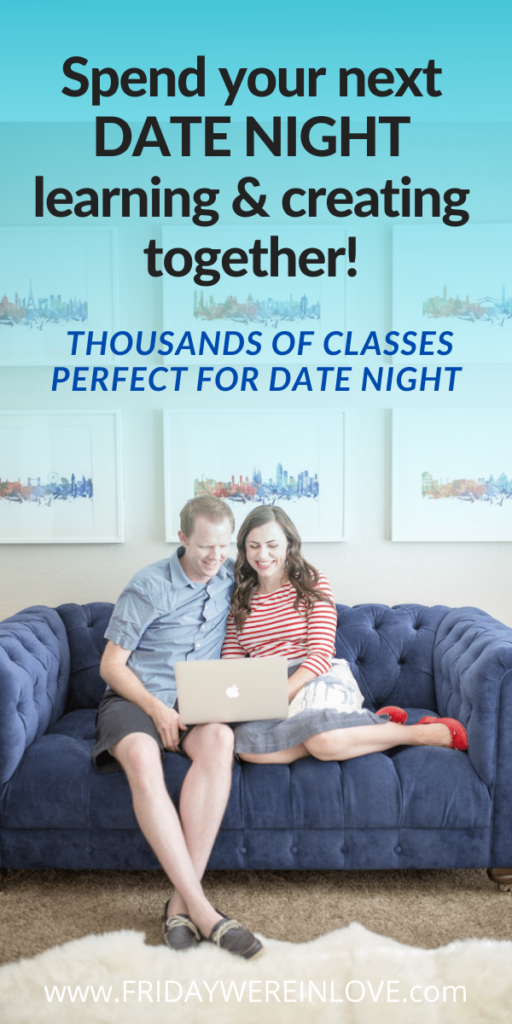 Sample Date Night Classes To Do Together
Ready to try your French baking skills and make macaroons? The date night cooking class options alone are worth it to me! What a great way to learn some culinary skills Want to refinish cabinets? Looking for a painting class to create your own self-portraits or learn water coloring? Maybe a photography class is in your future? There truly are so many cool things that you can do for a date night. And, I love that you can do them for a date night at home after the kids go to bed! Friends in more rural areas without as many resources can enjoy these professional classes too. It really is such a cool resource!
Like these fun date ideas? You may like these posts too:
Date Night Subscription Boxes for Couples Roundup and Review of the Best Date Boxes
Couple's Journal: Reviews, Options, and Why Couple Journaling makes a Great Date
Get 365 Date Ideas!
We want to help you have the best date nights ever! Grab this FREE printable with 365 date ideas, a date for every day of the year so you never run out of ideas!