Seattle Getaway: Anniversary Dinner: Seattle Space Needle Restaurant and Tour
The Seattle Space Needle
I'm so excited to share the quintessential Seattle post with you. We'd heard mixed reviews about the Seattle Space Needle, but knew we needed to go while there just to say we did it. We made a big deal out of going and booked reservations for the Space Needle Restaurant after our tour.
The weather was perfect while we were there, sunny and a 60 degree high, much nicer than our 90's. We threw on sweaters and decided to walk as much as possible. After
Pike Place Market
we opted to walk about a mile over to the Space Needle. It was pretty cool to see it inching closer throughout our walk.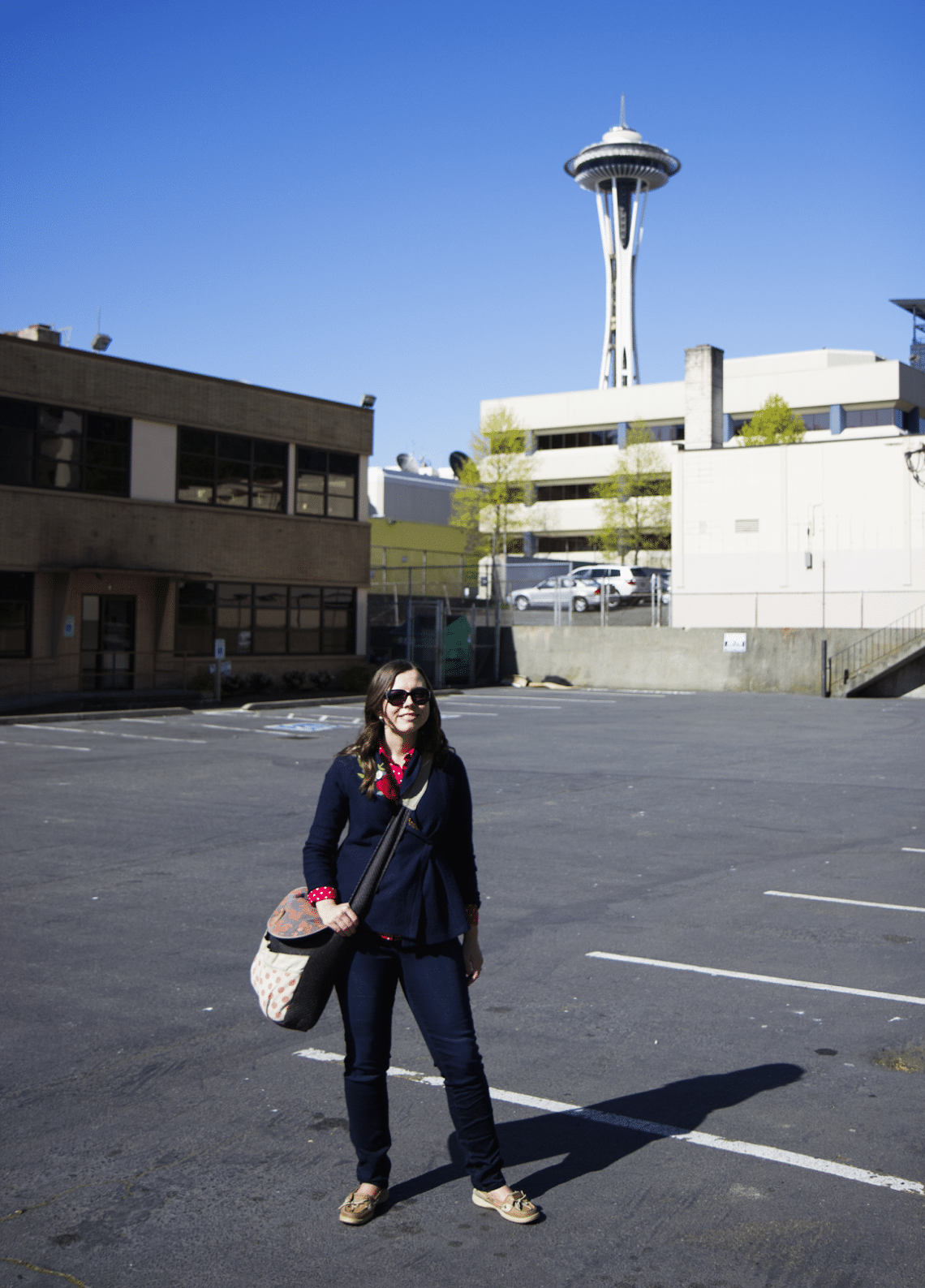 It was build for the World Fair in 1962 to reflect a modern space theme. You can bet the rocket scientist loved every detail involved.
We'd heard from friends that if you go, splurge on dinner in the rotating restaurant. That gives you a free lift and saves about $50. Even though dinner is pricey, the $100 you spend ends up being just a little more than you'd spend on a lift ticket and dinner elsewhere. We lucked out with evening reservations opening up last minute, so we changed our plans and moved them to get a sunset view.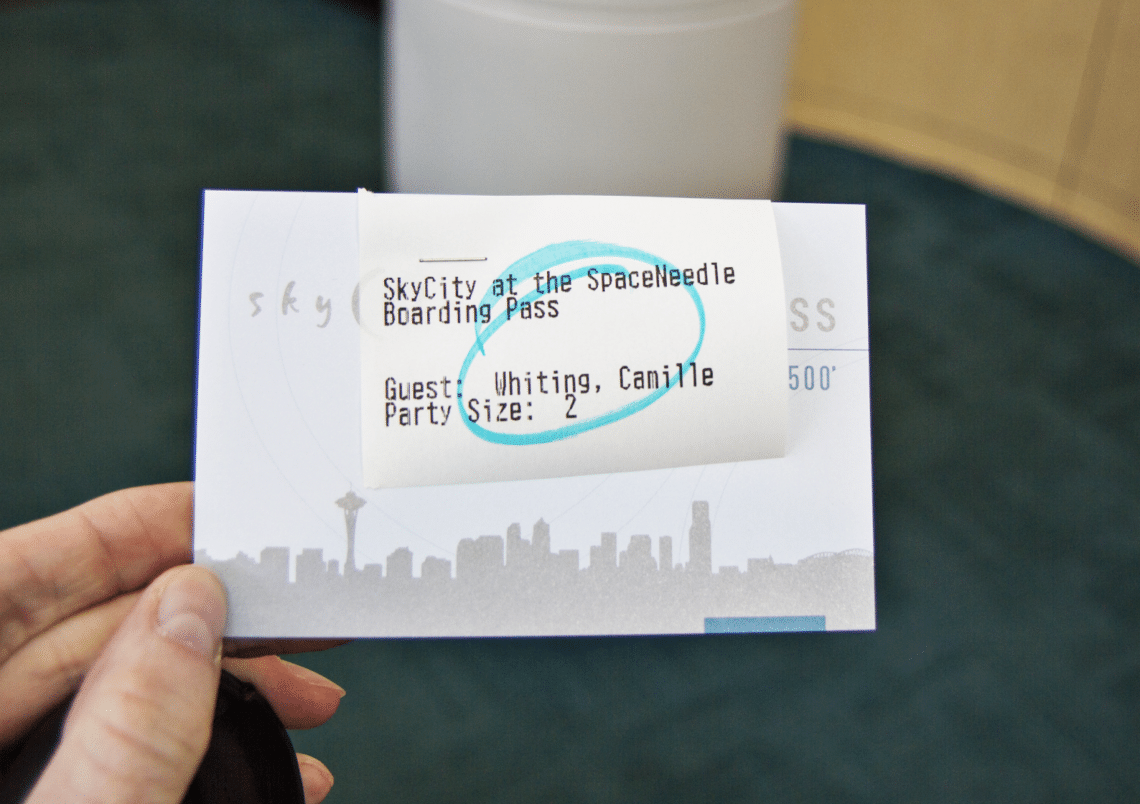 We first went up the elevator and got a 360 view of Seattle. It was beautiful.
My favorite moment, snapping this shot of the observation deck to have this kid turn to me and say very enthusiastically, "WOW! I can LITERALLY see into people's houses!" Cute, creepy, and made me laugh pretty hard.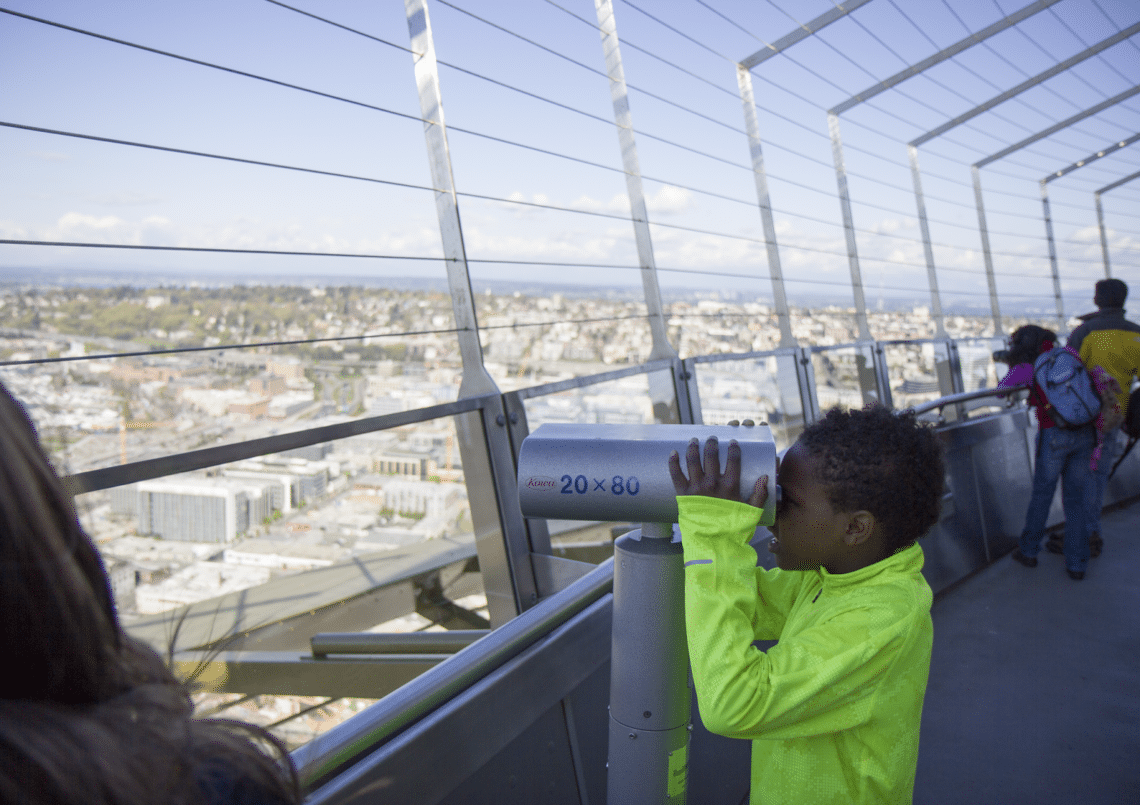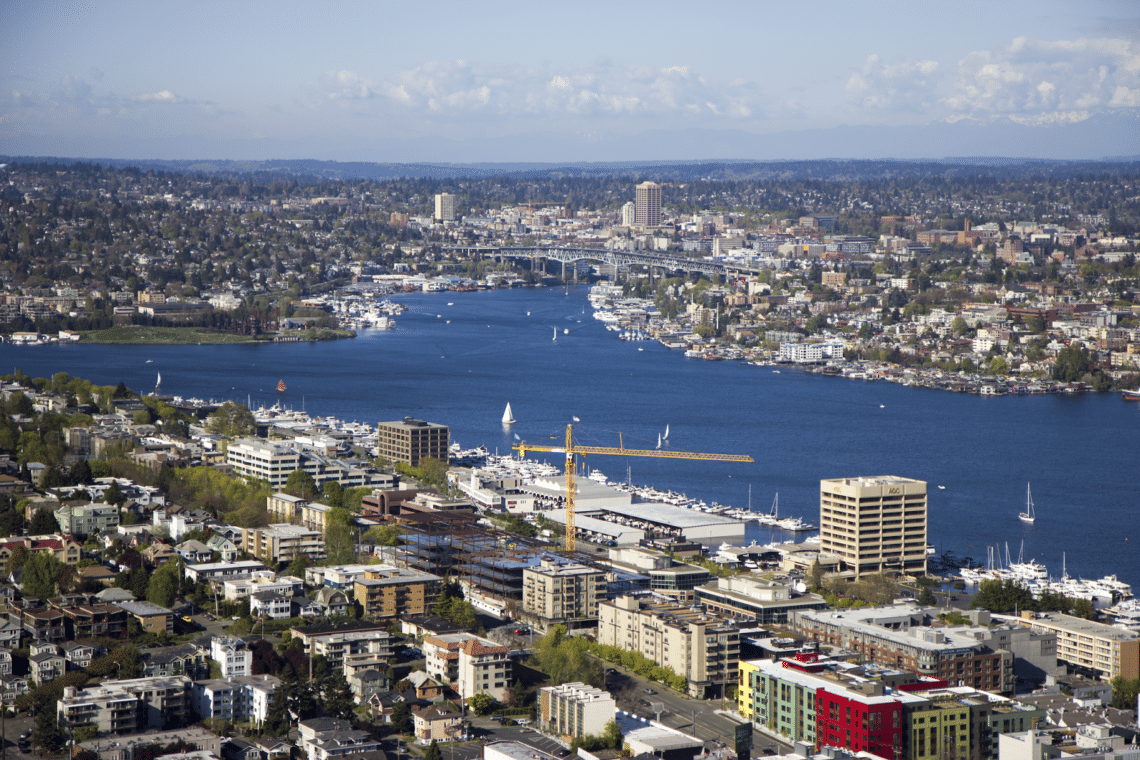 I loved this view in particular. You always have to take the pic with the scenery when traveling to prove you were actually there.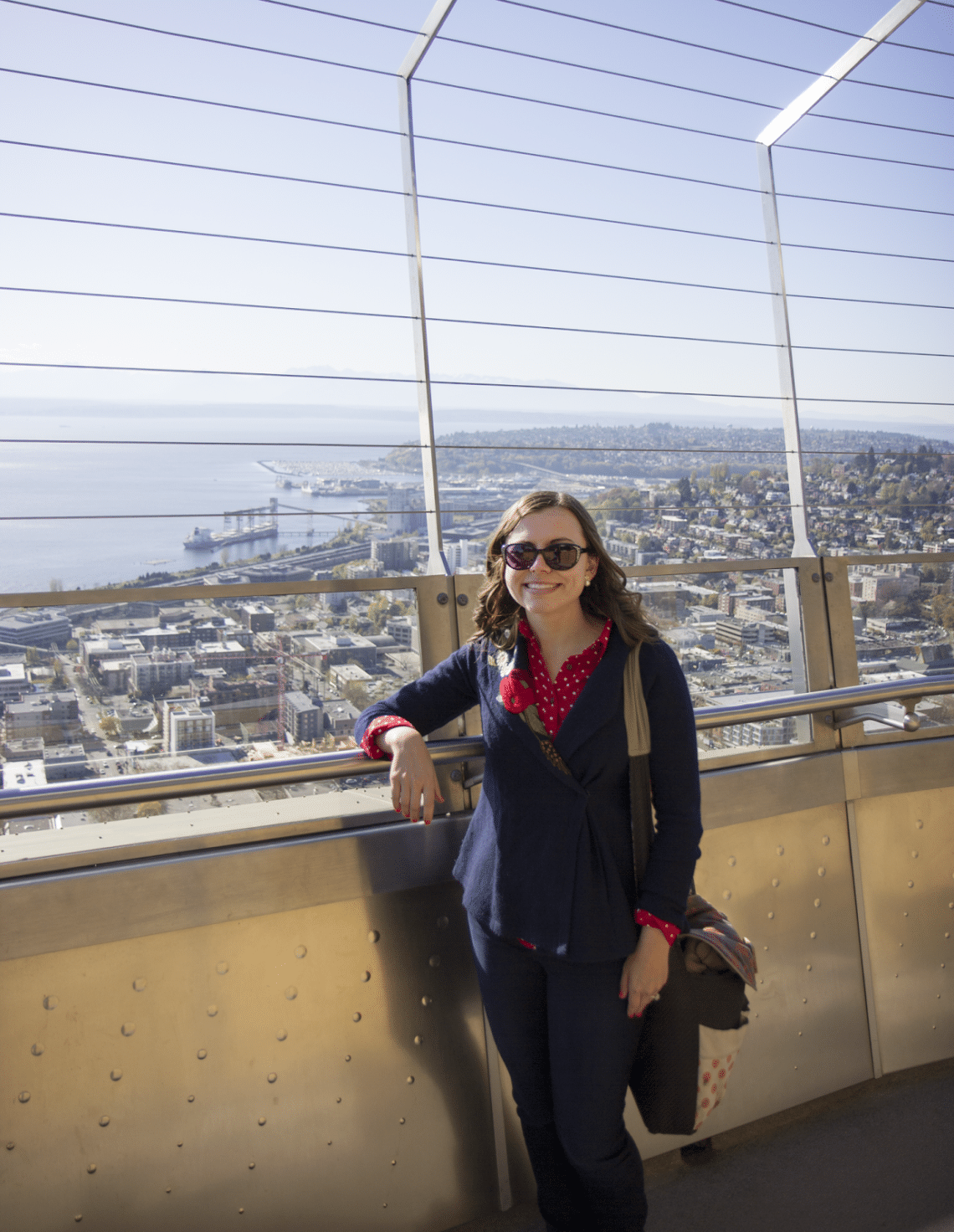 Space Needle Restaurant Dining Experience
I love fish, Jacob not so much, but I'll admit I'm kind of picky about where it comes from and how fresh it is. I was hankering for some halibut the whole trip, and luckily, the Sky City restaurant did not let me down.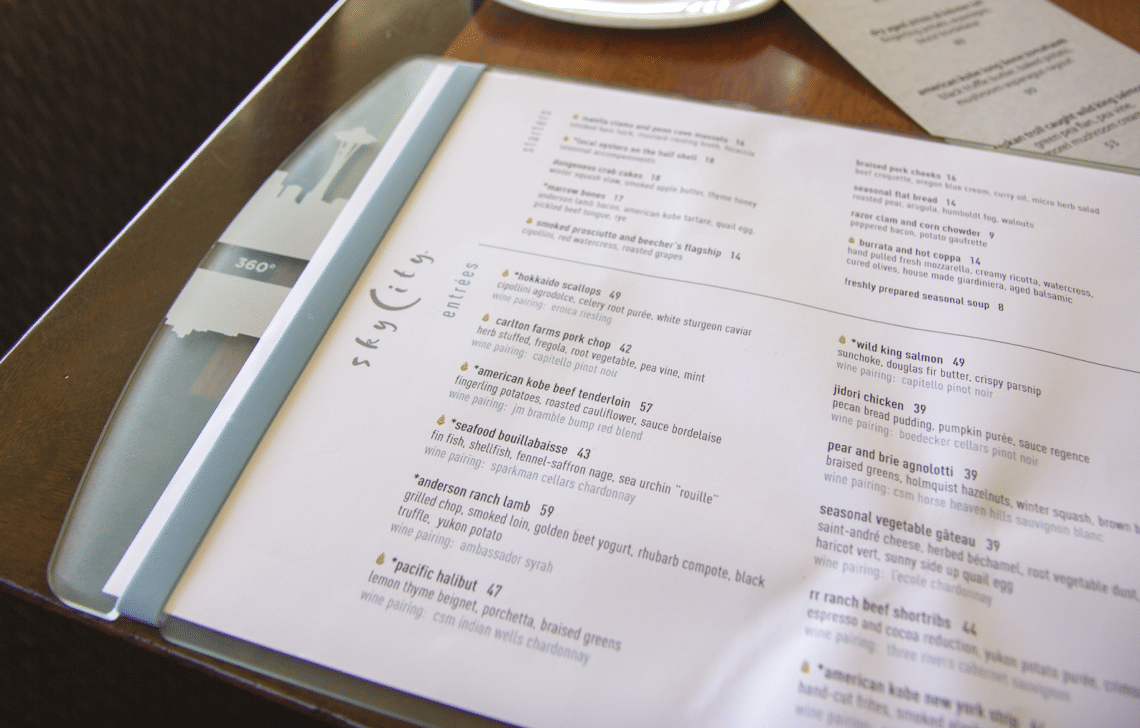 We started with some delicious bread, olive and rosemary, delicious!
And we tried to get in some greens too. We're definitely salad fans.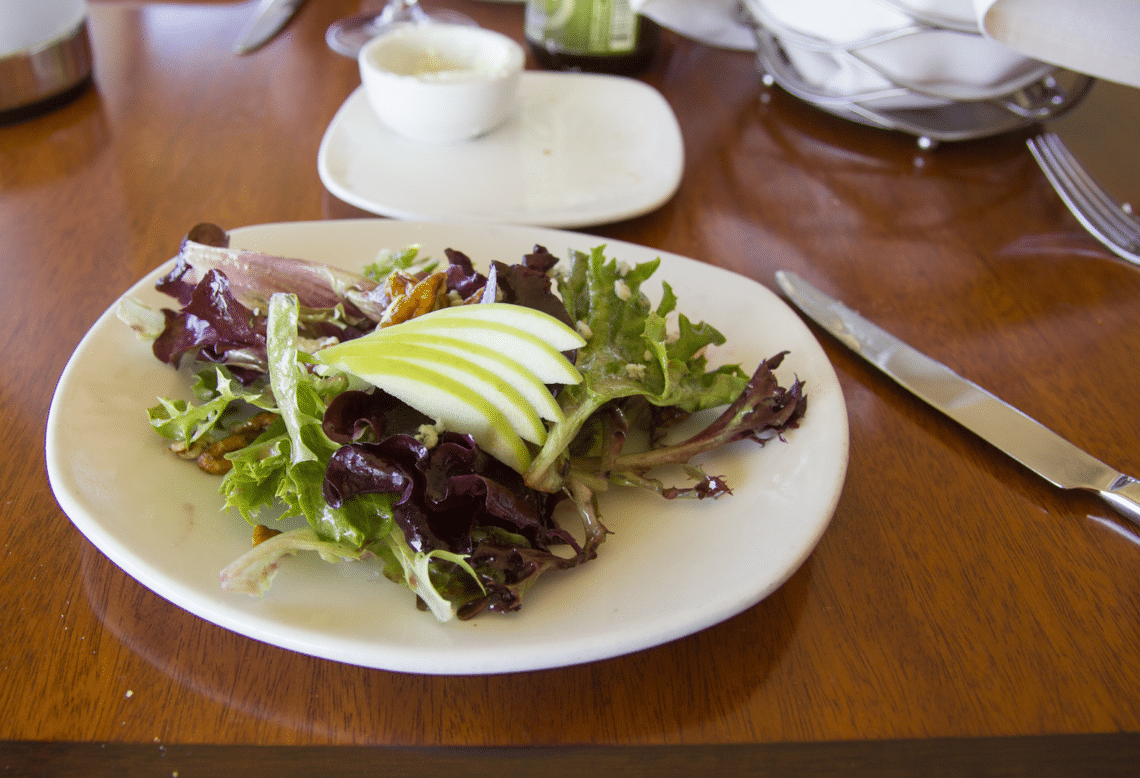 And then we practiced our 80's pensive thinking shots. Just kidding, we really were looking out into the city and just happened to snap these.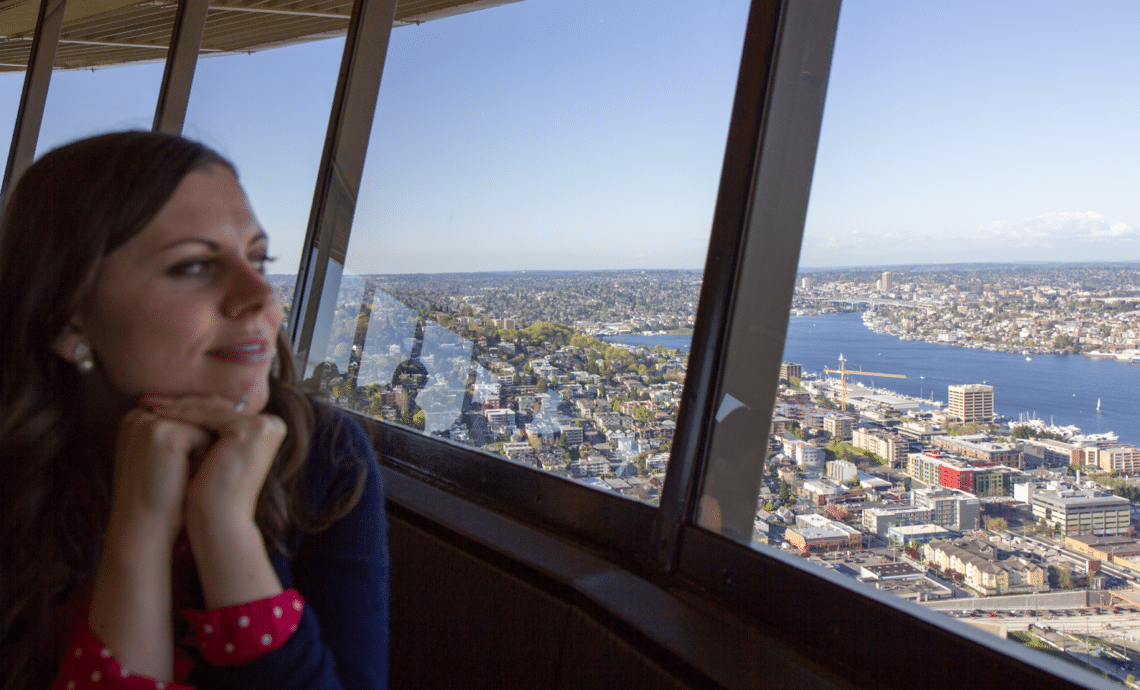 Space Needle Restaurant
And then my dreams came true, and some of the best halibut of my life appeared.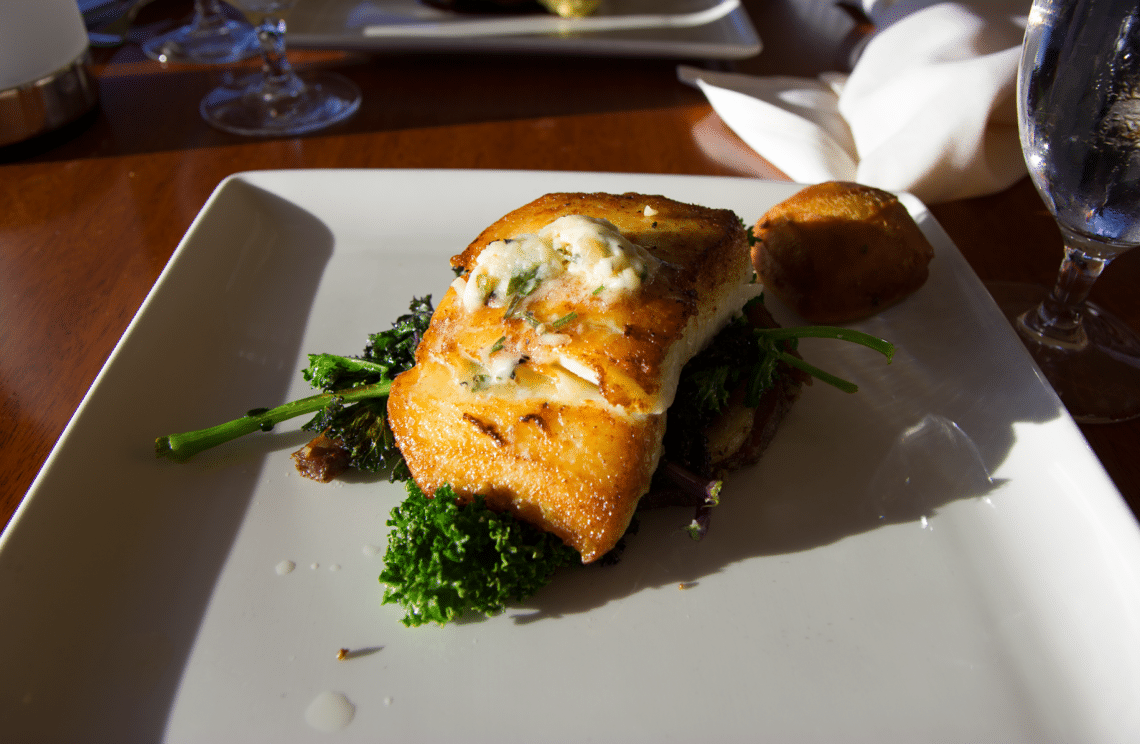 Jacob was not sad about his steak either. It was excellent!
We started to watch the sun set, and the city was even more beautiful with the soft light.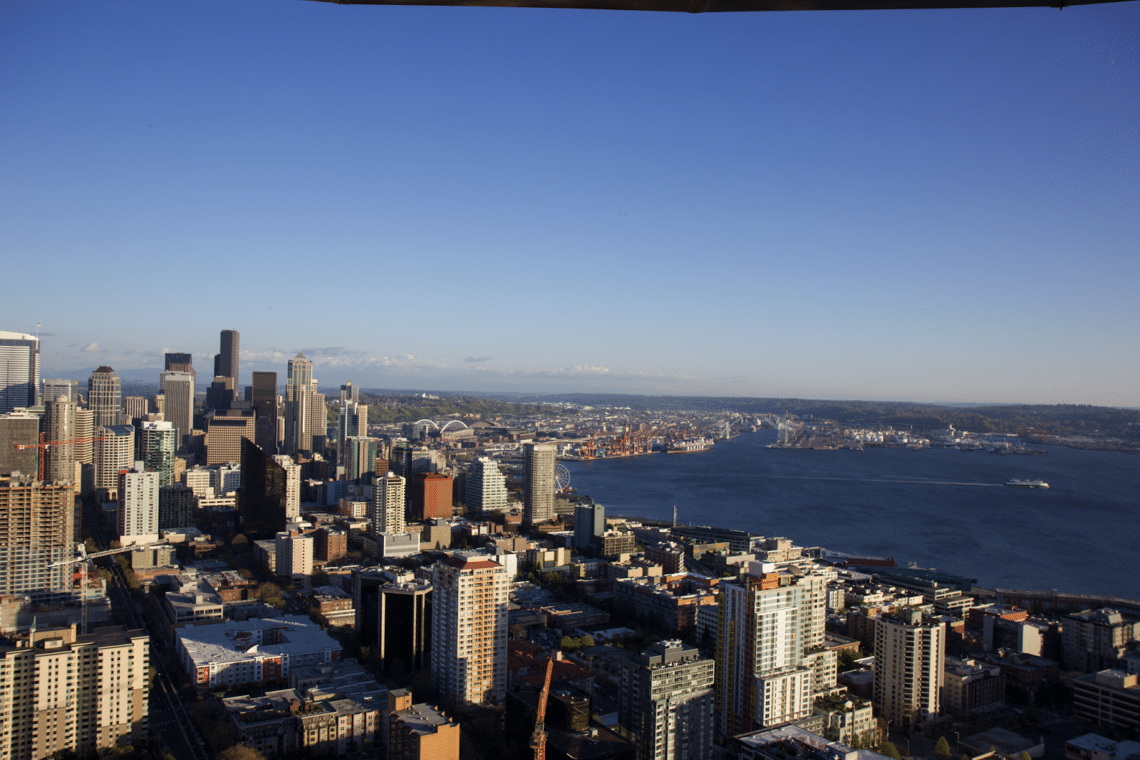 Jacob decided "The Orbiter" sounded like the right choice for dessert. He was right! There were all kinds of ew's and ah's when the lunar orbiter ice cream dessert came out.
It was probably the coolest location we've ever dined at, we both kept saying that.
Rotating restaurants with a view are seriously amazing.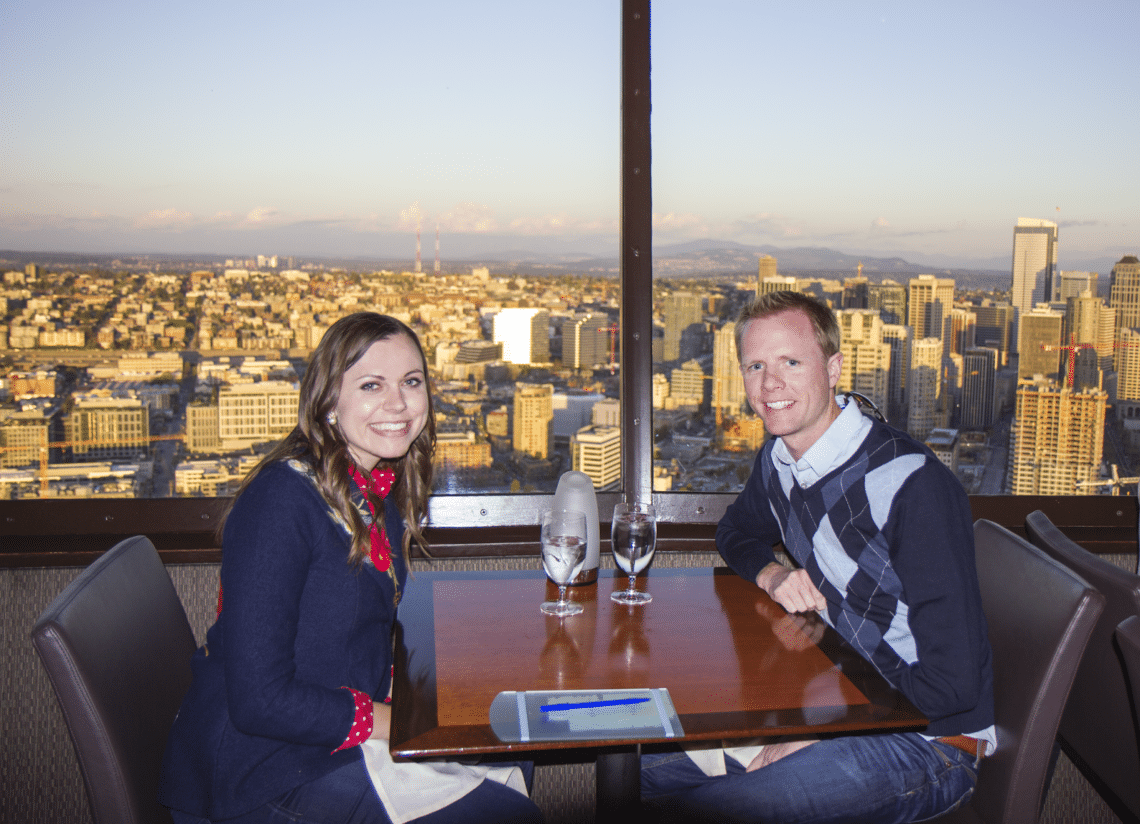 Particularly when they take a shot of you and make you feel much better about your own photography skills. But hey, free shot, and no one is blinking, so winning.
We left the restaurant to watch the sun officially set out on the observation deck.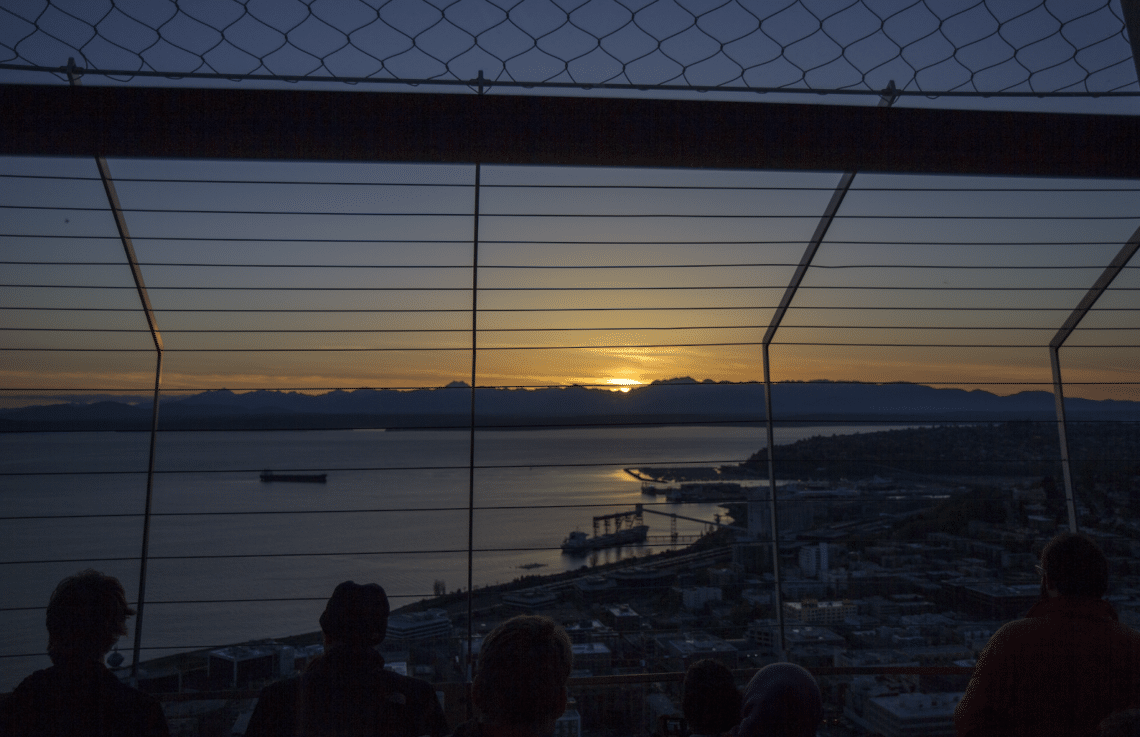 And couldn't stop talking about how beautiful big cities are lit up at night. And how much we enjoy this anniversary re-do- we couldn't have asked for a better night!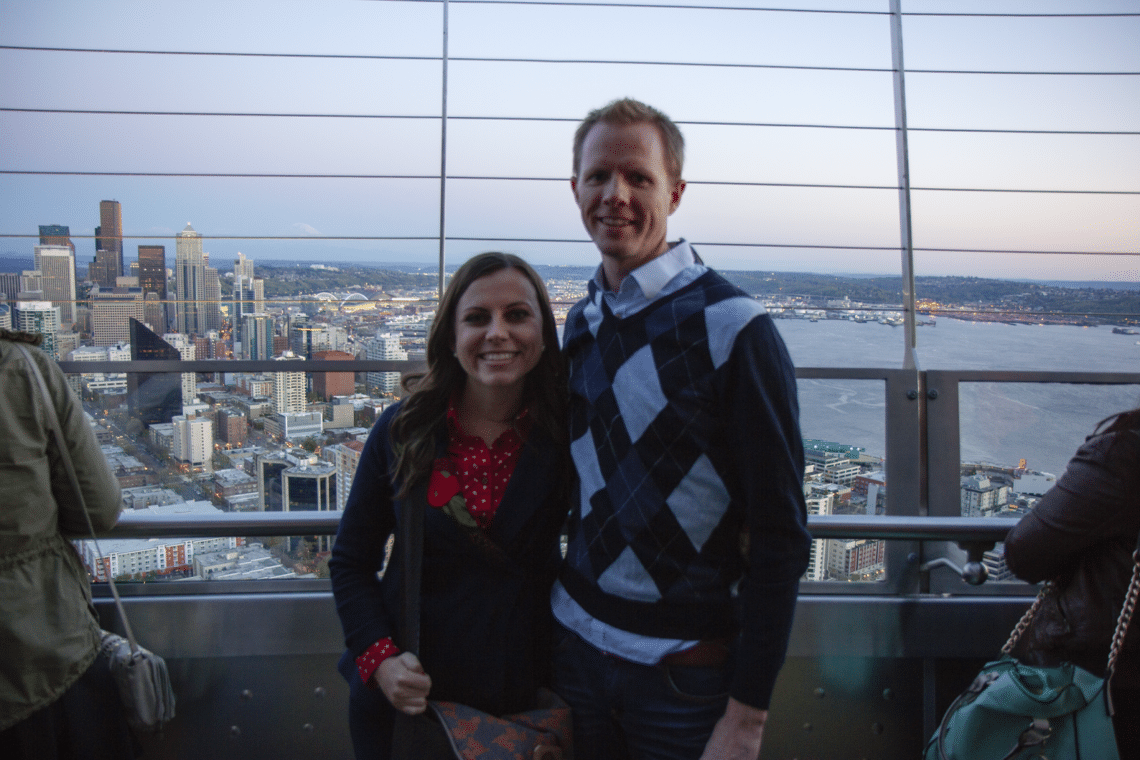 Like this Seattle Date Idea? You may love these:
Seattle Getaway: Via Tribunali
Seattle Getaway: Pike Place Market
Seattle Getaway: Argosy Cruises
Get 365 Date Ideas!
We want to help you have the best date nights ever! Grab this FREE printable with 365 date ideas, a date for every day of the year so you never run out of ideas!