Ready to make some memories and connect with fun kids activities? We have you covered with 75 activities for kids guaranteed to bring the fun!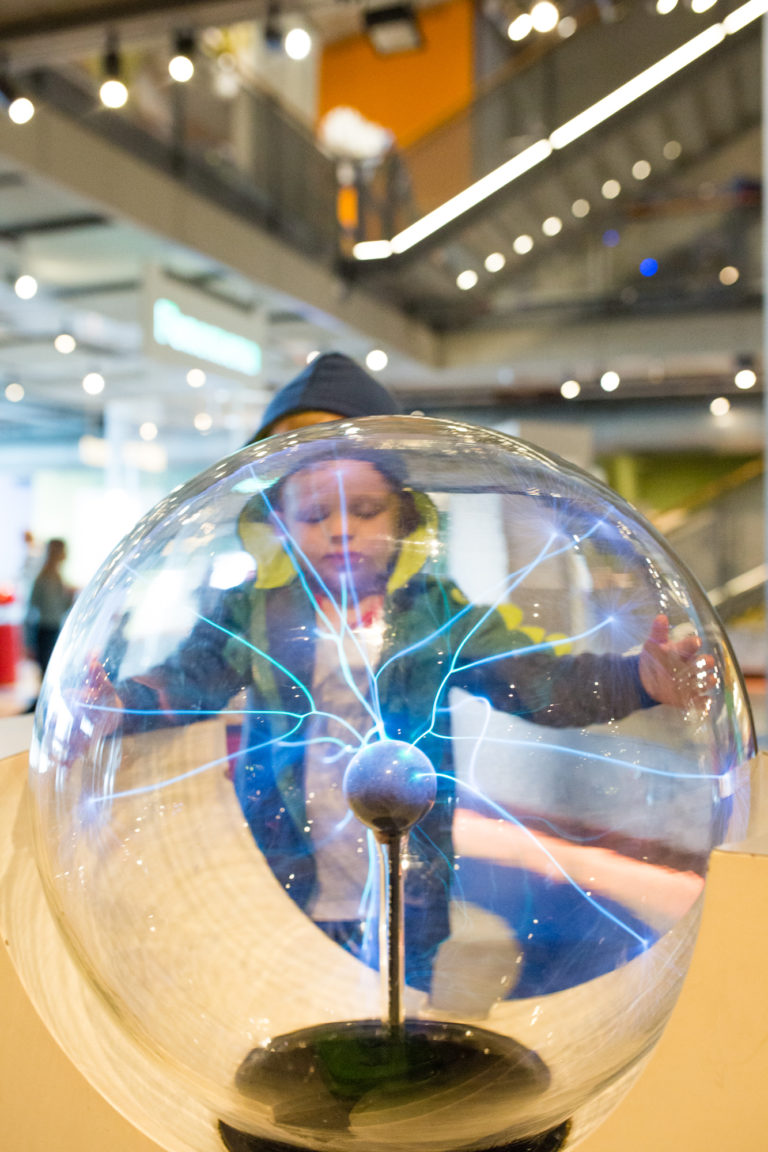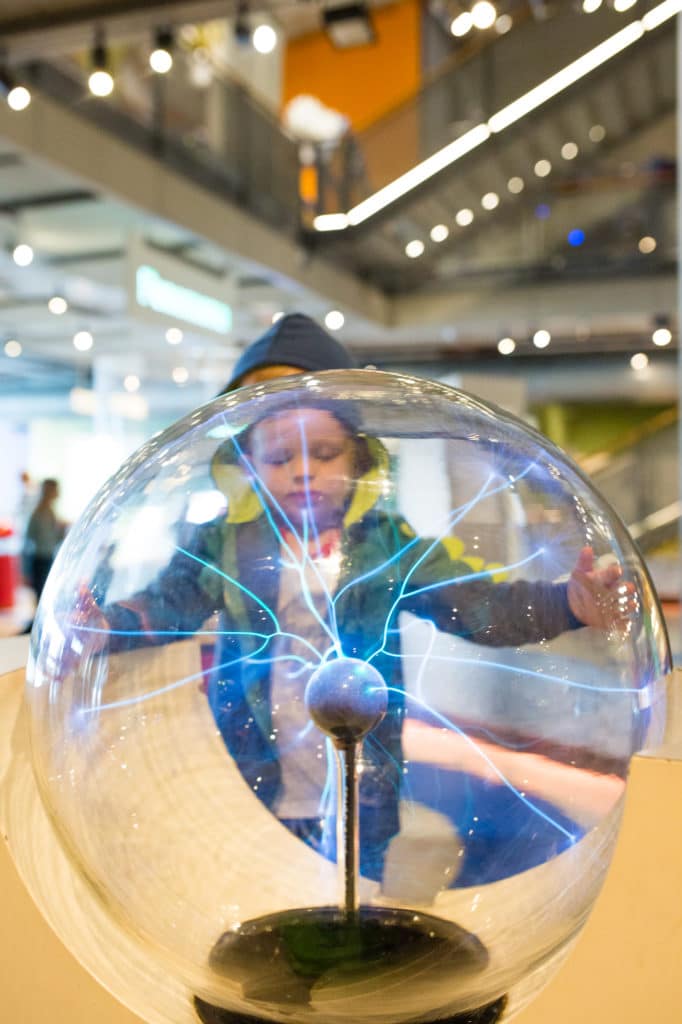 74 Fun Kids Activities for Families
Visit a children's museum.
You'll find interactive exhibits and fun activities designed for young children. But plenty of older family members have been known to have plenty of fun at a children's museum too!
Spend a day at the aquarium.
There are small aquariums, places you'll see the largest collection of sharks, and even an adventure aquarium with activities and themes: and everything in-between! It's the perfect place for an aquarium family date to learn about a world you likely don't experience in everyday life.
Visit the museum of natural history or the dinosaur museum in your area.
There's something enthralling about learning about prehistoric eras. It's the perfect place to visit on a rainy day. Also, bonus points for incorporating STEM activities in a fun and interactive way.
Do a mirror maze.
These are a fun way to explore dimensions and get some wiggles out! I can also tell you from experience, that they're a great place to go to induce labor the last week of pregnancy. But truly, they're fun for kids of all ages and a great way to spend time on fun kids activities you'll remember!
Go out for ice cream.
This simple classic is always a great time and a great opportunity to talk and connect with your kids.
Visit the state fair.
There are often rides, livestock, petting zoos, and fair entries to view. It's an exciting place in both big cities and small towns!
Plan a day at the science museum/science center.
These are one of the best educational activities to do as a family. There are usually several science experiment demonstrations, hands-on experiences, and even special exhibits.
Also, these exhibits rotate frequently, and each one makes fun kids activities you'll not want to miss! We've seen some of the most interesting things, learned about our country's history, learned about world history, and even seen the Victoria T-rex exhibit!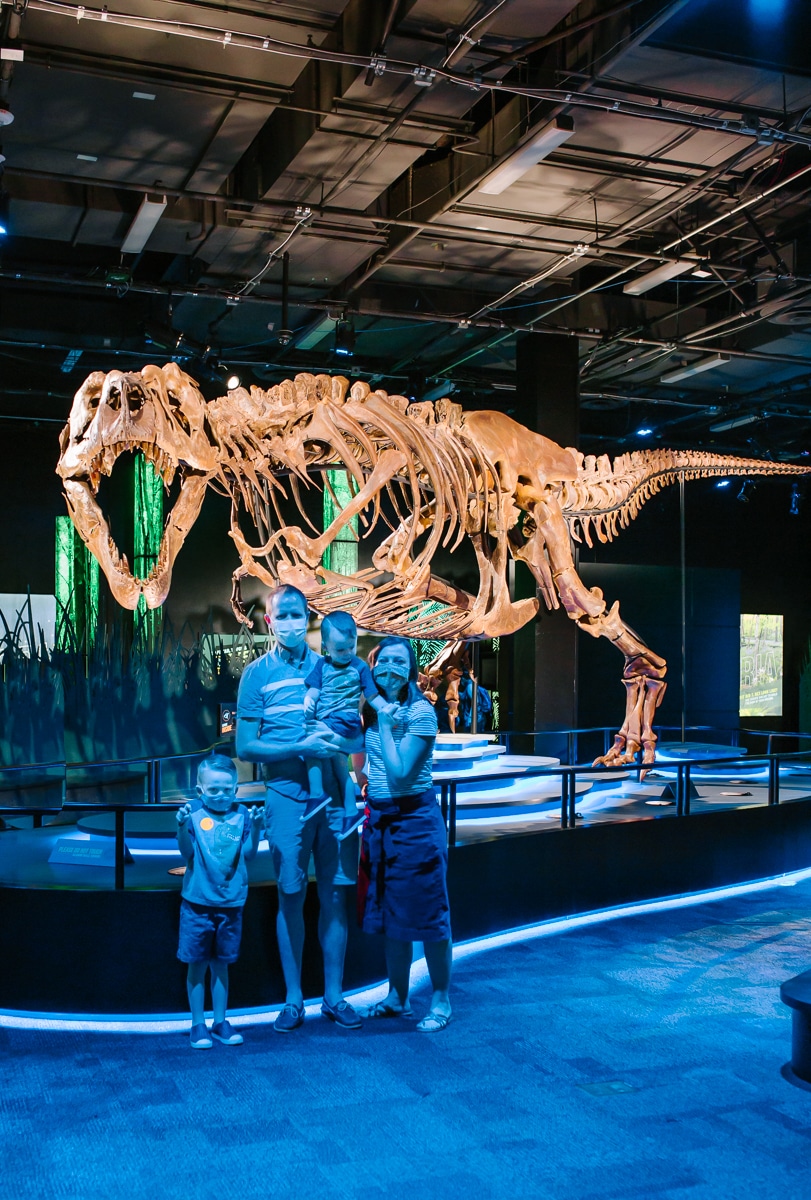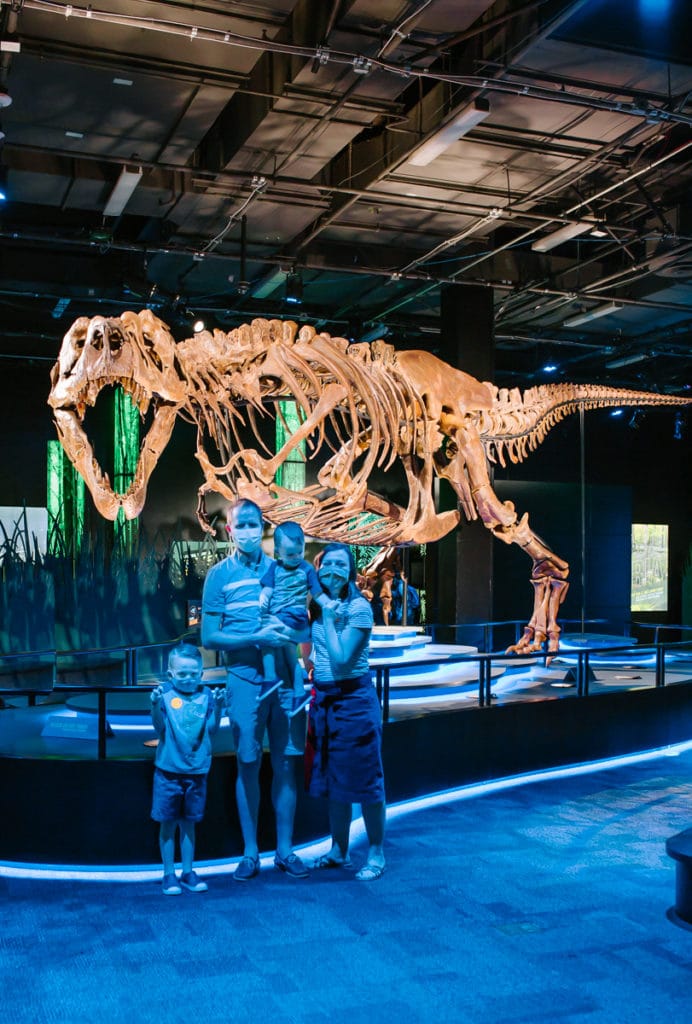 Activities for the Whole Family
Visit amusement parks together.
We'll forever be saving for Disneyland discount tickets. And every time we go to Utah we love visiting the Lagoon theme park. There are so many big amusement parks and small amusement parks to explore together!
Have a water park family date.
We've loved visiting the Great Wolf Lodge, as well as Wet n' Wild Waterparks in both Phoenix and Palm Springs.
Look up special events your local city or town is hosting.
These are almost always designed for kids of all ages, and are usually cheap or free!
Visit a fun center.
They're designed with activities and entertainment to keep the whole family entertained and engaged. My kids beg to go to Jake's Unlimited often!
Book a trip to the zoo.
Whether it's a drive-through zoo activity, seeing zoolights, or a walk the zoo family outing, there's something fun and nostalgic about seeing animals you wouldn't be able to see otherwise.
Go miniature golfing.
Miniature golf courses are set up so you can have a perfect time whether you're an adult or a child. Plus, they are a great real-life place to practice math skills and help kids learn to keep track of numbers and scores.
Go bowling.
Have fun trying to hit the pins! Mini bowling and bumper bowling are both great options even for little kids!
Do some random acts of kindness!
Go make someone else's day with a few kind gestures. If you need ideas, check out our list of random acts of kindness ideas.
Indoor Activities
Indoor Obstacle Course.
Obstacle courses are a fun way to burn energy and play an active game together.
Go to the movie theater and see a movie.
Make sure to say yes to popcorn and candy. It's one of those fun things and small details kids always remember.
Get the wiggles out at an indoor playground.
Kids will have so much fun running around in indoor play areas. You'll have so much fun watching them wear themselves out. Look for one with plenty of big slides, climbing structures, and jump zone areas. and maybe even some ball pits to jump into.
Tour an indoor garden.
See beautiful flower exhibits and modern farming practices at indoor garden exhibits.
Visit a local bakery and let everyone choose a treat.
Have a test taste and learn about different pastries and baked goods during this sweet family outing.
Go roller skating.
It's fun to learn this skill and have this experience as a family. Plus, roller skating is always a good idea when the weather is too hot or too cold to be outside.
Try a new restaurant together.
Find a kid-friendly restaurant you've never visited and go try new food items together.
Have a Nerf gun war.
Have everyone acquire their own Nerf gun. Then, set teams to compete in the house.
Have a Marshmallow-gun fight.
Create marshmallow guns out of PVC pipe pieces. Chase each other around the house and have a marshmallow fight.
Best Fun Kids Activities for Little Kids
Participate in sensory activities.
We love making sensory bins for our kids to enjoy! See our dinosaur sensory bin for a great example!
Attend a local carnival.
Little kids love face painting and kiddies rides.
Visit a train park.
These are typically built around vintage railroad stations or stops. There's usually a smaller train to take a train ride. And a train park really is one of the best things to experience with a preschooler or toddler!
Go on a family hike.
Of course, find an easy-rated hike appropriate for young kids. Check out some resources to do this in our hiking date post.
This is one of those kid activities that help them connect to nature. Give them time and space to look at the bugs, the blades of grass, or pick a wildflower. It's a big world they'll love and appreciate. A prolonged family hike is a great way to help them develop a love of nature.
Hit up a splash pad.
These are free, refreshing on hot days, and endless entertainment for little kids! If you need one in the Phoenix metro, check out our post all about Phoenix Splash Pads.
Grab a few paint-by sticker books.
Enjoy a bunch of these modern puzzles, and complete them together. We have a huge roundup of great options in our paint-by sticker books post.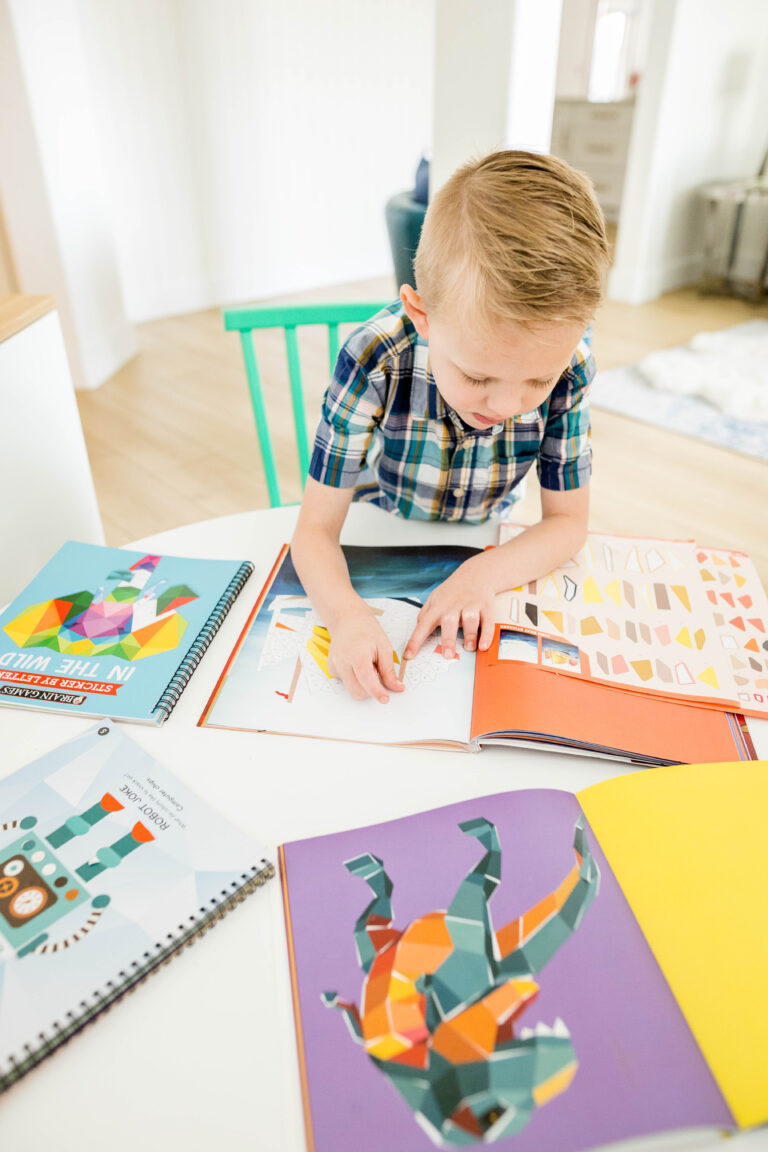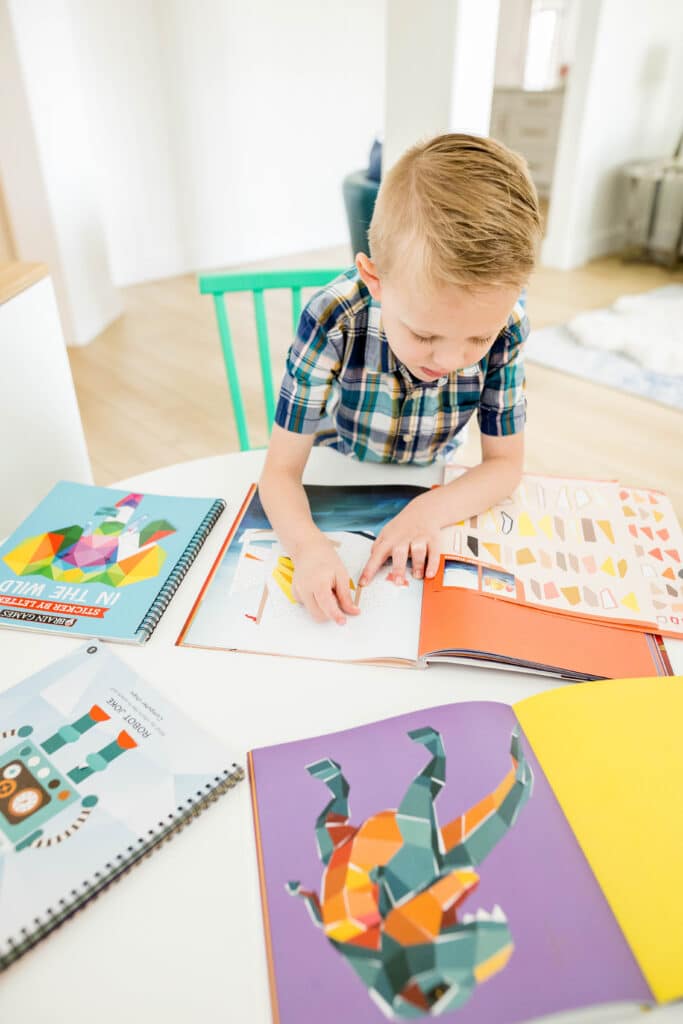 Fun Kids Activities for Families With Older Children
Virtual Reality games or experiences.
These take indoor games to the next level! Plus older kids can't get enough of them!
Attend a concert together.
Do you have a family favorite artist? Buy those tickets and have a fun day while you sing along to live music together.
Visit a local carnival.
Splurge on a few thrill rides and some cotton candy.
Plan an outing to a jump center.
Sure, little kids can enjoy toddler areas for a safe place to play. However, a jump center is a fun time for older kids and teenagers to get their energy out and explore new heights!
Go indoor skydiving.
These wind tunnels give the sensation and experience of skydiving without the risk (or cost of an airplane ride). It's a thrill you'll always remember, and maybe your best bet to get older kids to ditch screen time for a day!
Do a jigsaw puzzle.
Find a great puzzle at an appropriate difficulty level for your family, and enjoy this fun family activity!
Outdoor Activities
Schedule a zip line experience.
Zip lines are a fun way to explore some nature while seeking a thrill
Go for a family bike ride.
Find a great bike path and cover some miles together.
Do a City Solve scavenger hunt.
Kids love solving clues and racing to the next space.
Have a water gunfight.
Bring a few squirt guns and a few gallons of water and enjoy cooling down with some friendly competition on a hot day!
Visit an old city or western town.
In Phoenix, we love the quick day trip to Tombstone to see the old west. But there's something historical and interesting in every place! Find yours and go visit!
Visit a National park together.
It's free to do this during National Parks month. You'll see some of the most beautiful places in the world, national historic landmark locations, and the world in a new way!
Go on a nature scavenger hunt.
This is even more fun with toilet paper rolls binoculars. Enjoy finding different types of plants and creatures in your area.
Go camping.
Have a family camping excursion complete with tents, bug spray, and s'mores. It's a quintessential childhood experience!
Build a pool noodle backyard obstacle course.
It's easy and you can make a great one for under $20!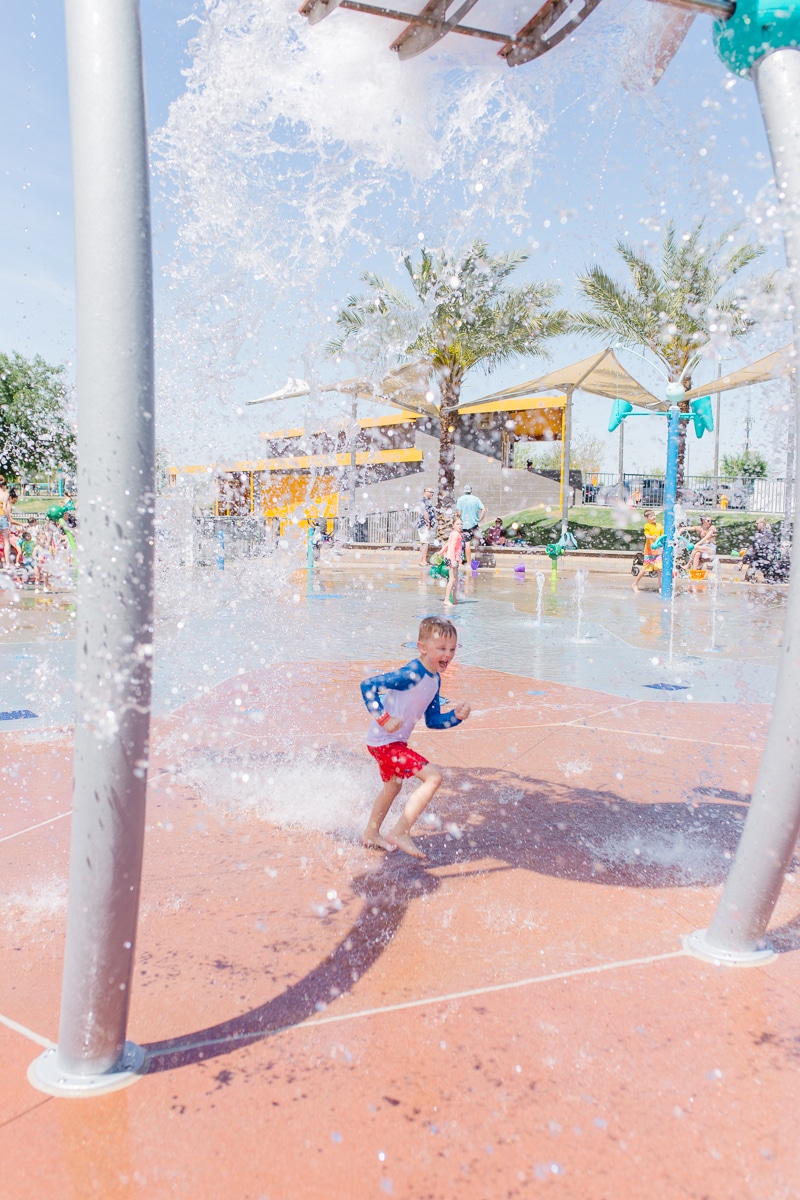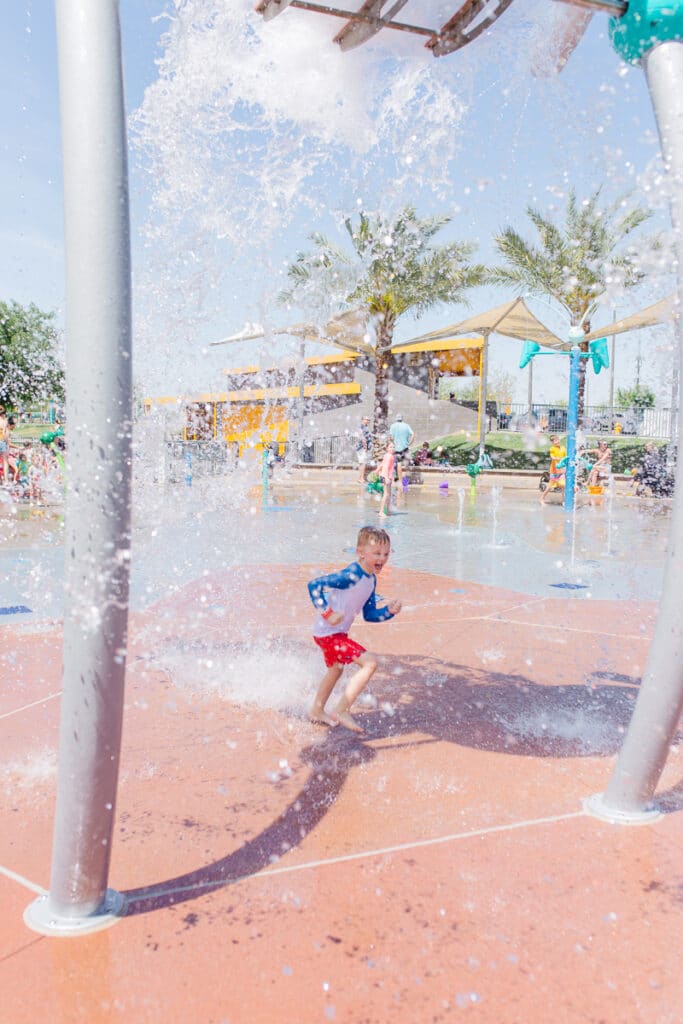 Free Kids Activities
Visit the local library.
Sure, you can hit up storytime, and check out books or audiobooks. But the local library usually offers a ton of media services including videos to check out.
Visit your local park.
It's a great place to let kids get some exercise and free occupational therapy.
Hit up a free admission day at a museum.
Go geocaching. Download a geocaching app and start your treasure hunt in your area! Plus you'll be amazed at the different things you'll find at various locations.
Attend a free high school or college sporting event.
It's a great way to learn more about a sport, and cheer on a local team!
Bake cookies together.
This tends to make just about any child's day and most people have the ingredients on hand.
Watch a virtual aquarium camera of the Monterey Aquarium.
If you can't make it live, it's free to log in and watch the sea life!
Attend an author reading at your local bookstore.
Some big-name authors tour even the smallest bookstores. Ask your local store for information and plan to attend a family-friendly book reading and author event.
Educational Family Fun
Visit the Air and Space Museum.
Major cities have some of the coolest air and space exhibits! But even smaller cities often have an aerospace or airplane museum completely worth visiting!
Take a tour of The State Capitol Building, or places like Congress Hall.
There's a historical building in a historic district in every area. Go learn more about yours!
Visit world-class museums in your area
Look up the most popular tourist museums on Tripadvisor. Make sure you visit the best in your area!
Take a trip to the botanical gardens.
Learn about your local flora and fauna, take a tour, do a treetop quest, or do a scavenger hunt to find new plants.
Take a bike tour and an audio tour of your nearest downtown area.
Learn about your country's history or local area's history in a fun new way!
Visit the Musical Instrument Museum.
You'll learn about just about every type and kind of musical instruments with plenty of interactive exhibits for kids to enjoy.
Make tie-dye shirts together.
Learn the science behind this fun art project! And enjoy your coordinating t-shirts to commemorate your family fun.
Channel your inner artist.
Learn about a famous artist. And then unleash a little creativity and try to create one of their paintings.
At Home Family Activities
Have a picnic in the living room.
Set up a blanket and take dinner to a new location!
Do a family movie night.
And be sure to check out our family movie night tips. We also have 52 family movies perfect for family movie night. And also our what to watch on Disney plus guide.
Create a time capsule.
Find objects and news clippings that document pop culture and history right now.
Look up your family tree.
Do some research and find out some new information about your ancestors together.
Learn how to hula hoop together and have a hula hoop contest!
It's a fun activity that gets kids moving, and helps with gross motor skills!
Have a shaving cream fight in the backyard.
It's a great time and a whole lot of messy fun! Let everyone get their own can of shaving cream. Enjoy trying to make a mess of each other with your limited supply. You can hose down the entire family after with minimal cleanup!
Have a family game night.
Everyone loves a great family game night! Pull out all the board games and card games and enjoy a night of friendly competition!
Have a living room campout.
Set up the tent, pack a picnic, and enjoy a mini campout in your living room.
Decorate sugar cookies.
Let everyone choose their patterns and colors, and make a day or night out of sugar cookie fun!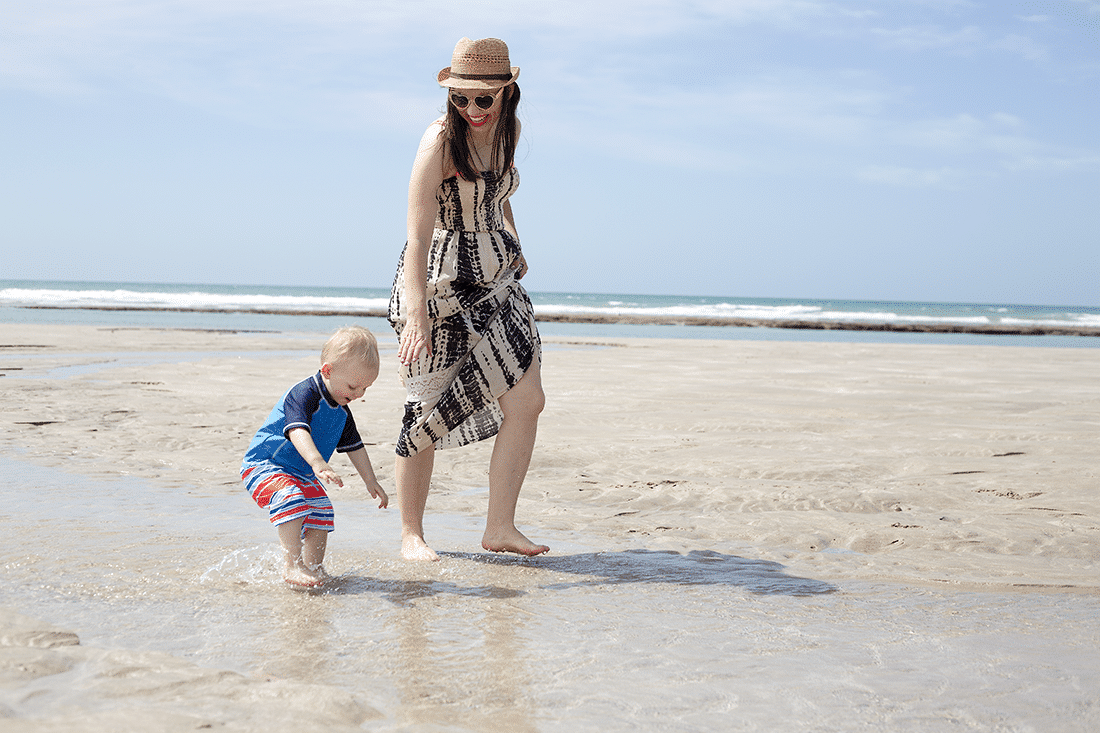 Fun Family Adventures
Visit a local farm.
Learn more about animals and agriculture while seeing it first hand.
Go stargazing.
Head out of city limits and go look at the stars. You get bonus points for bringing Google Sky and learning about the constellations surrounding you.
Have a family swim day.
Visit the community pool or a friend's private pool. Make an entire day out of swimming and play water games together as a family.
Plan a beach day.
Whether you live by the actual beach or hit up sandy areas near lakes and rivers, this is a fun activity for the entire family!
Go paddle-boating.
These are available on lakes and beach fronts. Our paddle boat date night remains in my top 10 favorite dates! Paddle around your area and get a little exercise while you adventure on the water.
Rent a jet ski or Sea-do.
Every family should try this at least once. It's so fun to explore a lake or ocean on a jet ski. Older kids and younger kids alike love this adventure.
Go horseback riding.
There's nothing quite like this experience, and it's one kids tend to remember throughout their lifetime.
Play a game of kickball.
Go to a nearby park or elementary school, and find a baseball field.
Like these fun kids activities ideas? Be sure to check out these posts too:
Weekend Children Activities: 105 Fun Family Activities to Do on the Weekend
150+ Summer Activities for Kids with Free Activity List Download!
Halloween Activities: 50 Ways to Celebrate and Have a Fun Halloween
Fun Family Activities: 52 Family Date Ideas
Get 365 Date Ideas!
We want to help you have the best date nights ever! Grab this FREE printable with 365 date ideas, a date for every day of the year so you never run out of ideas!