Best Dresses for photoshoot: How to choose the right outfit for a photoshoot
Dresses are a fantastic fashion choice for any photoshoot! Here's how to choose the best dresses for photoshoot day, and a bunch of ideas to help you look and feel your best in a dress!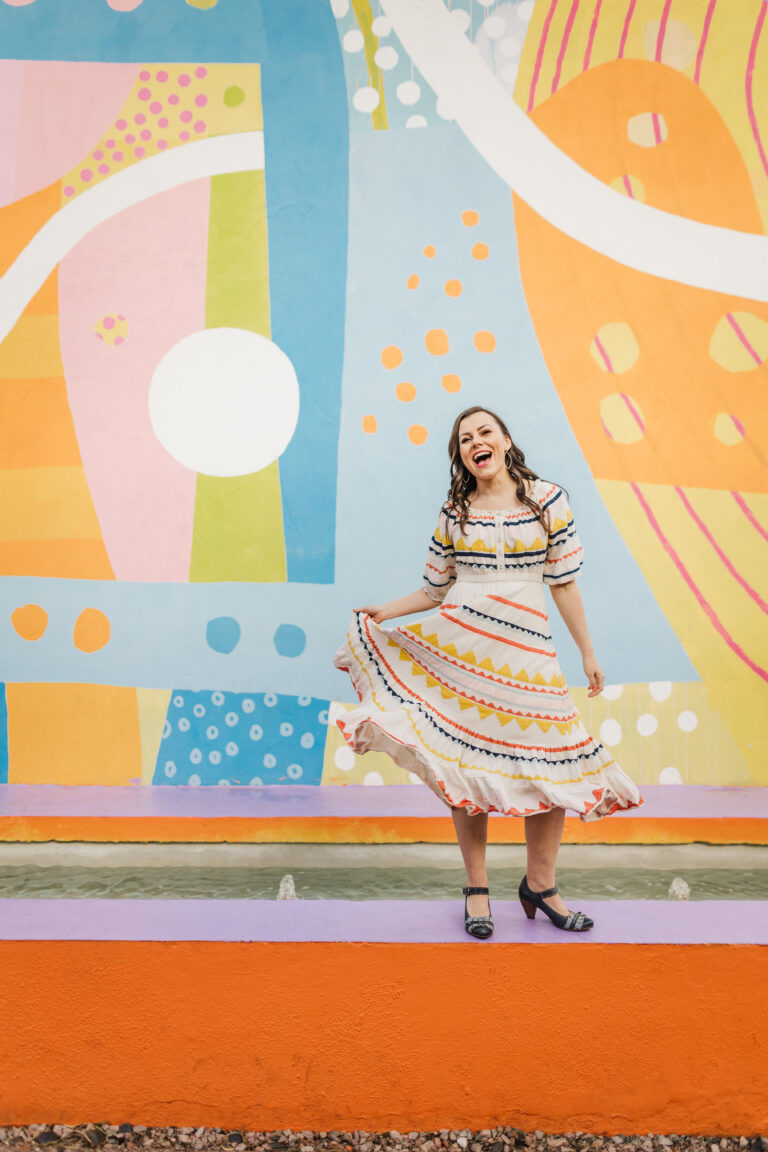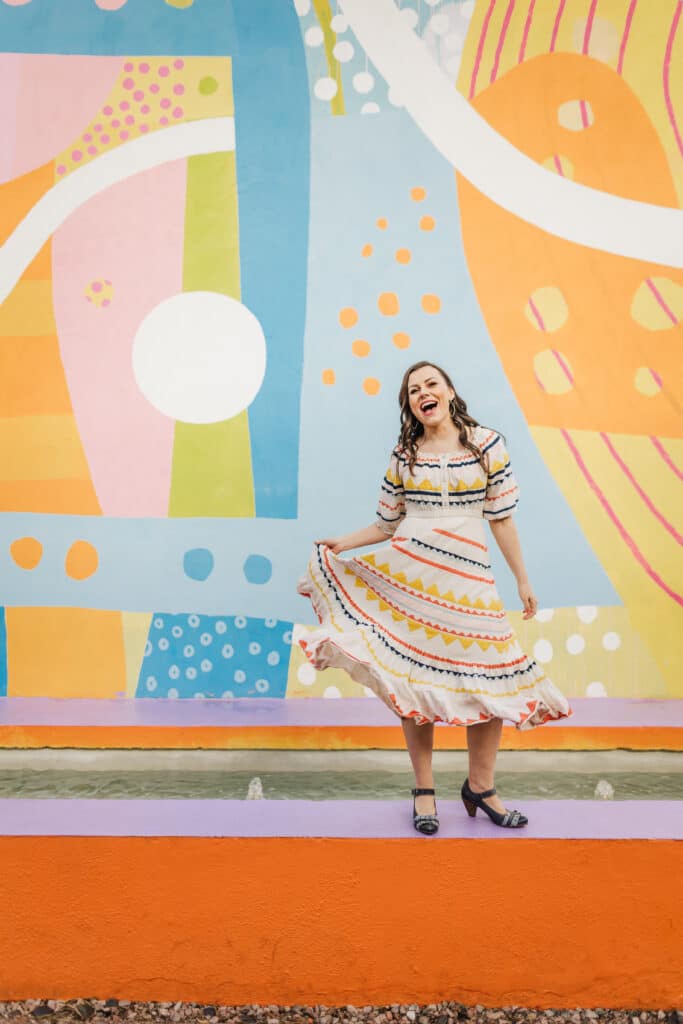 Finding the right dress can make a huge difference in rocking your photo session and loving your picture. But finding the best dresses for a photoshoot can feel a bit intimidating. Have you ever noticed some people seem to look amazing any time they see a professional photographer? There are a lot of different outfits that work, but dresses are always a good idea when it comes to photoshoots!
If you're looking for a little inspiration, some fun dress ideas, or the top tips to consider to choosing the perfect dress for a photoshoot, this blog post is for you! Here is what to look for in the best dresses for a photo shoot.
How to choose the perfect dress for your professional photos.
The most important thing is that you feel great so your photographer captures your best self and it shows in those final images! Here are so things to consider to help you do just that!
Step 1:
Determine what type of a photoshoot you're going to be a part of. Is this a family photoshoot to get family portraits? Are you looking for a maternity dress for maternity pictures? Perhaps you're planning an engagement session or a senior session.
There's a big difference between a group photoshoot, a couples photoshoot, senior sessions, brand photos, or a maternity photoshoot. Knowing if you need a family photo outfit to blend with the crowd, or different looks for a headshot session is a great place to start!
Step 2:
Determine what vibe you're going for. Do you want a sweet, romantic, edgy, classic, or trendy vibe? Decide what you're going for and let it guide the rest of your choices.
Step 3.
Plan for your body type. I'm a firm believer that confidence makes any dress look good, and you can wear whatever makes you feel your best! But different styles look different on different body types. If you know your cuts and styles, it takes a lot of work out of trying to find the perfect dress for you!
Fantastic Photoshoot Dress Color Palette Options: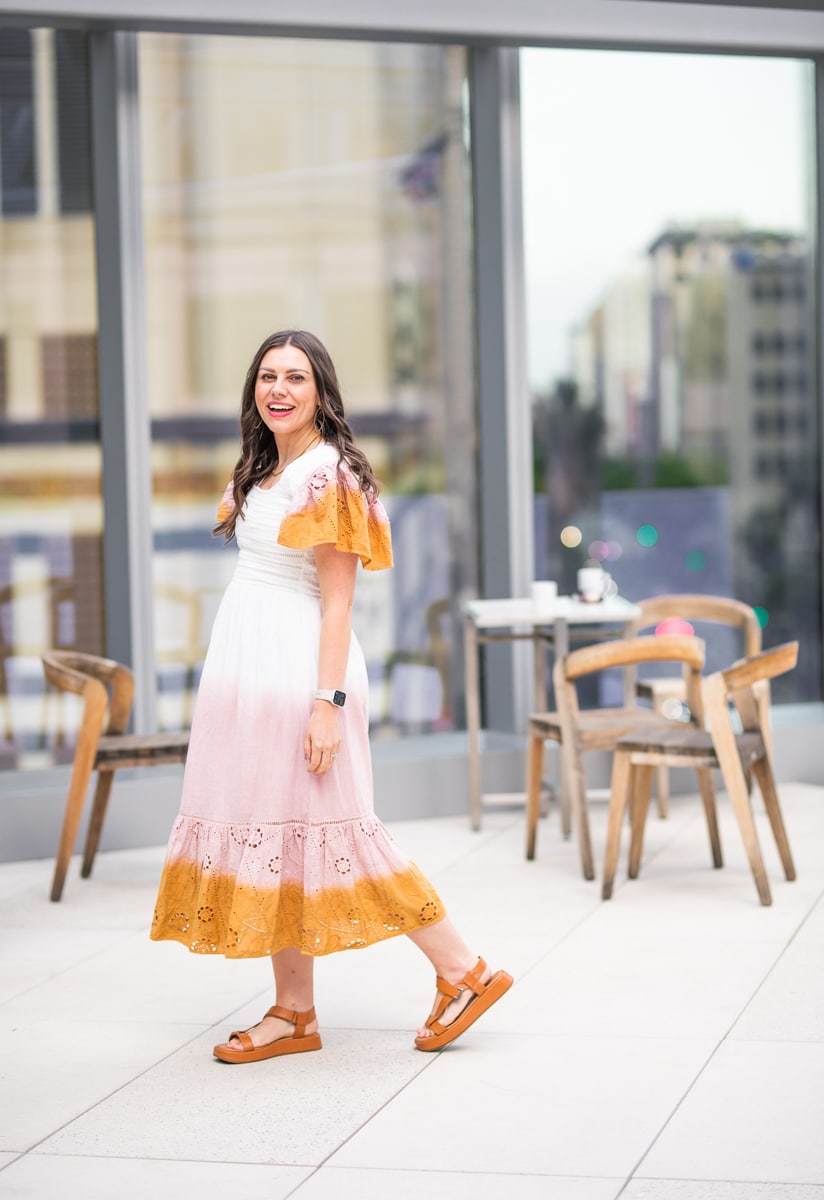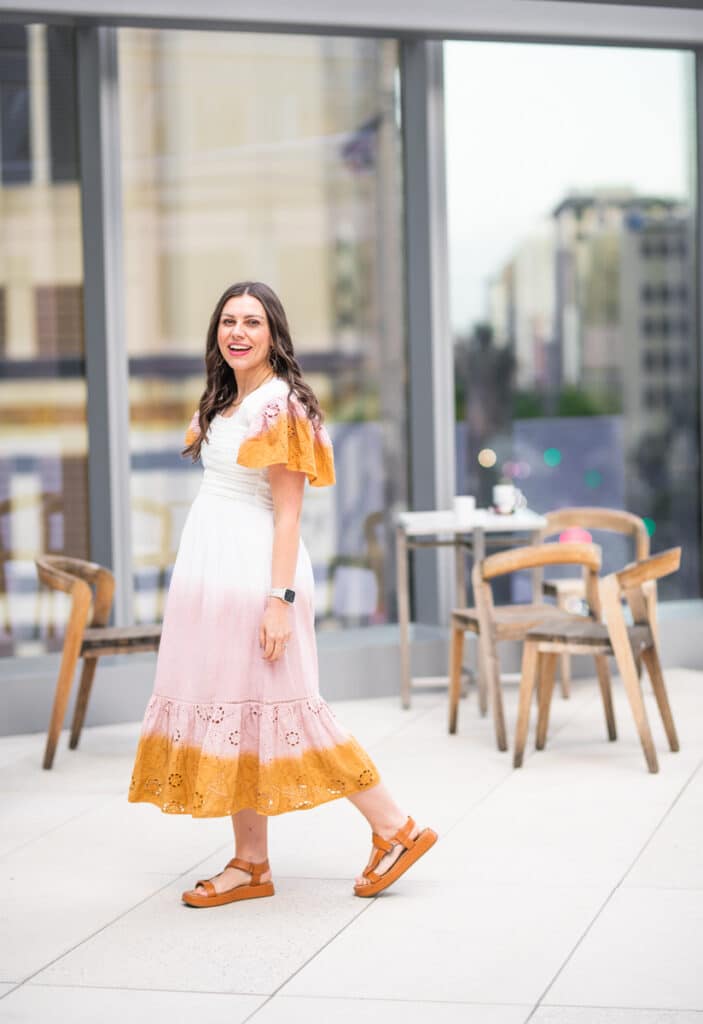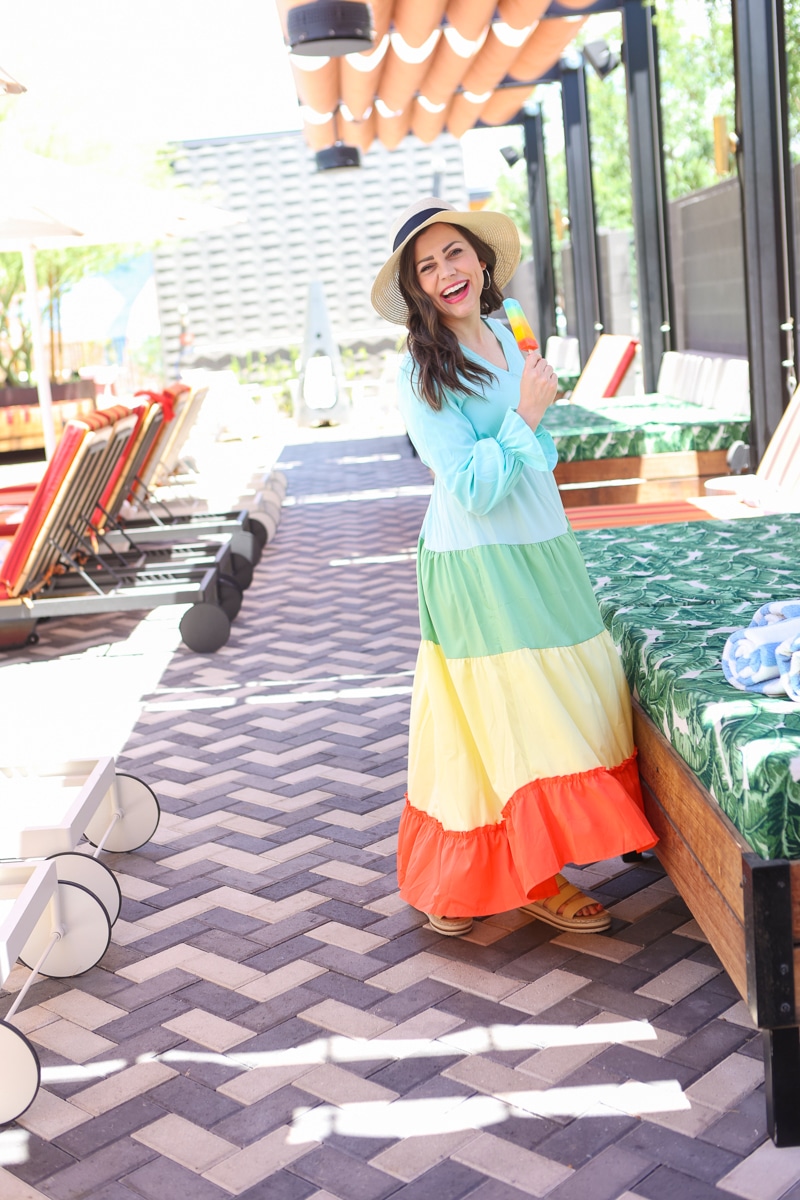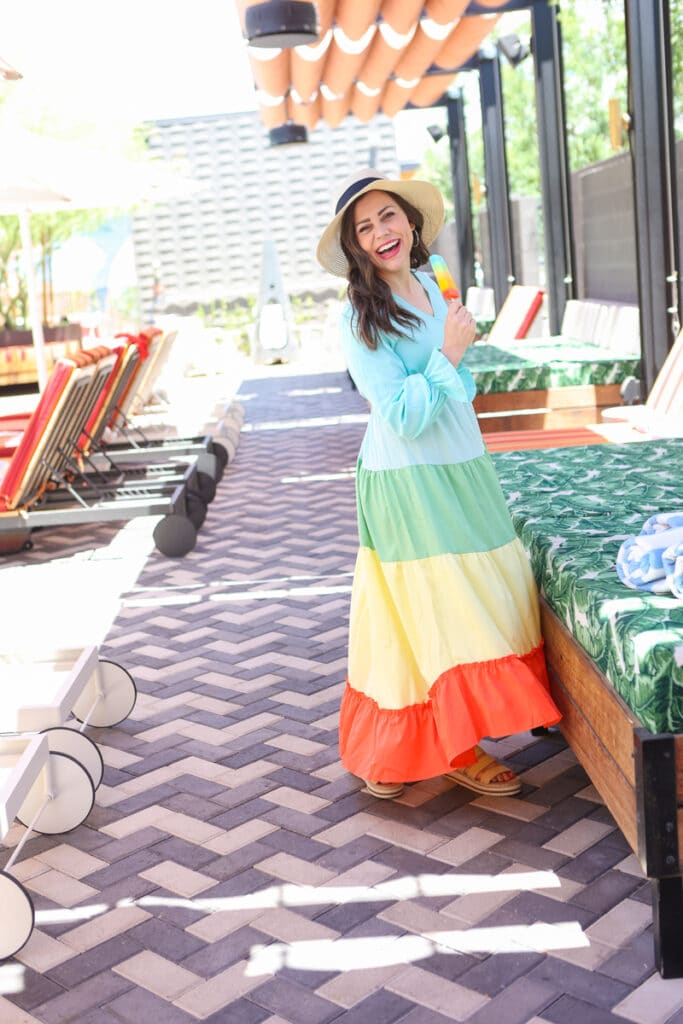 Bright colors lean into a more fun, playful look. If you want to stand out choose a bright color dress that fits your coloring. This is why you'll see me in a red dress in most of my family photos!
Bold Colors
These are often the deeper, brighter colors, or outfits with high contrast. Busy patterns can also lead to a bold look. Essentially, if you have a statement dress that grabs attention, you'd nailed the bold colors color scheme.
If you want to rock some boldness, but stay a bit conservative, try white shirts with a bold skirt.
Neutral Colors
Neutral colors have made a huge comeback for photoshoot looks. the past year! And with good reason! Many flatter skin tones, and let faces shine. They also look fantastic in natural light, particularly during golden hour. Neutral colors are often the best dresses for photoshoot default since they work well on everyone.
Dark Colors
Dramatic dark colors make for striking studio session pictures. It's also a great way to bring special attention to a more formal session. Dark colors are excellent for winter pictures, or a fall photoshoot.
Complementary Colors
If you're looking for a dress with different colors that you know will look great together, try mixing complementary colors. Grab your color wheel and find two or three complementary colors and make those colors work with your dress and accessories.
Lighter Colors
There's something so romantic about a white flowy dress. Pictures with a pale-colored tulle skirt are jaw-dropping. There are so many ways to rock a timeless look with lighter colors in romantic tones. They make the perfect outfit for spring photoshoots, or any romantic picture you're going for. There's a reason lighter colors are so popular for engagement photos.
Solid Black
Solid colors are often a chic and classic choice. But the queen of them all is a solid black dress for a photoshoot. Whether you go with a little black dress or a more formal dress option, a solid black dress is always a great choice. Black is naturally slimming/flattering and looks good on almost every skin tone. Plus, you can dress it down with a denim jacket, or dress it up with a pearl statement necklace and always look chic!
Best Dresses for Photoshoot: Choose Your Dress Length
You'll get beautiful photos when you feel your best! Finding the best dresses for photoshoot ideas often comes down to length. Additionally, knowing a style that fits with the vibe you're going for is always a great choice. Here are several different styles to consider that will yield completely different results for your pictures.
Maxi Dresses
A great maxi dress is always a good option! They elongate the body, making everyone appear a little taller with a flattering silhouette. It's a long dress that works on all body types. It may sound matronly, but this year a major trend reboot of the long dress in trendy brands like Anthropologie and Free People makes it about the best thing to pick when in doubt!
A midi dress is a great compromise and the best of long dresses and short skirt worlds: it shows some leg while you'll find plenty of coverage. The return of cottage core (that's taken social media by storm) lends to plenty of romantic outfit ideas. Plus, you can roam through the outdoors with bare feet and somehow look completely chic. This style and trend almost always features the midi dress.
Mini Dress
This is defined as above the knees or higher. It's a personal style choice, but it leads to a flattering leg and a more sexy vibe. Plus, you can show up in high heels if you're planning to rock them with your dress.
If you have a hard time finding the perfect length, my favorite hack to solve this is to order a semi-custom dress from eShakti. They make a ton of gorgeous, high-quality dresses in just about every cut and style. You can customize the length, sleeves, and neckline on almost any dress. Also, they will have you enter your height at checkout to ensure the dress hits exactly where it should.
Style
A-Line Dresses
Known as the universally flattering cut, a-line dresses work for everybody and almost every fabric! If only one could be classified as the best dresses for photoshoot cut and style, I'd hands down choose the A-line dress!
Fit and Flare
These are a version of the A-line dress with a more full skirt and a more fitted top. They offer a more vintage vibe and emphasis on the waist. As a pear shape body, this is my favorite cut. I also love the way they add a bit of shape and texture that looks extra fantastic in pictures.
Shift Dress
Known for being less structured and very comfortable. This is a favorite of many apple-shaped bodies. The shift dress is a pretty option that's easy to dress up or down.
Sheath Dress
I always think of a high-power businesswoman and attorneys with the sheath dress! But you certainly don't have to be either to rock it and look amazing! It's the classic fitted and more formal cut that fits close to the body. It's a favorite of many straight and athletic-shaped bodies. You'll find these in black and gray very easily. But there are plenty of companies that offer fun colors and prints in a sheath dress. Also, these look fantastic with a button-down shirt underneath a sleeveless sheath dress cut.
Empire Waist
An empire waist is similar to an A-line dress, but the waistline is a little higher. Instead of the natural waistline, it hits just below the bust. This draws attention to the bust and conceals the stomach a little better. This is a favorite cut for many pregnant women, as well as Bridgerton costume designers. However, it looks flattering on most body types!
Shirt Dress
If you want dressy and classy, a shirt dress may be a good option! It combines a button-down shirt with a sewed-in skirt. It's great for nursing women, curvy women, and those going for vintage and/or preppy looks.
Other Photo Shoot Dress Details to Consider:
Texture
Believe it or not, the texture looks amazing in pictures and is highly recommended! This is why layers are often a great choice so the contrast is captured. Adding a jacket, sweater, or shoe variety adds a lot of texture! Need some ideas? Look at something full like a tulle skirt or bubble sleeves. Try something smooth like a satin dress or jersey knit. Or think through various textures and how they'll complement each other.
Sleeve Length
You'll get a very different look wearing a sleeveless dress or a puff sleeve dress. It's all a personal choice, but it's these simple things that may make you love the final product all the more! I've heard from many sources longer sleeves are better than short sleeve dresses since they draw the eye upward to the face. But as a Phoenix resident, I'll tell you the best choice is what makes you feel comfortable, and makes you feel your best! Consider your upper arms and how much you want to show off or conceal, and take that into consideration with your dress choice.
Neckline
Any woman can tell you that not all necklines are created equal, and most body types look better in different necklines. A lot depends on what bra size you wear or your body type. But generally speaking, looking for something that's not too revealing, or the right amount of revealing you're looking for is important when choosing a dress. Let me add another plug for eShakti, which allows customization of the neckline so you can get the perfect fit for your body.
Prints
From polka dots to plaid, floral to strips: prints are a detail that adds a lot of variety and interest to pictures!
Fun Ways to Style Photo Shoot Dresses
Opt for a full formal skirt or dress with a dressy top.
Chic white tops in wrap cuts look stunning and dressy. They also draw the eye up.
Mix in pants or leggings.
If you're pregnant, try a shorter dress with skinny jeans or leggings underneath. It's a comfortable way to help your legs look slim and your belly feel covered. Many women opt for this look for photoshoots or a baby shower. This works great for young girls who love to run and be active, even during a photoshoot. Just opt for skinny blue jeans so the look feels intentional.
Wear contrasting shoes.
I'm a red shoe lover through and through! They look fantastic with formal black dresses, playful navy dresses, pink dresses, etc. You don't have to love red, but think outside of the neutral box and add a little pop of color and interest with contrasting shoes.
Choose jewelry to complete your look.
Sometimes a fun statement necklace or statement earrings change the whole vibe. You may want more formal or dressy jewelry. Perhaps a minimal piece to let your dress shine is the way to go. You'll get the best results by trying a few options and playing with accessories before the big day.
Favorite Places to Find the Best Dresses for Photoshoots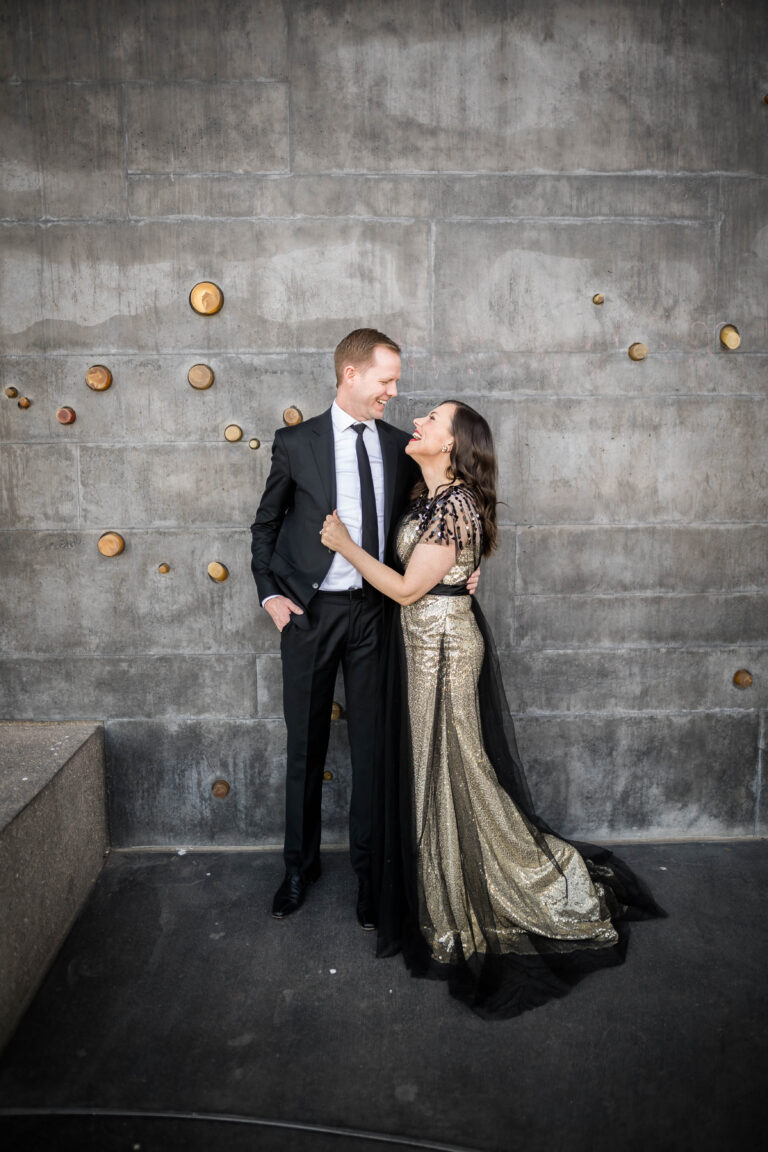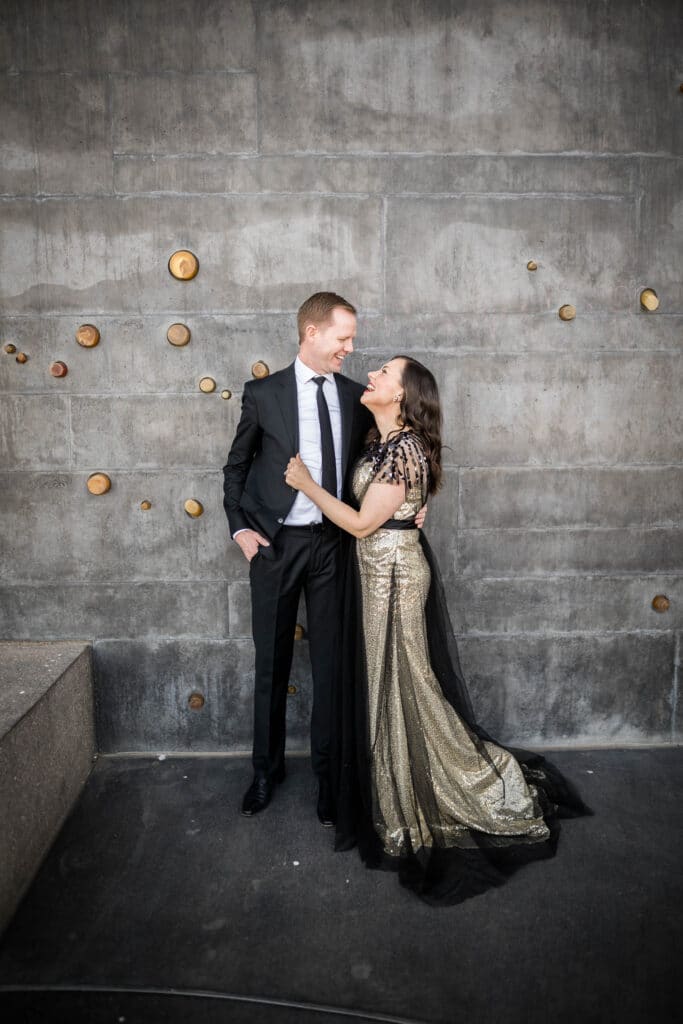 It's hard to beat two-day shipping and the selection available! I also love the option to try before you buy and order a bunch of dresses to test your options. Just return them in a week if you're not going with them at no charge to you!
eShakti
I've mentioned this customizable shop a few times, and with good reason! I've owned a handful of eShakti dresses, and they're all such high quality and still look almost new after years of use. They are built to fit perfectly and last. I've almost always paid for customizing and I love getting the exact cuts and styles that flatter my body. I've even done this while pregnant and opted for custom sizing and put in a larger belly size. I give them bonus points for helping me feel fantastic in every dress at every phase of life.
Not only can you find amazing deals, but really unique and high-quality items! Seriously, great dresses that won't make you look like everyone else while still being on-trend.
I've bought from some high-end brands at super affordable price points!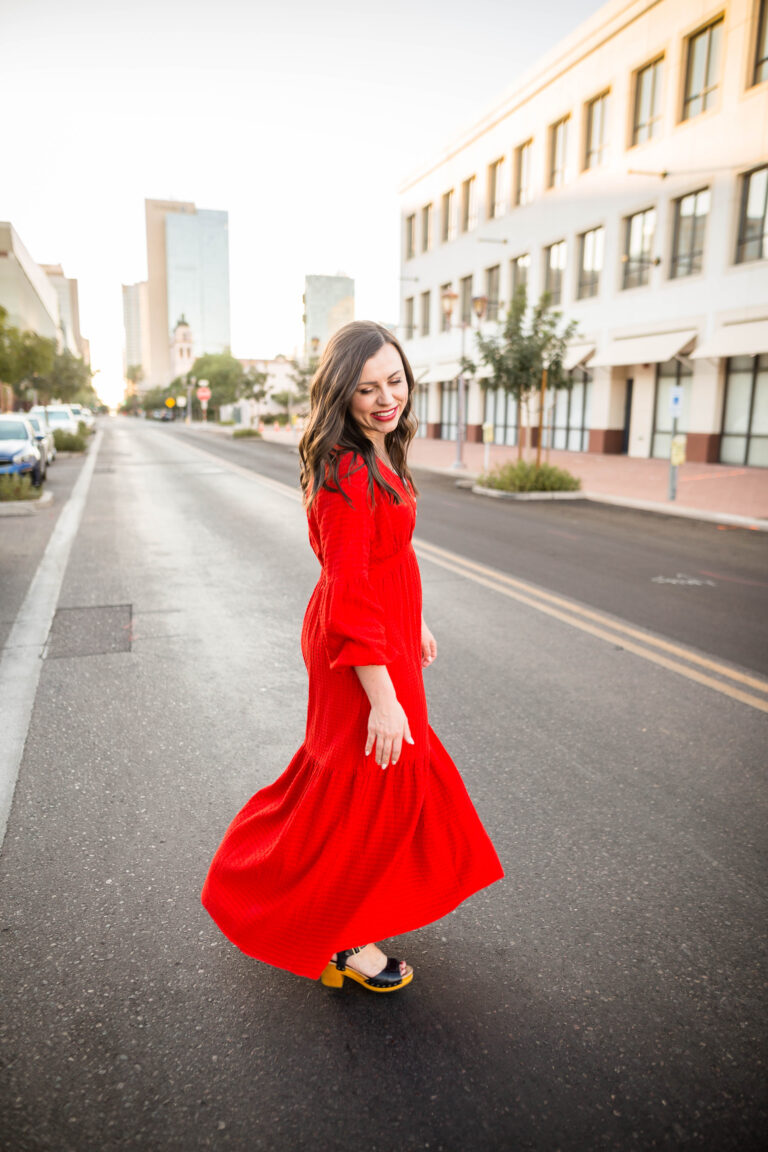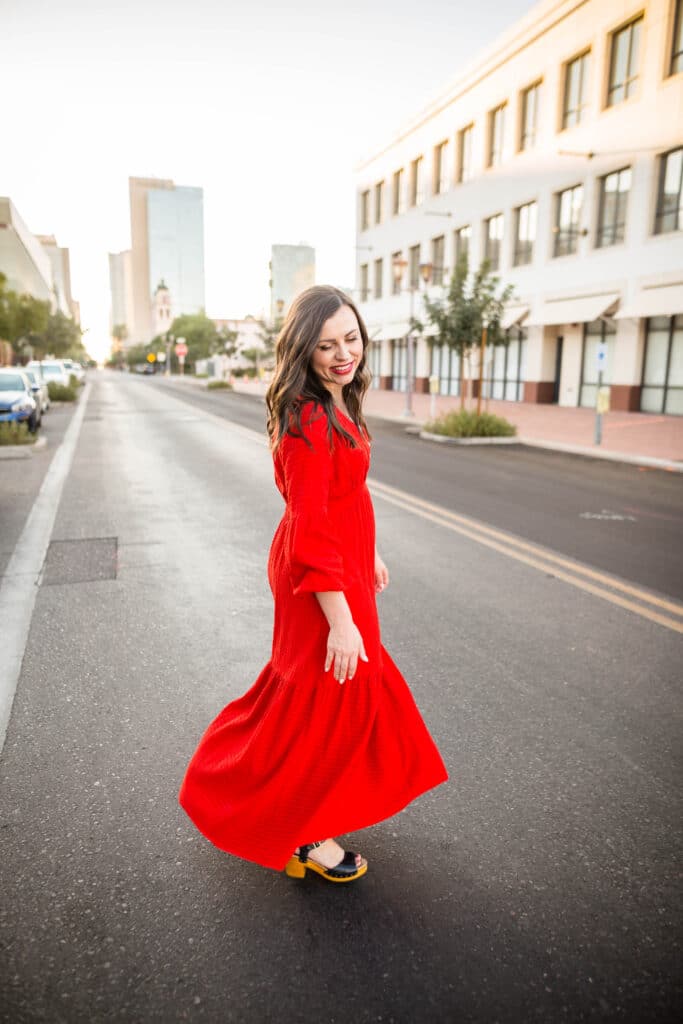 This is one of my very favorite stores with unique designs and stunning clothing. It's a bit of a splurge store, but if your photos are going on your wall for a long time it's worth the investment! Plus, Anthropologie dresses are high quality, designed with flattering styles, and they achieve that "make you feel your best" important role a dress should play!
I've been renting from Nuuly for almost a year now, and I LOVE this more sustainable clothing option! For our last family photo shoot, I rented a dress worth $600 plus five other amazing dresses for under $100. I can also get you $10 off your first rental trial!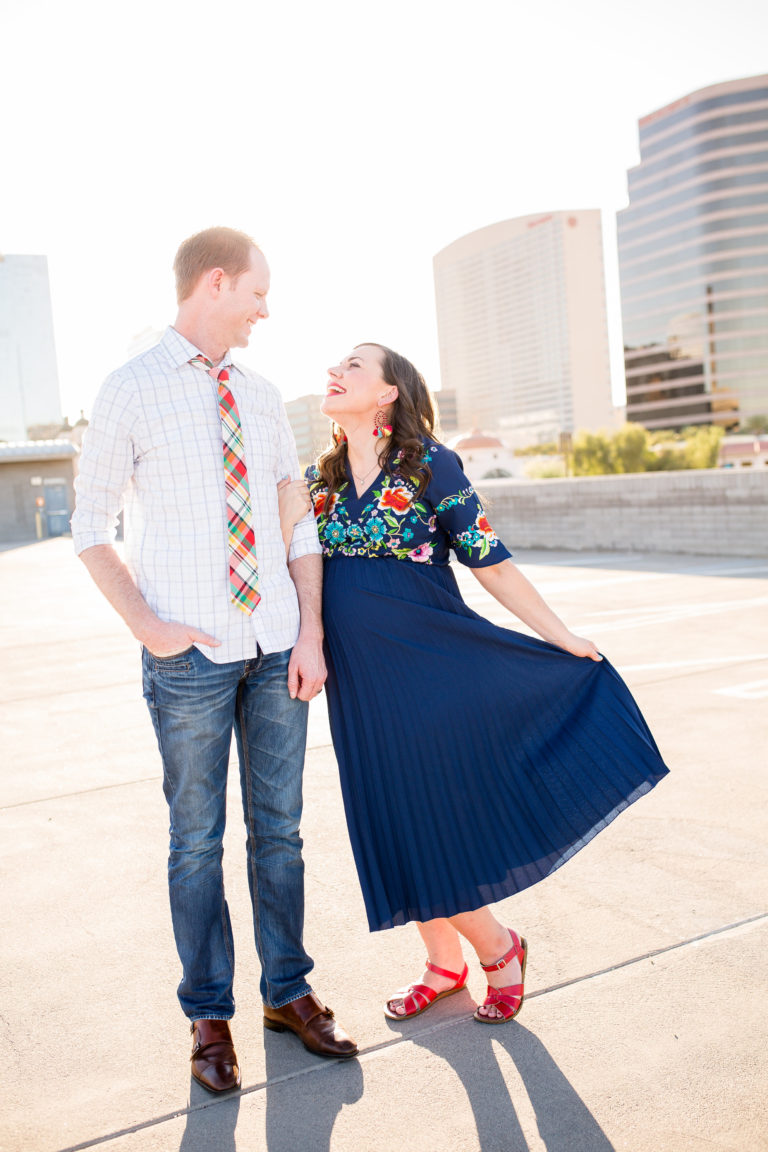 This European company is known for its style and options. I found them during my second pregnancy with excellent maternity options. But I've stayed for the gorgeous dresses at very fair price points.
I'm a Target mom through and through, and I love the trendy styles, huge selection, and affordable price points! They're fantastic with size inclusivity and being fashion-forward. Also, I've found stuff for every family member to wear based on my dress in one order! Plus, you'll find dresses that work for a wedding day event down to a casual beach photoshoot. It's usually the first place I look whenever we're creating blog content and I need a new dress!
I came for the maternity line, and stayed for their women's line! Pink Blush is one of those small businesses that do dresses really well! The search function is amazing sorting by sleeve length, dress length, neckline, and occasion.
They specialize in flowy and gorgeous looks that always look fantastic in pictures. Did I mention they're also one of those great places that care about comfort too? I've loved every dress purchase I've made from Pink Blush!
Like these best dresses for photoshoot options and ideas? Be sure to check out these posts too:
Valentine's Day Couples Outfits
Best Pregnancy Photos Photoshoot Dresses
Get 365 Date Ideas!
We want to help you have the best date nights ever! Grab this FREE printable with 365 date ideas, a date for every day of the year so you never run out of ideas!