Golden Anniversary: Move Over Golden Birthdays Here's a Modern Take on the Golden Anniversary
Love is golden, and so happily walking through 10 years together! We deemed our 10th wedding anniversary on the 10th as our golden anniversary, and here's our formal love is golden anniversary photos to celebrate!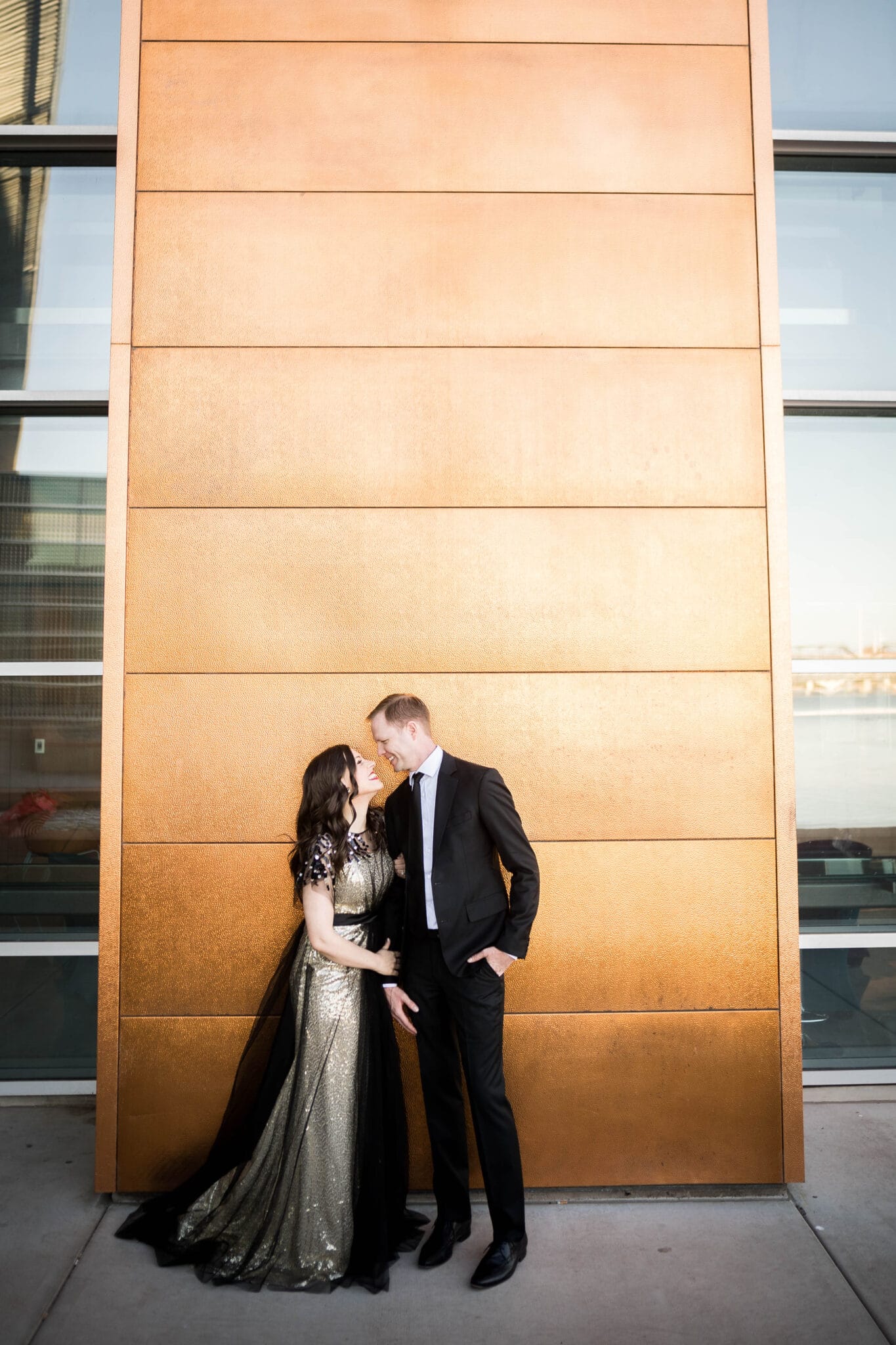 We're taking a playbook from the golden birthday concept with a modern take on the golden anniversary.
During my senior year of college, I celebrated my 22nd birthday. When I told my roommate I was going to be 22 on the 22nd and didn't really have plans, her jaw dropped.
"It's your GOLDEN BIRTHDAY! We HAVE to come up with big plans!"
She did, I had a lovely surprise party. Thank you the best college roommates ever for that! But before that happened I sat perplexed and asked "What is a golden birthday?"
For those who don't know, here's the definition of a golden birthday. It's when the year you're turning matches up with the number of the date of your birth. So you could be turning one on the first of the month, and that's it for you. So any birthday date 1-31 could contain your golden birthday. Day of the month + the same age number = golden birthday!
I'd never heard of this concept before college. But it's stuck with me ever since that many come up with golden birthday ideas and extra plans to celebrate the big occasion.
Family Birthday
We often refer to our anniversary as our family birthday. It's the day our family was born and started! It's also our 10th wedding anniversary, which I know is a big one! There are all kinds of stats that if you make it this far, you're through the hardest years and have set a foundation for happiness. That makes my heart sing! I know we still have eternity ahead of us, but I'm so proud of the happy life we've built and the foundation for marriage we've set.
Because of the family birthday reference, I couldn't help but realize we'd be turning 10 on the 10th this year: I was INSTANTLY skyrocketed back to college and the golden birthday conversation.
The Golden Anniversary
Traditionally. the golden anniversary is celebrated on your 50th wedding anniversary.
We're clearly not even close to 50 years together. But, we're taking a playbook from the golden birthday concept and decided to modernize the golden anniversary and make it match the year you're celebrating + the date of your celebrating. So this year, it's Happy Golden Anniversary to us!
Which of course, called for part of our annual anniversary pictures to be golden themed.
I knew we wanted something more formal to celebrate this big milestone. So our 10-year anniversary pictures included an almost black-tie dress code with a golden twist.
Formal Dress Anniversary Pictures
I decided a year ago that I'd look for a golden dress to celebrate this big anniversary with some 10th anniversary pictures with some pomp and circumstance! The joke was on me, the world shut down and there weren't many cocktail and formal dresses produced this year. Luckily, a little time on Amazon lead me to the most perfect golden dress for the occasion. For anyone wondering, here's the link to my gold formal dress.
We had Jacob wear the same suit he wore on our wedding day. I'm impressed that it's still in great shape and that he can still rock it! We are huge fans of custom suits, and this tall lean guy has loved this one for 10 years!
10th Wedding Anniversary Pictures
We have the best time taking formal anniversary pictures! Your 10th wedding anniversary is the perfect time to get some updated pictures and go a little fancy!
I made sure to include some cake to celebrate, a few 10 balloons, and signs.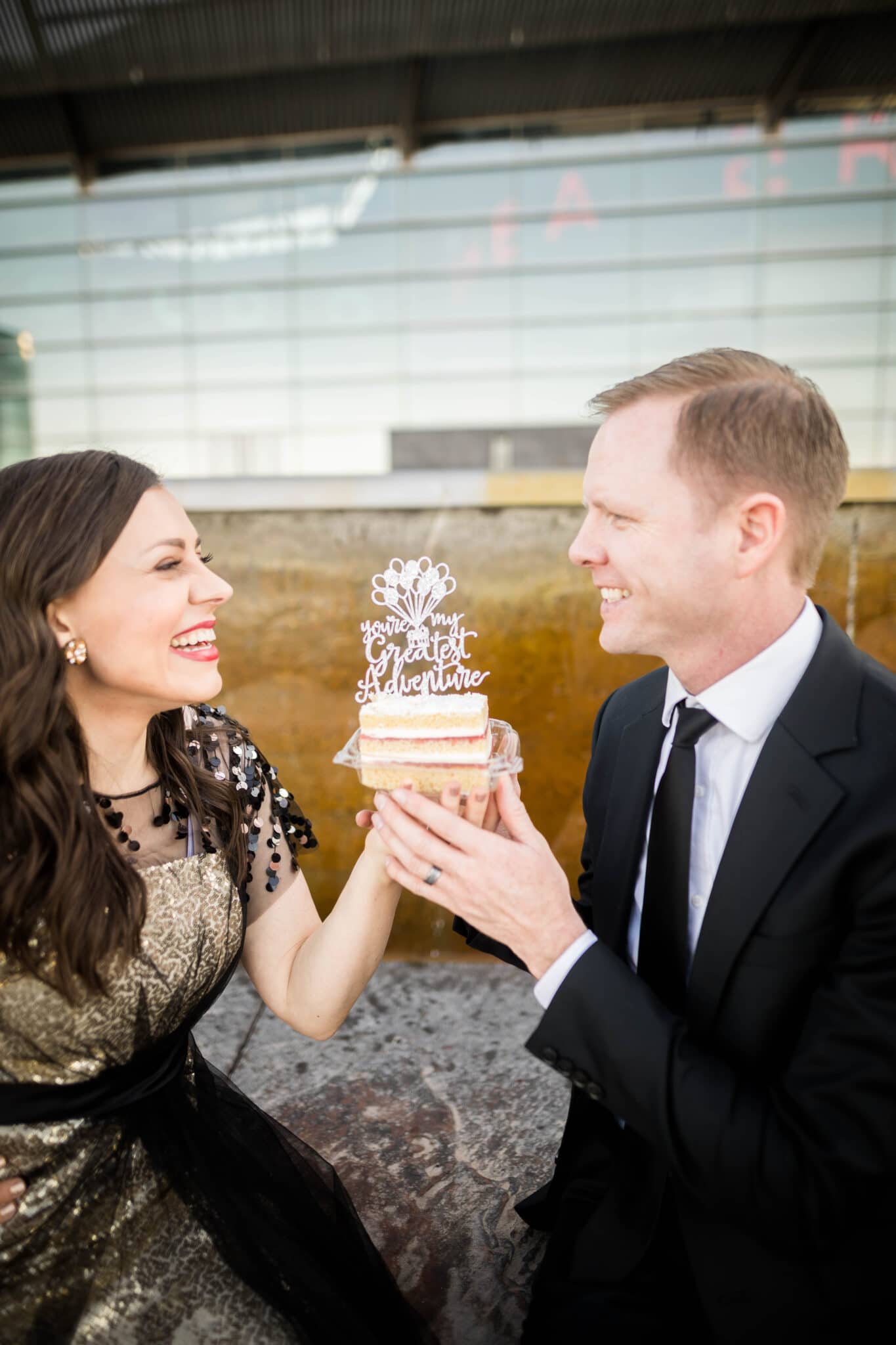 But most of all, I made sure we recreated a few pictures from our wedding day. Because it really was the best day of our lives, and one worth honoring and celebrating.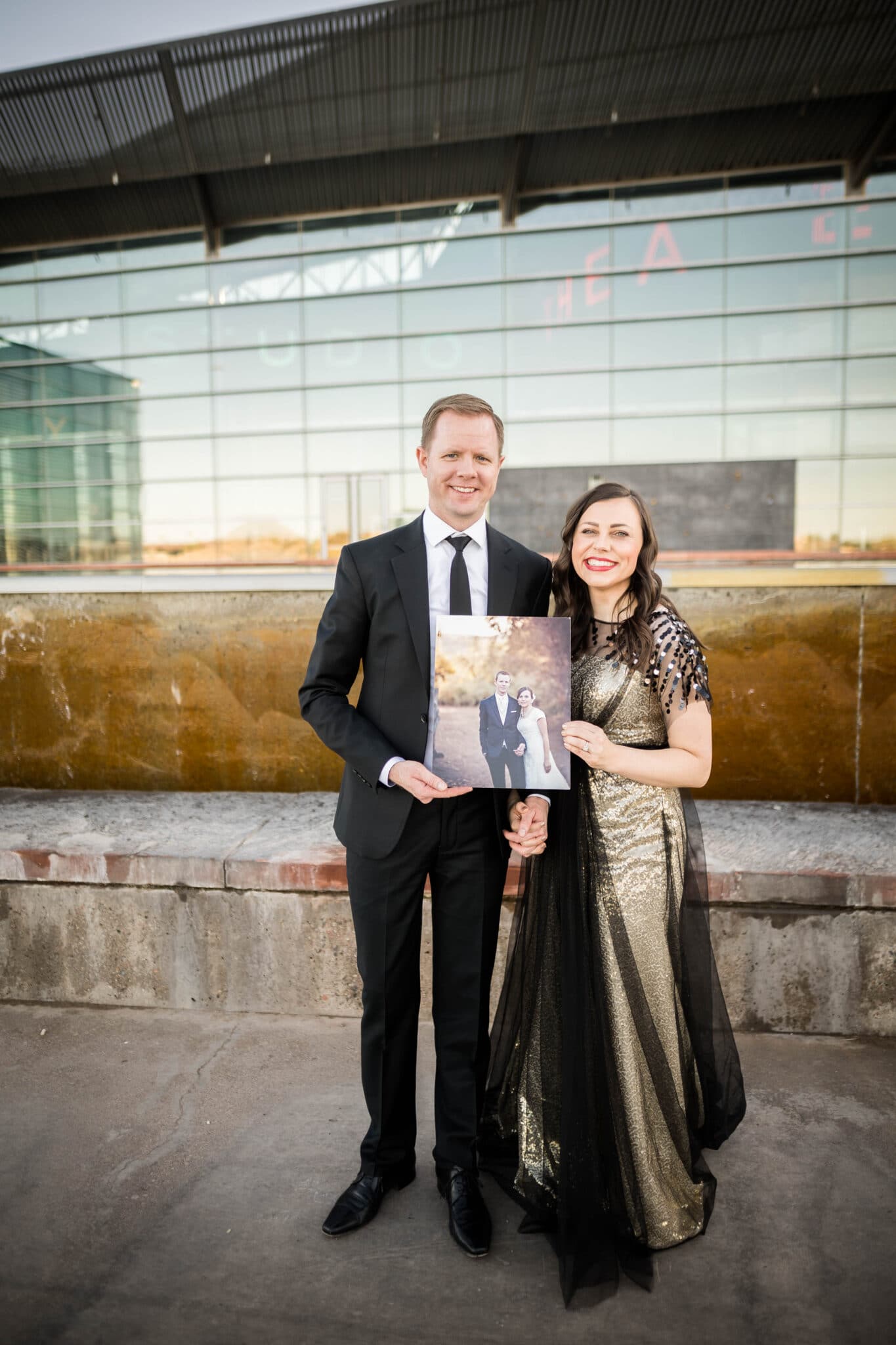 And at the same time, I'm so glad we only minimally worried about our wedding and focused more on our marriage. Because I'm a lot more proud of the 10 years of marriage and the current relationship than I am of the wedding day. So marrying the two, and celebrating that love is golden felt like the best way to celebrate our 10th wedding anniversary.
Like this Golden Anniversary Themed photoshoot? You may like other anniversary photo shoots we've done every year!
Celebrating Anniversary #6
Get 365 Date Ideas!
We want to help you have the best date nights ever! Grab this FREE printable with 365 date ideas, a date for every day of the year so you never run out of ideas!