Family Gift Ideas: Big Gift Ideas the Entire Family Will Love!
A roundup of the best family gift ideas: gifts for the whole family to enjoy together and why a family Christmas gift is a fantastic idea!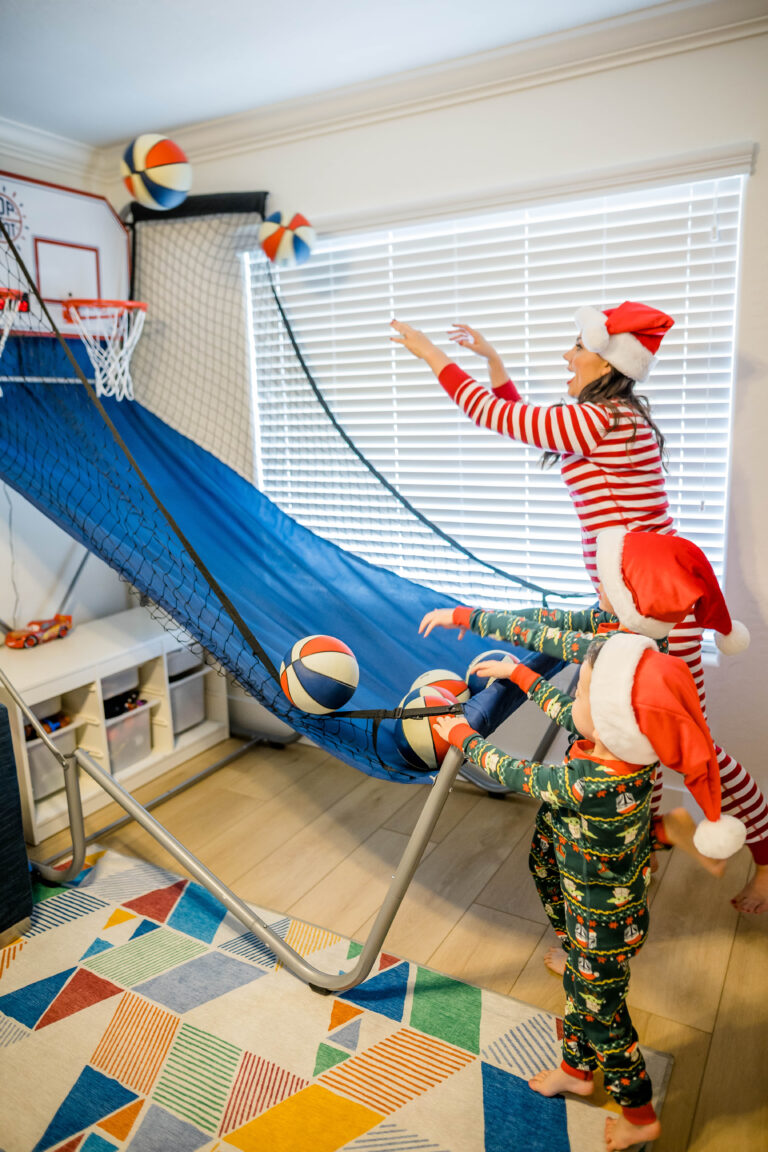 A family Christmas Gift
Some of my favorite childhood memories include experiences and things I played with my parentings and siblings. A family Christmas gift can be the best opportunity to give one big family present you can enjoy together. Maybe they're big splurge items, perhaps a trip. But each of these family gift ideas is a tried-and-true item that brings fun, brings memories, and brings families together!
Gifts for the Whole Family
This was our big family Christmas gift last year, and it has been worth every penny! I have to admit this was never on my radar until my brother-in-law installed one for his pre-teen son. Their house became the instant party house! I couldn't believe how much kids of all ages (and adults) enjoyed the Pop-a-Shot!
My kids love basketball! We live in Arizona where it's too hot to play outside for several months of the year. My boys play with this year-round. It keeps them active, having fun, and they're getting really great at basketball shots!


Jumparoo

We've debated this item so many times! If a trampoline doesn't fit in your yard or budget, a Jumparoo may be for you! It can be used indoor/outdoor. Big kids and little kids alike can jump on it without bouncing each other. Everyone I know who owns one swears it's the best purchase they've ever made!

We decided to jump on this a few years ago, and it has been the gift that keeps on giving! We bought a projector (that we found a smokin deal on) and a blow up screen, and we were set! I shared all the details and a roundup of great products at affordable prices in this how to create an outdoor movie theater post.
I can't tell you enough how fun these things are! We use them all the time and it's been something that's bonded our family together for a free fun family night!

If you want to take outdoor movies and indoor movies to the next level, grab a portable projector! They make game time, movie time, and audiobooks come to life anywhere! I know people who take theirs on airplanes. Many use them for ceiling projections. It's the smallest but mightiest device that is so fun for families to own!

My family had a foosball table in our basement growing up and it was so fun! We'd play tournaments with each other and with our friends. It was also a fun skill to have when I went to college!

If you want to go screen-free games, air hockey is always a hit!

You might be surprised how fun a few arcade games can be if you have the space! Teenagers particularly love them, and they're such a fun nostalgic thing to enjoy together as a family!

Admittedly, I'm not a big gamer and I'm trying to help my kids avoid them. However, the Nintendo Switch has so many games to play as a family! I thnk it's worth it for hundreds of family game night options!

Active Family Gift Ideas

These Airfort inflatables are so fun, and younger kids play with them for hours on end! I love that they don't take much space in storage. I'm also a huge fan of this price! It's one of the least expensive family gifts out there!

Are there any families who won't tell you how much their trampoline has been used and loved? I've yet to meet one! It's a great time to get an in-ground or above ground

We were fortunate to have a built-in playground when we bought our home. When the weather is nice, our kids live on it! If you don't have one, I'd strongly recommend it! They're an excellent investment that help create childhood memories.
Pure Fun Family Gift Ideas
A Year of Experiences

Much like our year of dates gift, a year of experiences gives fun every month for an entire year! Grab our free Year of Experiences printable. Then, find something fun to do as a family every month of the year. It's the gift that just keeps on giving!

A Disneyland Trip

A family Disneyland. We decided to pull the trigger on our first family Disneyland trip when our oldest was only two. It was one of the most amazing couple days of our life, and watching our toddler experience magic all around him was something I'll treasure forever. We keep kicking around the idea of one small gift and a Disney trip. It's more affordable than you may think, it was about 2/3rd of the cost when we booked through Getaway Today. They are legit, they do a fantastic job, they are one of the few places you can get deals for Disneyland, Disneyworld, Universal Studios, and Disney Cruises.
We were so happy with our package and how much they spoiled us with souvenirs and customer service. Check out our full Getaway Away Today Review for more info.

I also love you can lay away your trip and put as little as $200 down to book it and lock in this year's prices. So if you want to spend the Christmas budget now and add a little more in a few months when you go, that's totally an option! Plus our affiliate code: FRIDAYLOVE saves an extra $10 on a package!
We also have a really fun Surprise Disneyland trip reveal printable!

A Disney World Trip

Right up there with the Disneyland trip, you can also get amazing deals through Getaway Today for Disney World. Plus our affiliate code: FRIDAYLOVE saves an extra $10 on a package!
We also have a really fun Surprise Disney World trip reveal printable!

We have owned the Adventure Challenge Couple's Edition for years. It's been the most fun thing, and we shared all the details in our Adventure Challenge review post.
I LOVE that they created an Adventure Challenge Family Edition book with scratch-off activities and outings to do as a family. If you want more together time without a lot of stress, planning, or costs, you're going to want one of these books this year!

Universal Tickets and Family Trip

If you have a Harry Potter fan, a trip to Universal to see the magic is completely in order! Once again, we highly recommend Getaway Today to save some cash. And you can gift books, wands, or gift cards to get more butterbeer as a fun reveal!


Our family stayed one night at The Great Wolf Lodge and it's truly one of my fondest memories! I'd recommend staying two nights. Also, check Groupon for deals. But plan three full days and two nights and create some very magical memories!
If you don't have one in your area, I promise they're worth traveling to!

Family Gift Ideas

Museum Pass

One year I gave my toddler a children's museum pass, and it was truly my favorite thing! We used it so much in the summer. Our regular babysitter took him often. Every time he outgrew a toy, I'd smile at that pass that we used so much! I'm so glad we gifted one that year!

Related: 10 Reasons to Get Family Pass

Season Tickets

My family had season tickets to the local university football games. My dad took one of us for a one-on-one date and let us choose any treat we wanted. They are some of my favorite memories! I think a family pass to see a local sport favorite makes the best of family gift ideas!

Fly Grandparents In

There's something great about getting to see a grandparent at their home. But there's also something magical about grandparents getting to come to see your family's world. It's truly a gift everyone will love and always remember! Check out flights and book a visit for a grandparent(s) to come!
Like these family gift ideas? You may like these posts too:
Disneyland Discount Tickets: Disneyland Ticket Deals
Get 365 Date Ideas!
We want to help you have the best date nights ever! Grab this FREE printable with 365 date ideas, a date for every day of the year so you never run out of ideas!