Felt Christmas Tree for Toddlers
Save the real tree and some sanity this holiday season with a felt Christmas tree for toddlers! Why you'll all love it + where to find a felt tree.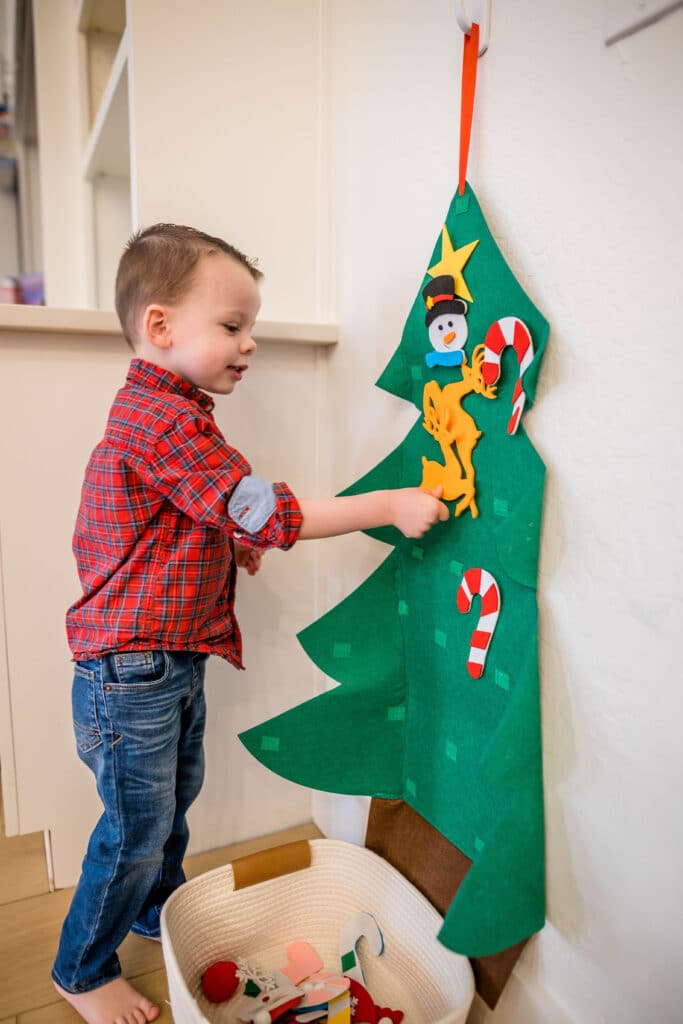 I'd heard horror stories about toddlers pulling down Christmas trees, and I made sure I braced myself for it! And then, my oldest child had exactly zero interest in our tree through his toddler years. I wondered how I had dodged that bullet.
Sometimes I think God shows his sense of humor by giving an overly confident parent a second child. At least that has been the case with me! My second child has been interested in all things. He wanted to pull down or at least redecorate our family Christmas tree every waking second. I'd heard about getting a felt Christmas tree for toddlers, and decided it was time to look into one!
Felt Wall Christmas Tree
We are in our second year of owning our own felt wall Christmas tree for toddlers, and it is just as big of a hit this year as it was last! In fact, our kindergartner loves to remove the ornaments and decorate with them too! It's something we can put out and set up as a Christmas toddler activity. Every day it's an easy toddler activity to enjoy during the holidays! Plus, it feels like the biggest mom win!
Instead of destroying our family tree, he can have all the creative licenses he'd like to redecorate the felt Christmas tree for toddlers. Between it and the kid's Christmas tree in their bedrooms endeavor, we've officially saved our family tree!
Surprisingly, kids of all ages seem to love it and want a turn to decorate it too! Who knew one purchase would provide a lot of Christmas fun for kids?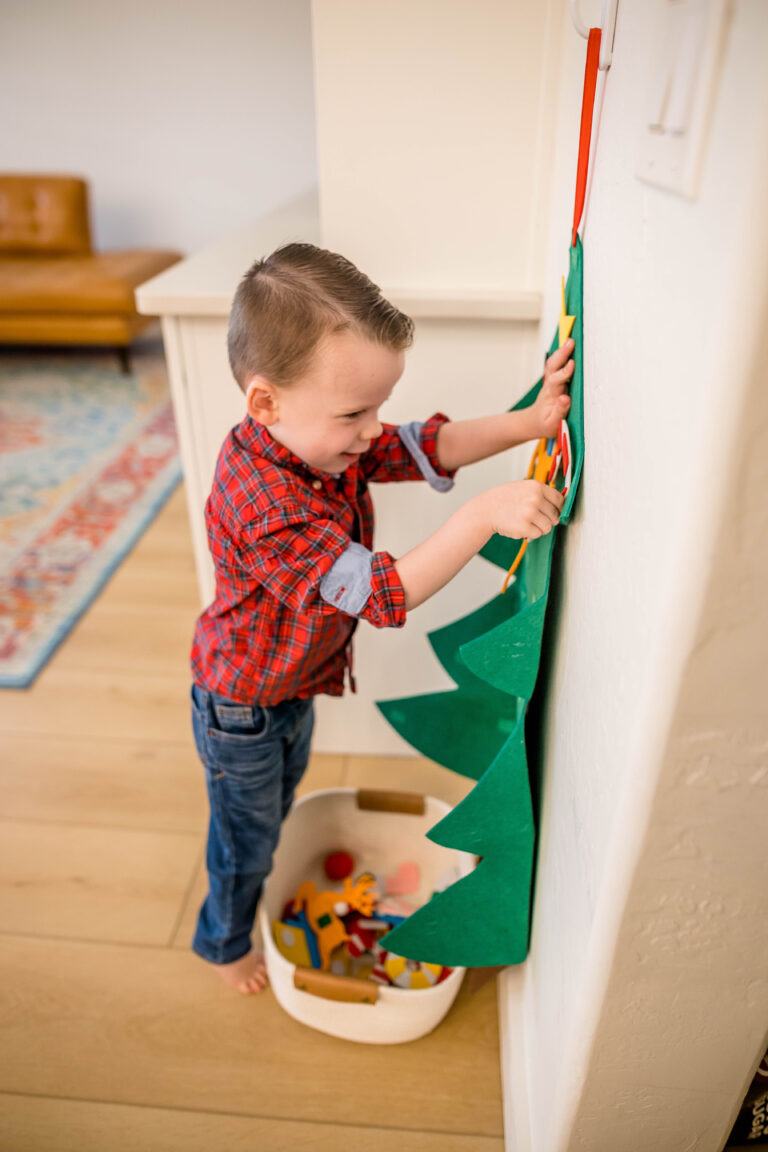 Felt Tree Options
If you're ready to make a felt Christmas tree happen in your household, you have a few great options.
1. Buy a Toddler Felt Christmas Tree
They're far less money than you'd think. I also love that it's one purchase and not hours of time to prepare or assemble. Just pull it out of the package, hang it with a Command hook, and let the toddler's hands go to work! The blank canvas and a basket full of felt ornaments are so inviting, and so fun for toddlers!
Here are several great options- including ours!

Pros: fast and easy!
Cons: Not as customizable, and some are made with lower-quality felt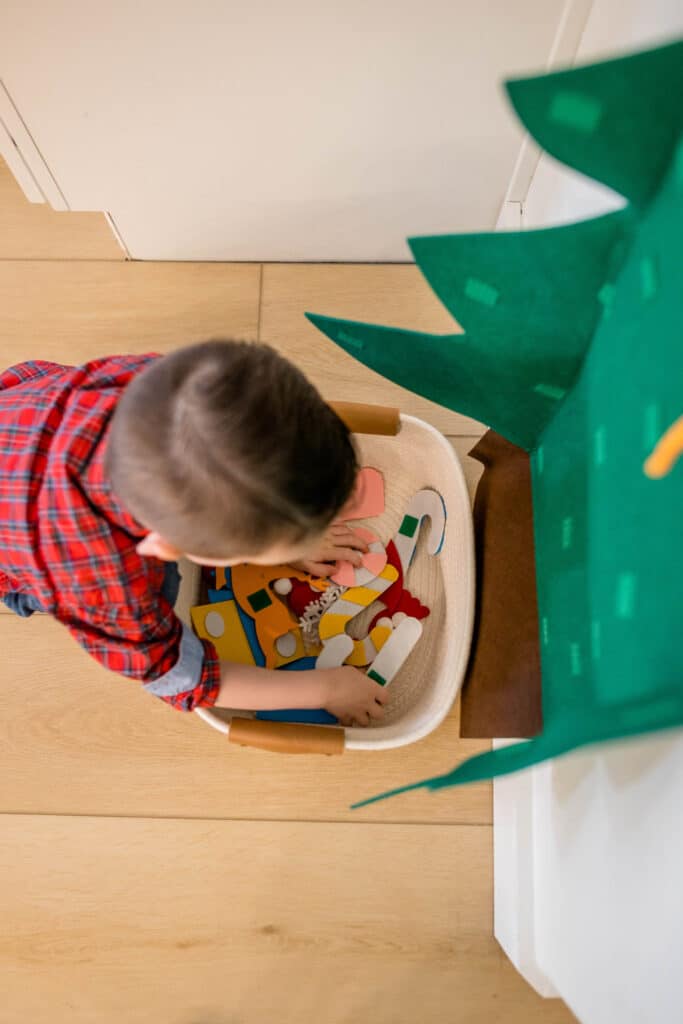 2. DIY Felt Christmas Tree
It wouldn't be hard to head to your favorite fabric store (like a Joann store) and get a yard or two of green felt to make your own tree.
Make Your Own Felt Tree
I don't even think you need a tree pattern here. The tree shape wasn't meant to be perfect, so I'd say stress less about templates here. If you can draw a triangle, you're good!
Start with the rectangle fabric, and draw and cut out a giant green triangle.
I'd trace a light minimal design making sure you have a few curves that look like evergreen branches on the outer edge.
Grab a pair of fabric scissors with a fine point blade for a crisp cut, and cut a tree with three or four curves that come to a fine point at the top.
Grab a hot glue gun and glue some ribbon to the back side at the top point. This makes it easy to hang.
Grab a Command strip hook so you don't damage your walls, and

hang it on the wall. Make sure it's an appropriate height for the child using it. Putting the base close to the floor is a great option!
Make Your Own Felt Christmas Tree Ornaments
From here you need some Christmas tree ornaments for kids to play with and use as decorations on their felt Christmas tree. And don't stress, a felt Christmas tree ornament is an easy craft and you can get so creative with your own ornaments!
Grab a few different colors of felt to create ornaments. Trace a few round cups and create circles to represent bulb ornaments. This is the easiest hack to get that diameter and circle size perfect if you want to keep things simple. It also helps feeling the need to use Christmas tree templates and fancy cutting machines. Although we're here for that if you want to!
Alternatively, you can trace circles on cardstock and use those as templates to cut out the felt. If you want to include your kids, cardstock templates are fantastic to practice tracing skills and cutting skills!
You can get super creative and cut out any shape or size that resembles an ornament. And don't be afraid to get creative and add layers, get some thread to hand stitch or glue on some stripes or a solid line to mix up the ornaments. I love to sew on a few shiny beads to make ornaments feel fun.
But let me add, it's for a toddler, so don't feel bad at all using some felt scraps and general circles. You do you, and make this as simple or as intense as you want!
Whatever felt shapes you wish to cut you can add velcro. Be sure to attach velcro to the tree itself so the ornaments stick.
Pros: It's one of those fun crafts with so many customizable options! If you have a cutting machine like a Cricut maker, you can outsource the cutting to your Cricut machine.
Cons: You're actually likely the spend a lot more money this way since felt does add up quickly. Plus, plan a few hours of time to create it.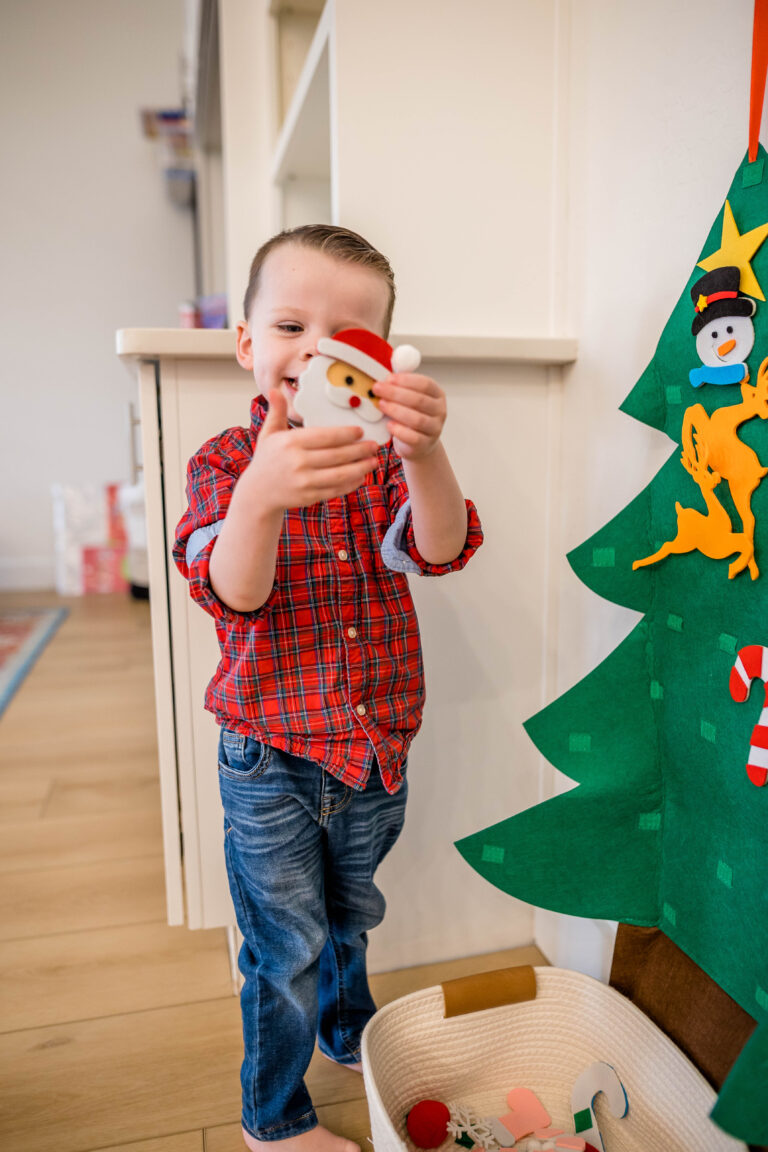 Enjoy the Toddler-Friendly Fun!
I don't think you can go wrong with whatever you choose to do! Feel free to get your craft on, or make a very simple purchase with two-day free shipping. They're both great options! And truly, a felt Christmas tree is such a fun way to spread some holiday cheer for kids! And it's been about my favorite way to save my real tree!
We hope you enjoy a felt tree for kids in whatever form you choose!
Photos: Chrissy Blake
Like this felt tree roundup? You may like these posts too:
Toddler Gift Guide: 70+ Tried and True Toddler Gifts
Best Christmas Picture Books for Kids
Get 365 Date Ideas!
We want to help you have the best date nights ever! Grab this FREE printable with 365 date ideas, a date for every day of the year so you never run out of ideas!