50 Stocking Stuffers For Him
Looking for stocking stuffer ideas for him? Here are 50 excellent stocking stuffers for men to make sure you find something he'll really love at any price point!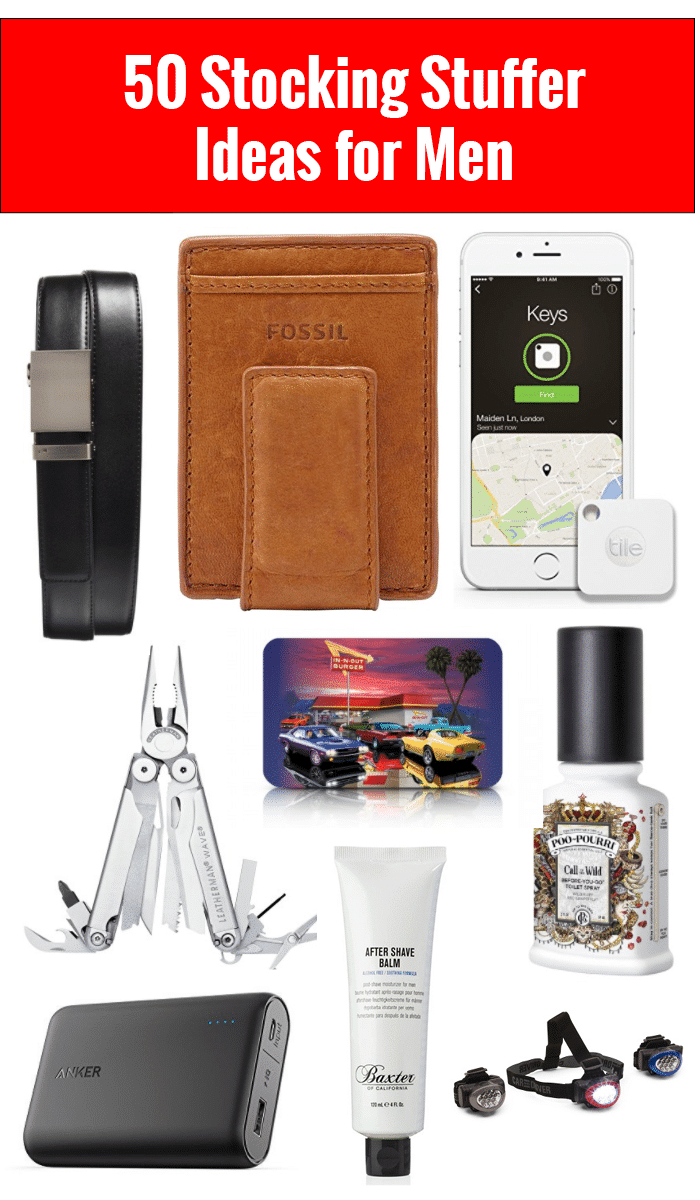 Every single year I start planning Christmas presents early, and every single year I get to my husband's stocking and think…I have no clue what I'm going to do! Stocking stuffers for men can be tricky! He seems to like things that are, well, bigger than an oversized sock, and I find myself scrambling to find really great items small enough to fit in his stocking.
Every list I've seen so far relies heavily on food items and very specific hobbies, so I thought I'd start writing down all the more generic things, excluding food items, that work for most guys. Because hey, stocking stuffers for men are needed for all types of guys! And now that I've found myself at 50 it's time to share! So here they are, 50 Stocking Stuffers for Guys- perfect stocking stuffers for your husband or the other men in your life!
Stocking Stuffers for Men
1. A Date Night stocking stuffer! I have an entire post on date night stocking stuffer ideas. Grab one and have some fun together! It doesn't have to be expensive, although it certainly can, but tickets for a date night in an envelope or small container are an expected surprise and make for a romantic gift.
2. Socks. Have an athletic spouse? Get some new sporty socks. Have a professional? Get a fancy fun pair of dress socks. Have a guy who wears shoes? Chances are there's a pair of socks perfect for him and his needs, and hey, there's nothing like a pair of fresh socks!
3. Tie. I've got a husband who dresses up for work and church regularly, but even if yours doesn't have as nice of dress codes, an on-trend tie is a great idea. You never know when you need one, and the tie box is just about the perfect size.
4. Gift cards to his favorite lunch spots. I like giving a few food gift cards with zero obligation to take me as his date. It's 100% his food, and 100% his gift. I know he's happy to share, but I feel more thoughtful when I grab a couple of gift cards at his favorite places near his office and add them to his stocking. He always loves this gift too. This is my favorite stocking stuffers for husband idea out there- he always loves it!
5. New Wallet or Money Clip. How often do those babies wear out? Often! I've found it's like jewelry to many women, and it's a useful accessory they always carry.
6. A Pocket Knife/Leatherman. These range from cheap to pricey, but they are all super handy! Find a good-looking one that has features you know he'll use and add it.
Stocking Stuffer Ideas for Men
7. New Tool. I hate to play on the stereotype, but I know my husband loves new tools and replacing older worn-out tools with better options. So many are the perfect size, and if you pry even a little bit for what projects he'd like to do, you could easily find a new handy tool to assist.
8. A Headlamp. My parents gave these one year and we laughed at the thought. Low and behold, every time we need to grab something at night this seems to be grabbed. They aren't very expensive and boy are they useful!
9. A Pack of Cards. Everyone needs one of these in their life, and a themed pack makes it feel extra special.
10. Favorite Hair Product. Forming cream, gels, pomade, whatever their fancy is, get it.
11. Tape Measure. We can't be the only ones who lose ours often or could use one indoors and outdoors. Great size, great price, and lots of options for your needs.
Stocking Stuffers for Guys
12. Desk Trinkets. Sometimes their office space needs a little help, and a few cool desk items can make all the difference.
13. A New Watch. If you're looking for a big win, a statement watch is a perfect item.
14. A DVD. I know it's getting a little old school, but their favorite movie in a collector's edition with art and the special case is something you just can't go wrong with.
15. Headphones. This could be a fresh set of earbuds, I really high-quality pair, noise-canceling headphones– whatever you know works best and he'll use.
16. Phone/Key Finder. We recently bought these and our lives are now saved from the endless missing key/missing phone hunt.
17. A Nose Hair Trimmer. You can possibly argue this is more for you, but this is something most men will definitely use and love.
18. A Mini Lego Set. There's nothing like tapping childhood nostalgia for a fun gift.
19. Their Favorite Drink. Most people won't complain one bit about their favorite fine beverage. That can be alcoholic or not. Fancy sodas definitely do the trick too!
Men's Stocking Stuffer Ideas at Every Price Point
20. A Rubik's Cube. Thank you 80's movies for making these cool and giving them staying power!
21. Leather Belt. I'm finding almost every guy has at least one they need to replace.
22. A New Phone Case. Even if it's just screen protectors, a backup or new option is nice to have.
23. Marinades or Rubs. Liquid or dry form, most people are fans of new flavors or fancy rubs.
24. New Water Bottle. These things are often used and abused at work no matter what the profession is! Find one easy to fill, easy to use, and will fit in well with their office.
25. New Sunglasses. You can never have enough backup pairs.
26. Video Game. Whatever their system of choice, most are the perfect size.

Stocking Stuffers for Him
27. Pedometer. If you aren't splurging on an Apple Watch, you may find a cheaper Fitbit to fit the bill perfectly. Bonus if you can get his best friend's significant other in on it, gamifying fitness works!
28. Razer. Get that fancy one he's been eying or a bunch of back-ups of his favorite brand.
29. Hat. Favorite sports team, beanie, whatever he would love best or could use.
30. Grooming Kit. Boy, do these come in handy.
31. iPhone Camera Lens. Because Instagram husbands are only increasing in quantity.
32. Flashlight. So useful for cars, nightstands, or emergency kits.
33. Airpods case. These can help keep track of airpods and chargers. They're perfect to attach to a backpack or in a laptop case. Also, they just look so cool and sleek!
34. Shoe Cleaning Kit. Leather polish, a new brush, and a little elbow grease go a long way.
Easy Stocking Stuffer Ideas for Men
35. Camera Accessories. Grab a selfie stick, a mini-tripod, etc.
36. Movie Tickets. These are always fun to have on hand.
37. Favorite T-Shirt Update. Whether character, plain, or something in between. These roll up to be the perfect size.
38. Knife Sharpener. Because there's nothing like a freshly sharpened knife.
39. Poo-Pourri. Your lives will never be the same! This product has you spray the toilet before you go to help eliminate odors. It's funny to receive, but highly useful!
40. After Shave. A quality one with a great smell is ideal.
41. Beard Cream. Because it's a Millenial need. Also, just in case he decides it's time for one and needs some grooming.
42. Smartphone Mount. There are bike versions, car versions, desk versions all are useful!
43. External Battery Charger. If you travel at all these things are lifesavers and this is a great time to snag one.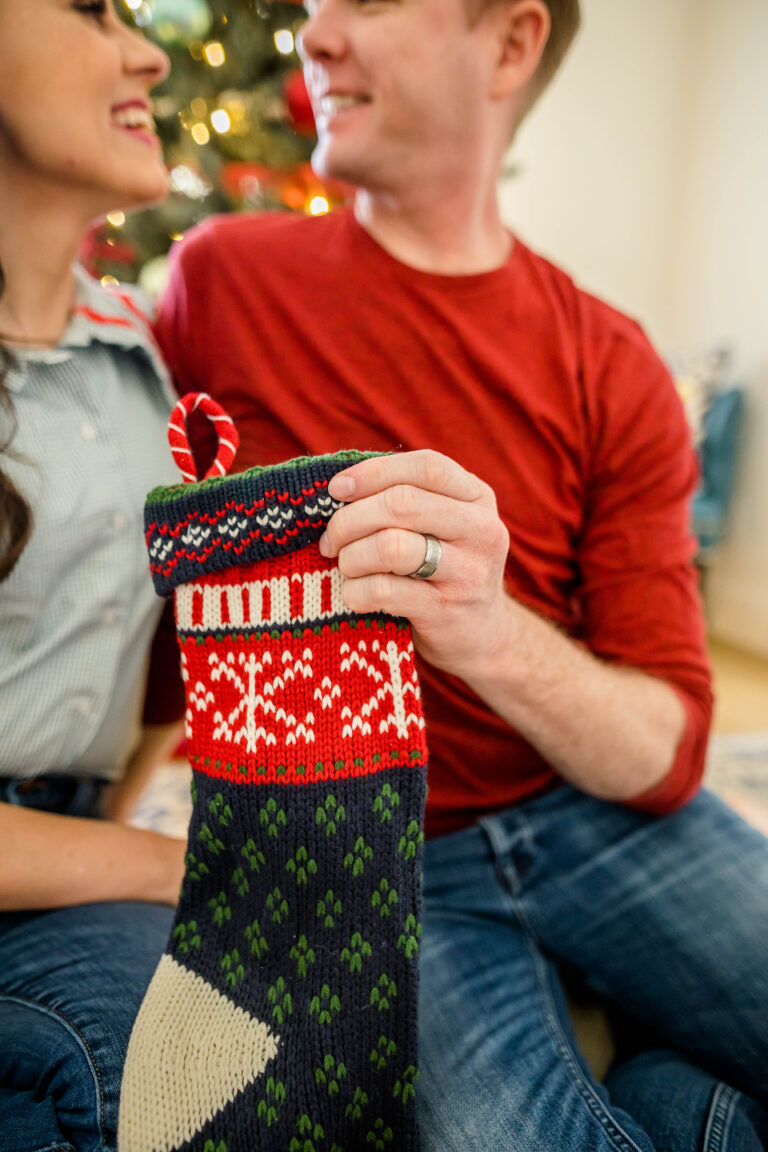 Stocking Stuffers for Husband/Stocking Stuffers for Boyfriend)
44. Chapstick. Get his favorite kind and help him stock up.
45. Emergen-C. These taste great and are perfect to stash during cold/flu season.
46. New Shoelaces. Give his favorite kicks some flair or a much-needed makeover.
47. A Movie Theater Cup. Check with your local theater, but typically $5.50 will mean $1.50 drinks for each flick you attend. There's often shirt/hat combos that work great too!
48. A Bottle Opener. Customize it, and find one perfect for his favorite beverage. Bonus if it's a keychain version he can always have on hand.
49. Air Freshener for their car. Find his favorite scent and hook him up for a much more pleasant commuting experience.
50. A New Loofah. Another must! Also, because don't they always need a new one, and never buy one?
Any other stocking stuffers for him that you've found to be a big hit? We'd love to hear those boyfriend stocking stuffer ideas, and of course, husband stocking stuffer ideas that you've tried and loved too!
Like these stocking stuffers for your husband/stocking stuffers for your boyfriend post? You may like these gift guides too:
25 Stocking Stuffer Ideas For Toddlers
10 Perfect Items For Your Husband's Easter Basket
What to Get a Guy for Valentine's Day
Get 365 Date Ideas!
We want to help you have the best date nights ever! Grab this FREE printable with 365 date ideas, a date for every day of the year so you never run out of ideas!