Stanley Tumbler With Handle: Stanley Adventure Quencher Review
An unpaid review of the Stanley Adventure Quencher tumbler with handle and if it's worth the price. Plus tips to snag one before they sell out!
The Stanley Tumbler with Handle
I had seen the Stanley tumbler (with handle) all over Instagram and thought it might be worth looking into. I'm an avid water drinker, and a Stanley 40 oz tumbler with handle sounded like something I would use every day!
As a fairly frugal person, the price tag felt a little steep. Sitting around $40-45 felt like a bit of a splurge. I do own a Hydroflask that I've used and loved for years, and I remember feeling the same way before I made the purchase. It has been worth every penny!
I realized the purchase of a 40 oz Stanley cup may yield the same experience. Maybe I was being a little cheap and there had to be a reason so many people loved this product. Plus, a tumbler with a handle is functionality we all can use in our lives, right?! So I went ahead and added this cup to cart!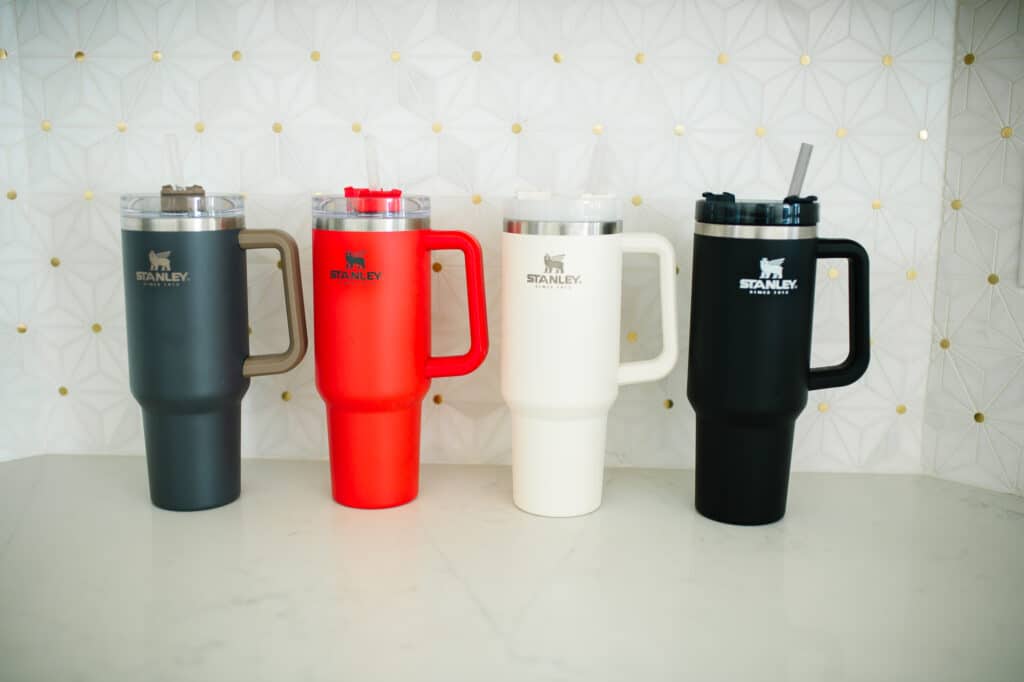 Why Look Into a Stanley Adventure Quencher
I drink a LOT of water. My husband calls me "The Most Hydrated Person In The World" and he may be right. I have an endocrine disease that makes me chronically thirsty. Combined with pre-diabetes and living in Arizona, a water bottle or 40 oz tumbler is kind of a must. I refill one about 4-5 times a day.
BUT- You don't need any of these titles or need to realize why it's a great idea to look into one. Here are some great reasons!
Drink more water

Better Tasting Water

I bought my husband a Stanely tumbler just to help with his water problems at work. He works in a major downtown area, and the water just doesn't taste great there. With a 40 oz tumbler he has enough water and ice that tastes great it's helped solve the problem. I got his THIS MODEL.

Arthritis Help

I have a touch of arthritis coming in, and my mom has arthritis in her hands. It's so much easier to hold a tumbler with a handle than without out! If you have arthritis, limited hand functionality, or a loved one with either- it's a great ergonomic handle option for more comfort.

Keep Water Cold

If you live in a warmer climate, you're going to love this! If you don't, you're still going to love this!

Tumbler with Handle (Why It's a Must!)
Even though I had vacuum-sealed cups and drinking flasks or mugs with a handle, the Stanley Travel Quencher is the best of all worlds. It has a double-wall vacuum insulation that makes it new sweat or spill. The functionality of being able to grab your drink and go without condensation makes life so much easier! I was hooked the moment I tried this.
When we spent part of our summer living in Utah with my brother and sister-in-law, I noticed she didn't just have one Stanley Adventure Quencher, but two! And each of their older family members also has their own Stanley Quencher. When we'd run an errand, she didn't have to stop and refill a separate water bottle. It was an easy grab-and-go with hands available and no need to pack a purse.
As a busy mom, I knew the handle would be a game-changer! I spend far too much time dropping kids off at school and activities, and the handle and cup that fits in my car's cupholder mean hydration with ease as I switch between activities.
Also, there are times I pick up my toddler and carry him when we're out and about. I never would have been able to balance him and my drink with any of my other 40 oz tumblers in hand!

Stanley Cup 40 oz Features and Favorites
Click here for the exact model we're looking at and reviewing.
A handle

I already mentioned this, but it's a game-changer!

Comfort grip

Other brands make knock-offs with handles, but the design and comfort of a Stanley cup with handle is so much more comfortable and easy on arthritic or full hands! And, they've recently updated with extra comfort-grip inserts that make it even more easy on the hands than the original quencher.

Cup-holder approved base

It fits perfectly in my car cup holders. In fact, of the dozens of friends I know who own one, only one has had an issue with it not working in her car. There are cup holder adapters for anyone who finds themselves in this situation. But for most vehicles, it works perfectly!

Tons of colors

I have a limited edition red (my favorite color), and a cream cup. My husband has a coal and also a black. Yep, we loved them so much we each own two!
I also own the new 30-ounce Stanley Quencher tumbler and love it for beverages other than water.
They all come in fun colors, even fun metallic options like the rose quartz glow and silver options.

Vacuum-sealed tumbler to prevent condensation

You won't have a cup that sweats with a Stanley Adventure Quencher! Drinks will stay put inside the cup.

Spill-Resistant

The updated Stanley tumbler has a few new features, including a tighter drink opening for the reusable straw. The full-cover top screws on to prevent splashes will full cover closure. The vent has a silicone seal, and they help with spill resistance! It isn't perfect, if you knock your Stanley over, you will likely have some water spill from the straw opening in the lid. But overall, it does a great job of limiting spills.

Dishwasher safe

I love how easy it is to clean! Each part is dishwasher-safe. These cups are also easy to clean by hand washing!

Quality made with a lifetime guarantee

"Will last forever" – Stanley. You really can't beat that guarantee, can you?

Keeps drinks cold up to 17 hours

I know some people love the hot for 9 hours deal. However, as an Arizona resident, I am here for the cold all day and even through the night.
Even on 118-degree summer days, my Stanley travel cup keeps my drinks cold and the ice unmelted. This has been the best thing for hot summers!

Travel Mug made easy

We've brought ours on every road trip. I am certain if I fly anywhere for more than a week it will be in my suitcase. And you'd better believe every family date day or date night out, we have our Stanely 40oz travel Adventure Quenchers with us!
Are there any cons to the Stanley Insulated Cup?
I have three.
Price.

You can find an alternative for about half the cost. I've heard a lot of people who upgrade to Stanley say it's a night and day difference with the Stanley! But, if it's just not in your budget, here's a Stanley cup alternative for a much lower price.

Spills

It's pretty secure compared to every other stainless steel tumbler, but the top isn't perfect. If you put it in a purse or it tips sideways, it does spill! There is a company that sells inserts- look up quickfix on Instagram.

Out of Stock

If you're ready to get one, you may be a little sad to hear that Stanley Cup 40 oz varieties are more often out of stock than in. They are popular and people love them! Even when they go on sale, they often sell out in hours, sometimes in minutes! Don't worry, I'm going to walk you through tips to snag one!

How to Get a Stanley Drinking Cup Before They Sell Out
Since they're often gone in minutes, let me tell you tips to make sure you get a Stanely drinking cup when they are in stock.
On Instagram, I share updates and links for launches. Add me to your favorites or turn on notifications so you see my live posts.

Sign up for their email list.

It's worth it to join their email list. They'll share about a week before a new launch or restock when Stanley cups with handle options are coming.

Set a reminder/calendar notice

They go so quickly it's no joke! Set a reminder on your phone or watch so you're ready.

Make sure you're online and ready a few minutes before the launch.

You'll want to refresh and be ready the moment they're live on their website.

Choose a backup color.

Your favorite color may sell out in minutes. I'd choose two options and make the decisions before it goes live.

Add two of each Stanley Tumbler With Handle choices to your cart.

I know a lot of people buy multiple at a time. Why not combine to save on shipping? In my experience, some colors sold out in under a minute, and some were available for about an hour or two.
It's really easy to downgrade the quantity in your cart when you get to checkout. But if you have to go back to the product page and add, you risk one selling out.
Go ahead and all the things you think you want to your cart with a buffer amount. Then, when you're about to checkout you can remove/adjust. But you'll have your backups and at least get your second choices without losing out on them.

Have your credit card ready.

Be ready for quick checkout. Sometimes things disappear while you check out, and you want to be ready to get out as quickly as possible.
Stanley Water Bottle Love
Clearly, the skeptic became one of their biggest advocates! My Stanely cup has been my favorite purchase this year! It's been a fantastic gift for new moms, parents, teachers, and I'm even adding it to my husband gift guide because it's his favorite thing too!
If you're on the fence, I can't recommend a Stanley cup 40 oz Adventure Quencher enough! It's something you'll use daily and help you drink more water! Grab one HERE!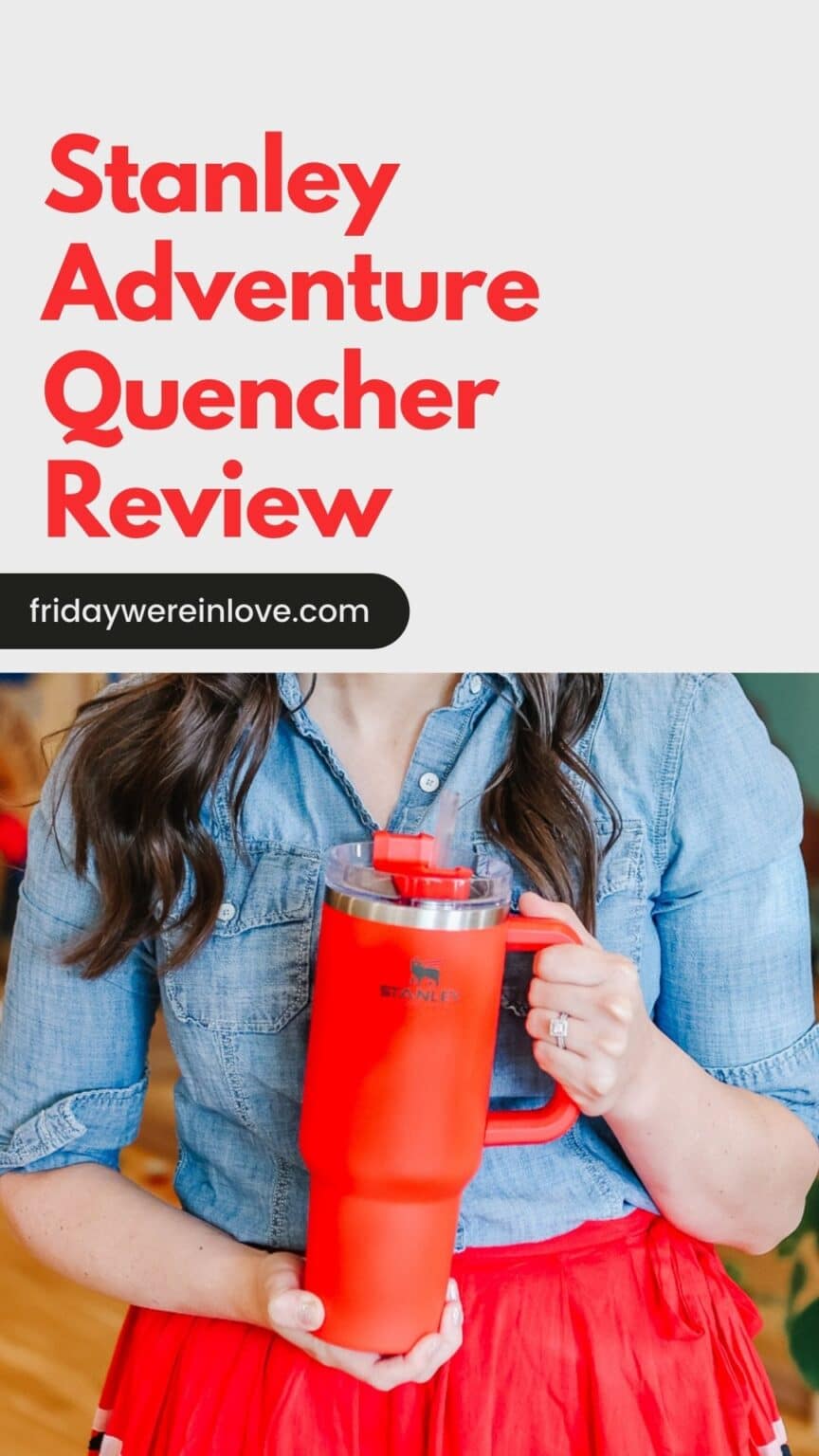 Like this product review? Here are a few of my other favorite things:
The Adventure Challenge Review: A Fun New Way to Find Your Next Date Night
Date Night Subscription Boxes Roundup
Get 365 Date Ideas!
We want to help you have the best date nights ever! Grab this FREE printable with 365 date ideas, a date for every day of the year so you never run out of ideas!