Stocking Stuffer Ideas for Wife
If you're wondering what are some great things to put in my wife's stocking? Here are 75+ stocking stuffer ideas for wife/girlfriends that they'll love!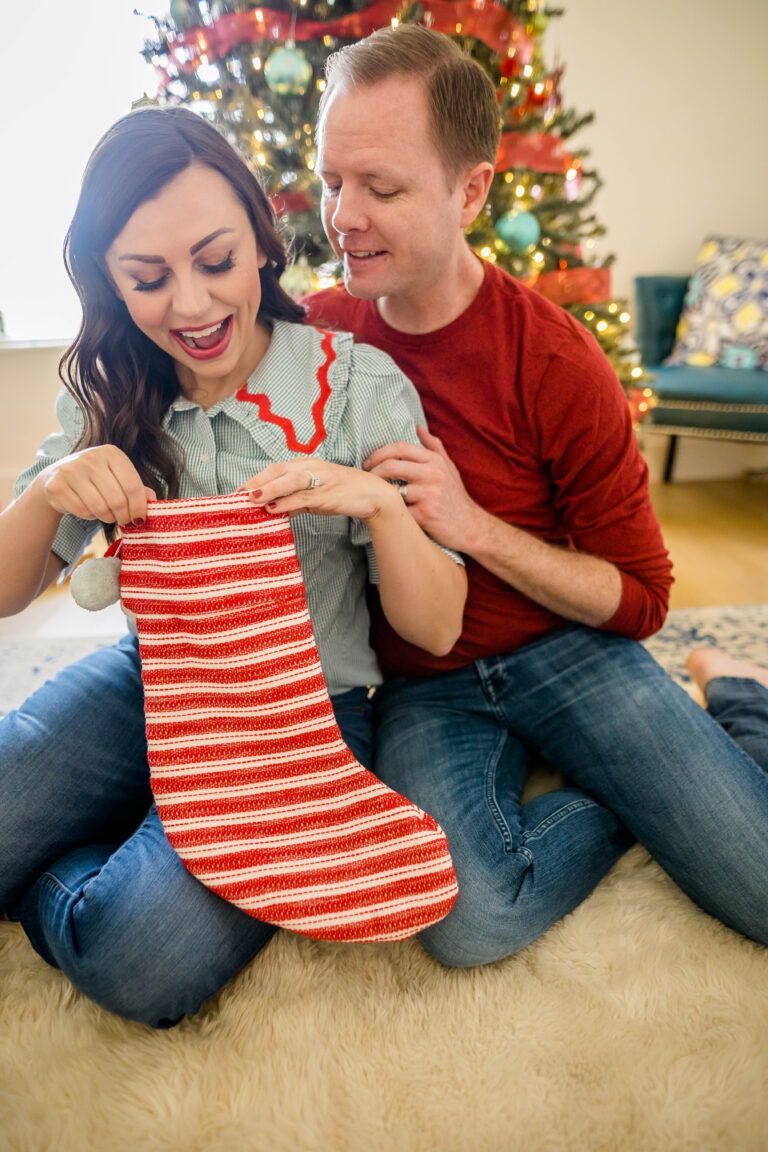 We've had such a great response on our
stocking stuffers for him
list, and I knew it was time to help the husbands out too! If you're wondering what are some great things to put in my wife's stocking? Then this post is for you!
Here are 50 excellent stocking stuffer ideas for your wife or girlfriend
Stocking Stuffer Ideas for Wife
A Date Night stocking stuffer! I have an entire post on date night stocking stuffer ideas. Grab one and have some fun together! It doesn't have to be expensive, although it certainly can, but tickets for a date night in an envelope or small container are an expected surprise and make for a romantic gift.
Gift Card to Get Her Favorite Lunch
Give her the gift of one of her favorite meals that she can grab on a lunch break.
Gift Card to Get Her Favorite Drink
Some women love coffee or tea, some love a soda, and I think all love a little indulgence. If you're stumped, Starbucks is always a good choice (coming from a non-coffee drinker)!

Health and Beauty Stocking Stuffers for Her

Silicone Face Scrubber
These things are game-changers in cleaning your face! My and husband and I each have one and really love them.
Makeup Eraser Cloth
This is one of my favorite stocking stuffers for wife ideas: My husband chose one before I knew what they were. I used it Christmas night and was instantly hooked! I'm so glad he knew I'd love this updated way to easily remove makeup!
Dry Shampoo
The secret to great hair and something most women can never have enough of! If she has dark hair, be sure to get a brunette or black bottle.
Face Mask
Smoother skin, better skin, and all from a little pod that fits so perfectly in a stocking.
Sheet Mask
I only wish I'd fallen for these sooner! Your wife probably loves these or just doesn't know she needs to yet.
Jade Roller
These feel incredible and help with puffiness and inflammation.
Under Eye Dark Circle Treatments
Goodbye dark circles, and hello bright eyes instantly!

Personal Use Favorites

Bath Salts
This is the most soothing thing to help with sore muscles, help get through sickness, and detox after a stressful day.
Bath Bombs
If you have a bath fan, they're going to love these!
Foot Massage Balls
These feel amazing on sore feet! I'd add in a foot rub coupon too!
Hair Brush
I've personally purchased this twice: hello practical, useful, and beautiful!
Hair Treatment Mask
'Tis the season for dry hair. This one has so many amazing rave reviews!
Silk Pillowcase
Grab one to match your bedsheets, and give the gift of healthier hair (or a backup in case she already has one).
Silk Bonnet
This is a great way to protect hair at night!
Sleeping Mask
These are so handy for travel or just a nap! In fact, maybe you should give her a nap with this excellent stocking stuffer for wife!

Beauty Stocking Stuffer Ideas for Wife

Makeup Brush Cleaner Mat
This is a game-changer in keeping makeup brushes clean.
New Makeup Brushes
It's probably time to replace them, and this set is so cute!
Makeup Setting Spray
Welcome to my favorite beauty secret and how to make makeup last all day and night!
Long-Lasting Lipstick
A lipstick that moisturizes and stays put so it won't kiss off! It's hypoallergenic, paraben-free, and gluten-free, and cruelty-free. I'm loving not aging my lips and the Genuine color is perfect for every date night look! And CAMILLEW10 gets you 10% off!
Lip Scrub
Help dry chapped lips with this delicious smelling scrub!
Ipsy Gift Subscription
I bought myself one for my birthday last year and instantly fell in love! It's such an inexpensive way to try high-end skincare, beauty, and makeup products.
Nail Stickers
I love having fun prints and designs on my nails. And I'm a huge fan of doing my nails at home with a quick nail sticker!
Nail Polish Set
It's hard to go wrong with a classic color and a topcoat gift set she'll get to enjoy all year!
Self Tanning Kit
I will forever swear by this self-tanner for keeping my winter legs less pasty. And this application mitt is a must to go with it!



Jewelry Stocking Stuffers for Wife

New Studs
I love the minimalist studs from SHOP HEY JUNE – I own a literal dozen of them! You can get 15% off with promo code FRIDAYLOVE
Fun Earrings
A fun pair of sparkly earrings or statement earrings are always great stocking stuffer ideas for wife!
Classic Hoop Earrings
Trust me, the best hoops come from SHOP HEY JUNE You can get 15% off with promo code FRIDAYLOVE
Personalized Necklace
A New Ring
Bracelet Stack
Hair Barretts
These have made a huge comeback lately, and a pretty pearl set is perfect for women of any age!
Headband


Practical Stocking Stuffers for Her

Cozy Socks
Running Socks
New Slippers
A New Hat
Nice Wallet
Touchscreen Gloves
I'm so grateful some realized we still need to use our phones when it's cold out! These gloves are perfect for the winter months!

Tech Gifts for Her

Apple Watch Band
Airpod Case
Loopy Case
These are the best phone cases that stop the drop and help you capture every moment! Get 15% off with Loopy case promo code fridaywereinlove
Phone Holder
Hello hands-free safer driving!
Electronics Travel Case
If you travel at all, you'll be so glad to have one of these for your family!
Extra Long Charging Cable
Headphones. This could be a fresh set of earbuds, I really high-quality pair, noise-canceling headphones– whatever you know works best and he'll use.
Phone/Key Finder. We recently bought these and our lives are now saved from the endless missing key/missing phone hunt.


Stocking Stuffers for Women She'll Use and Love

A New Tumbler
Insulated Cup
Reusable Straw
New Mug
Blender Bottle
Set of Flare Pens
Gratitude Journal
A Cute Notebook


Fun Date Night Stocking Stuffers

Do You Know Your Husband/Do You Know Your Wife Game
A Connecting Journal
A Love Story Journal
The Adventure Challenge for Couples
Movie Tickets
Gift Card for a Nice Restaurant


For the Kitchen Lover

Supoon
This is the most used item in our kitchen, and new enough most people don't have one yet.
Chopula
Two favorite kitchen gadgets in one are always a good idea!
Gourmet Caramel Sauce
Take ice cream, milkshakes, cakes, and even a plain spoon to the next level with this amazing sauce!
Cookie Scoop
For the baker in your life, a cookie scoop is always a good idea!
Baking Mats
Eco-friendly meets function with this excellent kitchen product.

Sweet Tooth Stocking Stuffer Ideas for Wife

Sea Salt Caramels
These are amazing and so fun to get a tub in a stocking!
Ghirardelli Chocolate Squares
If you know, you know! A variety pack or a holiday pack are extra fun!
Chocolate Dusted Almonds
These are excellent for those who need to lower sugar levels but still have a sweet tooth.
Smart Sweets Candy
A lower-sugar option that brings back all the nostalgia and flavors of favorite candies!
Compartes Chocolate Bar
This was a gift at a conference I've never forgotten! You can't go wrong with any of their gourmet chocolate bars (or shopping small)!
Like these stocking stuffers for her? You may like these posts too:
Date Night Stocking Stuffer Ideas
Gifts Your Wife Really Wants: A Gift Guide for Her