Christmas Pajama Photoshoot Ideas
Get ready to capture some fun holiday magic in your pjs with these Christmas pajama photoshoot ideas! Get ready for fun Christmas pajama pictures with these creative photo ideas.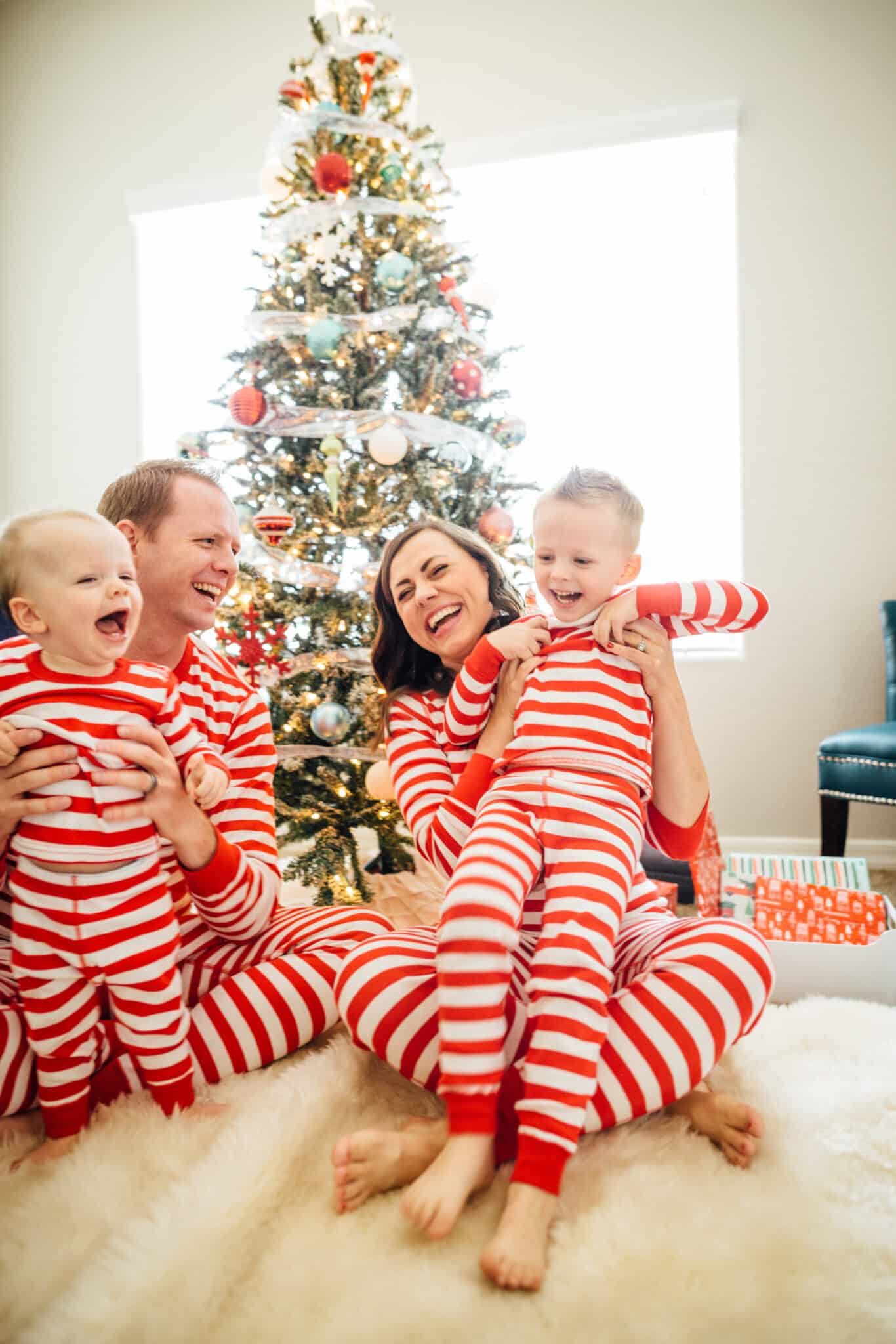 The holiday season is all about creating memories with those you love. What better way to do this than with a Christmas pajama photoshoot? Whether you're gathering the whole family, including little ones and pets, or planning a cozy shoot for just the adults, we've got a sleigh-full of Christmas pajama photoshoot ideas to help you capture the perfect Christmas photo.

Get ready for 10 fun photo shoot themes using Christmas pajamas. From the twinkling lights of your Christmas tree to the festive colors of your holiday decor, these ideas are sure to add a touch of magic to your family photos.
10 Magical Christmas Pajama Photo Shoot Ideas
1. The Magic of Christmas Morning
One of the best holiday family pictures you'll cherish forever is capturing the excitement and joy of Christmas morning! You can either set up the camera and a tripod for great photos that feel more candid the morning of Christmas. Or, hire a professional photographer and set the scene a few days or weeks early and enjoy a few Christmas morning activities with your family members.
Ideas Include:
– Unwrapping presents
– The first sip of hot chocolate
– Enjoying Christmas breakfast
– Everyone cozy by the tree
– The family with their Christmas stockings
All these moments are extra special in cozy family pajamas!
2. Festive Family Portraits with Santa Hats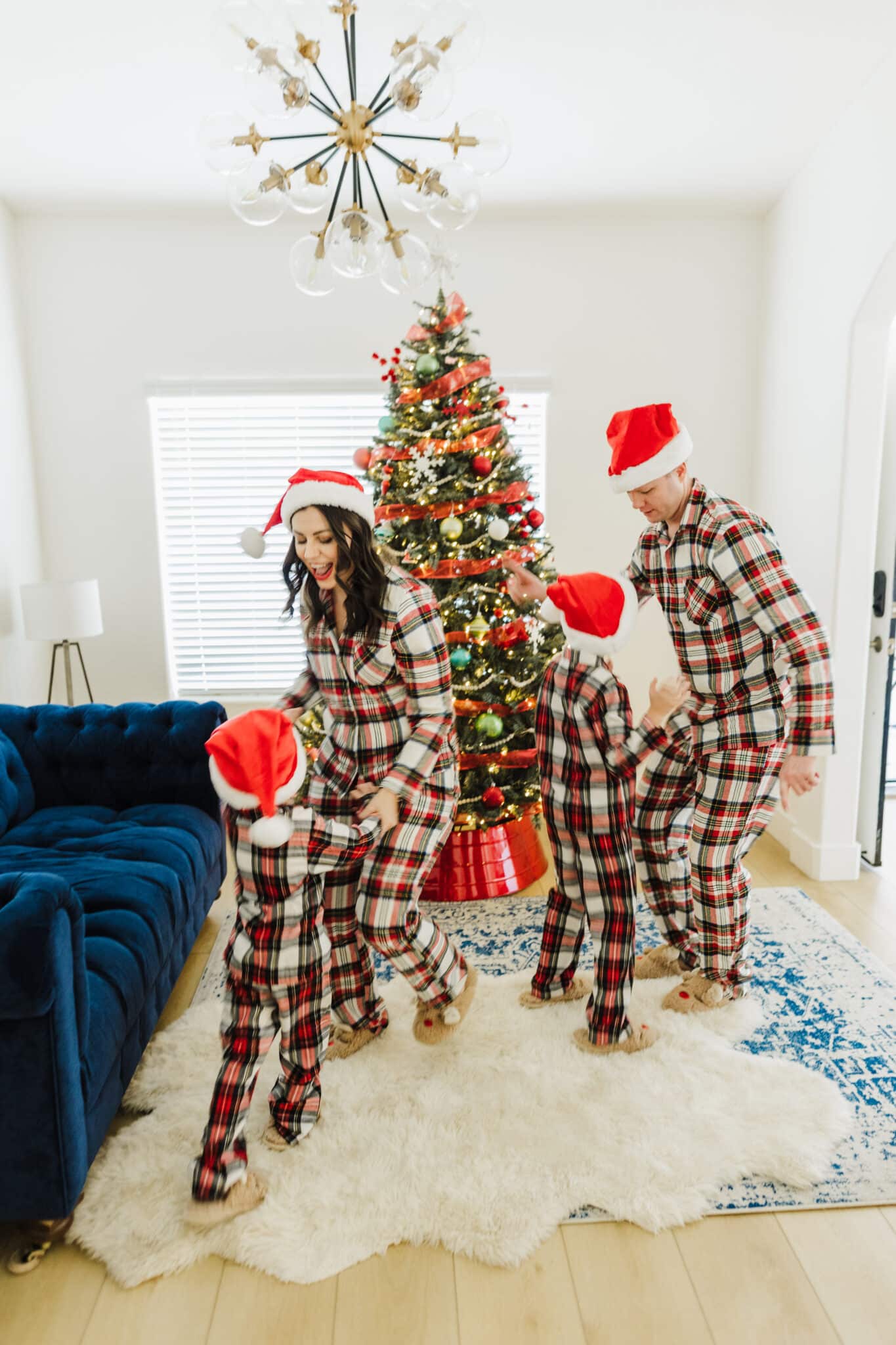 Festive family portraits with Santa hats and pajamas offer a really fun playful and cheerful way to capture the holiday spirit. We try to add these to pajama Christmas pictures every year! Imagine the entire family, dressed in coordinating Christmas pajamas, each donning a bright red Santa hat. It's just such a fun way to add some fun to Christmas family photos!
The backdrop could be your living room, decorated with holiday ornaments and a twinkling Christmas tree, or even an outdoor setting with natural winter scenery. To add more fun, family members can hold holiday-themed props like candy canes or string of Christmas lights, creating a lively and memorable photo that embodies the joy and warmth of the season.
3. Christmas Tree Elegance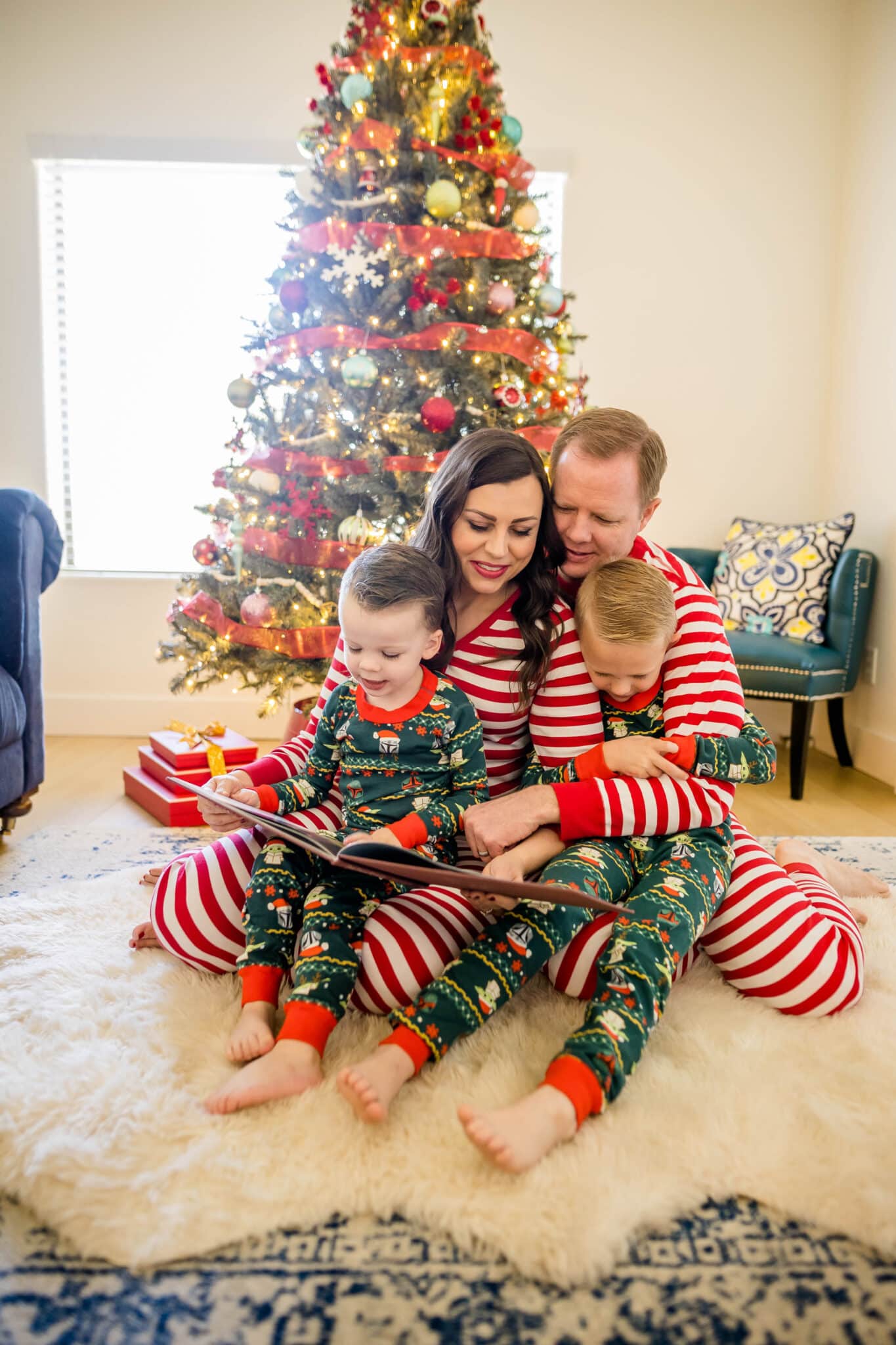 I mean why not utilize the beauty of your Christmas tree (or another famous tree) as a backdrop? As far as holiday props go, a Christmas tree gives the ultimate holiday vibe!
Set up cute holiday photos focusing on its lights and decorations to create a magical and elegant setting. Have the family gather around the tree in their holiday pajamas, capturing both the tree's splendor and the family's festive spirit.
4. Holiday Card Perfection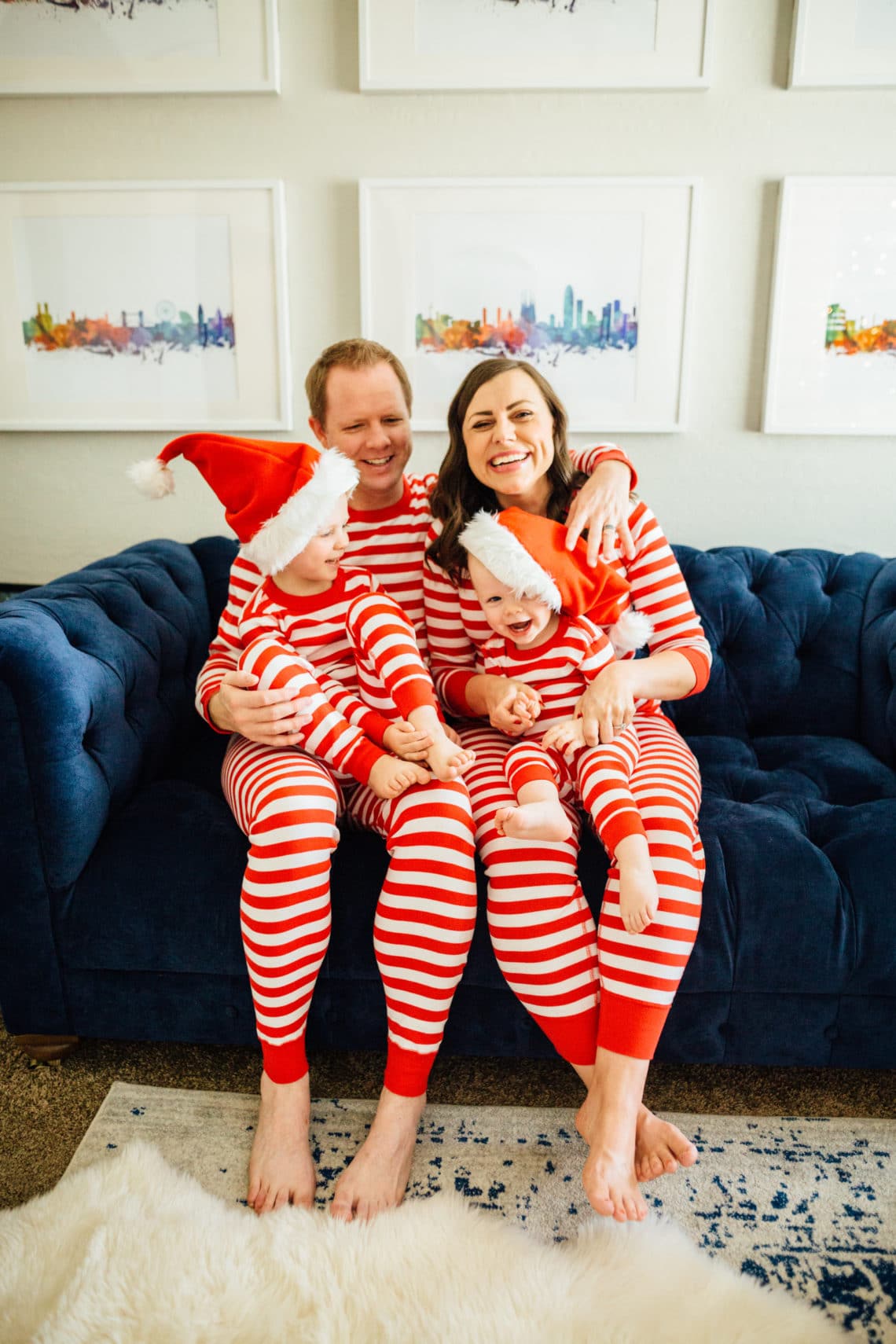 Get ready for a fun photo shoot that's ideal for holiday cards! Yes, family Christmas pajamas make for a really cute Christmas card photo! You can set up a photo session with a professional photographer in a studio, or try to find one that does Christmas minis. It's an easy way to get a Christmas photo shoot with good lighting, great photos, and little stress!
However, you can get your own photos for Christmas cards with a more candid shoot at home in your pajamas as well. Coordinate pajama outfits and use a mix of posed and candid shots to create a photo that captures the warmth and happiness of the season. It's always one of my favorite Christmas card ideas!
5. Cozy and Creative Quintessential Christmas Indoor Scenes/Christmas Family Fun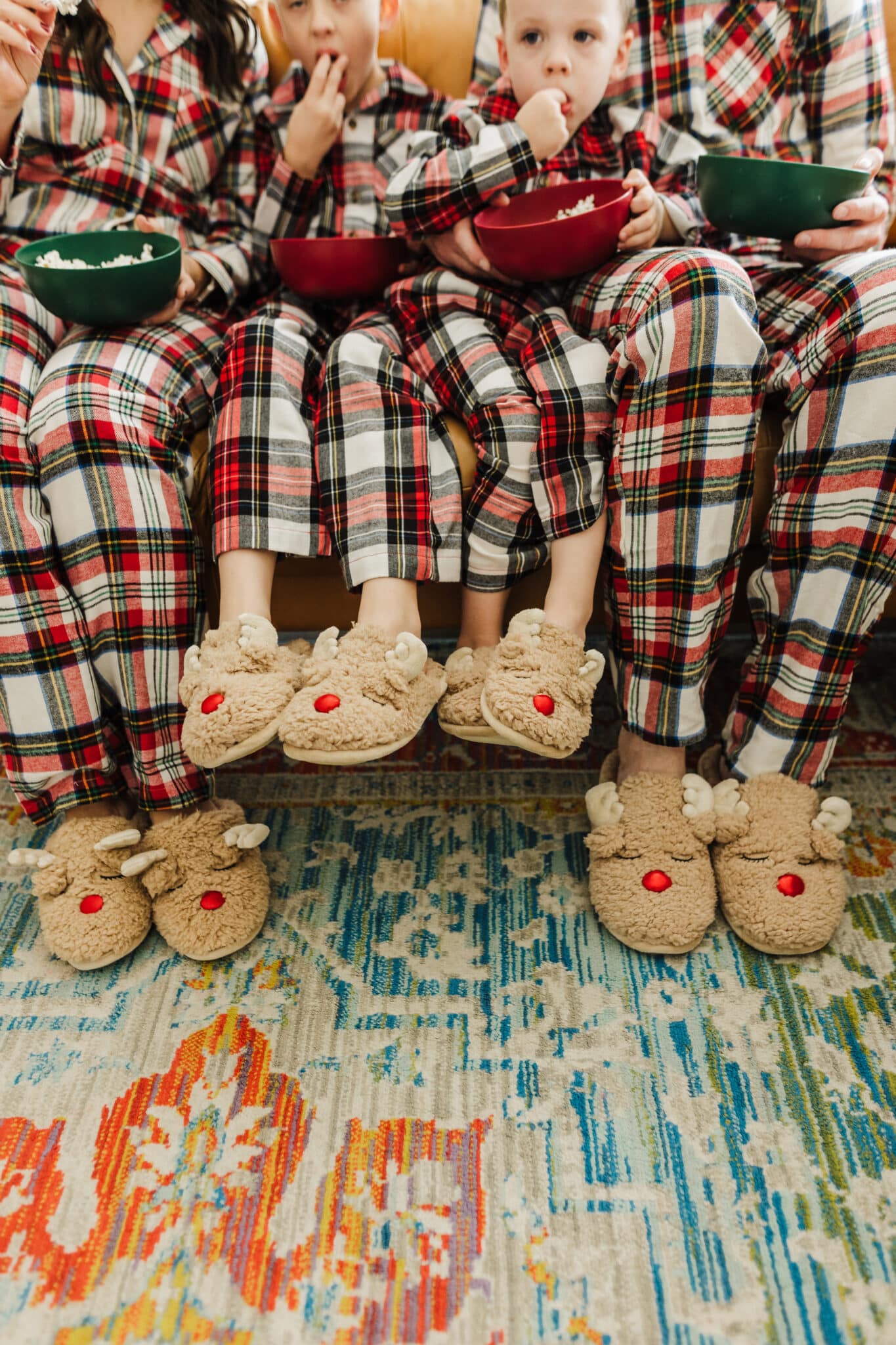 Think of all the fun activities or your favorite family tradition you often do in pajamas. Now add a matching pajama set (or at least a planned color scheme), and get read for the perfect photo that captures the best Christmas moments you'll always want to remember!
This may include baking Christmas cookies, decorating the front of the Christmas tree, setting up Christmas decorations, reading your favorite Christmas books together, watching a Christmas movie, playing holiday games, or sitting in front of a crackling fireplace.
We love to have an actual Christmas pajama party and snap some pictures!
The goal is to capture genuine moments of joy and togetherness. I happen to think those quality time moments and traditions make the best family photos. And they're even more fun in pajamas!
6. Magical Outdoor Christmas Settings
Take advantage of a snowy landscape or a local Christmas tree farm for a unique outdoor photo shoot. There's something so perfect about natural lighting and simple props that make the outdoors a great place to capture family sleepwear together.

Plus, a snowy plain makes an easy outdoor holiday photoshoot in a natural setting one of my favorite places to capture some of the best family Christmas photos!
7. Fun with Christmas Props and Decorations
I mean why not go all out with cheesy props?! Use props that include Christmas favorites, and clearly planted items for some fun photo ideas. Incorporate fun holiday props such as mistletoe, Christmas ornaments, or homemade cookies. Get everyone the same Christmas present box. Maybe have them hold up ugly Christmas sweaters they unwrapped. Wrap yourself in tinsel or lights. These elements add a playful and personalized touch to your photos, capturing the essence of family holiday traditions.
Aim for less candid and more styled photos perfect for social media or a Christmas photo card.
8. Wrapped in Christmas Lights
It takes a simple search to find tons of family picture ideas using string lights. Try wrapping up your family in a few strands of lit lights. You can also light up a strand and place them around the floor for a magical glow. Get creative, and set yourself up with some fun family holiday photos.
9. Christmas Pajama Styles Family Christmas Picture Ideas
Choose Christmas pajamas that reflect your family's style and the shoot's theme. This Christmas pajama photoshoot idea is all about the pajamas! Consider a color palette, matching sets, classic plaids, or fun character prints, ensuring comfort and cohesiveness in the photos. If your family is more into a silly-themed union suit, they make for funny Christmas pictures you'll all remember!
10. Photo Shoot with Santa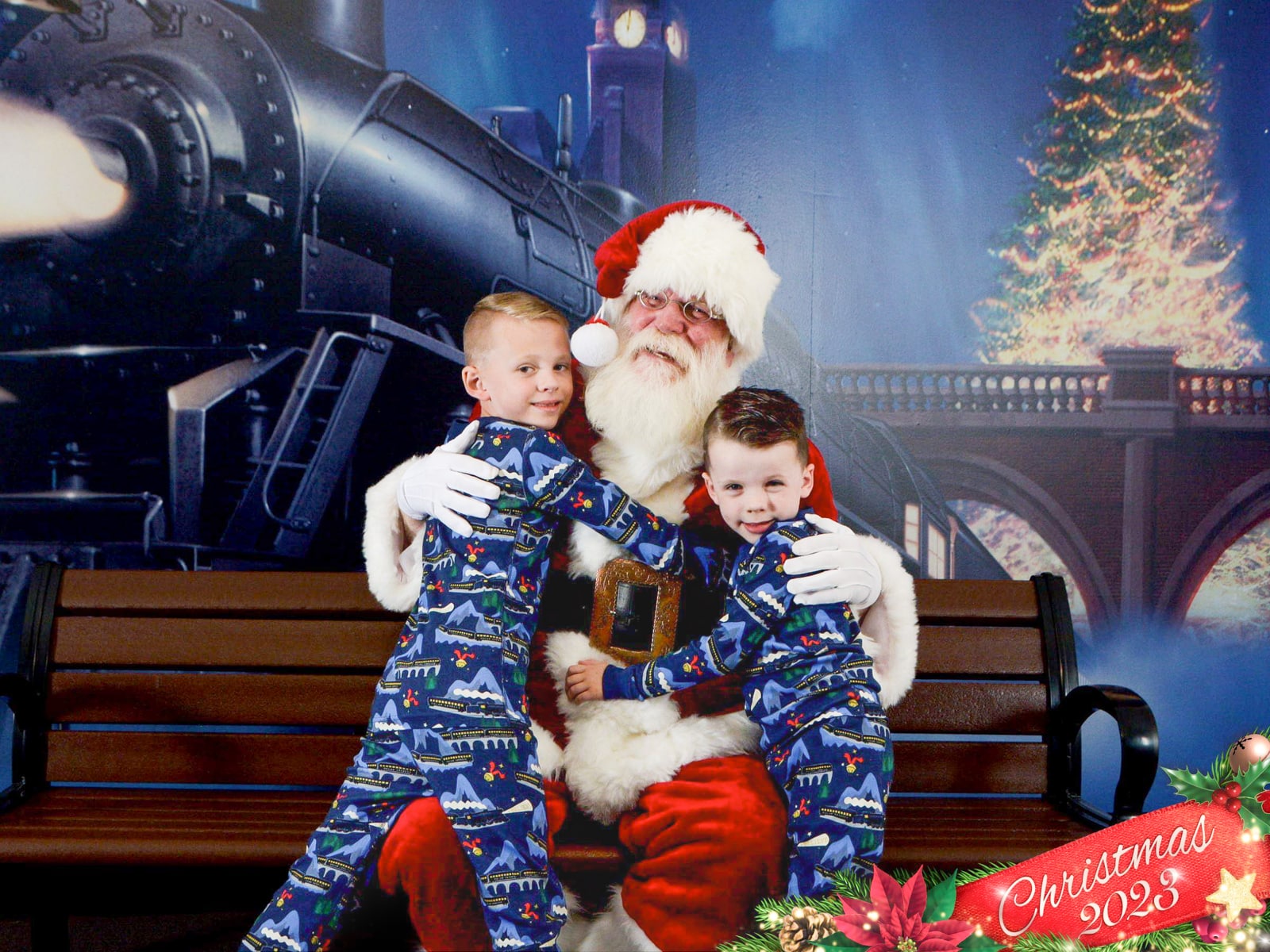 There's something extra special about capturing a family photo with Santa Claus. Whether you have little girls or little boys, or older family members, pictures with Santa belong in every holiday photo album! We've found that this Christmas photo shoot is even cuter when you include Christmas pajamas instead of more formal family wear. It looks like Santa met the kids or family Christmas night or Christmas morning, and adds to the magic!
You can make this happen by getting Santa pictures at the mall, visiting the Bass Pro Shop Santa, or looking into a Santa Christmas photoshoot with a local photographer. We snagged ours in Polar Express pajamas during our Polar Express Arizona trip.
We hope these help inspire a little inspiration for some fun family Christmas photo ideas! And the best part is you can capture them in comfort rocking those holiday pajamas!
A Christmas pajama photoshoot is more than just an opportunity to capture festive family photos; it's a chance to create and capture forever memories! Whether you're gathered around the twinkling lights of a beautifully adorned Christmas tree, laughing under a canopy of falling snowflakes, or cozying up for a movie in your favorite holiday pajamas, these photos will encapsulate the magic of the season. May these creative Christmas photo ideas help you capture the best pajama-blad Christmas photo this time of year! And Merry Christmas!
Christmas Pajama Photo Ideas FAQs
Why are matching Christmas pajamas a thing?
It's an easy tradition everyone can participate in. From feeling a sense of unity on Christmas morning, to a comfortable way to feel festive during Christmas family movie night, it's just an easy way to create a fun family tradition.
What do you wear to a Christmas photo shoot?
Festive colors in plaids are always a good choice. You can go more formal, but photo shoots in Christmas pajamas are a fun trend too! Choose a theme and color scheme, and have fun with whatever vibe works for your Christmas photo shoot.
When should you wear Christmas pajamas?
There's no wrong time to wear them, but tradition typically encourages wearing them on Christmas Eve through Christmas morning. We love to open them early to wear during fun Christmas activities, and even for a Christmas photo shoot to document fun family pajamas for the holiday season.
Like these Christmas Pajama Photo Shoot Ideas? Be sure to check out these posts too:
Valentine's Day Photo Shoot Date Idea
Get 365 Date Ideas!
We want to help you have the best date nights ever! Grab this FREE printable with 365 date ideas, a date for every day of the year so you never run out of ideas!