An easy Tinkerbell costume tutorial. Head off to Neverland with this Tinkerbell costume adults or kids can pull together: no pixie dust needed!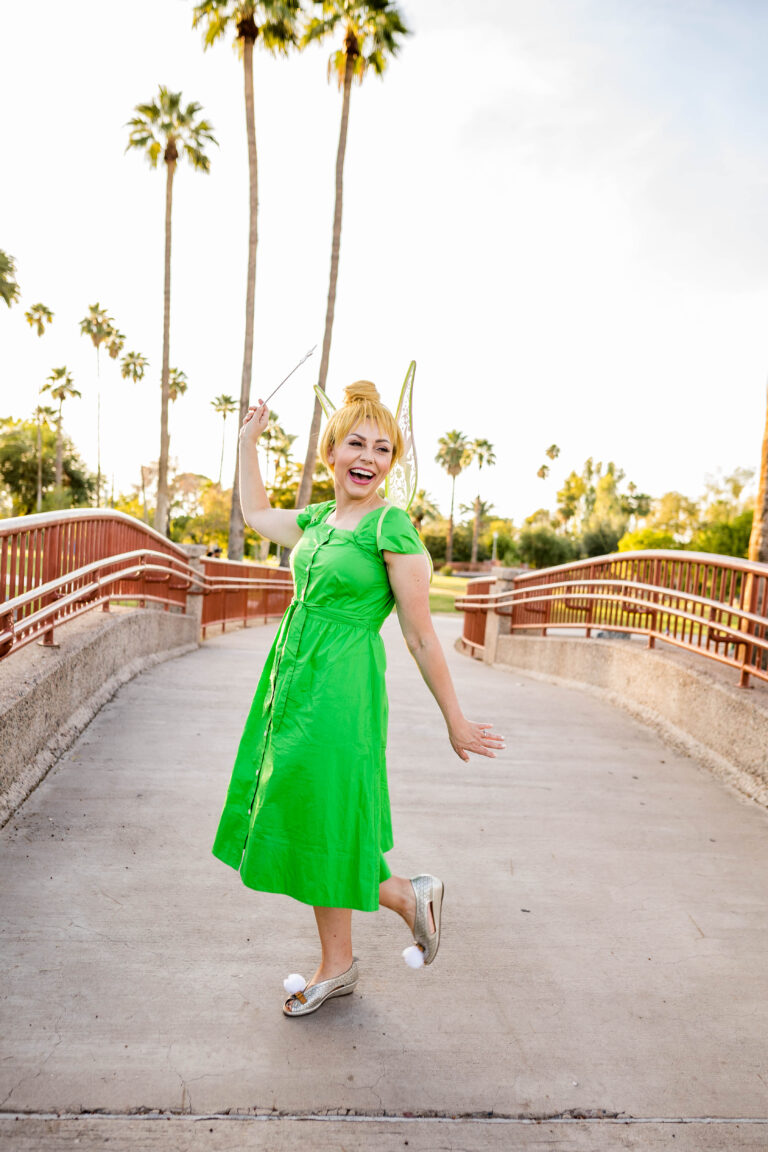 Every year we go all out for family Halloween costumes. My kids are growing up quickly with older ideas, so when my son insisted we rock a Peter Pan family costume, it was like a little bit of the magic of Disney combined with pixie dust hit and we decided to lean into the cute and quintessential costume idea!
My heart truly melted when my son asked if I'd be the Tinkerbell to his Peter Pan. I got to work looking for an adult Tinkerbell costume. There are several good options out there, but since this is a family costume I knew we'd rock it the following year in September to the Oogie Boogie Bash at Disneyland, I wanted a really family-friendly and something breathable that wasn't just polyester-10.
So I got to work finding the elements of a Tink costume, and was able to piece costume items together for an adult Tinkerbell costume I'm proud of!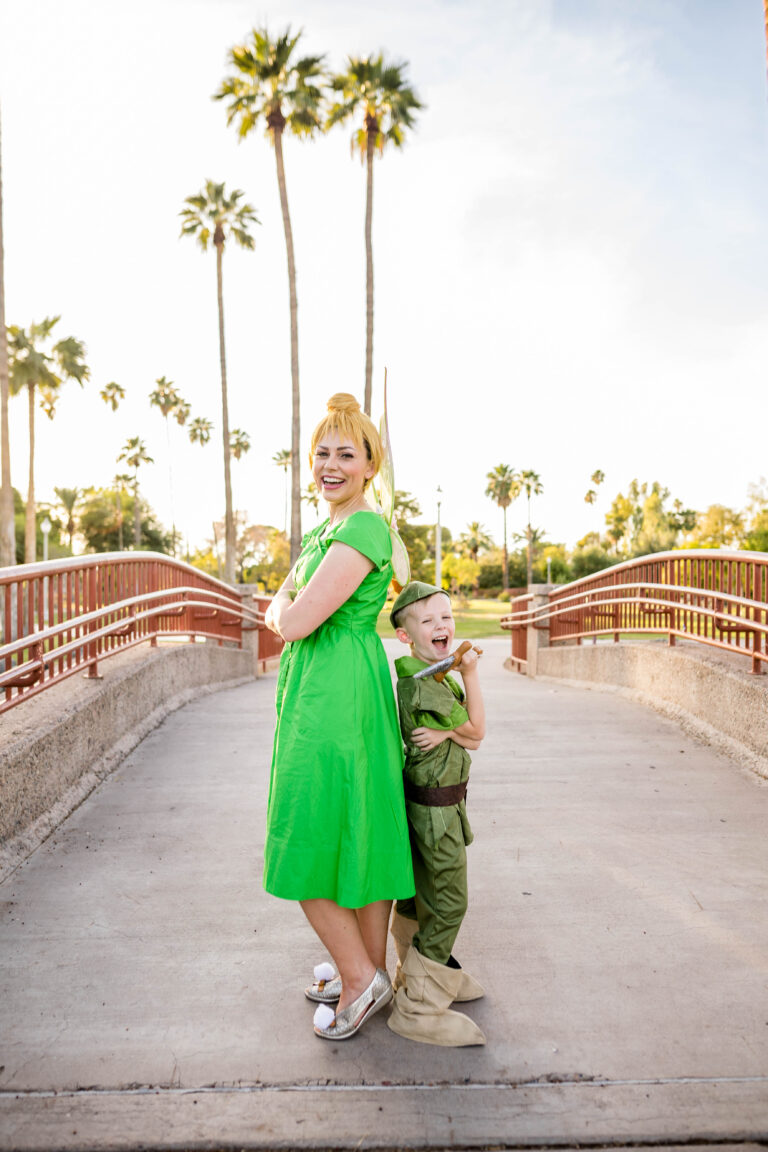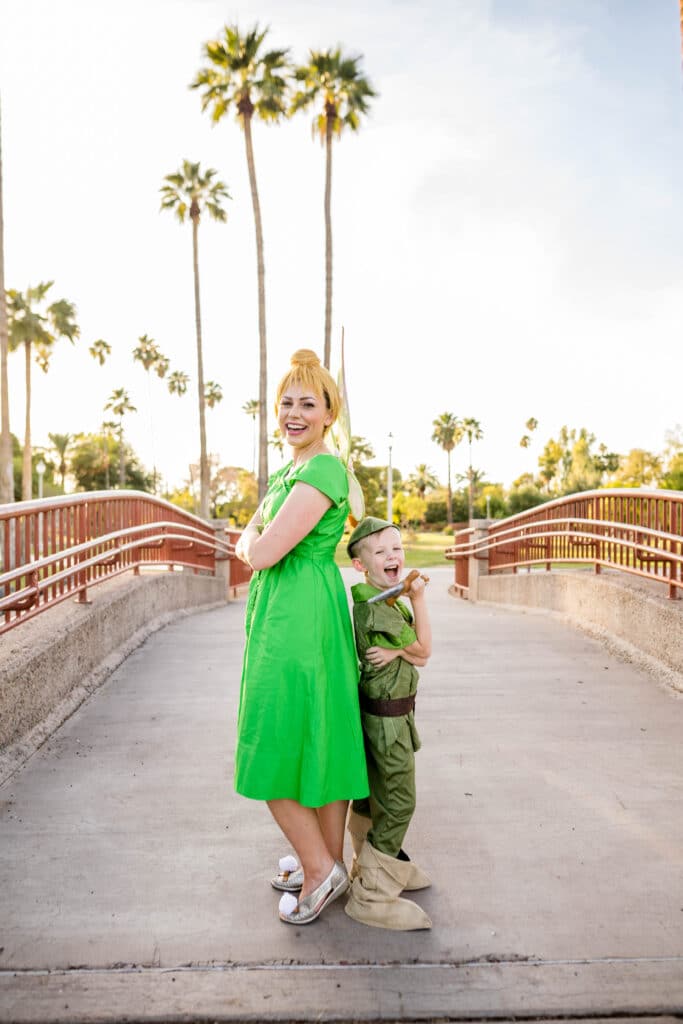 Tinkerbell Costume DIY
A full skirt/matching top OR
A green dress (preferably with a fitted waist and A-line or full skirt).
This is the key piece to the costume! So grab something with a neckline and cut you feel great in! You can order a costume from Amazon, get a legit Disney costume from Shop Disney, or find or make your own Tinkerbell costume green outfit! Look for a kelly green dress. I'm wearing an old one from J. Crew I bought many years ago.
Many love to make layers or a tulle skirt that looks like tutus stacked together. Some love the petal dress look. You can layer fabric to look like a leaf design and try to get as close to Tinkerbell's outfit as possible. I opted for a classic green shirtdress, and was so thrilled with my choice!

A pair of fairy wings.
I grabbed these authentic Disney costume fairy wings that light up. Yes, they're a kid's size, but they worked perfectly! Plus the lights and sequins add a fun pop to the detachable wings. You can also buy an inexpensive pair of green net wings off Amazon.
Wand.
Grab a silver wand with a star at the end to spread a little pixie dust throughout the night. It helps complete the costume with a fun detail!
Flats with pom poms.
I grabbed a pair of shoes that I thought fit the bill, and added two large white pom poms with a safety pin. I'd go with a comfortable fit you can walk the night away with. The added pom poms do a great job blending with almost any type of shoe.
Shimmering gold Makeup
Grab a cheap gold eye shadow and make a gold glitter print design on your face to bring out your pixie side!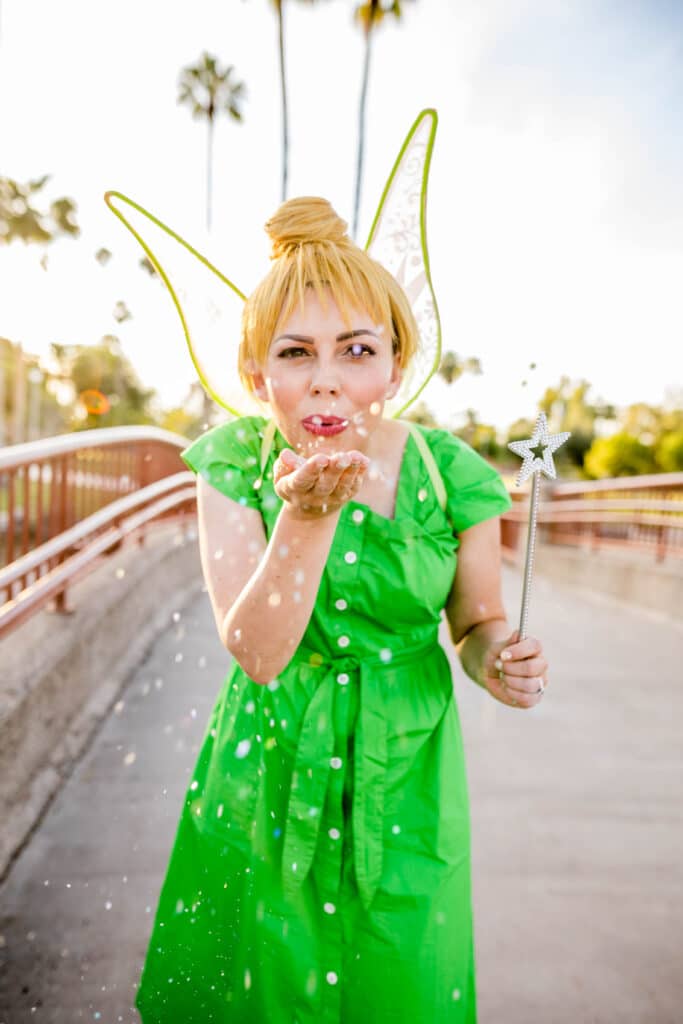 Fun Tinkerbell Costume (Adult) Add Ons
Optional: A blonde wig with a bun.
Wigs are totally optional, but I loved looking closer to the character, and loved not having to do my hair even more for our Peter Pan Costume pictures. However, at Oogie Boogie Bash I went with my natural brunette in a bun for functionality and I think it worked great.
If you opt to go with your natural hair, stick it up in a bun on top of your head.
Optional: Glitter.
It's extra fun to throw a little glitter and sparkle to spread the pixie dust. If you plan to take any pictures, I can't recommend a blowing glitter image enough!
Once you've pulled everything together, you're all set to go fight Captain Hook, head on your next adventure, or join the lost boys!
And enjoy this really fun Tinkerbell Halloween costume for adults, perfect to rock alone, or wear to match with your Peter Pan.
Like this DIY Tinkerbell costume? Be sure to check out these posts too:
Never Grow Up 1st Birthday Party: A Peter Pan Birthday
DIY Peter Pan Party Hat : A No-Sew Easy Tutorial
Jedi Costume: Star Wars Family Costume