Never Grow Up 1st Birthday Party: A Peter Pan Birthday
A Never Grow Up 1st Birthday party: Decorations, food, and theme tips to take your child to Neverland in a Peter Pan Birthday party.
I love throwing a big 1st birthday party, and I shared why in this post. It's just about the cutest thing to watch them have a cake smash. We love to be with family, and to celebrate keeping a human alive for an entire year. Thus, a 1st birthday party is always in the cards for our kids.
At the same time, I have a hard time watching my babies grow up and accept them turning into toddlers. We have fought so hard with infertility for both our kids, that the years to get them and the one year of infancy feels so unbalanced. Thus, a crying mom on that milestone and a little plea to not grow up too quickly.
We had a donut themed Donut Grow Up 1st Birthday for my oldest son, and I wanted something equally easy and cute for my second baby. After watching Peter Pan as a family a few months ago, I knew a Peter Pan birthday party with a "Never Grow Up" theme would be just perfect for us!
I got to work immediately thinking through the Peter Pan party details. I also hired my dear friend and favorite design expert Elise to help bring my vision to life.

Here's a breakdown of what it took:
Peter Pan Party Decorations
I also shared a DIY Peter Pan party hat tutorial so you can make your own!
Neverland Birthday Party Food
For the food, we went fairly simple. It's so hot in Arizona and we knew we'd have about 30 people coming to the party. We opted for grilled hamburgers and hot dogs. One family member graciously made and brought bean dip and guacamole for a side dish. We added some chips and a veggie tray as well.

But the best side dish award goes to my mom! I showed her a Pinterest image of watermelon cut into a boat. She looked at it and said "Yep! I can make that!" She didn't just make it, she made the 2.0 version! She bought a few dowels and tied them together with rope for the masts. Also, she creatively carved crossbones and skull in the watermelon rind. I wish I had a video of the heads turning when she arrived at the party. Everyone was truly in awe!

For dessert, we had mango cupcakes with buttercream frosting and coconut garnish. We kept them light and simple in case the birthday boy wanted those instead of his cake smash. With the cupcake toppers in place, they were perfect! And Peter Pan cupcake toppers are the best trick to tie the food into the theme!
Peter Pan Cake
I wanted a simple cake for the cake smash. Green leaf frosting on a simple two-layer cake did the trick!
I found a darling Peter Pan Never Grow Up cake topper on Etsy and ordered it. I ordered a Peter Pan cake topper on Etsy too. But, Elise designed one for me as a bonus to the cupcake toppers. You can get the .svg file here. I was so thrilled to have options!
It turned out to be a great thing because we adapted the .svg file into the printable sign. I love being resourceful, and only needing one design worked fantastically!
1st Birthday Never Grow Up Cake Smash
My little boys take after their mama, the cake isn't our favorite treat. It was really fun to watch him try a little and decide it wasn't for him. It was cute to watch his brother and cousins try to teach him to lick frosting. At least some people got the enjoy it! But it was downright hilarious when he rejected the cake and pushed it to the floor. I'm sure glad my expectations were low, it makes these "disaster" moments into funny memories instantly!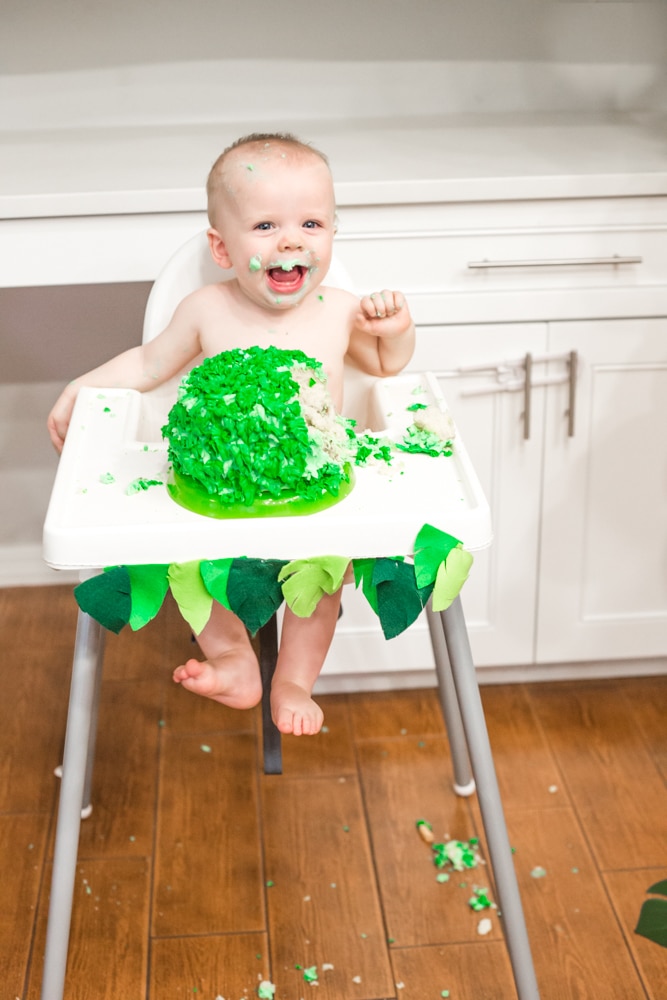 He was so proud of himself for figuring out how to get rid of it, and clapped and clapped! Of course, everyone laughed and laughed. This is one reason we believe in going all out for the first birthday. There are moments everyone who loves you and your child get to enjoy!
It was a simple Peter Pan 1st Birthday party, and one I'm so glad we did!
And now, if this kid could the message and decide to never grow up, I'll be one happy mama!
Like this 1st birthday party idea? You may like these posts too:
Death By Chocolate Cake Recipe
Donut Grow Up 1st Birthday Party
1st Birthday Video Tradition! Highlights of One Year With You
Get 365 Date Ideas!
We want to help you have the best date nights ever! Grab this FREE printable with 365 date ideas, a date for every day of the year so you never run out of ideas!