One of the easiest Halloween costumes is pulling together a mime costume! Here's how to create your own DIY mime costume.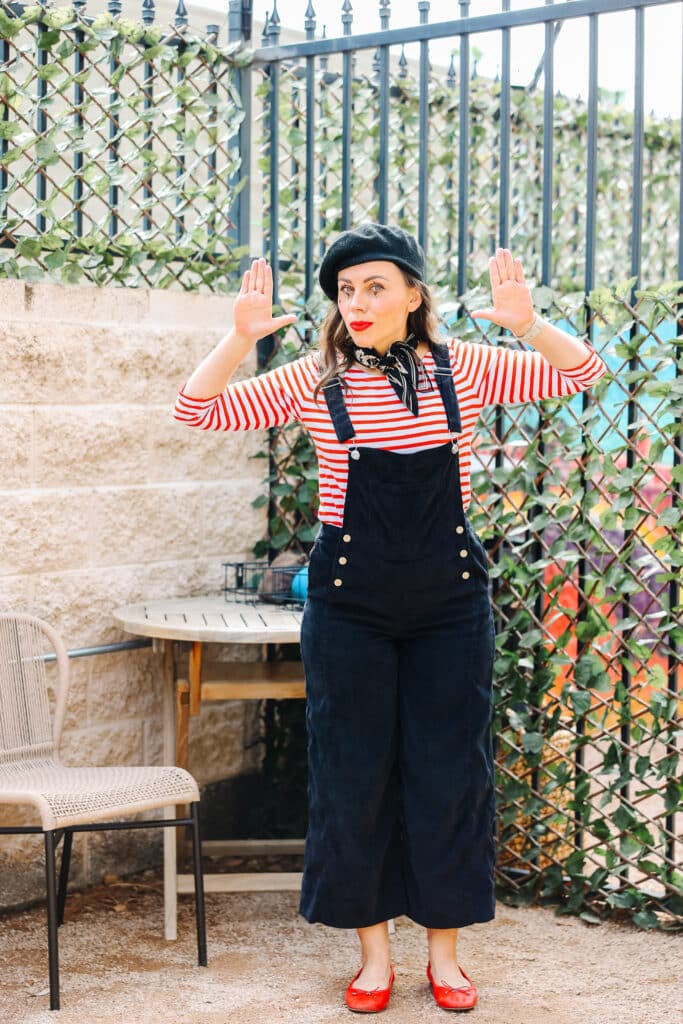 Pantomime Costume
If you've never been around a mime performer in real life, you may want to add it to your bucket list! They are silly clown figures with distinct uniforms. They don't speak and act out events and feelings in a hilarious way. I've been at a formal event where actors came and it was a blast to see how they interact with others! Thus a mime costume is easily recognizable and falls in the easy costume category!
The famous Bohemian-French mime Jean Gaspard Deburau created a look and even a career as a pantomime. These silly clowns are not only amazing actors, but they've also become a cultural trope that makes a really great and really easy Halloween costume!
Easy Costume Idea
The best part of all is you'll likely find many of the classic pieces in your closet, or easy to purchase with quick two-day standard shipping.
A mime costume is particularly great as a last-minute costume for women and little girls, but many men rock a mime artist look too! I'll be linking mostly women's mime costume items, but the same items are needed for a kid's mime costume or a men's mime costume.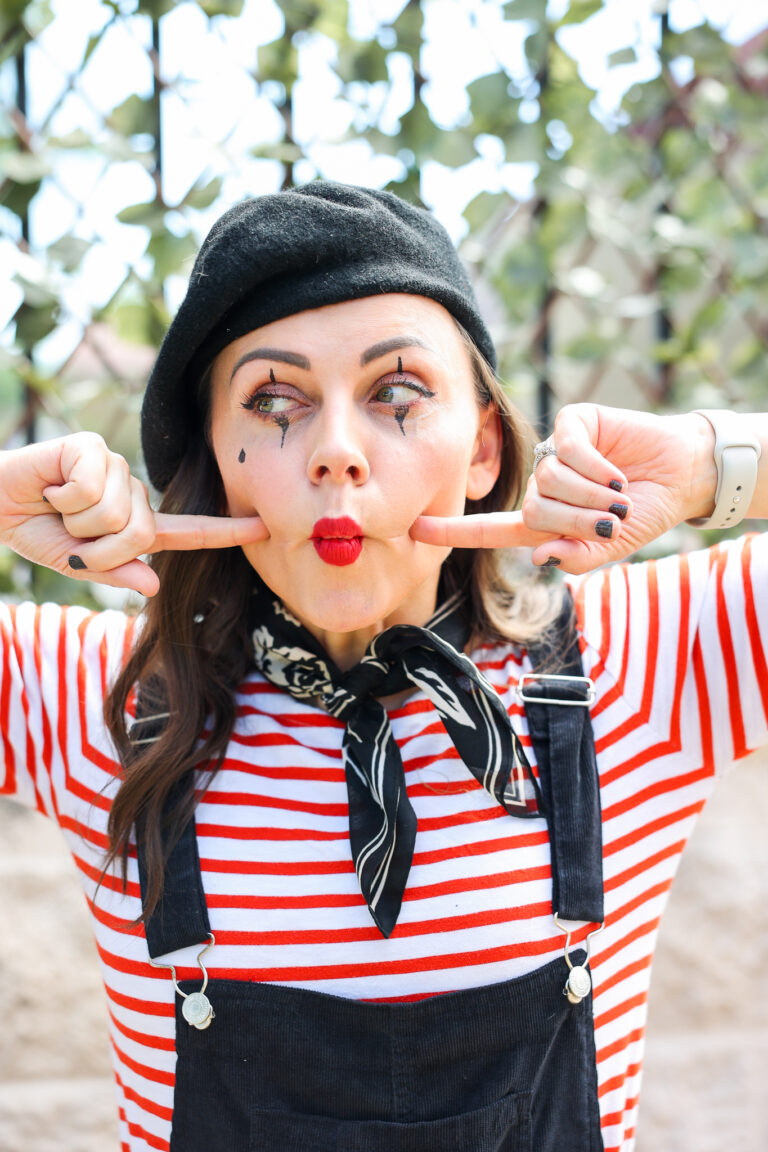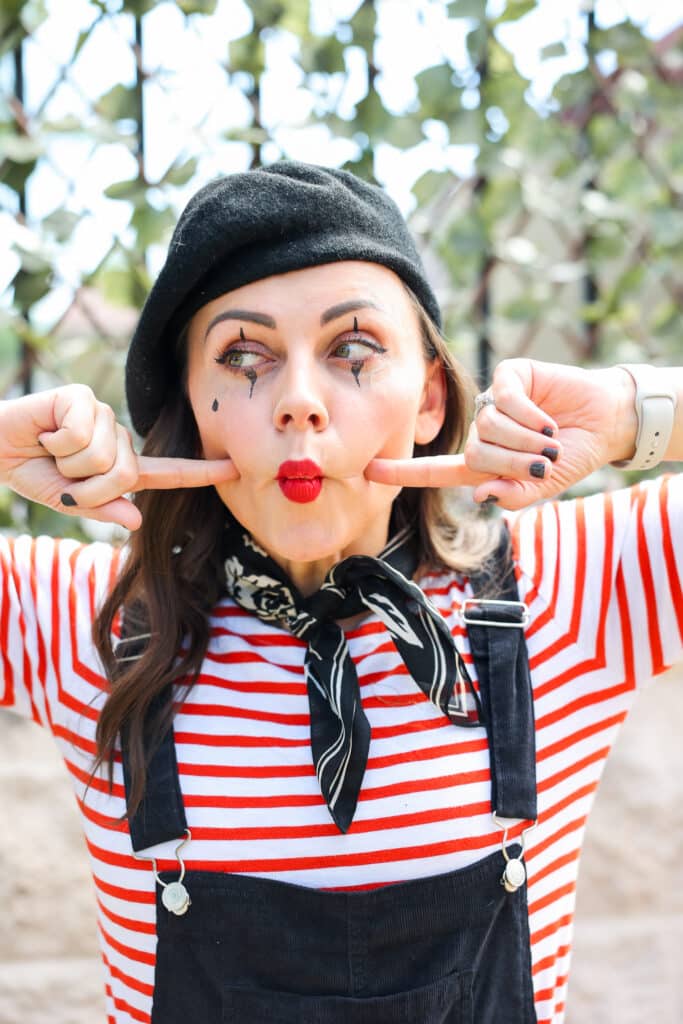 Mime Costume DIY: Here's What You Need:
Clothing Items:
A Striped Shirt
Grab a boat neck striped shirt. Preferably with black and white stripes, or red and white stripes.

Black Overalls or Red Suspenders
I happen to own black overalls that work perfectly for this costume! But a classic mime often rocks some cute suspenders that are red or black. If you go with a black shirt, grab red suspenders, and visa versa. Either works and the basic functionalities are to break up the striped shirt.

Black pants
If you're not rocking black overalls, grab a pair of black pants. Cropped pants with some polyester tights are always a great choice to keep warm and rock these silly clown costumes well!
Mime Accessories:
Beret
A classic beret is key in pulling this look off! Plus there are a lot of easy and great inexpensive options with free shipping!
Scarf
Choose a scarf color that compliments your striped shirt and suspenders/overalls. Black and white felt like a great choice to go with my striped red shirt.

White Gloves
I'm going to add that I think white gloves are optional because I forgot mine and I still think the costume worked out just fine!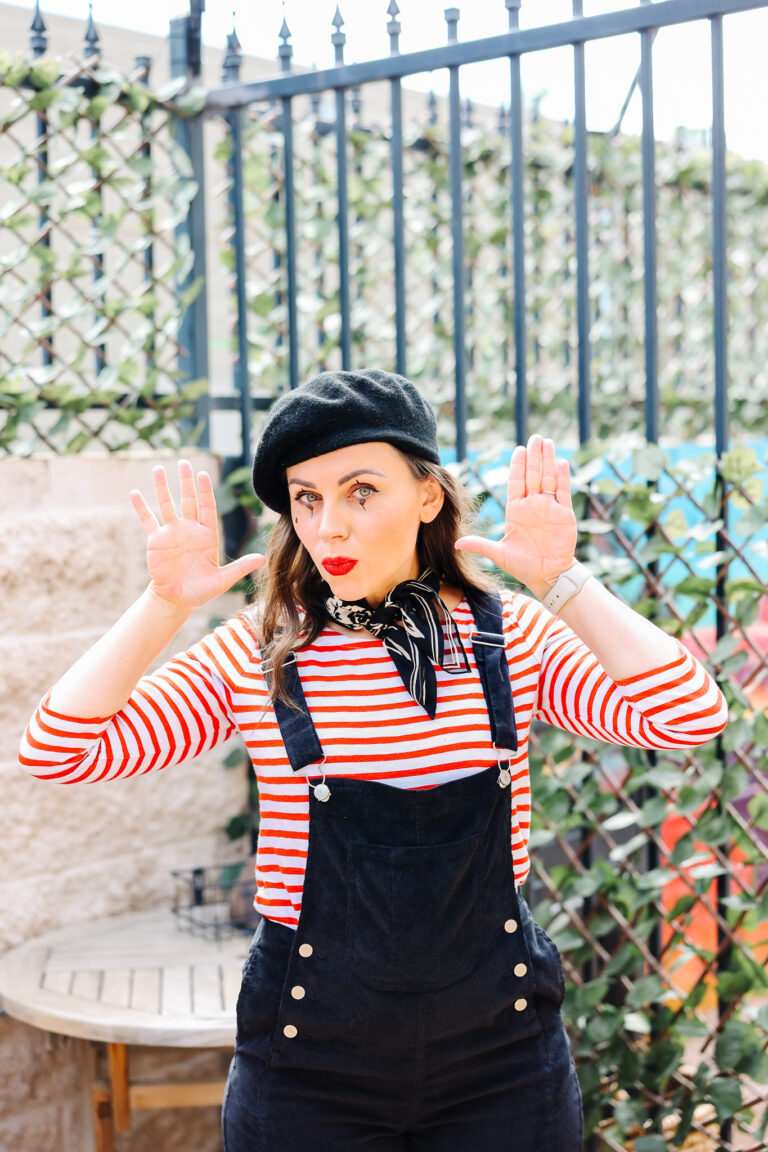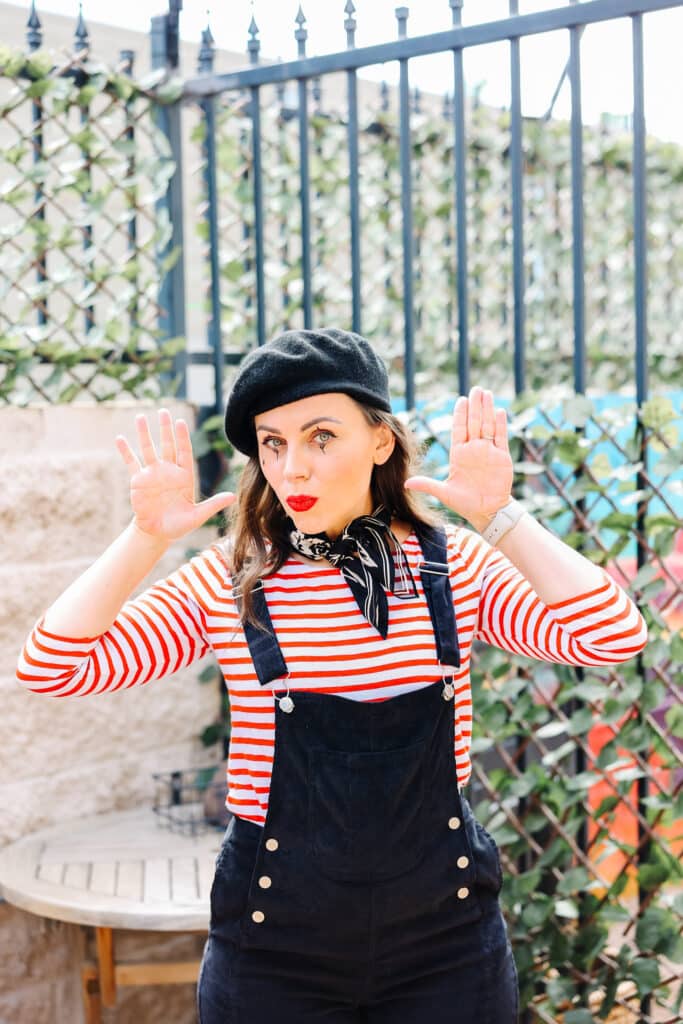 Mime Makeup:
Black Eyeliner
You'll want to draw a few makeup lines on your face and add the signature teardrop single tear with some black eyeliner.
Mascara or False Lashes
Some paint fake lashes with eyeliner on their lower and upper eyelids. But even if you do, I'd make a dramatic line with mascara or false eyelashes.
Feel free to not only look the part, but act the part at parties and events. It's an easy way to make your character shine, and your mime costume even more fun!
Like this fun costume idea? Be sure to check out these posts too!
Over 150 Couple's Halloween Costume Ideas (With Family Costume Ideas Too!)