Super Mario Family Costume
***Make sure you click in to see the full costume reveal!***
We go all out for family Halloween costumes every year! I keep a list of Halloween costume ideas all year, and on July 5th we meet as a family, bring up all our ideas, and let the family vote on our favorite. We get to work early sometimes DIYing pieces, ordering items, and planning a unique location to take pictures at so each detail is covered.
After keeping a secret for months and months, I'm so excited to reveal this year's costume theme!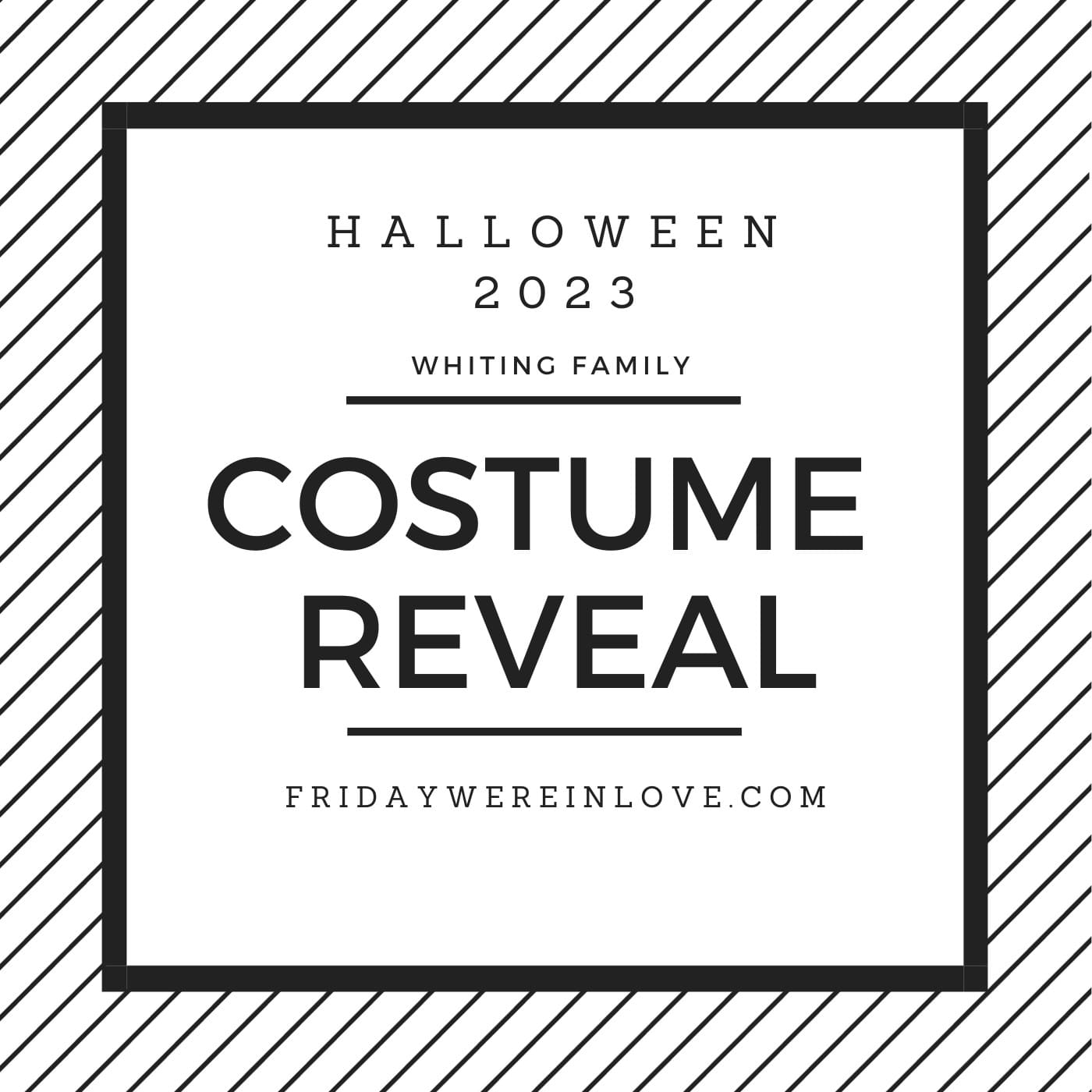 We've never had our family unanimously have the same first choice for our family costume, until this year. We've never agreed on a family costume so quickly!
And in addition, we've never had our photographer more excited to make some magic happen with the scenery. Chrissy suggested we do two photo shoots instead of just one because both settings would be so fun!
We have more Photoshop than we've ever had, and I think it's just all so fun!
So without further adieu, the Whiting Family Halloween Costume 2023 is…
Super Mario Family Costume
"Let's-a go!"…with the fun images and details of this year's family Halloween costume!
You may want to blast this song for the full effect!
I can't believe how fun (and easy!) it is to pull off a Super Mario family Halloween costume theme! There is no extra makeup needed, and there are lots of fun options for characters for a small family or a larger group costume.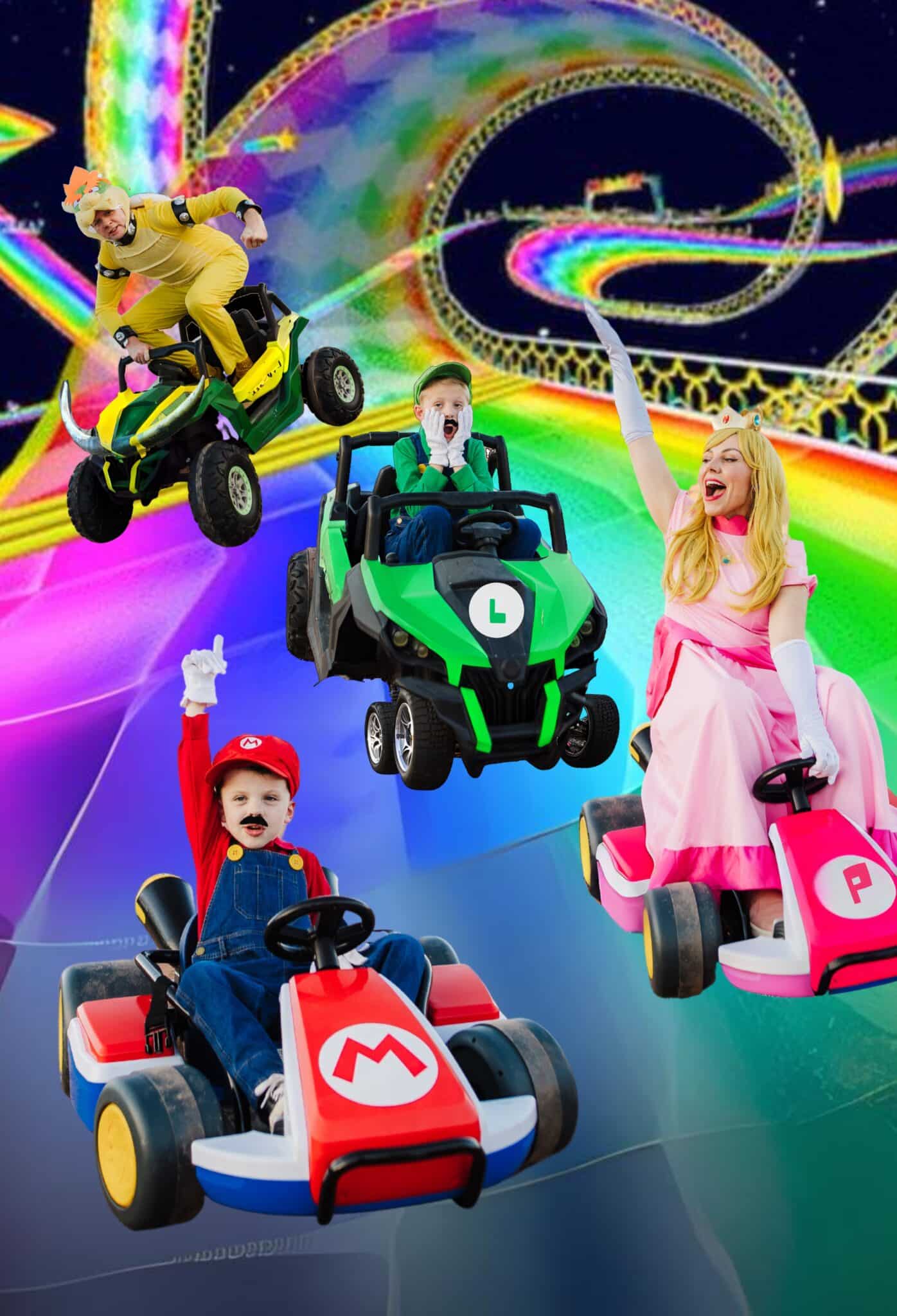 With the hit movie turning my kids into super fans, a Super Mario Brothers costume was definitely in order!
Mario and Luigi Costumes
Mario and Luigi are about the perfect duo costumes! They'd be great for a couples costume. But I love the Mario and Luigi best friends costumes, and Mario and Luigi siblings costumes most!
Now that their in the fandom of Mario, these little best friends who happen to be brothers seemed like the perfect brotherly duo. Plus, two brothers who are little boys posing as the Super Mario Brothers, just make for one sweet costume!
Let's break down our favorite characters with costume details. And naturally, everyone's favorite Italian plumber is up first!
DIY Mario Costume
"It's-a-me, Mario!"
We went with a DIY Mario costume, although there are plenty of kids ready-made Mario costumes available. If you want to keep it simple, check out Super Mario costumes with free ground shipping and easy availability.
However, Super Mario Halloween costumes are super easy to DIY, and have zero sewing involved.
Mario Costume Details:
Accessory Pack (including hat, buttons, gloves, and several mustache options for kids)
Black Converse Sneakers
Full Tutorial:
I used a simple glue gun to attach the large yellow buttons to the overalls. And this pair of kid's overalls were extra nice with snap buttons instead of traditional clasps. It made the only DIY part of the costume so easy!
You can do a DIY Mario hat, but there are so many cheap and easy accessory packs, I'd highly recommend getting a bundle deal if you can!
Plus, you're set with bonus mustaches and everything you need for Halloween night!
DIY Luigi Costume
How cute is the taller Mario brother? A Luigi Halloween costume is so easy to pull together too!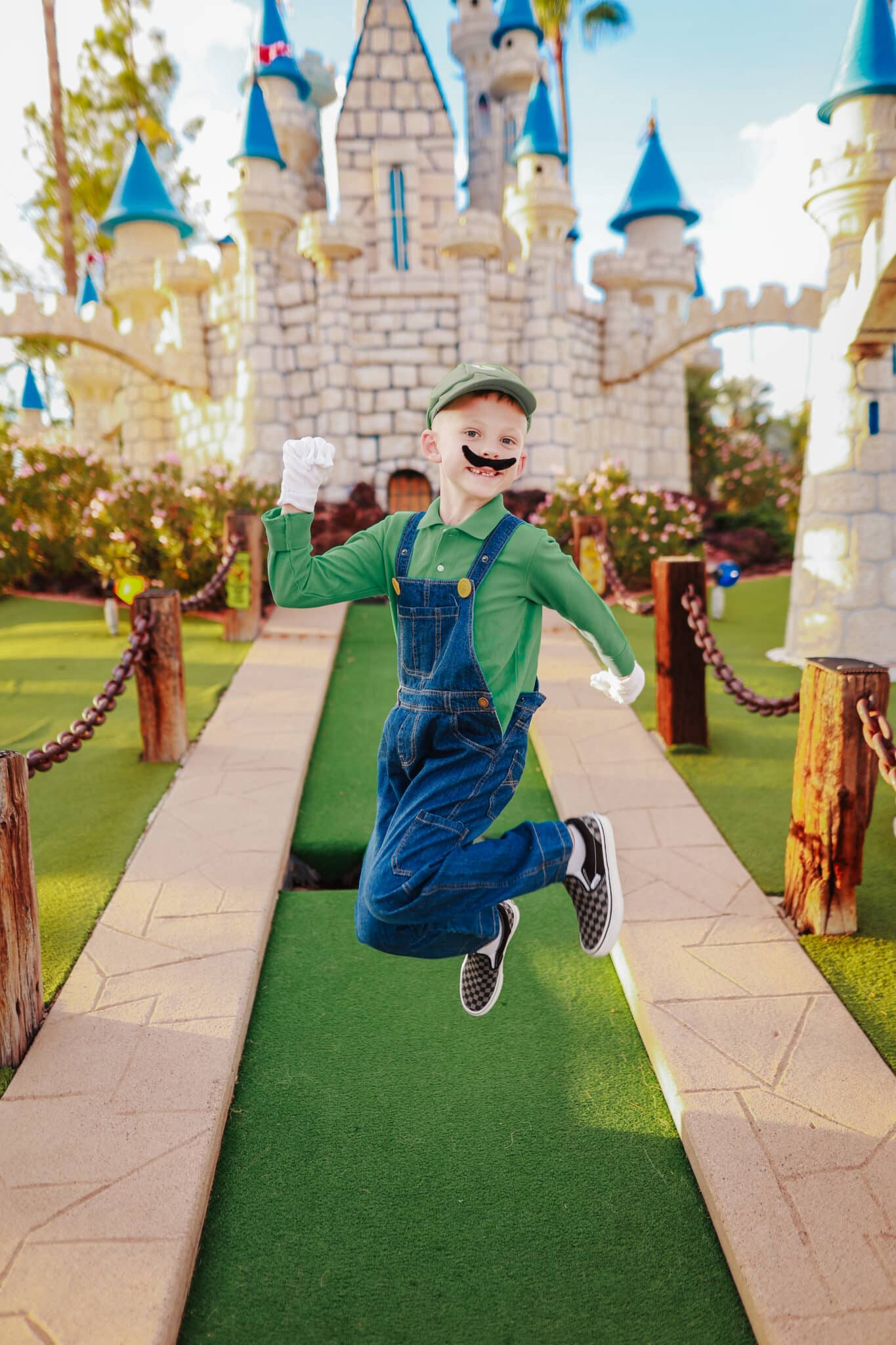 Luigi costumes are almost an exact copy and paste of Mario's. Swap the hat and the shirt for a green variety, and you're set!
Luigi Costume Details:
Accessory Pack (including hat, buttons, gloves, and several mustache options for kids)
Black Vans Sneakers
This is not the most challenging DIY! Just use a hot glue gun or grab hot glued white dots and attach the yellow buttons to overalls.
If you want to DIY a hat, you can hot glue the L to a green hat. It's such an easy and cute costume to pull together!
Also, can we take a moment for one of my favorite pictures my son has ever taken? He came up with Luigi's poses on his own after watching the movie the day before the shoot. I always think he can't get any cuter, but the next Halloween he tends to outdo himself somehow!
Princess Peach Costume
We have listened to so much of Jack Black's "Peaches" this year. Naturally, with a lot of Princess Peach in our ears, we knew she needed to make a grand appearance in our family costume.
Princess Peach Costume Details
I ordered the perfect Princess Peach dress from a seamstress in Texas. I love supporting small businesses, and her listings on Etsy have the best reviews! She makes an adult version and also options with her little girls' princess collection.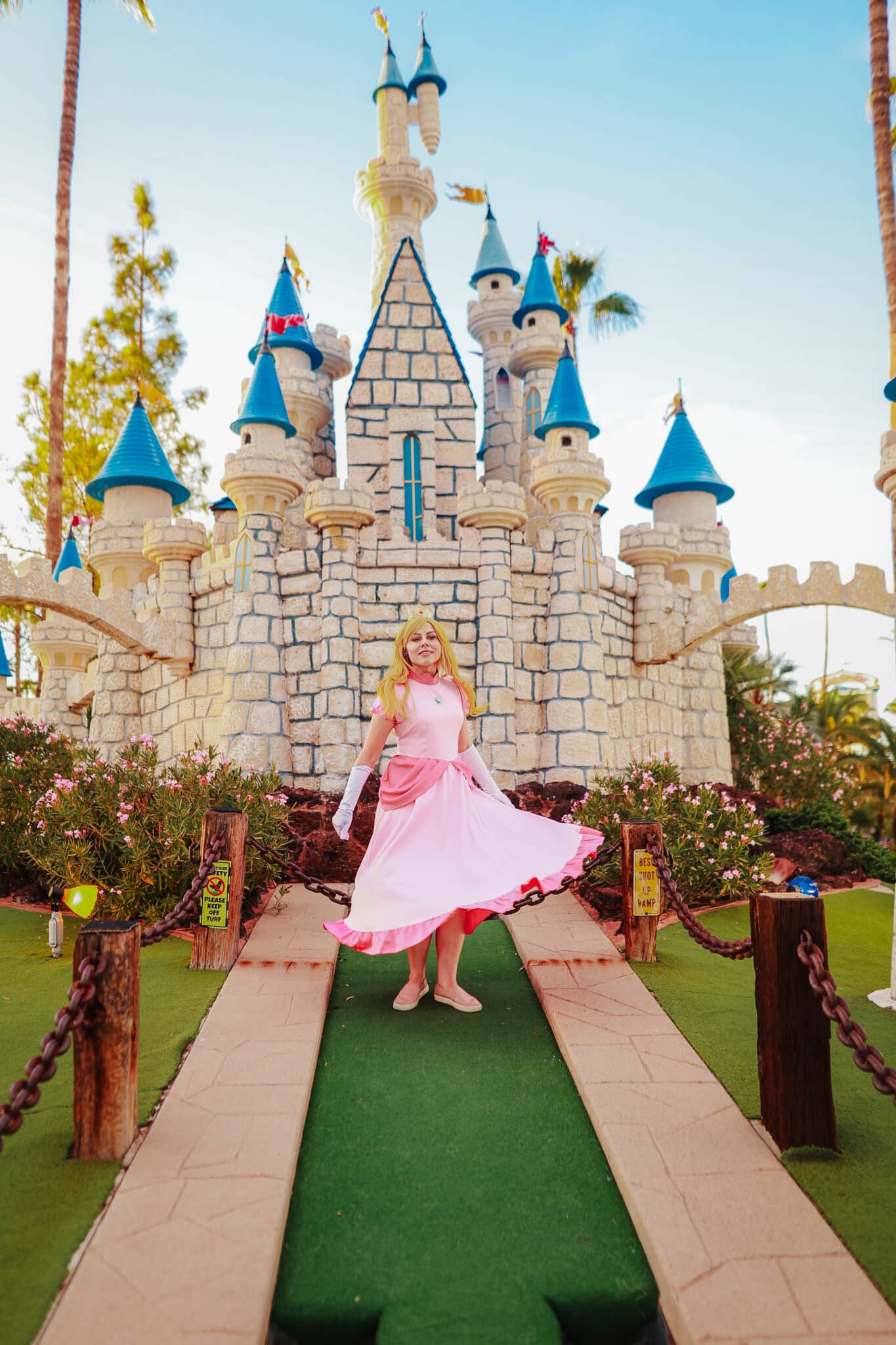 Let me tell you, it is the perfect dress! It is a lightweight material that's still sturdy, and all the Peachy details are captured! Plus, most of the Princess Peach Accessories (crown and the crinolin/full pipe skirt) came with the order. She does an amazing job, and I'm so pleased with this made-to-order small shop bought costume!
I have to say this has been the hit of Halloween! I'm so glad I went with a higher-end dress fit for the Princess of the Mushroom Kingdom. During our Mario Kart photo shoot a family came up to me and asked me to take pictures with their kids. And then each of the adults wanted one too! I was a little embarrassed, but decided to embrace the compliment that the Peach cosplay was a success!
I've never been a princess for Halloween, or even worn pink. It was so fun to see others join in the celebration with us!
Bowser Costume
Jack Black really took Bowser to the next level! We're lucky to usually have at least one couple's Halloween party, and we love to consider some party inspiration and if our couple's costumes will go together. We knew it would be a scary good couple's costume to be Bowser and Peach this year!
The bad guy in love with the princess was just too good not to use as a Mario couple's costume this year!
There are lots of Bowser costumes online, with options on how big you want to go. We went with a plush headpiece and easy jumpsuit and an inflatable shell for Jacob's costume. But the plastic face mask options are a huge hit too!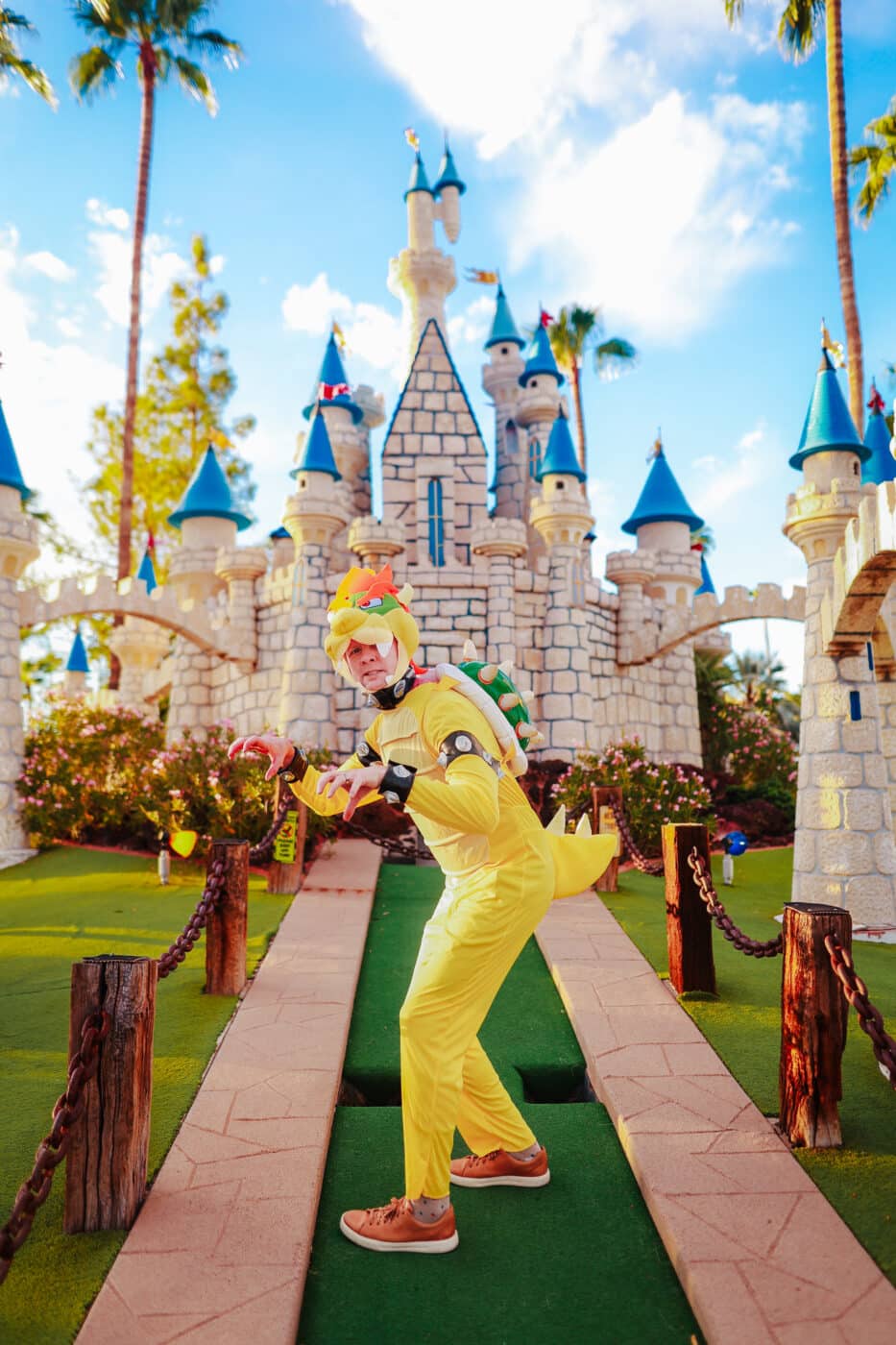 Bowser Costume Sources:
I know many people get crafty and DIY this one too! The Bowser costumes are often the most expensive. So if you need to save some cash, don't be too intimidated here!
The hardest part is the spike shell. You can easily get a cheap backpack, use a few coats of yellow spray paint, and finish it off with green felt and some duct tape or white painter's tape to create some spikes. Get some yellow clothes (like a jumpsuit, sweatpants, or leggings with a matching shirt), and a Bowser mask, and you're set! Also, how great is this Bowser sweatshirt?
But we love the ease of one-and-done buying a Deluxe Bowser costume kit and using it!
Super Mario Characters: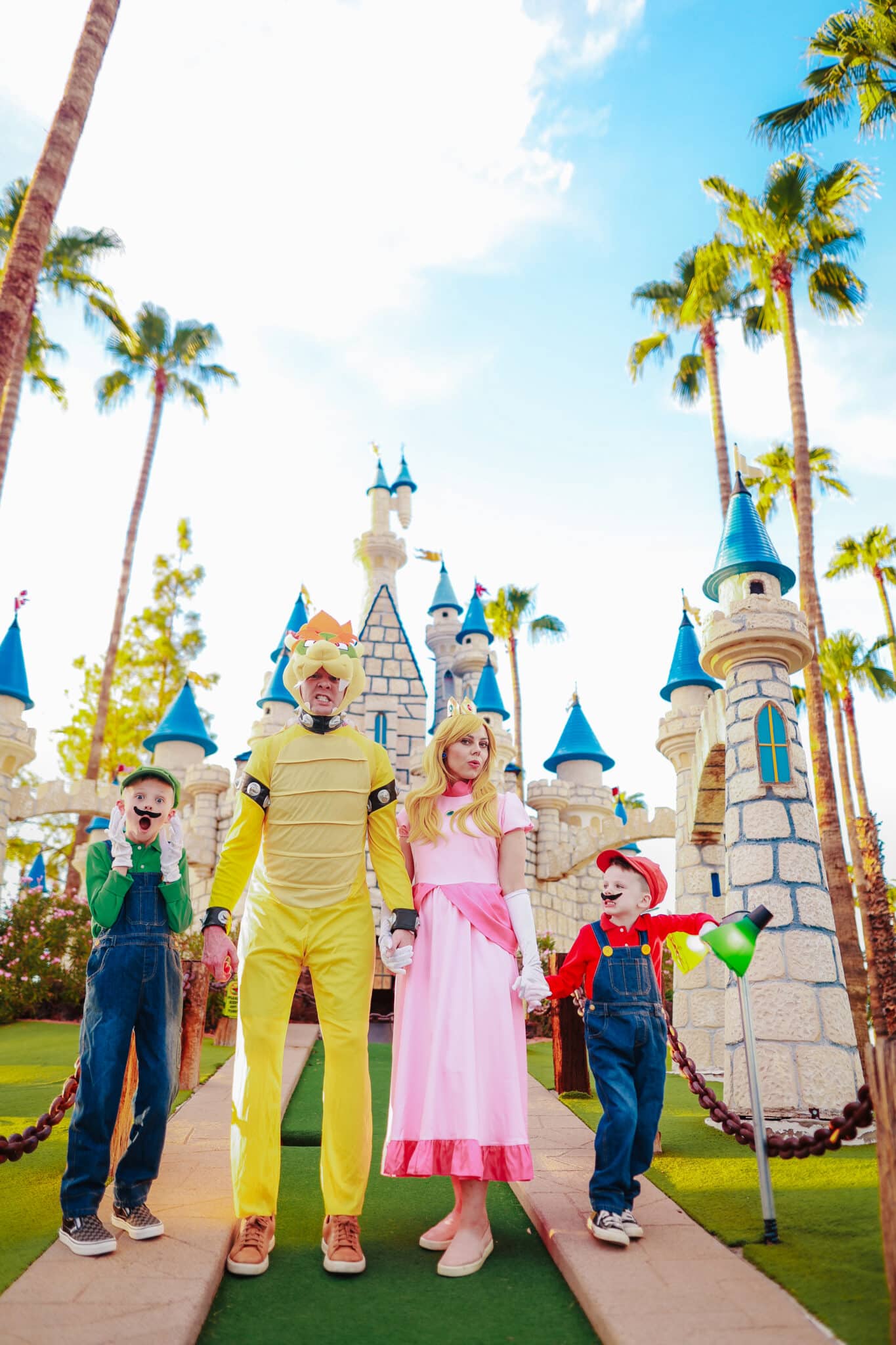 If you have a bigger group or want a few other options for a Mario Family costume, here are some other fun characters/costumes to include:
Mario
Luigi
Bowser
Princess Peach
Toad (Toadstool)
Traditional Yoshi Costume (green)
Red/Blue/Yellow Yoshi Costumes
Koopa Troopa
King Koopa
Bowser Junior
Rosalina
Donkey Kong
King Kong
Diddy Kong
Wario
Waluigi
Goomba
Boo
Shy Guy
Lakitu
Birdo
Toadette
Kamek
Dry Bones
Hammer Bro
Piranha Plant
King Boo
Pauline
Cappy
Lumas
Daisy
Fireball Mario
Stars
Question Mark Box
Green Pipes
Super Mario Brother's Peach's Castle Halloween Pictures
I couldn't believe the tricks up Chrissy Blake's sleeves when she suggested we head to Castles and Coasters in Phoenix for some scenes that look just like the video games! Even the dips around the castle felt like green pipes to transport through.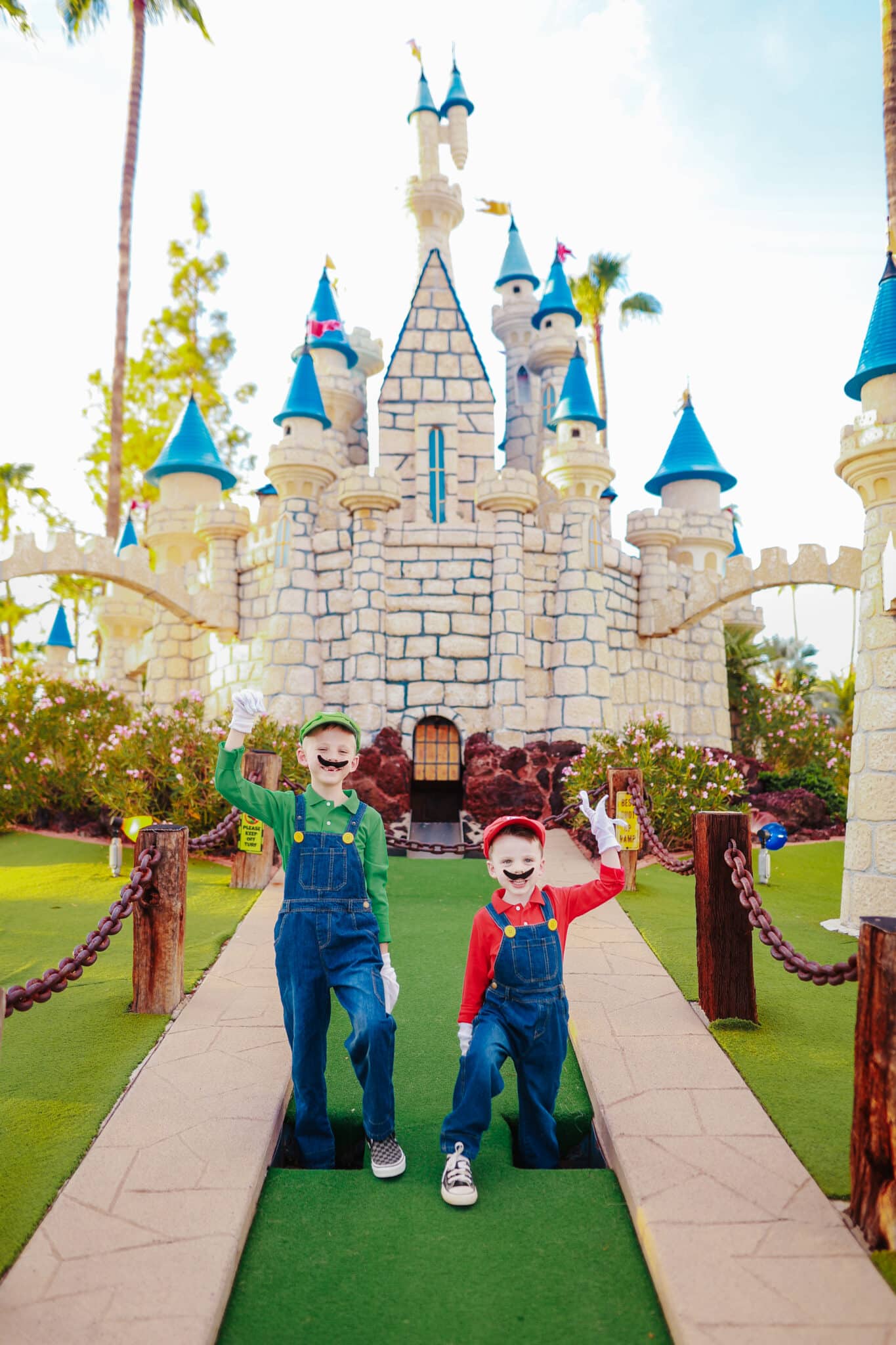 Mario and Peach Costume
I had to take a minute and get a mommy and me picture with my son dressed as Mario and me dressed as Peach. This duo makes a great couple's costume. But I'm a little partial to the mother-and-son costume aspect!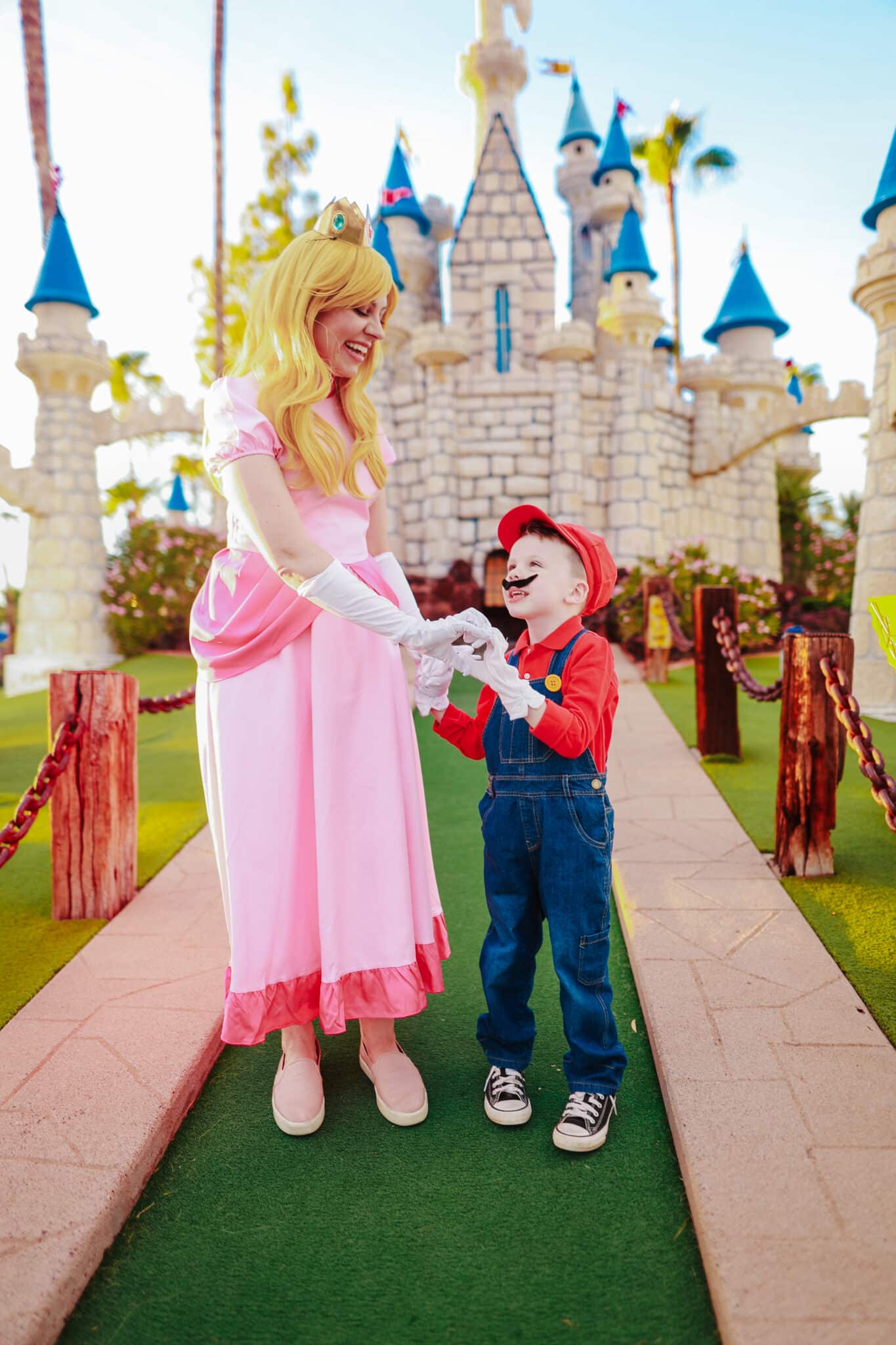 These were not our most involved costumes, so we quickly decided to do two photo shoots to really capture the fun! But we originally planned to get a bunch of Power Wheels and do a Mario Kart shoot. And we couldn't pass up the opportunity for both scenes.
Mario Kart Costumes
We included battery-powered children's vehicles, and our costumes listed above (minus the hoop skirt) for some fun racing pictures.
And when we found this battery powered Mario Kart for sale, we knew we needed it desperately for these pictures!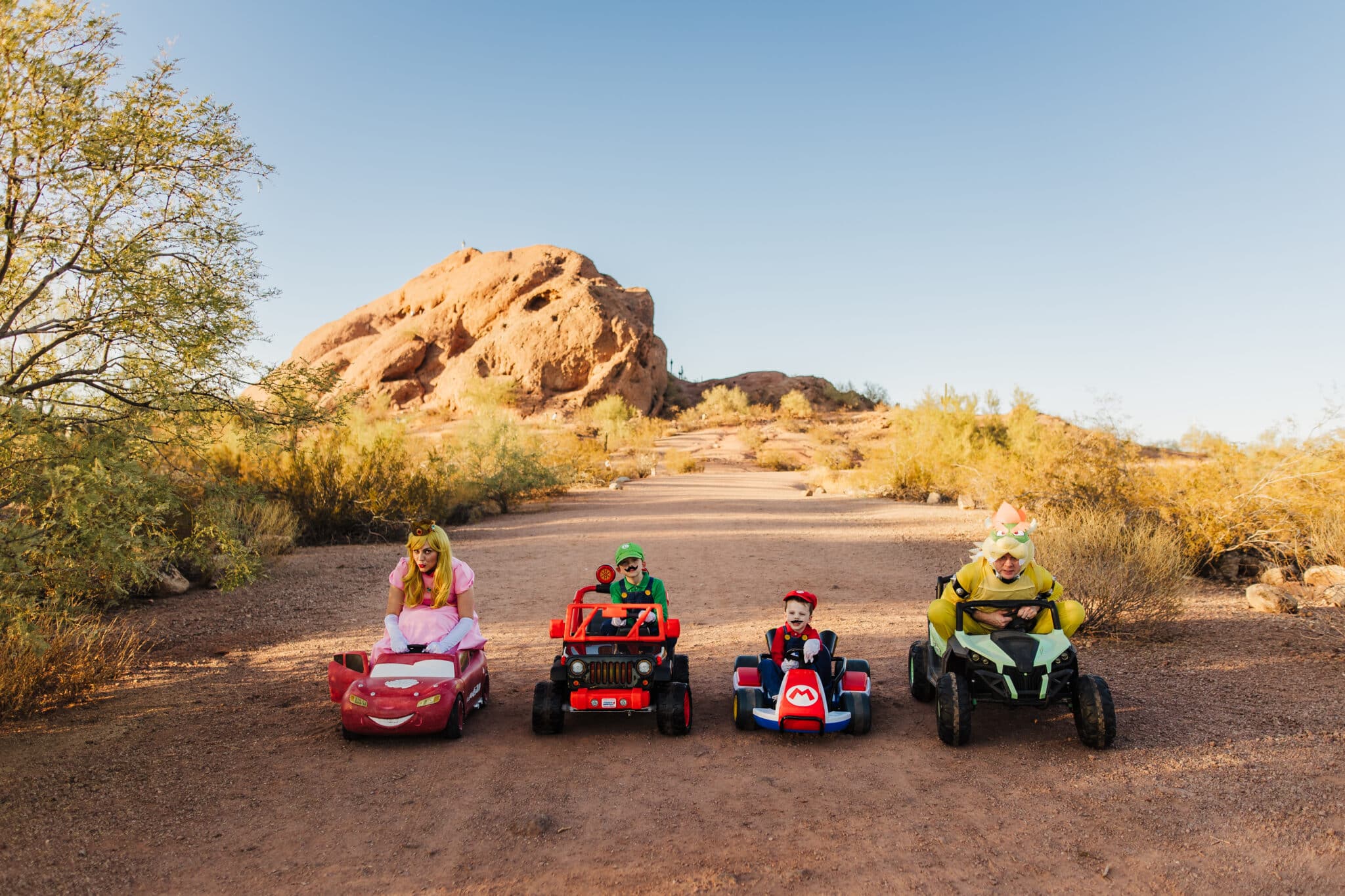 Combine that with a little Photoshop (and some AI!) and we were set to create the Halloween costume picture of my dreams!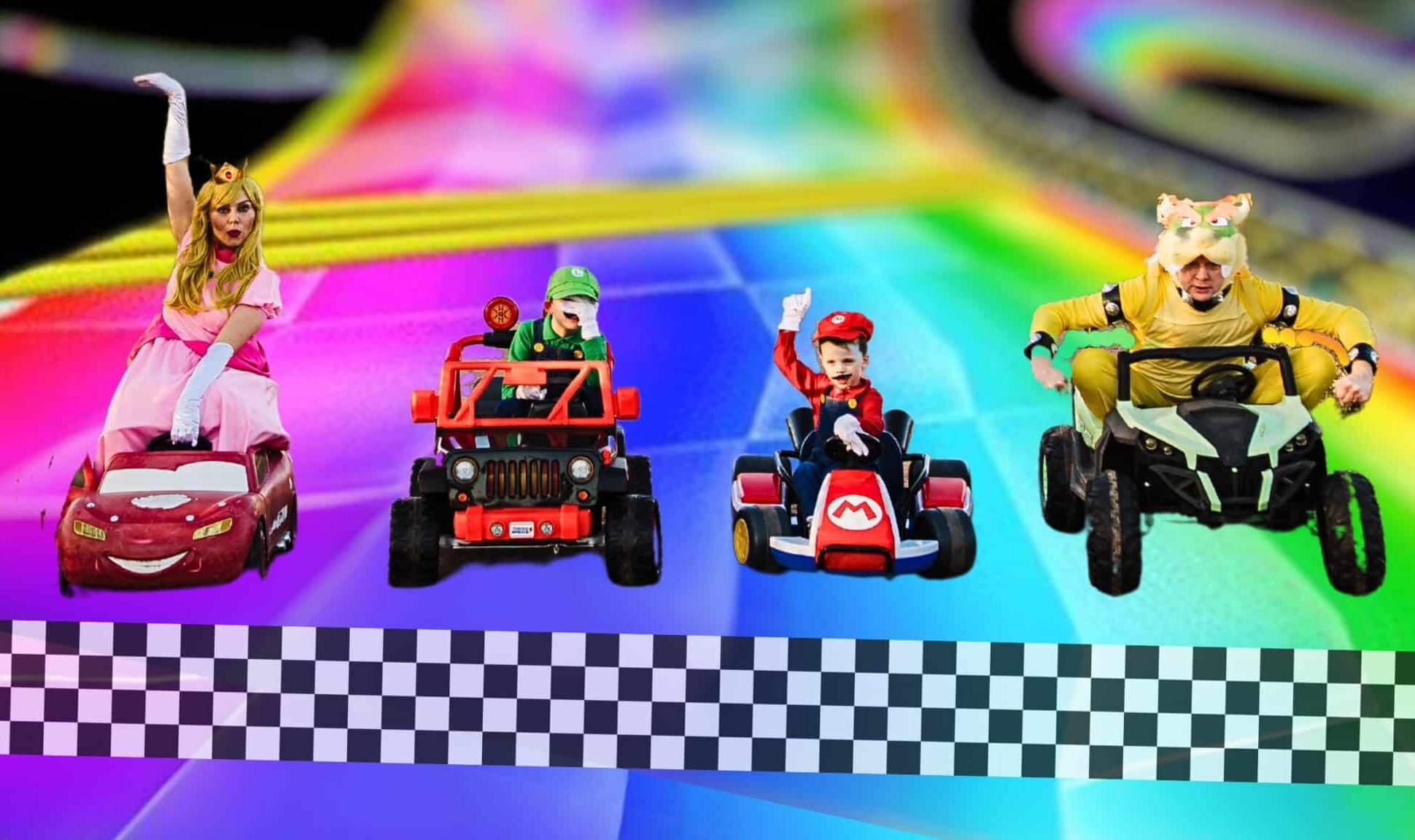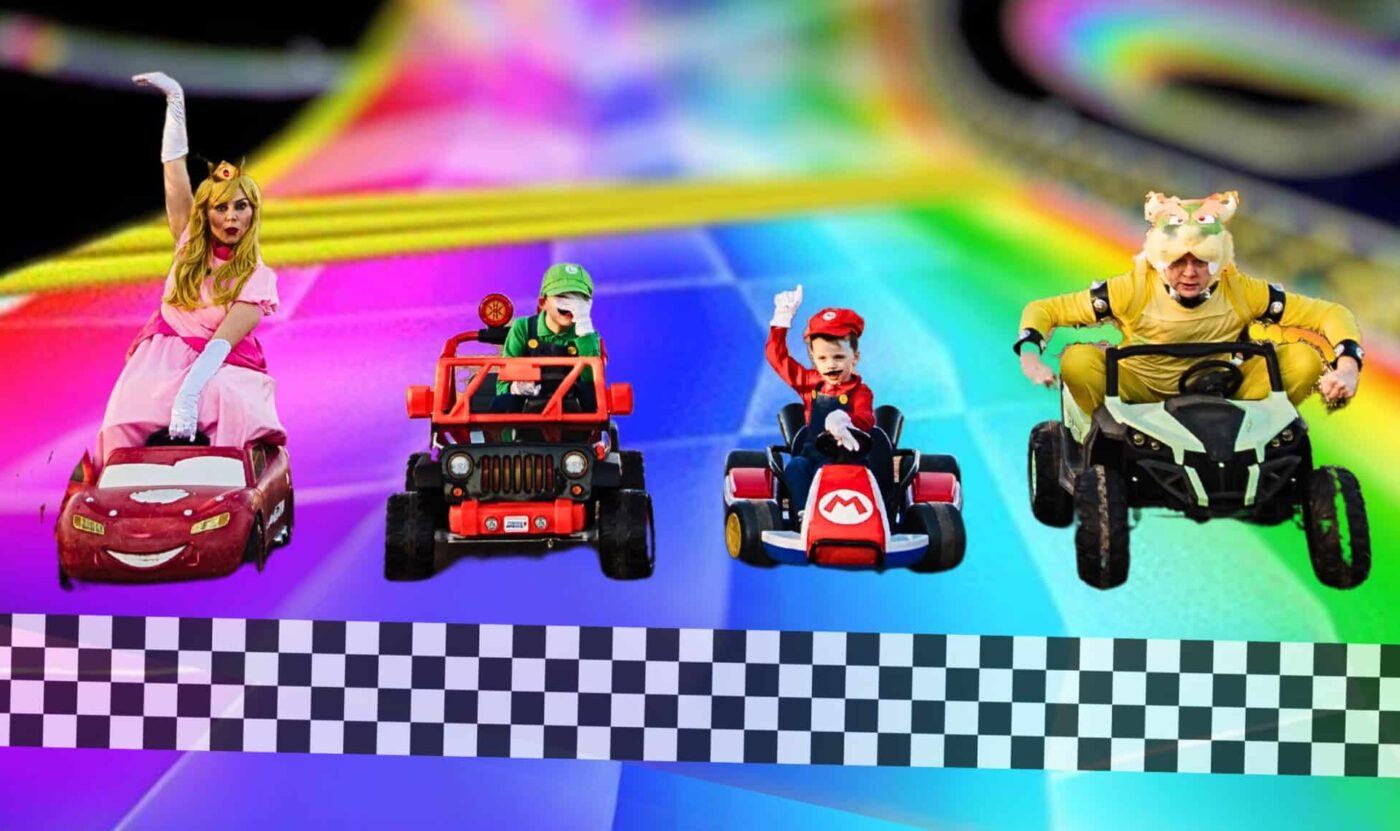 We can hardly wait until next year to do it all over again, we truly live for these family Halloween costumes!
Mario Costume FAQs
Who is Luigi's Girlfriend?
Princess Daisy is one of the main characters of 1993's Super Mario Bros and is Luigi's girlfriend. Or at least love interest, we won't force them to define anything (wink)!
How do you dress up as Mario characters?
You'll need overalls, a red or green shirt, the Mario hat or Luigi hat, and some mustaches to pull off Mario and Luigi. Check out or Princess Peach costume tutorial and Bowser costume tutorial for more ideas.
Why are Mario and Luigi the Mario Brothers? Are Mario and Luigi Siblings?
Mario and Luigi are in fact brothers! In some versions, they're actually fraternal twins with Luigi being the younger brother. In the new Super Mario Brothers movie, Luigi is the younger brother.
How do you make a Mario Kart costume?
Just use the normal Mario character costumes as your guide. You can either use a battery-powered car to ride on or turn a cardboard box into a go-cart. And if you want to be extra, add some balloons to the back of your go-cart!
Wanna see past family themes and Halloween costume inspiration?
2022: Jedi Costume: Star Wars Family Costume
2021: Peter Pan Costume
2020: Guardian of the Galaxy Costume
2019: Up Costume
2018: Jurassic Park Family Costume
2017: Pop Star Icons Family Costume
2016: Princess Bride Family Costume
For more Halloween costume fun, be sure to check out these posts too:
Over 150 Couple and Family Halloween Costume Ideas