Quick Homemade Pizza Dough Recipe
This easy pizza dough recipe comes together in minutes and lets you get dinner on the table in about the same time ordering and picking up a pizza takes! All the tips and how to freeze some for later in this quick homemade pizza dough recipe.
Something amazing happens when your baby turns into a very hungry toddler: pizza is something always requested and always a hit for dinner. We've loved having family movie and pizza night as our baby becomes a little boy who can sit through movies. Although we've been known to order out, there's nothing like whipping up mom's quick homemade pizza dough recipe and getting creative with family pizza night.
Quick Homemade Pizza Dough Recipe
This recipe takes about an hour to make and let rise, bakes like a charm, and will yield about three thin crust pizzas, or two regular pizzas with a bit left over for some crazy bread. Every time I make it I'm ashamed I thought it would be faster to do takeout. By the time we order, wait 20 minutes, drive there and back, we're at about the same time it takes to pull together this quick homemade pizza dough recipe.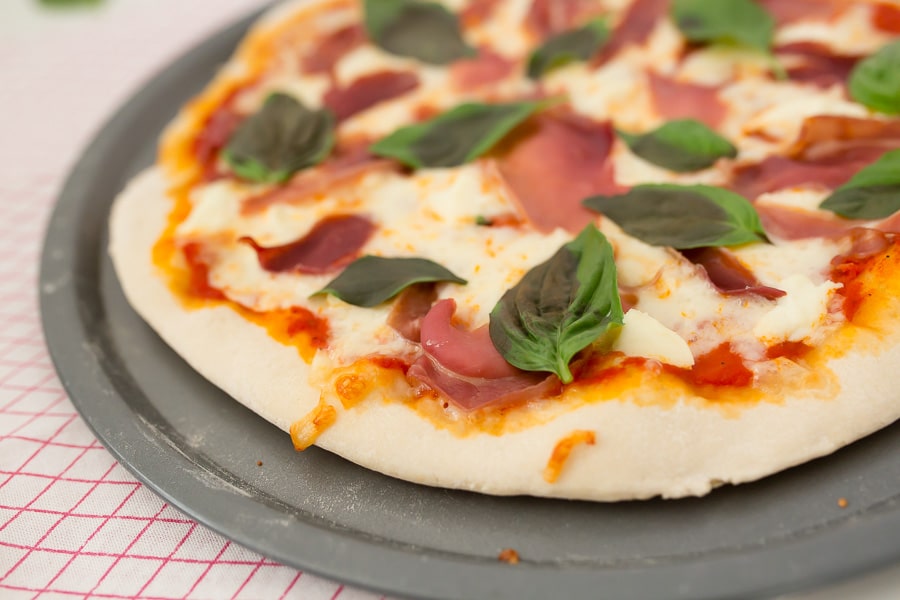 How to Make Homemade Pizza Dough
Yield: 2 Pizza Crusts
Quick Homemade Pizza Dough Recipe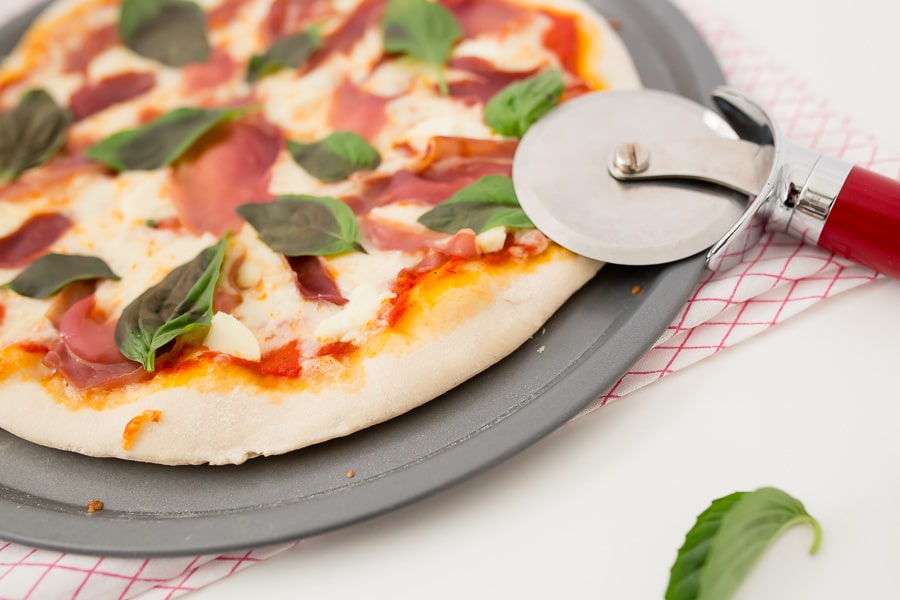 An easy quicky-rise pizza dough recipe that's practically fool-proof!
Total Time
1 hour
27 minutes
Ingredients
1 TBSP. yeast
1 3/4 cups warm water
2 tsp. sugar
1 tsp. salt
1/4 cup oil
4 cups flour
Instructions
Pizza Dough Instructions
Dissolve yeast in 1 3/4 c. warm water, add sugar, salt, oil and enough flour to make the homemade pizza dough soft but not sticky.
Let rise for at least 1 hour. If you're looking to make the pizza dough quickly try adding a towel to the top of your mixing bowl and set in the sun. It will help it rise quickly and get you to making your delicious homemade pizza even faster!
Roll out the easy pizza dough on a well-floured surface. Transfer to an oiled pan. Add your toppings as desired.
Bake on the pizza pan at 350 for 15-20 minutes. OR you can also do grilled pizza. You'll change it up by rolling out to 1/2" personal pizza size portions and cook on the grill for about 3 minutes on medium-high, turn, add toppings and cook for 3 additional minutes.
Both are delicious and add different flavors to pizza night.
Nutrition Information:
Yield:
24
Serving Size:
1 Slice
Amount Per Serving:
Calories:

99
Total Fat:

3g
Saturated Fat:

0g
Trans Fat:

0g
Unsaturated Fat:

2g
Cholesterol:

0mg
Sodium:

98mg
Carbohydrates:

16g
Fiber:

1g
Sugar:

0g
Protein:

2g
This is for the dough only. Please take toppings into consideration when calculating calories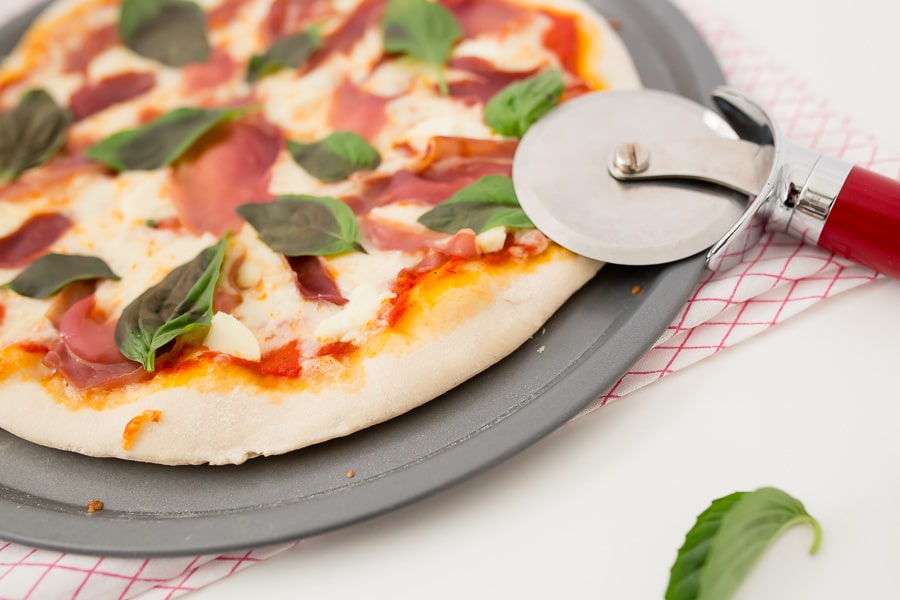 Homemade Pizza Dough Topping Ideas:
We love the classic mozzarella cheese and pepperoni as much as anyone, but we've found we have a lot more fun and variety with some of the following:
White sauce, pesto sauce, garlic sauce, ranch, or bbq sauce
Sweet toppings like fig butter (we love Trader Joe's), pears, honey drizzle, etc.
Meat mix-ups like prosciutto, ham, sausage, cut up meatballs, or bacon
Fresh herbs and veggies of any variety. Basil leaves are always a win, but we've tried a lot of creative options and loved them all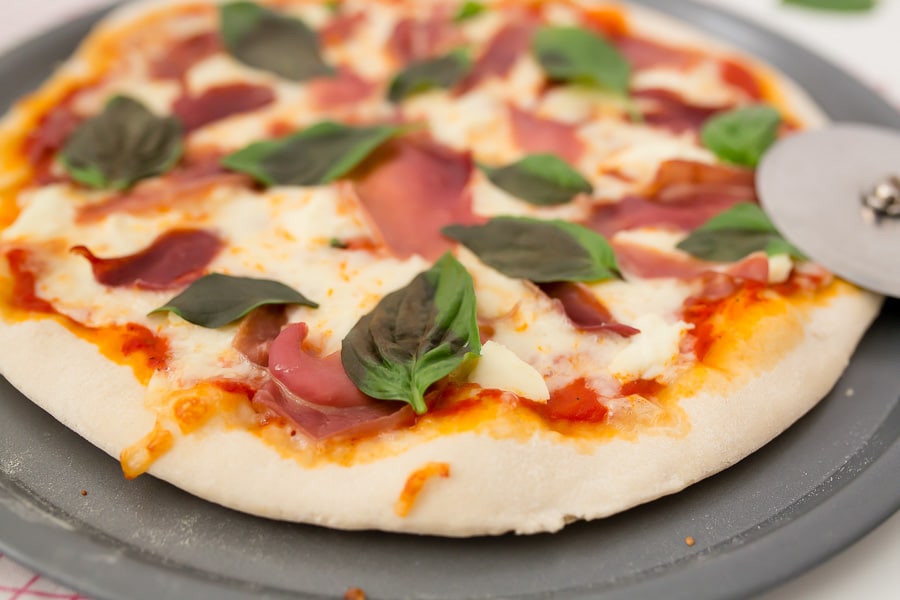 And one more of our favorite quick homemade pizza dough tips…
Can You Freeze Homemade Pizza Dough?
With the recipe, you absolutely can, and it's one of our favorite hacks! With our little family, one recipe makes enough to freeze another pizza for another night. But sometimes when we're feeling ambitious we freeze homemade pizza dough in larger batches.
To use again just take out of the freezer a few hours before you plan to use the dough. It defrosts quickly, and it will start to rise again once it does. Once it's defrosted you can roll out the dough and make it as directed above. It's the easiest homemade pizza hack to save us even more time!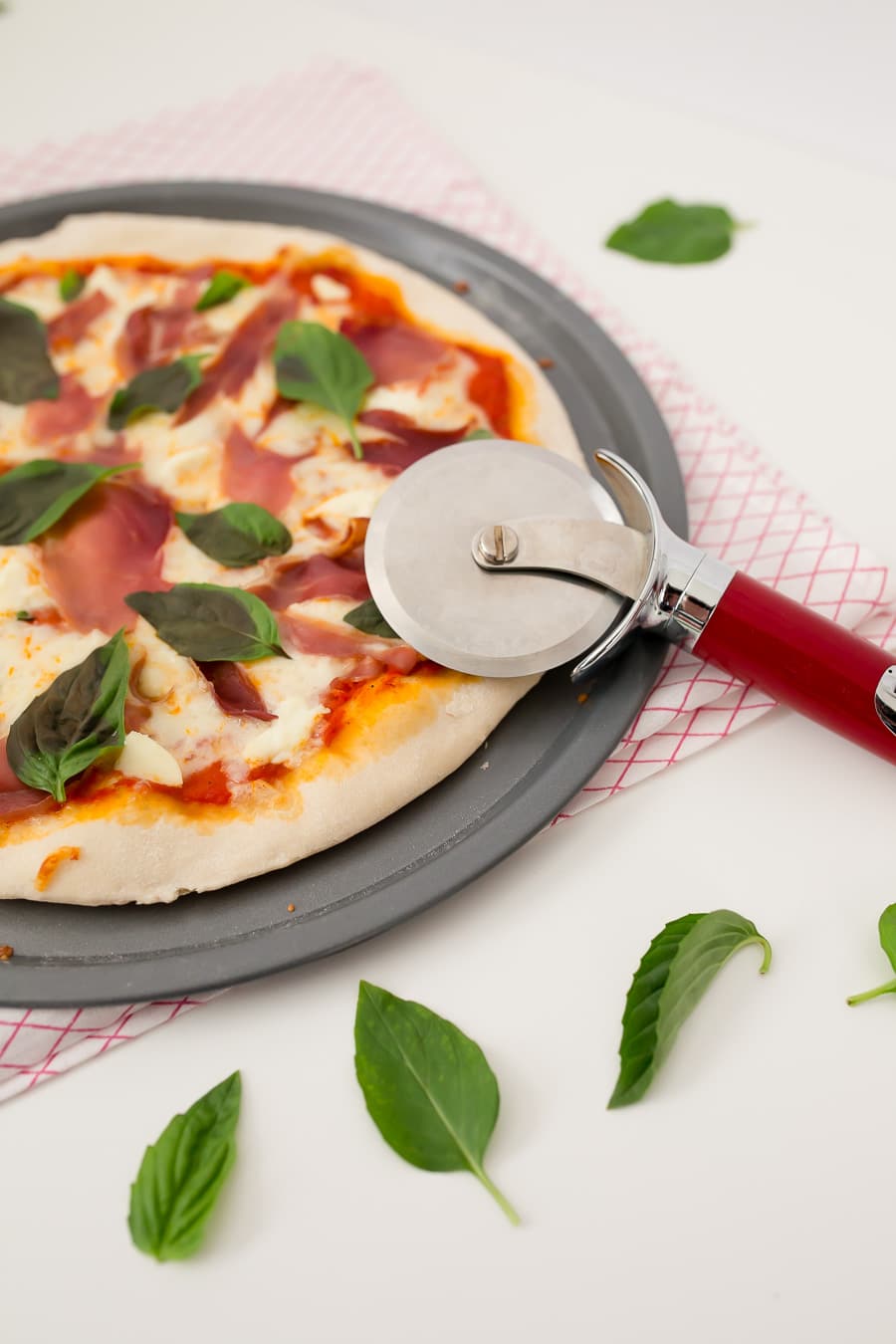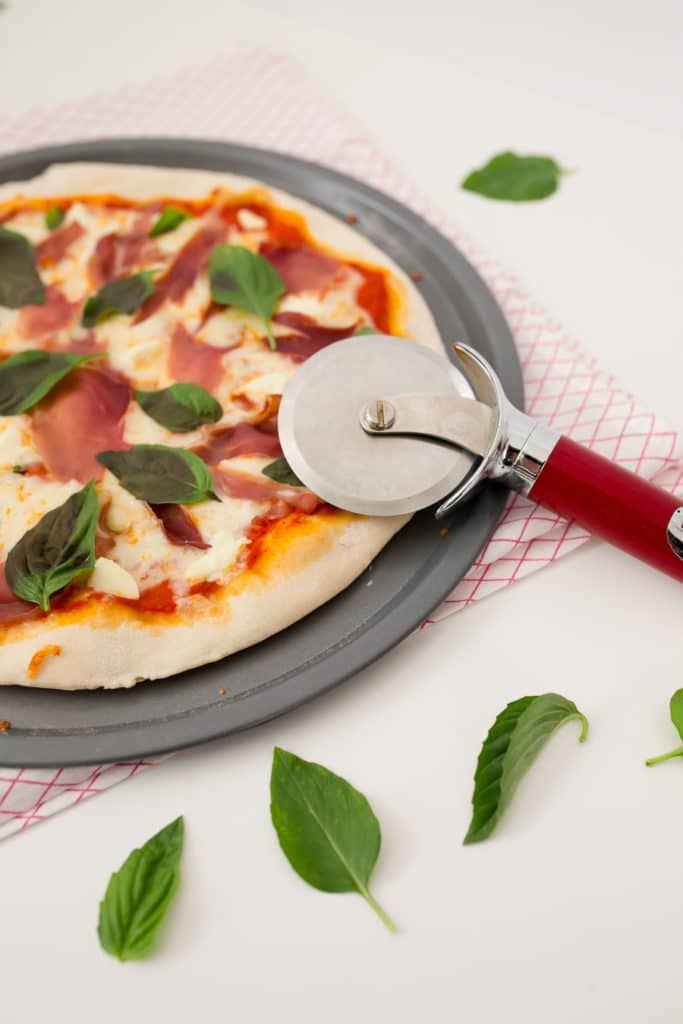 Like this easy one dinner now, one dinner later idea? You may love some of these other easy freezer meal recipes:
Easy-to-Freeze Quinoa Enchilada Casserole
Easy-to-Freeze Quinoa Enchilada Casserole
Get 365 Date Ideas!
We want to help you have the best date nights ever! Grab this FREE printable with 365 date ideas, a date for every day of the year so you never run out of ideas!