Plan a fun summer date night during the month of July with these July Date Ideas ready to help you find your next date night!

July Date IDeas: A date night every night in July
July is a month that just screams "Summer!" to just about everyone! It's the one month the entire country seems to be out of schools. It's also a time of year when most people get a day or two off work to enjoy a little more fun. I'd argue it's the best month for summer date ideas.
If you didn't know, I have a free printable with 365 Fun Date Ideas: A date for every day of the year! If you want the full year, be sure to sign up here!
But if you're in the market for July date ideas only, I have your back in this post! Let's make this July your best date night month yet!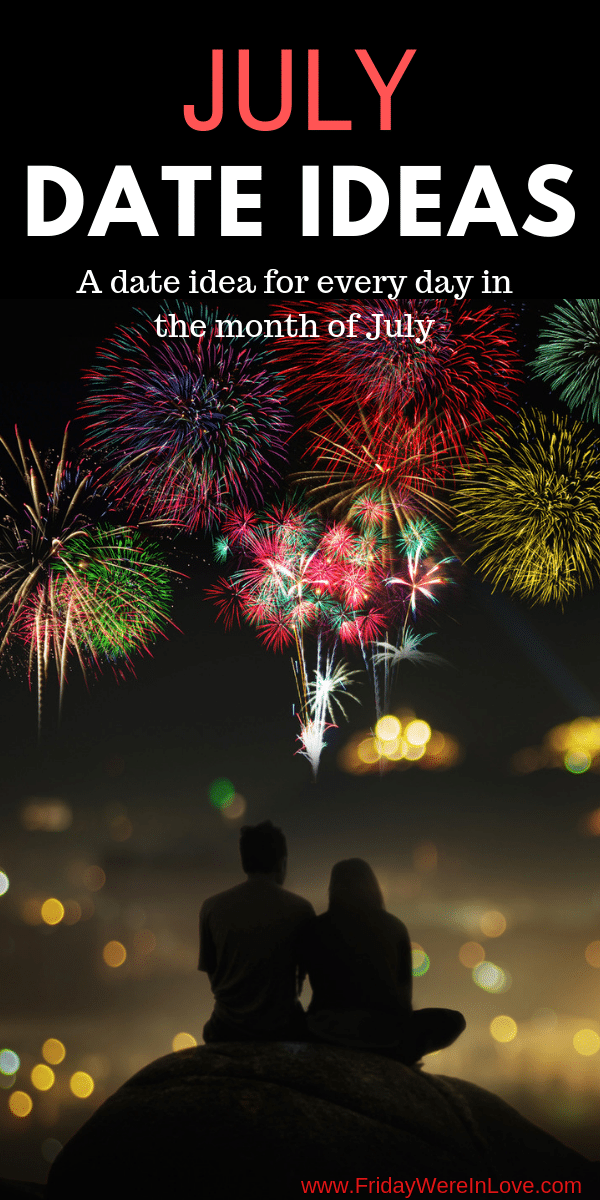 July Date Ideas
Hit up a food truck festival. They tend to gather more trucks, stay longer, and plan for bigger events when the weather is nice.

Go rollerblading or learn to skateboard together. First of all, you may pick up a new hobby. But also, you could at least have a lot of laughs.

Visit a festive parade together.

Go watch the fireworks together.

Host an outdoor potluck. Invite other couples to make their summer specialty and enjoy trying all the dishes and socializing together.

Have a BBQ cook-off. Plan the menu and compete on the best item served.

Go for a night hike- even if you live somewhere very warm night hikes with good lighting are always a very romantic option
Visit a summer farmer's market– buy in-season produce to cook a romantic meal together
Visit a botanical garden festival- it's rose season almost everywhere but other floral festivals are in bloom during the summer, and they make for a romantic scene and perfect selfie backdrop for some pictures together.
Go camping. It can be in the backyard for a few hours or a legit trip, but it's the perfect season to plan a trip together.

Take a long walk on the beach. Whether it's the actual beach or the beach of a lake, it still is a great totally free date perfect for a summer evening.

Go-kart racing- this need-for-speed date is a fun adrenaline rush.

Attend an outdoor play. It's a completely different experience with outdoor theater most people love plays even more with this open atmosphere and actors working with nature to create scenes.

Try SUP- stand up paddleboarding. It's a twist on a classic that gives just enough adventure and uncertainty to make a truly memorable beat-the-heat date.

Attend a local summer festival- this is different in every city, town, and state, but there's always a harvest or pie eating or cultural celebration. Check your city's calendar.


July Date Night Ideas

Plan an epic water fight. When you're ready to take your relationship to the next level and commit to more than water-balloons, large water guns and set rules and boundaries make for a more intense and fun date night.

Give nostalgia a nod and play night games. Kick the can, capture the flag, hide-and-go-seek ruled a lot of children's summers. Find a game to play for two or grab a group and enjoy reliving your childhood.

Sand volleyball tournament- it's the perfect double (or quadruple) date. Plus, you can play classic volleyball, beach ball volleyball, or get creative with beach towel/water balloon volleyball. All make for a fun, friendly competition for all athletic levels.

Enjoy that perfect summer produce you love and make breakfast in bed to enjoy in bed together.

Celebrate Christmas in July. Share your favorite family holiday recipe and make it together.

Make a list of day trips to a neighboring city or town you can do together. Next, plan when you're next quick adventure will be.

Rent or borrow jet skis for a day on the lake.

Rent or charter a boat for the day. Certainly, in a full day you could learn how to water ski, tube, and enjoy a day at the lake as a couple or for a fun group date.
Hit up a piano bar (check for a free night) for sing-along songs

Head to a home store and choose items you'd place in your dream home sharing your taste and favorites with your date

Find your nearest rodeo and get your boots ready!
Google "Walmart Bingo" and find a card to print off to go play the most entertaining game of Bingo of your life.

Attend an open mic night at a coffee shop

Visit a water park and enjoy a day or waterslides and wedgies or wave pools together.

Find a "dive in movie" night at your local pool or water park.

Visit the summer flea market and find some treasures together
Like these July Date Ideas? You may like these posts too:
365 Fun Date Ideas: Dates Every Day of the Year
Fun Family Activities: 52 Family Date Ideas to Do This Year
Perfect Anniversary Date Ideas
Get 365 Date Ideas!
We want to help you have the best date nights ever! Grab this FREE printable with 365 date ideas, a date for every day of the year so you never run out of ideas!