Best Fanny Pack for Disney
A roundup of the Best Fanny Packs for Disney trips. If you're heading to Disneyland, Disney World, or on a Disney Cruise, or any other here's the best fanny pack for Disney!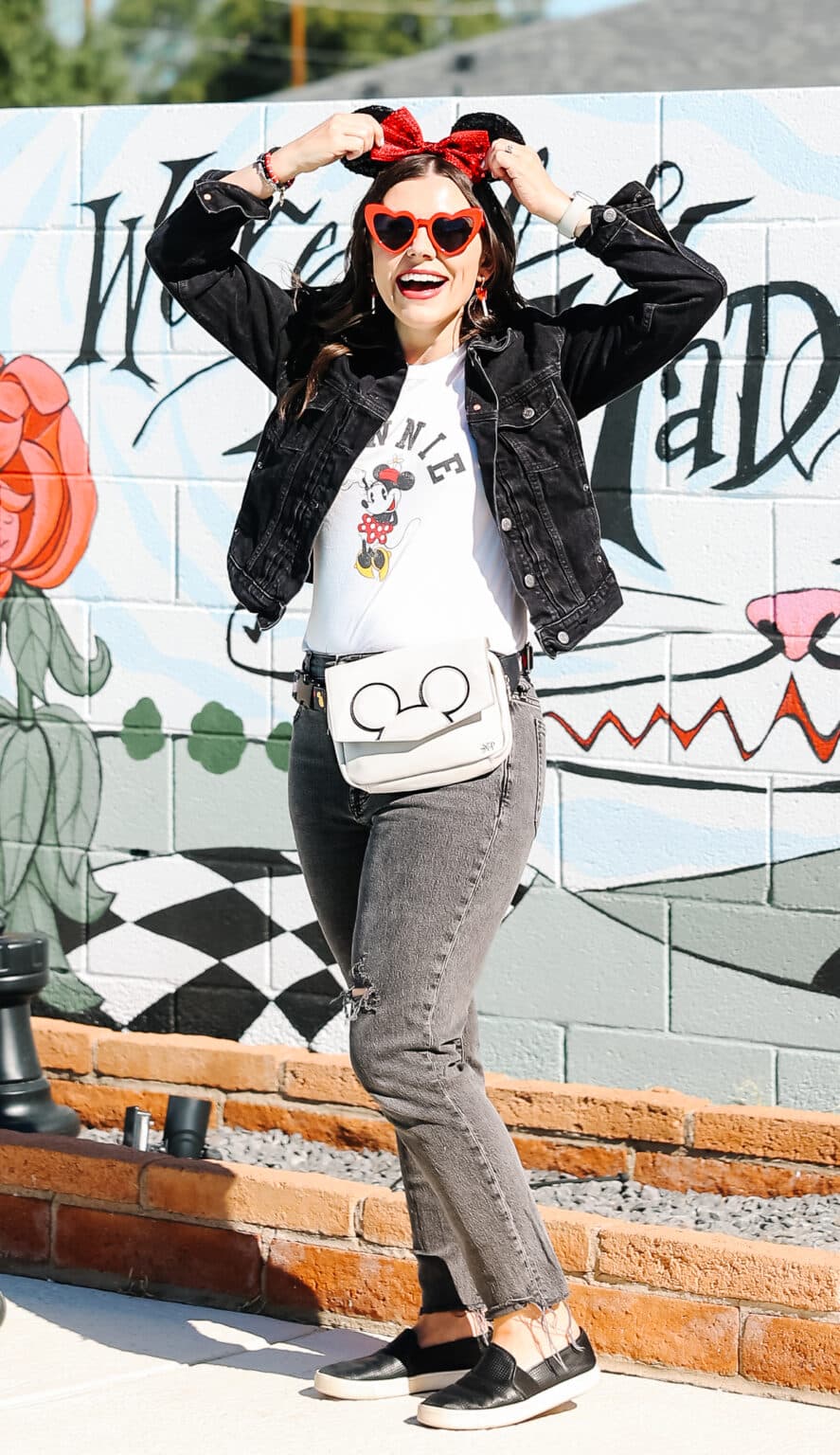 If you're getting ready for a Disney vacation, you know the importance of a small bag to hold your essential items and keep your smaller items safe. And a great Disney park bag is a fanny pack. Luckily, they're very in style right now, and just may be the best thing to happen to your next Disney vacation!
*And if you're looking for Discount Disney Tickets or our disount code to save big on Disney trips, we have you covered!
Sure a traditional fanny pack is a great option, but a modern update as a waist belt, should bag, or belt bag are also great options. And we want to make sure you find the best fanny pack for Disney that works for you!
Let me start by sharing the best fanny pack for Disney trips that I personally own and have used and loved for over a year now. It checks every box and is a modern fanny pack/belt bag with the cutest designs to compliment the functionality you'll love on your next Disney trip.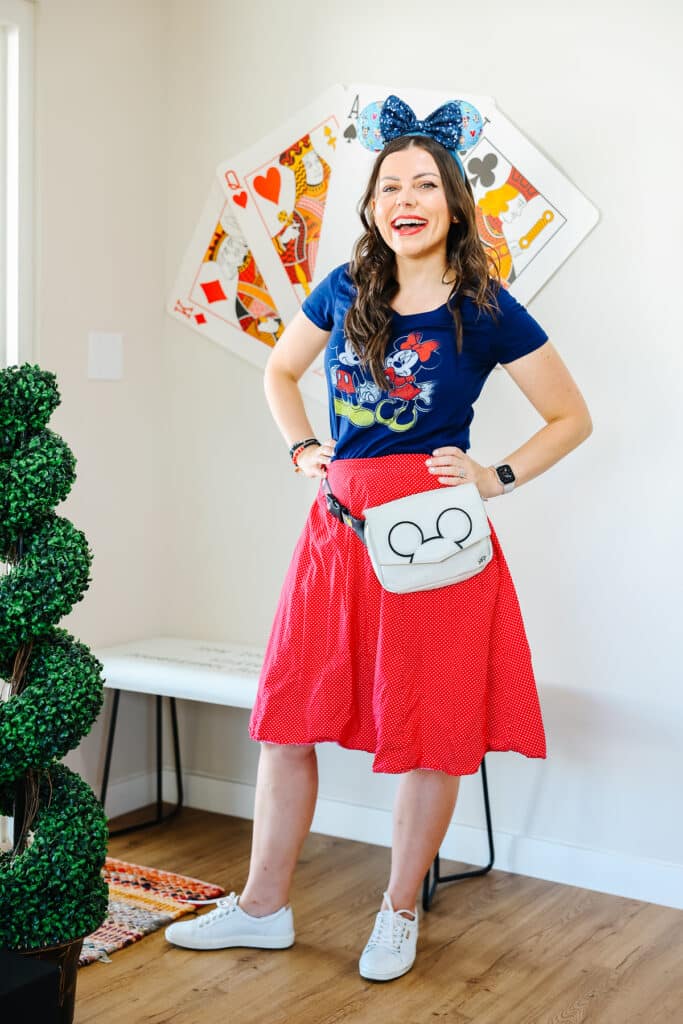 This baby shoe and diaper bag manufacturer with a great relationship with Disney did their homework surveying moms who go to Disney parks, and creating the best fanny pack for Disney! And as a mom who visits the parks often, I give this one an A++!
It has every feature I love to look for and use. And here's a bunch of things to consider when you choose the best fanny pack for Disney for you.
Disney Fanny Pack Favorite Features:
This Disney fanny pack can we worn as a cross-body bag, a waist belt bag, a bum bag, or many use them like sling bags. It's versatile thanks to the comfortable strap with an adjustable belt to fit many ways.
Features to Look for When Buying a :
– Size.
There are larger packs that work as waist pack/sling bags, and there are minimal sized items for essentials items only. Consider what you plan to take to an amusement park and choose your size accordingly.
– Style!
I'm always here for function first, but let me tell you how much you'll love having a cute bag with Mickey Mouse and/or Minnie Mouse, or your favorite Disney character. I love that I get stopped multiple times a day to compliment my favorite Disney waist bag. I'd highly recommend grabbing a high-quality option that you love. You may even love and use it beyond a Disney trip! And a cute Disney fanny pack will always be park bags you'll see at Disneyland or Walt Disney World Resort.
– An Adjustable strap
This is a game-changer! You'll want an adjustable strap option so you can adjust it to be the perfect size for you. By the end of the day, an ill-fitting bag will rub and cause discomfort. Don't miss this feature!
– Zipper pockets and snack placement.
You'll want zip pockets when you're upside down on the Incredicoaster, and also just for good measure to keep things secure! However, if you know you're going to be in and out all day, a snap option or open pocket to grab your phone for app use and pictures can also be a great addition to save your hands from zipper rub. Consider how often you'll be in your pack, and if you'll need an exterior pocket or snap flap.
But get one with secure high-quality features to keep all your stuff safe!
– Water options.
Is there a water bottle holder? Could you fit a small refillable water bottle in it? If it's important to you, it's something to consider!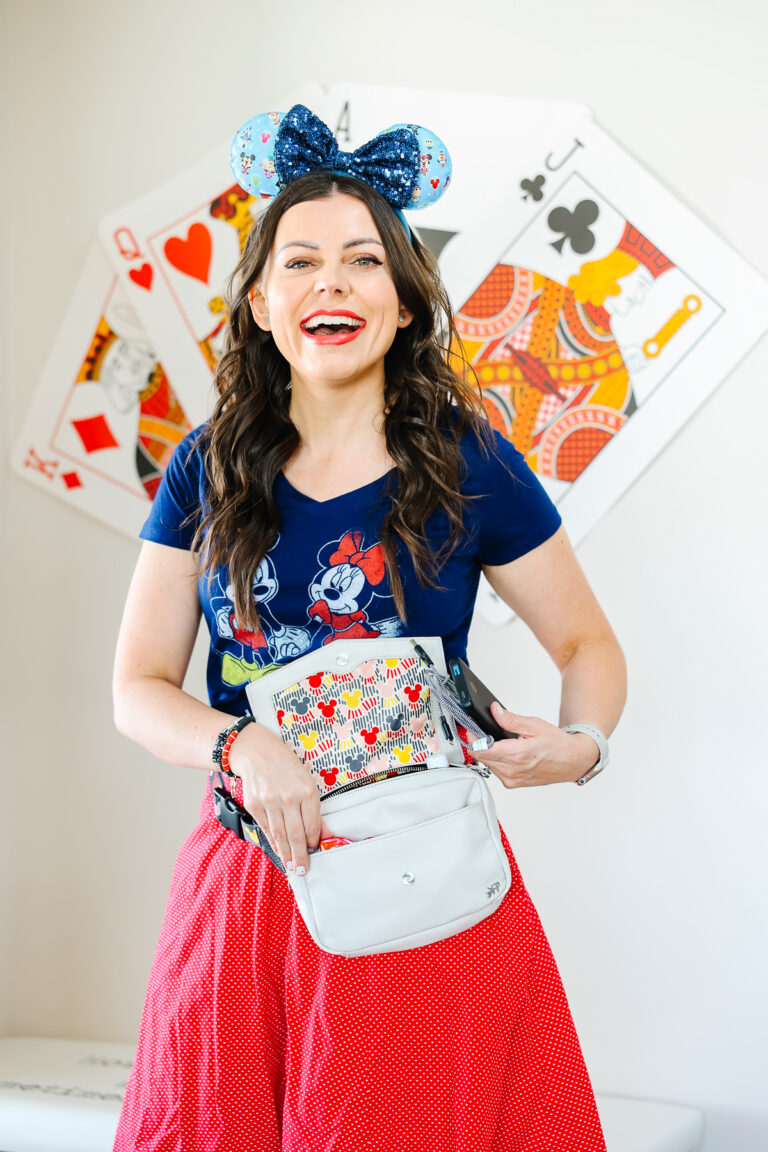 – Organization and pockets.
I love to find everything quickly and easily, even small objects! There are enough distractions on a Disney day that I know a fanny pack with one large pocket isn't for me. But it may be for you!
I love to find the following features:
– Secure location for my phone
– Room for an external charger and charging cord
– Spots for credit cards and gift cards
– A space for hand sanitizer and disinfectant wipes
– Easy access to lip balm/lip gloss and hand lotion
– A key clip. If we have a card or a traditional key for a room, I love knowing right where to find it! I also use this feature for hand sanitizer easy access.
The Best Places to Find Disney Fanny Packs
Freshly Picked Disney Fanny Pack Line
Petunia Pickle Bottom Disney Belt Bags
Water Fly Fanny Pack (Waterfly Fanny Pack)
Like this Disney Fanny Packs Roundup? Be sure to check out these posts too:
Surprise Disney Trip Reveal Ideas (And Free Printable!)
Get 365 Date Ideas!
We want to help you have the best date nights ever! Grab this FREE printable with 365 date ideas, a date for every day of the year so you never run out of ideas!