35+ of the Cutest Halloween Earrings for 2023
This is your sign to grab some Halloween earrings for some festive fun this October! Here's a roundup of the 35+ Cutest Halloween Earrings of 2023, plus the best places to find earrings for Halloween!
One of the best ways to be a little festive for the Halloween season is by rocking some Halloween jewelry. And a pair of Halloween earrings paired with any outfit is always fun! And trust me, kids notice and love the fun accessories!
Whether you go all out with Halloween apparel, make it part of your costume, or just want a subtle nod to the season, Halloween earrings are a great way to go!
As someone more than mildly obsessed with Halloween, I own several pairs of cute Halloween earrings and spooky-themed jewelry trying so many brands and styles. I can honestly speak to quality, what's durable, price, and the best places to find Halloween earrings. And you know I can't leave you in the dark and am 100% here to encourage that small holiday flex that I think you'll use and love year after year!
Halloween Earring Roundup
Baublebar rocks at festive and fun jewelry, and their Halloween line is always the best! I own a pair of pearly ghosts and diamond skeleton earrings from Baublebar that are equal parts pretty and spooky. You can find subtle pretty pieces and also bright and colorful earrings too!
They usually have necklaces, bracelets, and tons of options. They may be a tiny bit more than your standard cheap pair, but they are built with quality gold and silver hardware that's meant to last!
If you want a budget option of Baublebar earrings, check out their Sugarfix Halloween earrings line they make exclusively for Target!
You'll usually find fun quirky styles, cute skeletons, spiderwebs, jack-o-lanterns, and Halloween treats like candy corn or wrapped candy.

I bought a smaller ghost pair last year (that they do an updated version of every year!), and was worn so often through the month of October! They are the perfect size to make a small statement without being too big.
I love that you can find so many cute styles at super-affordable prices!
The only downside? They are typically super popular and the availability can get a little limited with sellouts if you don't shop early in the season.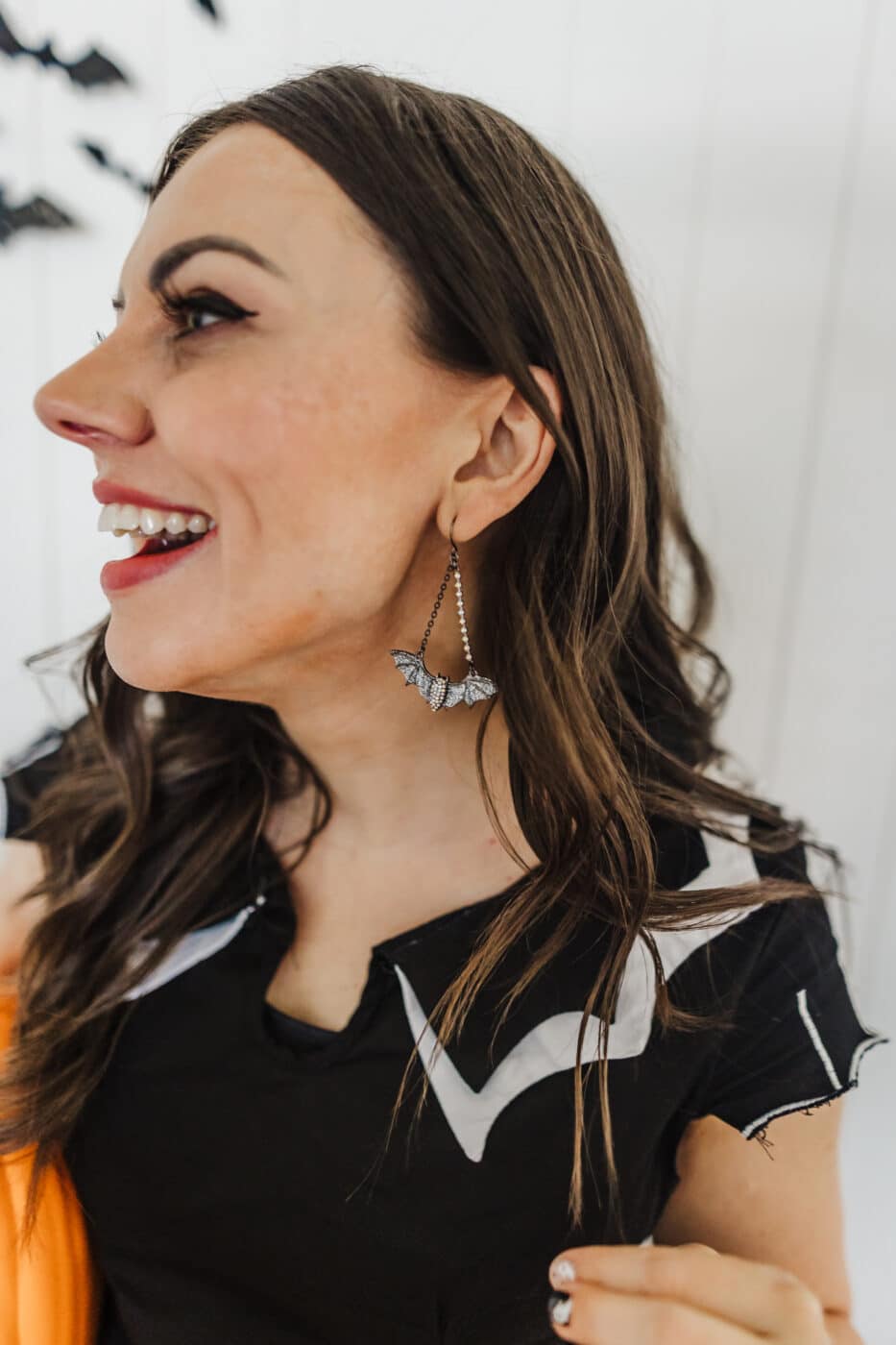 I just invested in my first pair of Betsy Johnson Halloween earrings this year and I could not be more thrilled!
Betsy Johnson is known for her edgy style and statement-making pieces. If you want to go glam and make a statement, check out her Halloween earring line!
And one trick I've learned, her styles from last season are often at T.J. Maxx, so you can usually find really great deals if you're willing to check early in the season. And they're a great price on Amazon too!
Seriously, this diamond studded chandelier bat earring by Betsy Johnson is so pretty, and one I'm reaching for most this season!
The beauty of looking for Amazon Halloween earrings is not only the perk of free shipping if you're a Prime member, but the large number of options!
If you want to go cheap, you can go cheap. But if you want high-quality hypoallergenic styles, they're easy to find too!
I needed a pair of Halloween earrings to go with an Oogie Boogie bound on our last Disneyland trip, and was so pleased with the 2-day shipping options! I ordered both a sandworm pair (giving a nod to Beetlejuice), and also found the cutest spider studs that felt classy and completed my look perfectly. They were also high-quality and a great deal!
Be sure to search hypoallergenic if you need them, and check for special offers with coupons.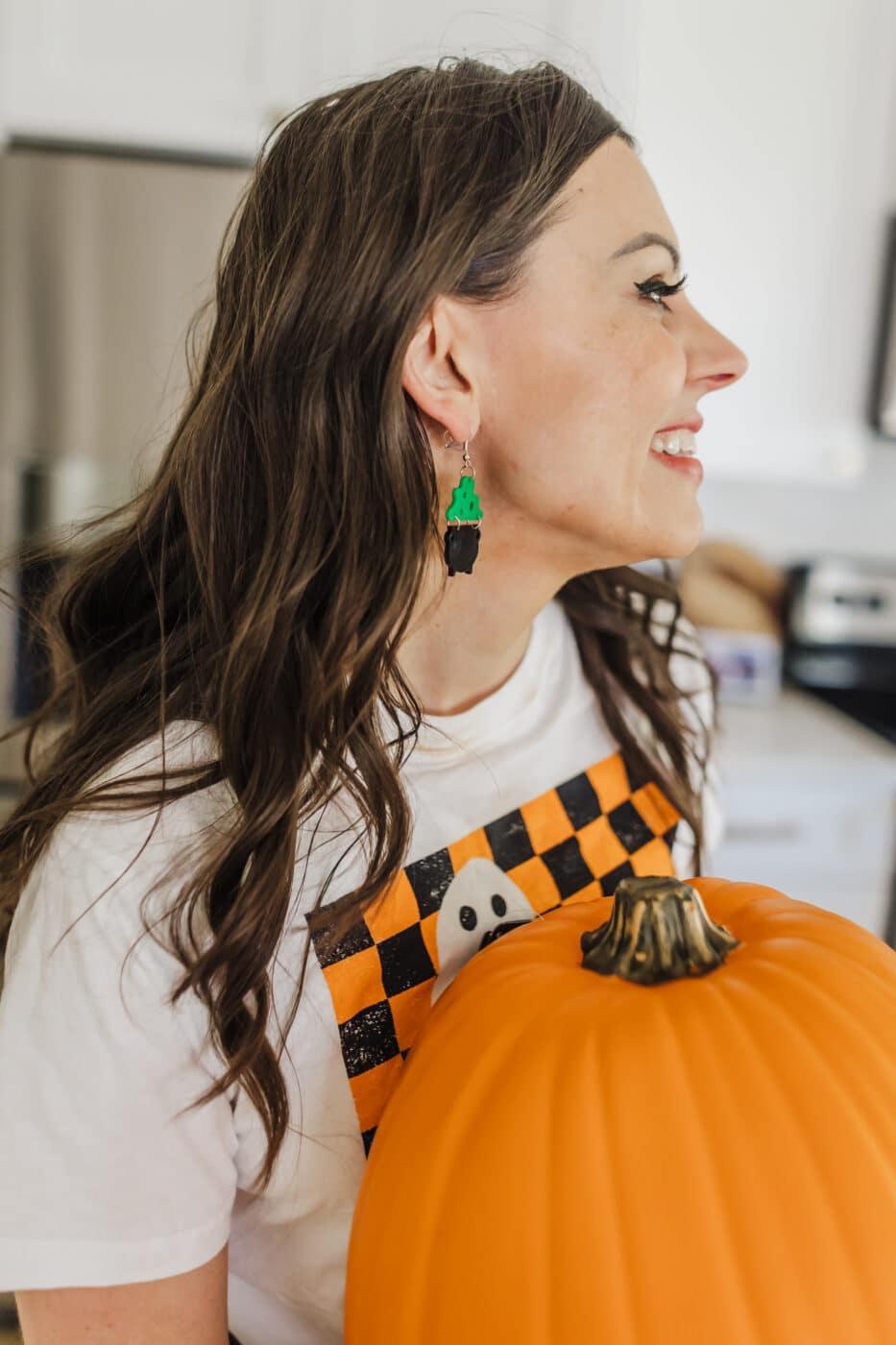 There is no creative limit to the individual artists who make jewelry on Etsy! There are classy items, quirky Halloween earrings, and all kinds of fandom favorites! You can go down a huge rabbit hole looking at all the options and creative styles.
Once again, be sure to search for hypoallergenic, gold-plated if you have sensitive ears.
And watch for shipping times, sometimes it takes time to receive your earrings!
I am such a fan of Shop Hey June. They sell quality jewelry that's hypoallergenic at such affordable prices! Their gold pieces are 14-carat gold plated, and their silver are all sterling silver. AKA, they are meant to last without tarnishing!

They offer a Halloween line every year, and their cute ghouls and subtle pumpkin earrings I always have my eye on! I love that they do screwback options (like in their Jack Skellington pair). If you have sensitve ears and want a pair of studs, check out Shop Hey June!
And use my code FRIDAYLOVE to save 15% off your order!
Disney Halloween Earrings
If you're a Disney lover like I am, you know Disney and Halloween earrings are the perfect pairing!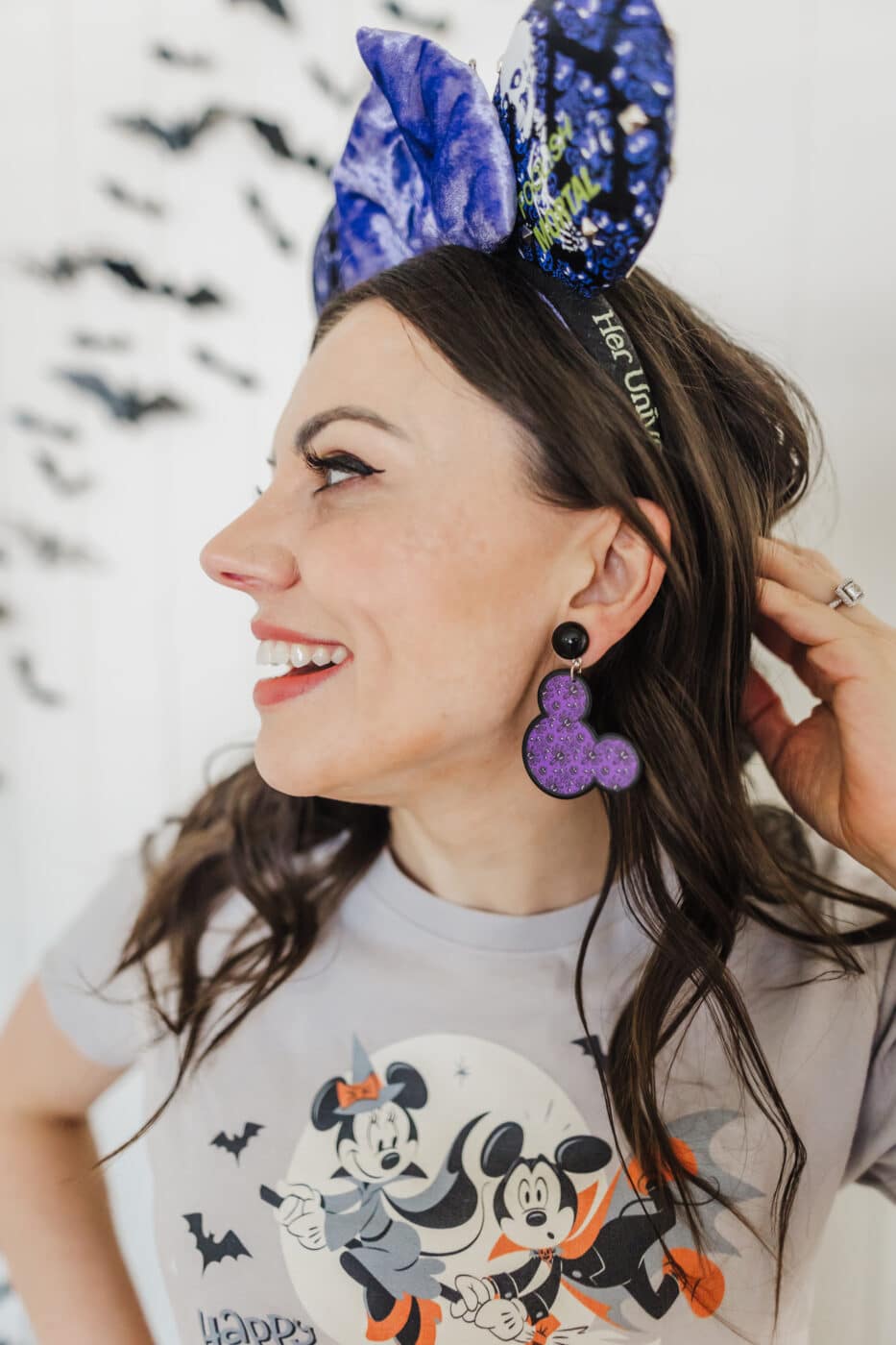 Disney Halloween earrings are extra fun to wear to Disneyland Halloweentime, or to an Oogie Boogie Bash or Mickey's Not So Scary Halloween Party. And of course, any other time you want a little Disney fun mixed with the holiday.
Here are the best places to find them:
No surprise here, Baublebar does exclusive Disney earrings year-round with some of the cutest styles! But you'll find darling Disney characters in costumes during the Halloween season.
Their Nightmare Before Christmas earrings are usually quick sellouts. And, their Disney Villians earrings are perfect for Halloween time too!
Oh the crafty ways of Disney Halloween lovers you can find on Etsy! My Haunted Mansion Wallpaper earrings are from a small shop and I love them dearly!
Disney is fully committed with tons of Halloween merch, including cute Disney Halloween earrings! Check out ShopDisney for fun options and exclusive styles you won't find anywhere else!
I love that's so easy to find so many options on Amazon! You can even find Disney-exclusive options and get free shipping.
If you don't already own a pair of Halloween earrings, I can't encourage you enough to grab a pair! And if you already do, here's your sign that it's just fine to add some more to your collection!
35+ Cutest Halloween Earrings for 2023
We've done the shopping for you! If you want to check out the top 35+ Halloween earrings for 2023, they're right here!
We hope these help you find the perfect pair!
Halloween Earrings Frequently Asked Questions
What are the different styles of earrings?
Stud Earrings
Hoop Earrings
Dangle Earrings
Chandelier Earrings
Huggie Earrings
Threader Earrings
Ear Cuffs
Clip-On Earrings
Cluster Earrings
Stud Earrings with Jackets
Tassel Earrings
Statement Earrings
Ear Climbers
Bar Earrings
Feather Earrings
What Kind of Earrings Go with Everything?
Try a pair of stud earrings or earrings with a classic silver or gold. Even seasonal earrings tend to go with everything when they're in a classic metal.
Where can I find cute Halloween Earrings?
Baublebar makes a very cute line, Etsy sellers create many cute options, and you can usually find great options at Walmart and Target.
Be sure to check out these fun Halloween posts too!
Halloween Box : A Fun October Box to Celebrate Halloween All Month!