Halloween Bucket List + FREE Printable!
A fun Halloween bucket list with a FREE printable download! 50 fun Halloween activities to do this Halloween season!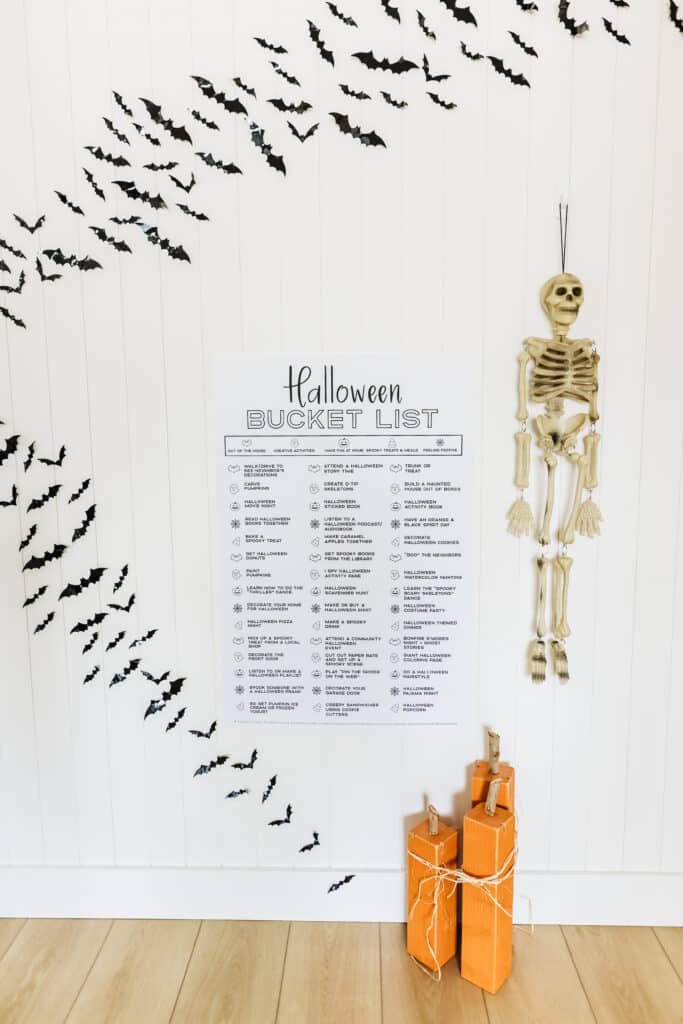 Intentional Halloween Fun
There's nothing like kicking off the holiday season with a bunch of intentions and plans to have some fun! That's why we'd encourage every family with kids (or couple looking for Halloween date ideas) to make a Halloween bucket list and plans to cross off as many items as possible!
What are some activities you can do for Halloween?
There are literally hundreds! Check your local city websites and search for Halloween events in your area. But typically there are a ton of things you can do at home or anywhere you live to celebrate the season! And from there, add them to your October bucket list.
Fun Halloween Ideas
We've done the hard work for you and created a FREE Printable Download Halloween Bucket List. But it goes one step further, we've helped categorize the activities by type so you can make sure they fit in with your busy schedule.
Maybe you want to make a Halloween-themed treat or head out for an activity. Perhaps you want some easy Halloween crafts or you need some ideas for fun Halloween activities at home. Follow the icon next to each Halloween bucket list item to help you find the perfect activity for you!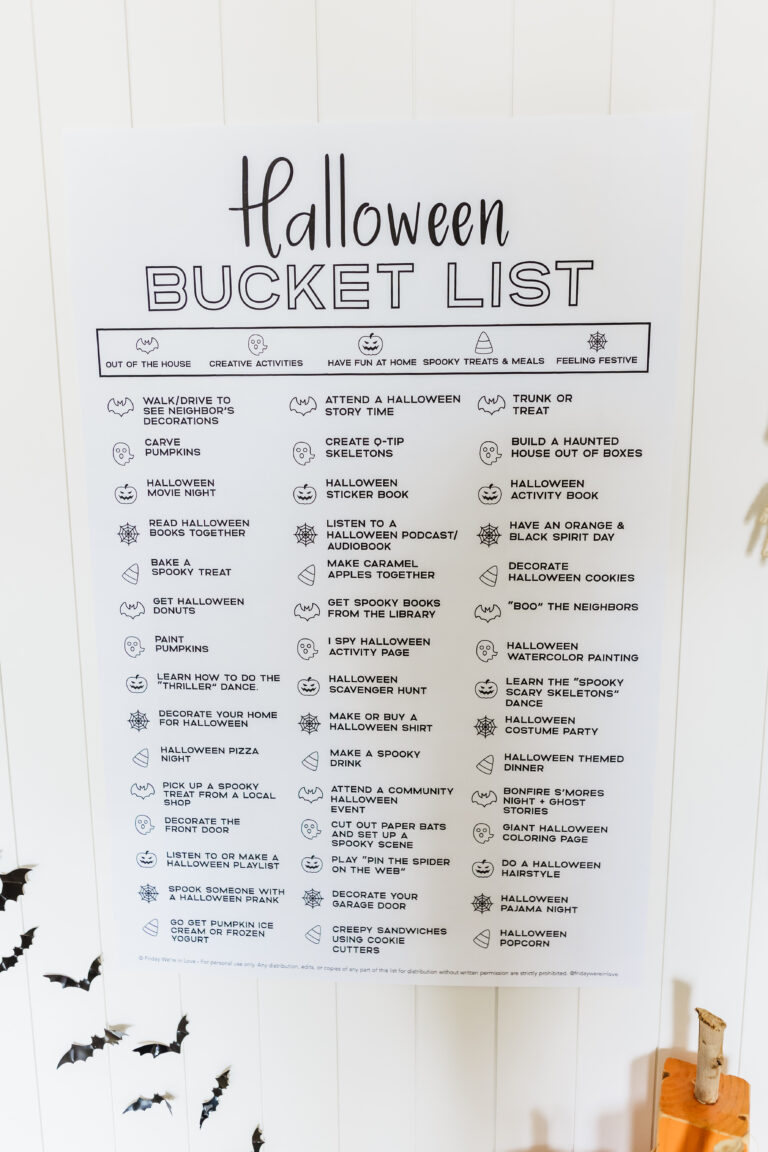 Grab Your FREE Halloween Bucket List Printable HERE!
And so you don't have to wait any longer, go ahead and grab your FREE Halloween Bucket List Printable Download right here!
But if you want to custom-create your own list, here are a bunch of fun Halloween activities to add to your October bucket list!
Halloween Bucket List Ideas
Carve pumpkins and make a jack-o-lantern
Attend a Halloween storytime
Listen to or make a Halloween playlist
Listen to a Halloween podcast/ audiobook
Halloween pajama night. This is even more fun with family Halloween pajamas!
Decorate Halloween cookies. Feel free to buy a pre-made pack and spend some time making them extra fun with frosting, sprinkles, and some candy corn.
Do a giant Halloween coloring page/Coloring project
I spy Halloween activity page
Create q-tip skeletons
Make or buy a Halloween shirt.
Get Halloween donuts
Build a haunted house out of boxes
Host or attend a Halloween costume party
Attend a trunk or treat. These are a fun Halloween party that usually take place in the month of October, a few days before Halloween. It's a great way to get some Halloween candy and practice being trick-or-treaters before Halloween night.
Work on a Halloween sticker book
Learn the "spooky scary skeletons" dance
Decorate your garage door
Have a Halloween movie night. You can do a scary movie, a simple kids' movie, or head to Salem Massachusetts virtually and watch Hocus Pocus! I won't blame you one bit if you grab a Hocus Pocus shirt for the occasion!
Bake Halloween cookies or another spooky treat
Halloween pizza night
Play "pin the spider on the web"
"Boo" the neighbors. Deliver a treat with a "You've been boo'd" sign and start a fun neighborhood treat exchange.
Do a Halloween scavenger hunt. Grab our free download and enjoy a free Halloween scavenger hunt activity perfect for families or for a Halloween date night!
Do a Halloween watercolor painting with our ghost template.
Halloween-themed dinner. Make a few spooky food items and enjoy a Halloween-themed dinner. Be sure to make our Halloween punch for kids!


Walk/drive to see neighbor's decorations throughout your neighborhood
Read Halloween books together
Attend a community Halloween event
Have a bonfire s'mores night + share some ghost stories
Pick up a spooky treat from a local shop
Have an orange & black spirit day
Learn how to do the "thriller" dance.
Do a Halloween hairstyle. There's a ton of inspiration on Pinterest!
Make a spooky drink
Make caramel apples together
Do a Halloween activity book. We love this Halloween paint-by sticker book with fun sticker paintings (like a witch of mummies) that glow in the dark.
Decorate the front door or front porch area with fun Halloween decor.
Paint pumpkins
Make Halloween popcorn. Try our Halloween popcorn recipe!
Go get pumpkin ice cream or frozen yogurt
Get spooky books from the library
Cut out paper bats and set up a spooky scene
Do a trick instead of a treat: spook someone with a simple Halloween prank
Make a creepy sandwich using cookie cutters
Decorate your home for Halloween
Visit a pumpkin patch
Go through a corn maze
Roast pumpkin seeds together
Enjoy a cup of hot apple cider
Go apple picking at an apple orchard
Like these fun Halloween Ideas? Be sure to check out these posts too: